PROFILE
Profile of the month: Dr. Pauline Erica Tay
Text by Zara Zhuang
Photography by Chino Sardea
Styling by CK Koo
Grooming by Benedict Choo using YSL Beaute
Photography Assistance by George Reuben
11 Mar 2020
Our March cover profile is stem cell researcher and Celligenics COO Pauline Erica Tay, who is building the ecosystem that propels Singapore's biomedical industry onto the international stage.

Dr. Pauline Erica Tay hadn't originally dreamed of a career in science: At first, she wanted to become a doctor, but then she realized that the medical profession was not suitable for her. 
And though she had always been passionate about biology and understanding nature, "I didn't really want to be a scientist — actually, I wanted to be what we call a biotech consultant," she says. "I realized that in order to give advice on commercialization, you need to understand the science; doing an MBA doesn't enable you to commercialize a scientific or medical product." 
Dr. Tay went on to earn a PhD in stem cell biology and spent eight years conducting research – a decision some peers couldn't fathom – but she was convinced it was crucial for her to build that foundation. "If, for example, a scientist explains to us what he is doing, a person who didn't go through that process wouldn't understand it and wouldn't be able to use that knowledge for commercialization. That's where a huge gap between the business world and the scientific world exists."
And that's where she stands today, at the confluence of science, business, government, and the public. As chief operating officer of Celligenics, an Agency for Science, Technology and Research (A*STAR) spinoff startup specializing in stem cell technology and applications, Dr. Tay spearheads the three-year-old company's efforts to create treatments with enhanced therapeutic capabilities.
The company's USP rests on a technique to extract a specific subpopulation of stem cells from the umbilical cords of mothers who have just delivered. It then sustainably produces a cell-free extract from these cells that can give rise to self-regeneration and wound healing and, potentially, even anti-cancer effects.
In 2018, Celligenics raised its first series A round of financing from Singapore-based Best World International, which develops and distributes skincare, personal care and wellness products, with brands including DR's Secret and Avance.
This year, Celligenics is focused on bringing cosmeceutical products to market, by partnering brands to create premium skincare lines, and in the long term, after raising another round of financing to set up clinical trials in Singapore and overseas, it plans to launch stem cell–based products with therapeutic applications, such as wound-healing patches or gels for diabetic patients and injectables to enhance the regeneration of the cartilage in knee joints due to age or wear.
SURVEYING THE LANDSCAPE
SUPPORT SYSTEM
PAST AND PRESENT
Surveying the landscape
Celligenics' rise comes as Singapore's investment in the biomedical industry is bearing fruit. "I think we were really at the right place at the right time," Dr. Tay says.
Singapore has established its position as an epicenter of stem cell research, genomics and molecular biology, since it set up various biomedical institutes in Biopolis from the early 2000s. Last March, the government announced that in order to boost R&D in digital technology and automation (as part of the S$19 billion, five-year Research, Innovation and Enterprise 2020 plan launched in 2016), it would invest an additional S$500 million, of which S$80 million would go towards cell therapy manufacturing.
"Stem cell therapy will be one of the largest-growing markets in the next 10 years or so. There has already been about 15 years of research done here in Singapore, and many of the stem cell therapies will be clearing clinical trials, which means they will be made available to patients soon. This opens markets for ways to manufacture them on a large scale.
"Celligenics fits very nicely into that need in the future because once we develop that process, to be able to scale and to produce the stem cell extract, not only can we do it for ourselves, if another company or a hospital needs help in growing this into large amounts as needed for transplantation, we can help."
It may take more years for stem cell–based therapeutic applications to reach the market, Dr. Tay says, but beginning preparations now will mean systems are ready for when demand increases.
Asia is expected to overtake Europe as the world's second largest healthcare market by 2025, projects research firm Frost & Sullivan; Asia, and Southeast Asia in particular, is home to emerging markets where the need for effective, technologically advanced treatments will match that in first-world countries, due to the uptick in aging-, diet- and lifestyle-related conditions in the region.
"Many of these therapeutics and cures we're talking about at Celligenics will alleviate some of the new disorders that an emerging economy would face. However, you can't price many of these therapies too high, because the middle class in emerging economies need to be able to afford them, so you have to find a way to develop such therapeutics that are affordable and make sense."
According to a July 2019 report from Coherent Market Insights, the size of the global stem cell therapy market is estimated to reach US$33.6 billion by 2026, an indication of the explosive potential of stem cell therapies and applications. Many of the stem cell therapies that had been in R&D have begun to be applied in clinical trials, such as human transplants of bone cells created from fat cells or muscle cells created from bone cells, Dr. Tay says.
"Now, the question is whether we can make this available to the mass market at reasonable prices. Imagine if you could go to a pharmacy and pick up a simple stem cell–derived cure. … If the day comes when we can buy that over the counter, then we can definitely reach the estimate of tens of billions or more by 2026."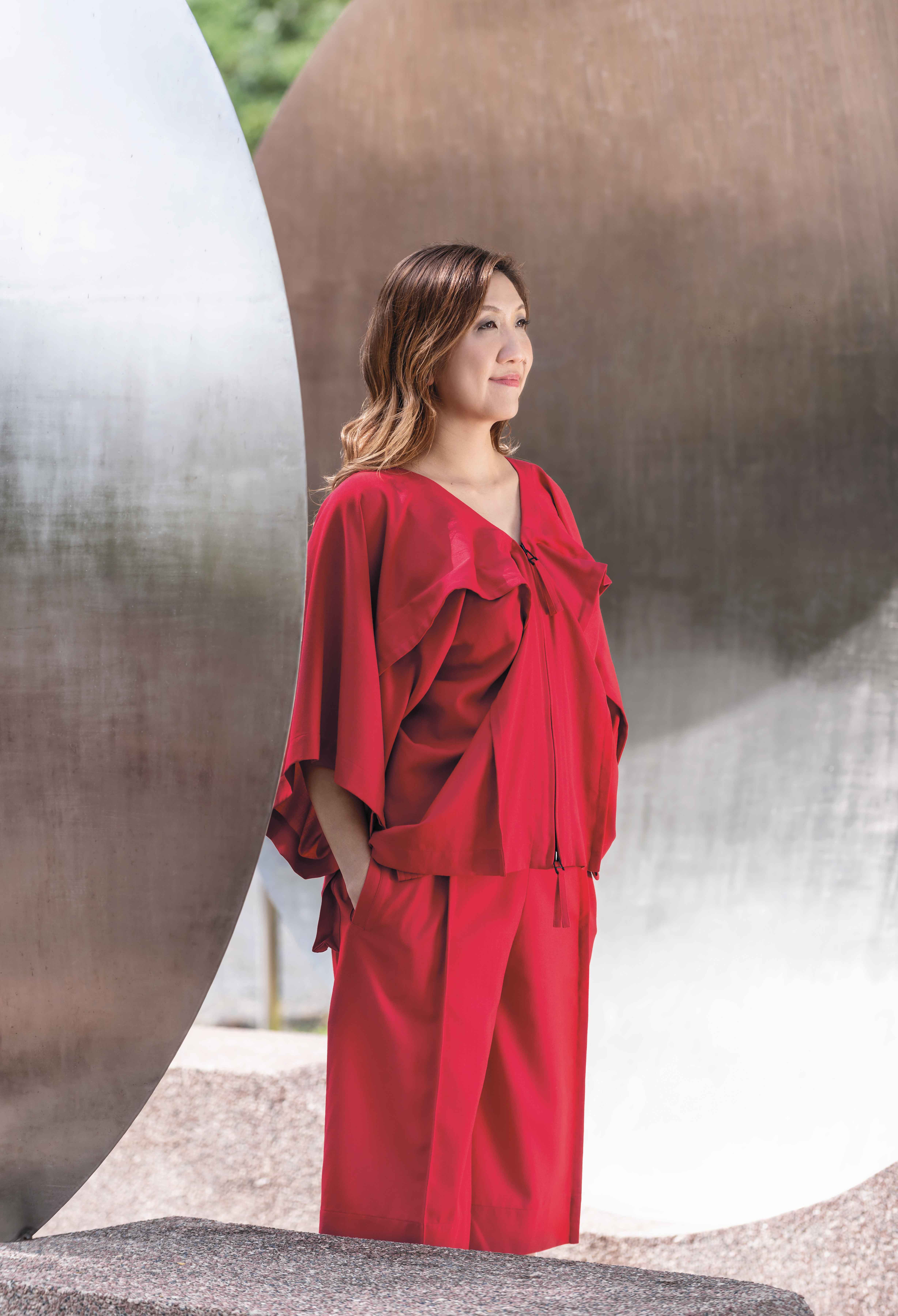 Pauline in a red zipped jacket and pants, both from 1325 Issey Miyake
SURVEYING THE LANDSCAPE
SUPPORT SYSTEM
PAST AND PRESENT
Support system
Enabling others has defined Dr. Tay's career. After conducting research at A*STAR's Institute of Medical Biology, she set up and served as a technology consultant at the Intellectual Property Intermediary Singapore before helming NRF's Innovation and Enterprise division, which worked to commercialize the results of scientific research.
Along the way, she founded the Singapore Week of Innovation and Technology, or SWITCH, to connect international entrepreneurs, innovators, investors, accelerators and industry professionals in the fields of manufacturing, engineering, science, sustainability and digital economy; last year's edition, held in November, welcomed more than 60,000 participants, 569 speakers and almost 1,000 exhibitors.
"All along, my career aspiration revolves around wanting to be able to help others," Dr. Tay says. "For me, it's always been about creating an impact doing something that's meaningful for people — I like to see other people succeed."
To Dr. Tay, no matter how good the research results or how capable the talent, "if the ecosystem does not support the growth of companies and their therapies, nobody would benefit."
Referencing innovation hubs such as Boston and San Francisco, she speaks of establishing ecosystems in which companies and academia work to support one another to grow a value chain that draws technology from R&D into the market; without it, companies would rely heavily on government funding and be unable to scale up beyond a certain point.
"Even today in Singapore, we still are developing that. We're not as strong as some other mature ecosystems, and that's why I chose to go into jobs to help bridge the gap between R&D and industry and then build an ecosystem that revolves around this."
Another driver is Dr. Tay's firm belief in the power of deep tech, which is transformational technology based on scientific discoveries and engineering innovation — think biotech, renewable energy, new materials and robotics. When she was at A*STAR at the turn of the millennium, she witnessed the growth of Singapore's biomedical industry from its infancy and the doubt and criticism heaped on the nascent field.
"Many times along the way, people wondered whether they should move grants and investment away because the industry hadn't yet seen the light of day, and we were constantly justifying why we needed to continue doing this. I would say that goes for deep tech as a whole: I was at NRF and I was one of those people who pushed for investment into deep tech startups; before that the investment went towards digital startups."
Maintaining an edge in science and engineering will keep Singapore competitive globally, due to the higher barriers to entry that those fields present, Dr. Tay explains.
"You can duplicate a business model for, say, e-commerce, but if your business model has an element of strong science and engineering, that's difficult to copy. Making money from the broad-based type of industries is always attractive, but many of those industries grew from some technology in the past.
"Now, everybody uses a mobile phone, and you might consider it a piece of consumer technology, but 50 years ago it was deep tech. That's where the competitiveness of deep tech lies: If we don't continue to invest in it, we will never have tomorrow's products."
SURVEYING THE LANDSCAPE
SUPPORT SYSTEM
PAST AND PRESENT
Past and present
Dr. Tay's parents had thought they were expecting a son, and even when their Paul turned out to be Pauline, her father's parenting style didn't stray far from a typical one that might have been experienced by boys of her generation.
"I would cry at everything, and my dad would say, You have to become more independent, because if you go out into the world like that, you will be bullied," she recounts. "Through my formative years, he really drummed it into me. And he made me ride a bicycle and learn how to whistle!"
But her father's influence extended beyond instilling perseverance and resolve. He worked at the former Agri-Food & Veterinary Authority of Singapore as a lab technician, and Dr. Tay credits her father's aptitude with subconsciously shaping her inclination towards science.
From getting her start in the emergent stem cell field in the early 2000s to witnessing the industry become poised to mature, with tested therapeutic applications set to reach mass consumers in the coming years, Dr. Tay marvels at how far the industry has come.
"I'm very motivated by that trajectory, and I'm glad I didn't leave. If we had stopped investing time and budget in stem cell therapy, we wouldn't be here today, where a company like Celligenics can find technologies that we can work on to bring to market.
"It's driven by passion, yet it has been realized by a lot of hard work and a constant, deliberate effort to make the dream a reality."