Jaguar has decided to take the plunge and join a lot of other carmakers to offer a fully electric vehicle, and the brand christened this electric-powered wonder the I-Pace.
It's odd that battery cars are now being considered a viable option to challenge the "superiority" of the internal combustion engine.
After all, engineers have had a century to perfect the gasoline engine and it shows. A four-cylinder petrol engine today easily delivers an incredible 200hp.
However, there was a time, when the automobile was first introduced, that battery power was considered the frontrunner for vehicle propulsion. The first reliable battery-powered vehicles were introduced around the early 1900s and competed directly against gasoline-powered versions.
In those days, battery power was clearly the better option. Petrol-powered engines were unreliable, were made up of a lot of parts, created heat and friction, required lubrication and needed a complicated gearbox to translate the engine power into something the wheels could manage.
So why did battery powered vehicles become eclipsed? Oddly enough, it was due to John D. Rockefeller and Standard Oil.
In the late 19th century, kerosene was rapidly replacing all other forms of oils for the creation of light. It was cheap to produce and was abundant.
But there was a problem. The distillation of crude oil into kerosene created unwanted byproducts. And one of the byproducts was a thing called gasoline, which was lighter than kerosene and explosive to boot.
In the beginning, gasoline burned it off to save storing it, as there was no market for the stuff. It wasn't until it was discovered that the internal combustion engine could readily use gasoline that the petroleum distillate's potential came into being.
The adoption of the internal combustion engine is one of those strange detours in history that makes you sit back and ponder how the world might have turned out differently.
So, we've now come full circle, hence, Jaguar's new I-Pace, which is an utterly amazing vehicle.
DRIVE
DESIGN
PERFORMANCE
BATTERY
FINAL THOUGHTS
Drive
Designed as a mid-sized SUV, it drives more like a sports car, thanks to its 90kW battery. Gone are the vibrations, heat, smoke, supercharger whine, grinding gears, noise and pollution of an internal combustion vehicle.
In fact, driving the I-Pace is exhilarating and, you might even say, refreshing. The acceleration and power behind its wheels is simply breathtaking.
It's little wonder that the all-electric Jaguar I-PACE has completed a historic treble at the 2019 World Car Awards. Not only did it win the coveted "2019 World Car of the Year" and "World Car Design of the Year" titles, it was also named "World Green Car."
One of the surprising things about driving an electric vehicle is its relative silence. In fact, when you're stopped at a traffic light, what you hear is other vehicles' engines; the loudest thing in the Jaguar I-Pace is the hum of the air-conditioning fan.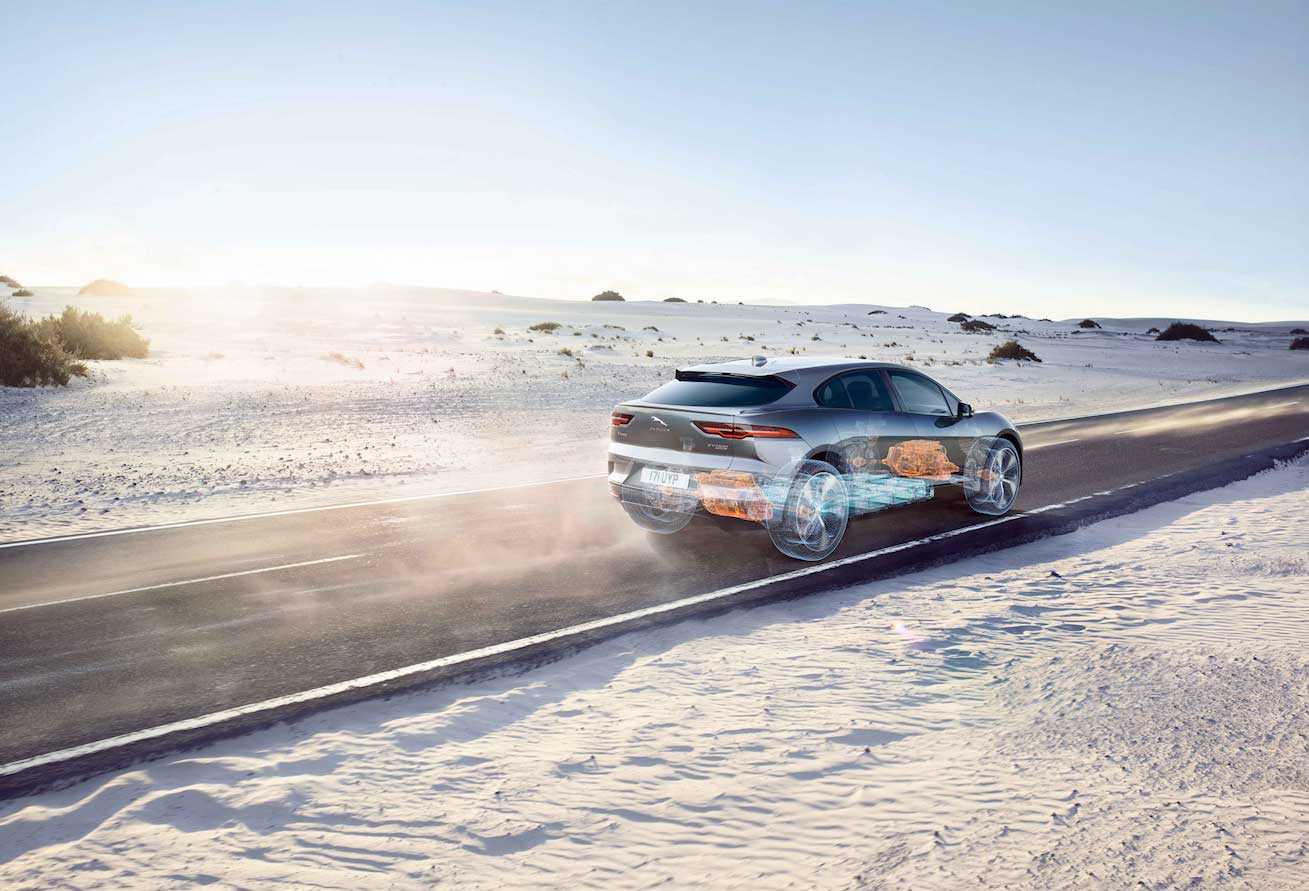 DRIVE
DESIGN
PERFORMANCE
BATTERY
FINAL THOUGHTS
Design
To create this incredible vehicle, Jaguar started from scratch, constructing the body out of lightweight aluminum. It's an entirely new platform, and for good reason. This is not just a car where electric motors have been attached to the wheels and the battery dumped in the rear trunk.
Since it doesn't need space for a conventional engine, batteries are placed at strategic locations in the rear and front of the vehicle, which helps with the center of gravity and distribution of weight. That in turn helps with vehicle stability handling. Since there is no transmission, gone too is the bulky transmission tunnel, which helps create more interior space and legroom.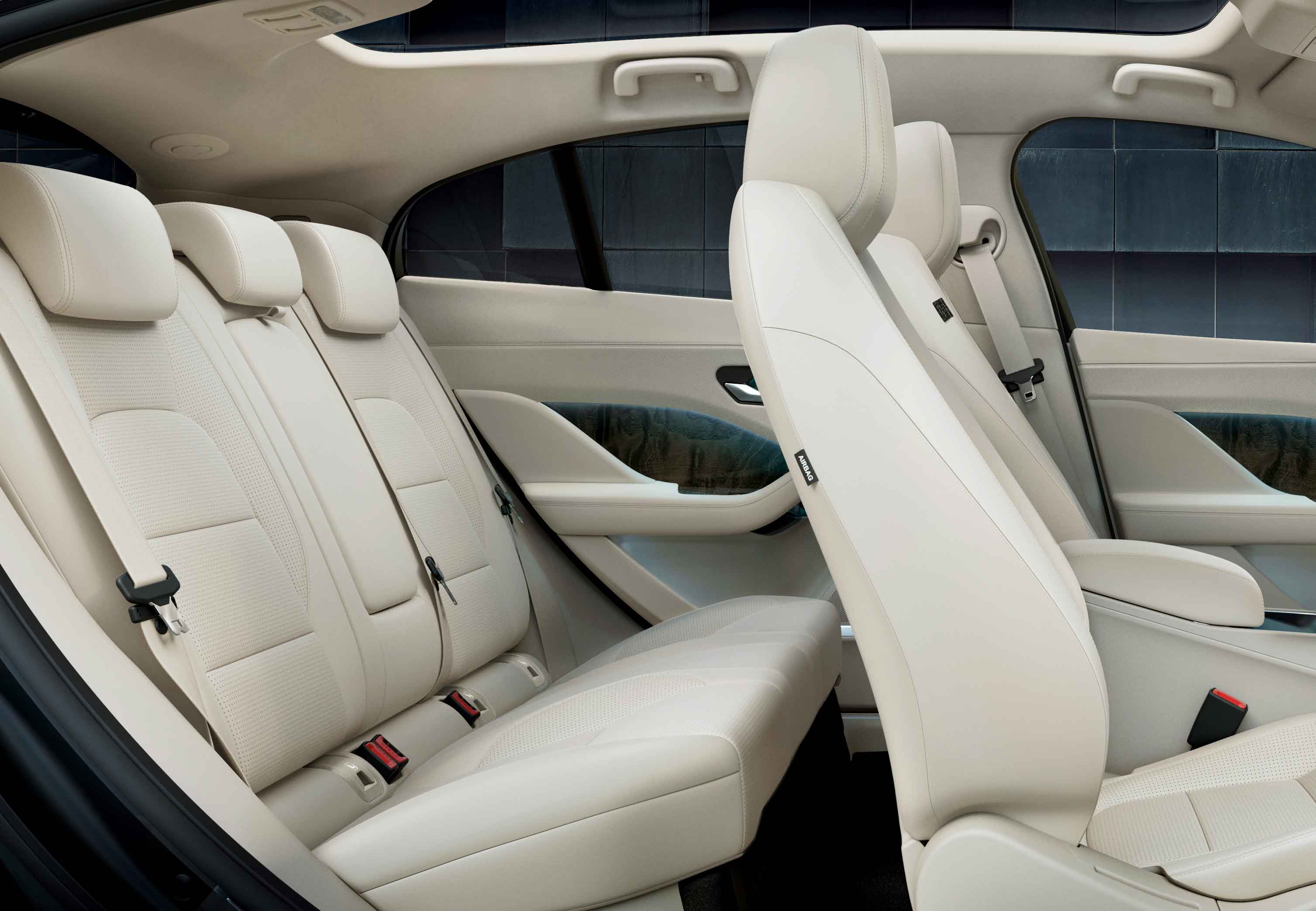 While the I-Pace's novel, cool retractable door handles and aerodynamic exterior looks high-tech and modern, the interior is a bit underwhelming. This is no TARDIS, indeed, and neither does it come close to the gleam of a Tesla's control panels.
Drivers are met with conventional display screens and switches, which is perhaps a good thing, because the layout of the dash is easy to read and understand. One excellent feature is the heads-up display, which helps relieve eye fatigue by allowing drivers to receive relevant information from the windscreen directly, instead of having to look down and glance at the instrument cluster or display screens.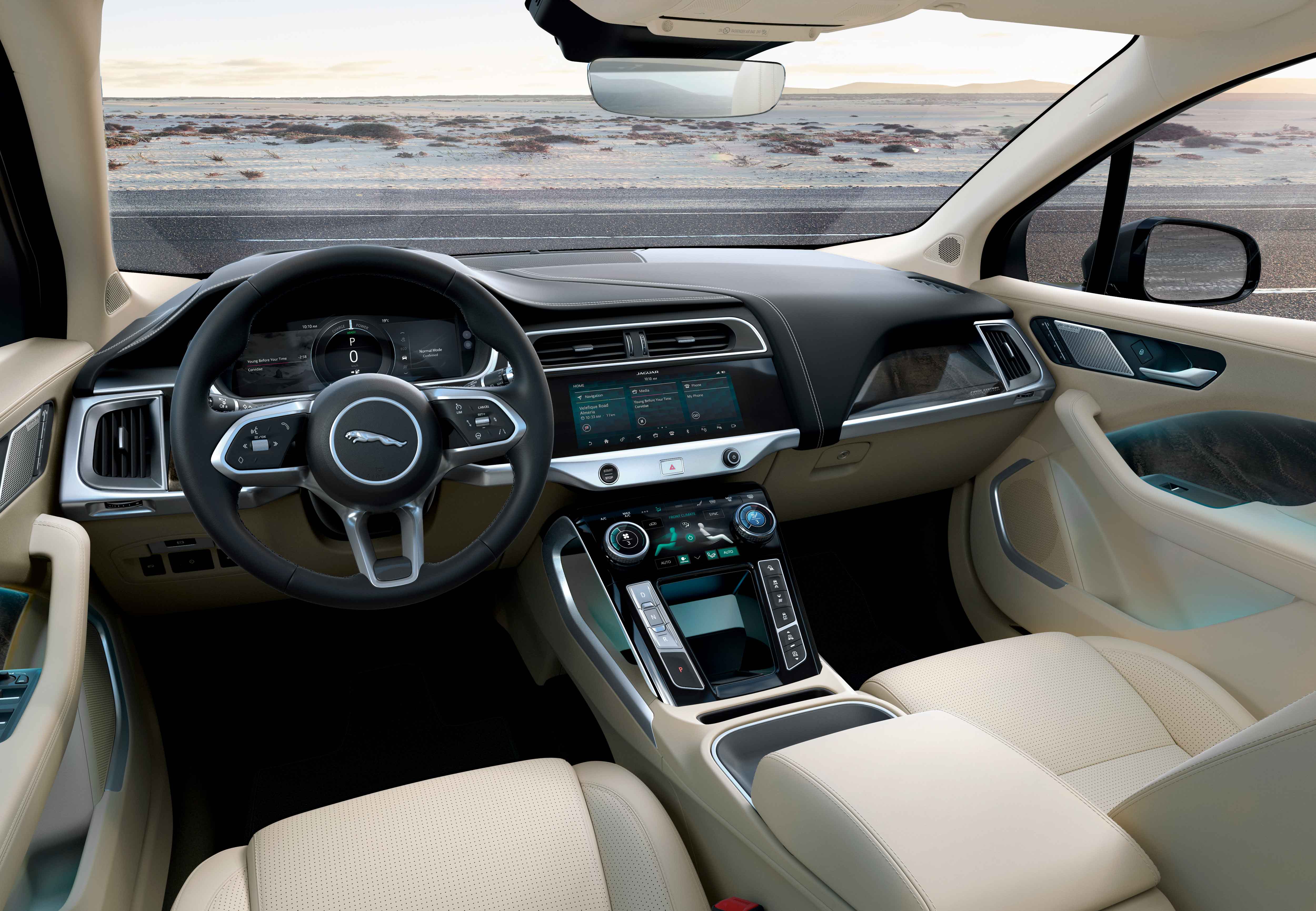 DRIVE
DESIGN
PERFORMANCE
BATTERY
FINAL THOUGHTS
Performance
Performance-wise, the I-Pace offers a selection of driving modes. In dynamic mode, the car handles like a small rocket ship, with more heft to the steering and snap to the accelerator.
However, the dynamic mode will suck up a lot of battery juice, so you had better be near a recharging station. It's better to drive in the comfort or eco modes when you have longer distances to cover.
Since each wheel has a motor to drive the car, the I-Pace easily grips the road and handles like a dream. The car also boasts a quick, seat-pressing acceleration, going from zero to 100kmh in 4.8 seconds.
DRIVE
DESIGN
PERFORMANCE
BATTERY
FINAL THOUGHTS
Battery
Having an electric vehicle is great, but if there's no place to charge it, you're out of luck. Thankfully, Singapore is embarking on building more charging stations around the island, and there are even phone apps to help you find charging locations. Currently, there are few hundred charging stations in Singapore, with that figure set to double and even triple in the coming years.
Another consideration about electric vehicles is the time it takes to charge them. Jaguar reports that with its recommended wallbox installed, a full charge can be achieved in approximately 13 hours. A full charge will allow the I-Pace to cover a maximum range of up to 400km. A faster commercial direct current charger can reduce the time to around two hours for a complete charge.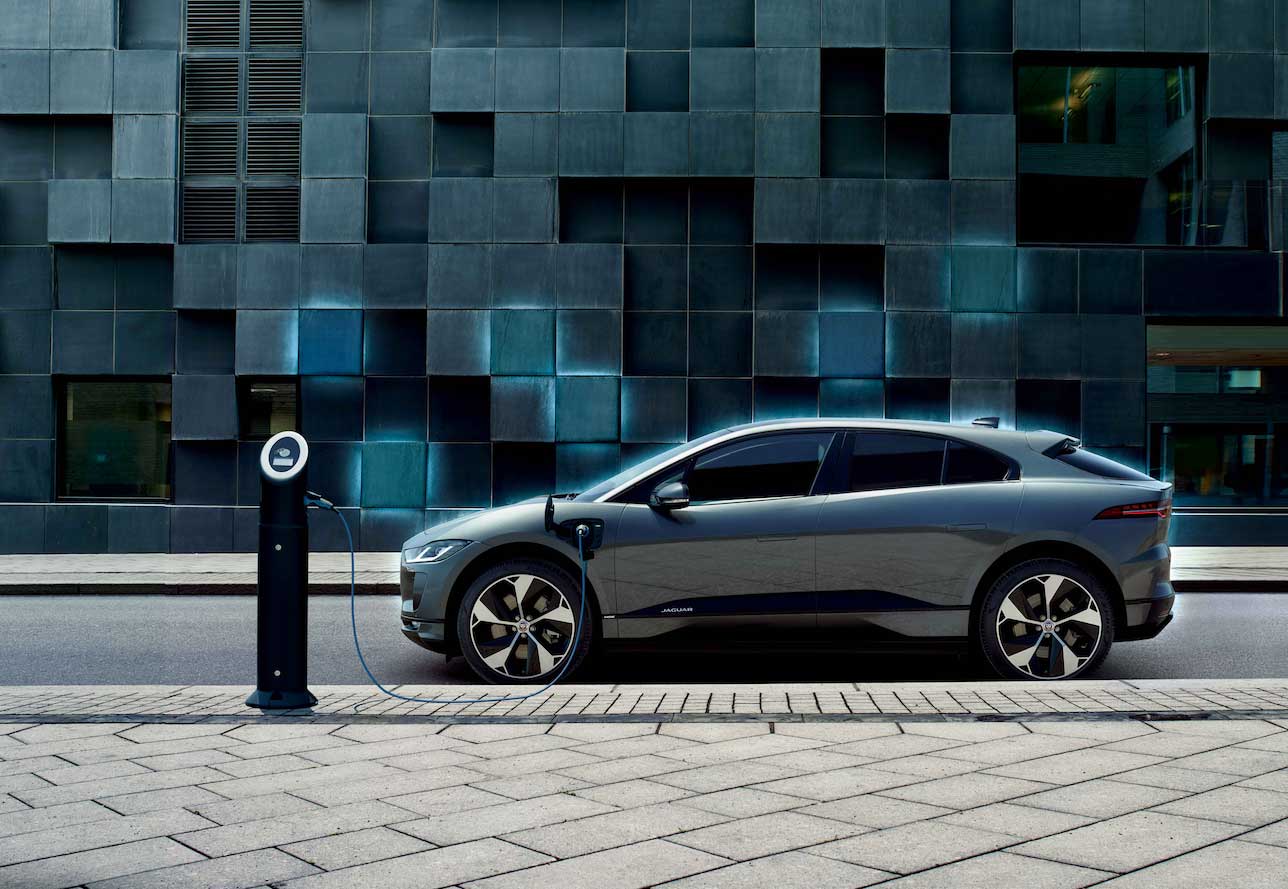 Is there any downside to owning a Jaguar I-Pace? Not really. However, you do get unfairly whacked with an exorbitant road tax in Singapore.
Since the I-Pace has electric motors, the car is extremely powerful. The Land Transport Authority determines road tax by the power of the car, and in the case of a Jaguar I-Pace, road tax is around S$6,000 per year, which is comparable to a petrol-powered car with a 5.2-liter engine. That doesn't seem quite fair when you consider that this vehicle puts out zero emissions and is environmentally friendly.
DRIVE
DESIGN
PERFORMANCE
BATTERY
FINAL THOUGHTS
Final Thoughts
Finally, it's true that electric vehicles take away a lot of the interaction between drivers, gearboxes and engines. Still, the sacrifice may be worth it. Electric vehicles are in a class of their own. And it makes you wonder where we'd be today if battery-powered cars had been adopted first.
At nearly S$380,000 for an I-Pace, it's certainly not for everyone. But Jaguar deserves to be recognized for this first and winning attempt at creating a special and remarkable electric vehicle.