MAN FU YUAN
JADE
MITZO RESTAURANT & BAR
MIN JIANG
YàN
Man Fu Yuan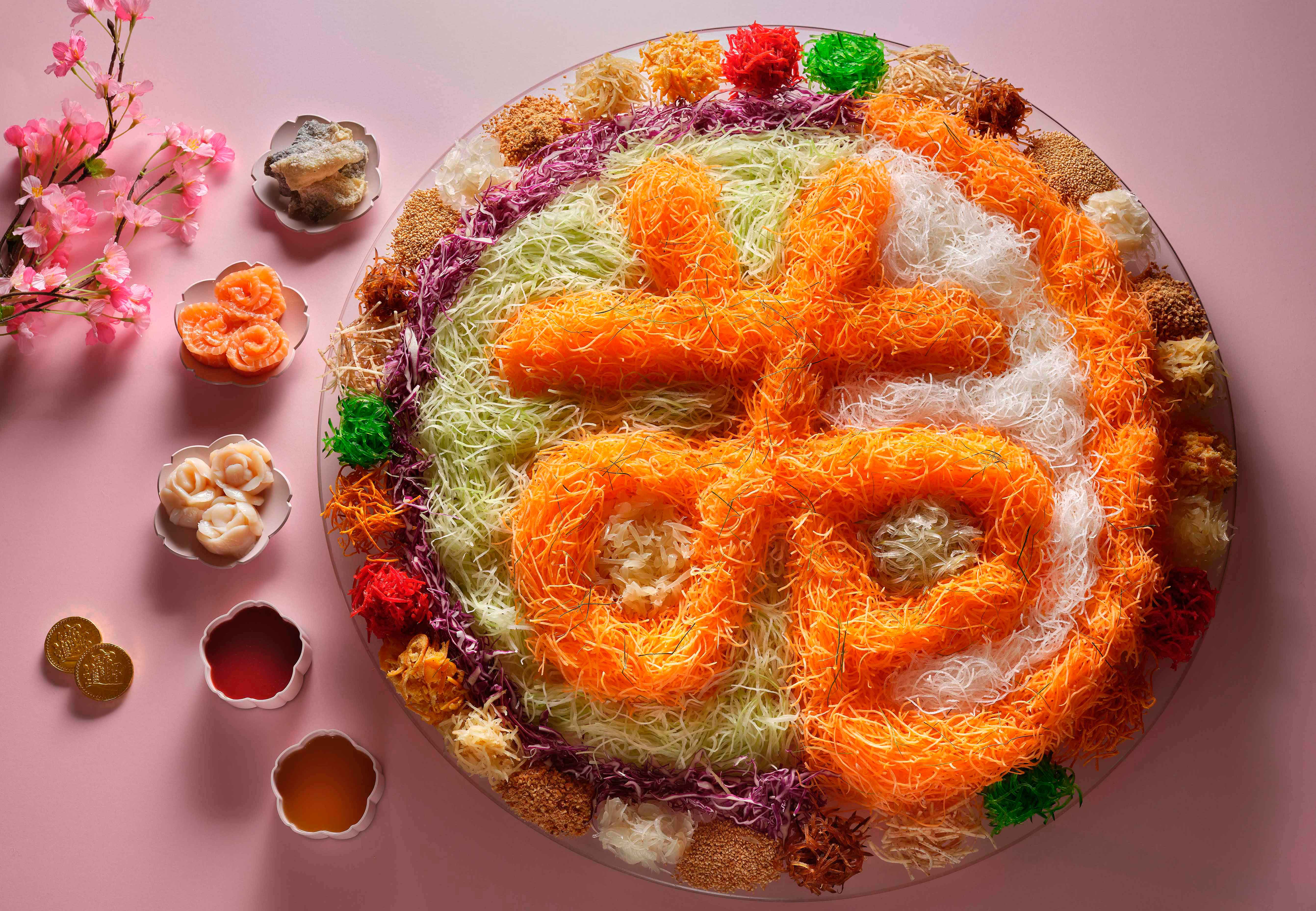 Man Fu Yuan's Lunar New Year menu is led by the young Executive Sous Chef Aaron Tan, who has prepared eight different menus, each named after prosperous terms like 'Success' and 'Wealth'.
A yu sheng assemble that's definitely out to impress, Man Fu Yuan presents their signature 60-inch Prosperity Yu Sheng ($138). The bountiful dish is laden with Hokkaido scallops and crispy fish skin, before being drenched in passionfruit roselle sauce. The shredded vegetables are carefully arranged forming the Chinese character "yuan", symbolizing abundance.
The Roasted Suckling Pig ($428) is definitely a must-have on the ala carte menu, which is otherwise exclusively offered in the six-course 'Wealth' menu that feeds a party of 10 ($2888++). The glistening skin crackles with a satisfying crunch, complementing the tender barbecued meat that wraps around a glutinous rice stuffing.
Man Fu Yuan also offers select premium steamboat ingredients available for takeaway, such as drunken kampung chicken, Angus beef balls with water chestnuts, and eight-head abalone, all of which are prepared in-house.
InterContinental Singapore, 80 Middle Road. singapore.intercontinental.com
MAN FU YUAN
JADE
MITZO RESTAURANT & BAR
MIN JIANG
YàN
Jade
Its sakura-themed wallpaper and robin blue furnishings are always good reason to tuck into a luxurious getaway for mid-day dim sum, but Jade ups the ante with their Lunar New Year offerings this year.
Chinese Executive Chef Leong Chee Yeng has a rewarding reputation for creating admirable food creations from plating decorations to whimsical assemblies. The latter is demonstrated in his Special Edition Gold Rush Salmon Yu Sheng ($388++) which depicts a striking image of a rat with a traditional gold coin, arranged from colored radish strips. Unique ingredients include champagne jelly with gold leaf, cranberry cheese cubes, and lychee-filled spherical pearls that burst in your mouth.
The zodiac-led theme continues with Hot Stone Needle Noodles with Truffle Meat Sauce ($38++ per person), where the noodles were selected for its play on the noodles' nickname 'rat's tail'. Upon uncovering the stone bowl, wafts of truffle oil and fresh truffle escape with the steam, revealing a bowl filled with thick braised pork sauce.
The pen cai dish can be an overwhelming serving for some, but Jade reduces it into individual servings of Mini Pot of Abundance ($58++ per person). The personal clay pots are ceremoniously unveiled from their parchment paper coverings, revealing the braised ingredients that were separately prepared up to four hours each.
The Fullerton Hotel, 1 Fullerton Square. www.fullertonhotels.com
MAN FU YUAN
JADE
MITZO RESTAURANT & BAR
MIN JIANG
YàN
Mitzo Restaurant & Bar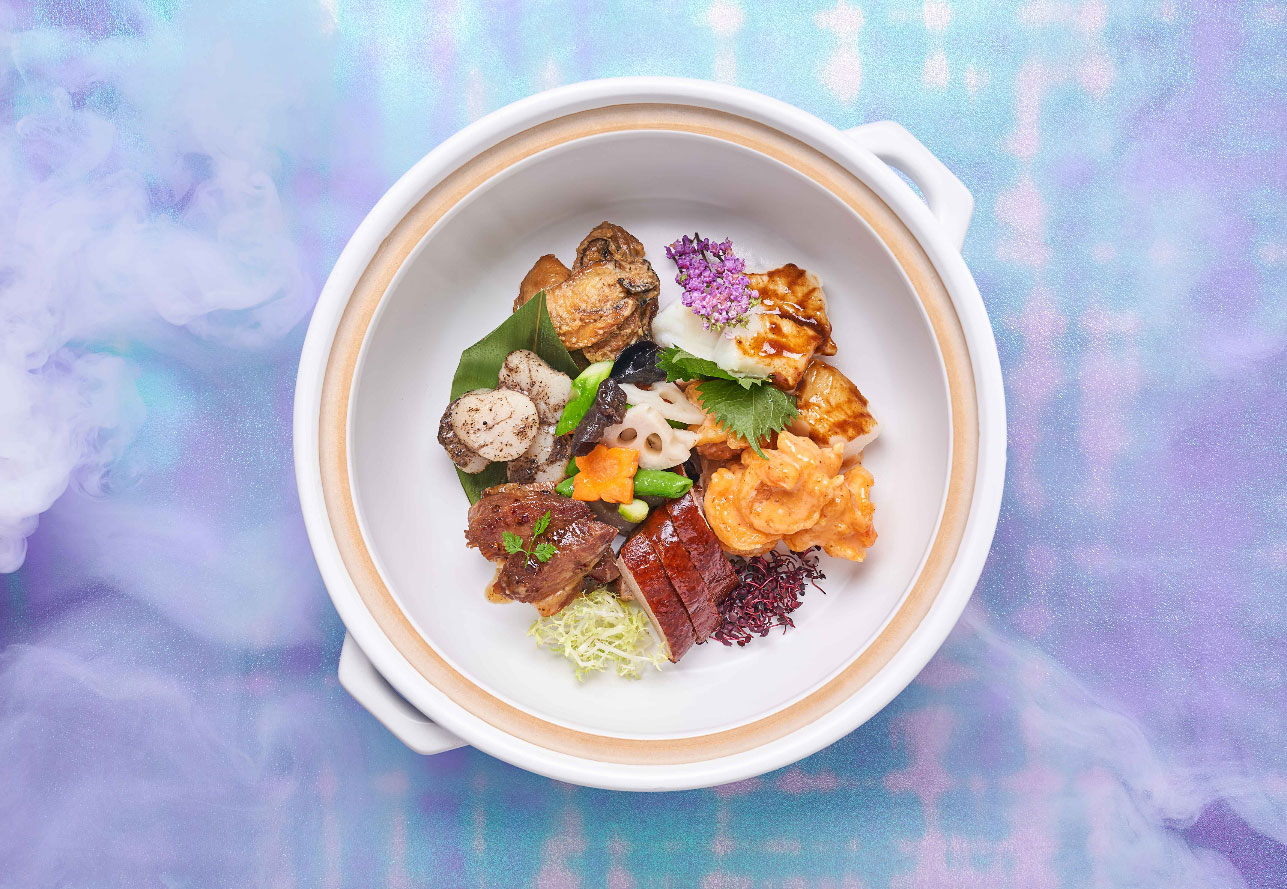 The poon choi or pen cai dish is a Lunar New Year staple, but Mitzo puts a unique spin on the usual gravy-laden dish, transforming it into a dry version. Sitting in the base of the claypot, a beautiful arrangement of ingredients, each separately prepared in its own style.
Conceptualized by Executive Head Chef Nicky, the Peng Cai serves up to eight ($588++) and comprises premium ingredients such as 6-head abalone, truffle scallop, Sha Cha cod fish, dried oyster, crispy roasted duck, braised Si Chuan pork, among many others, including the crowd-favorite, Osmanthus mayonnaise prawn. The curated assortment is finished off with an edible flower garnish that Chef Nicky specially imports from Japan.
The Lunar New Year set menus range from five to seven courses, each starting off with the celebratory Yu Sheng (from $108++), including a fruit-and-vegetable combination for the vegetarian menus. The double-boiled conch soup is also a menu highlight, with yellow fungus, goji berries, chicken and prosciutto di parma ham swimming in a light chicken broth.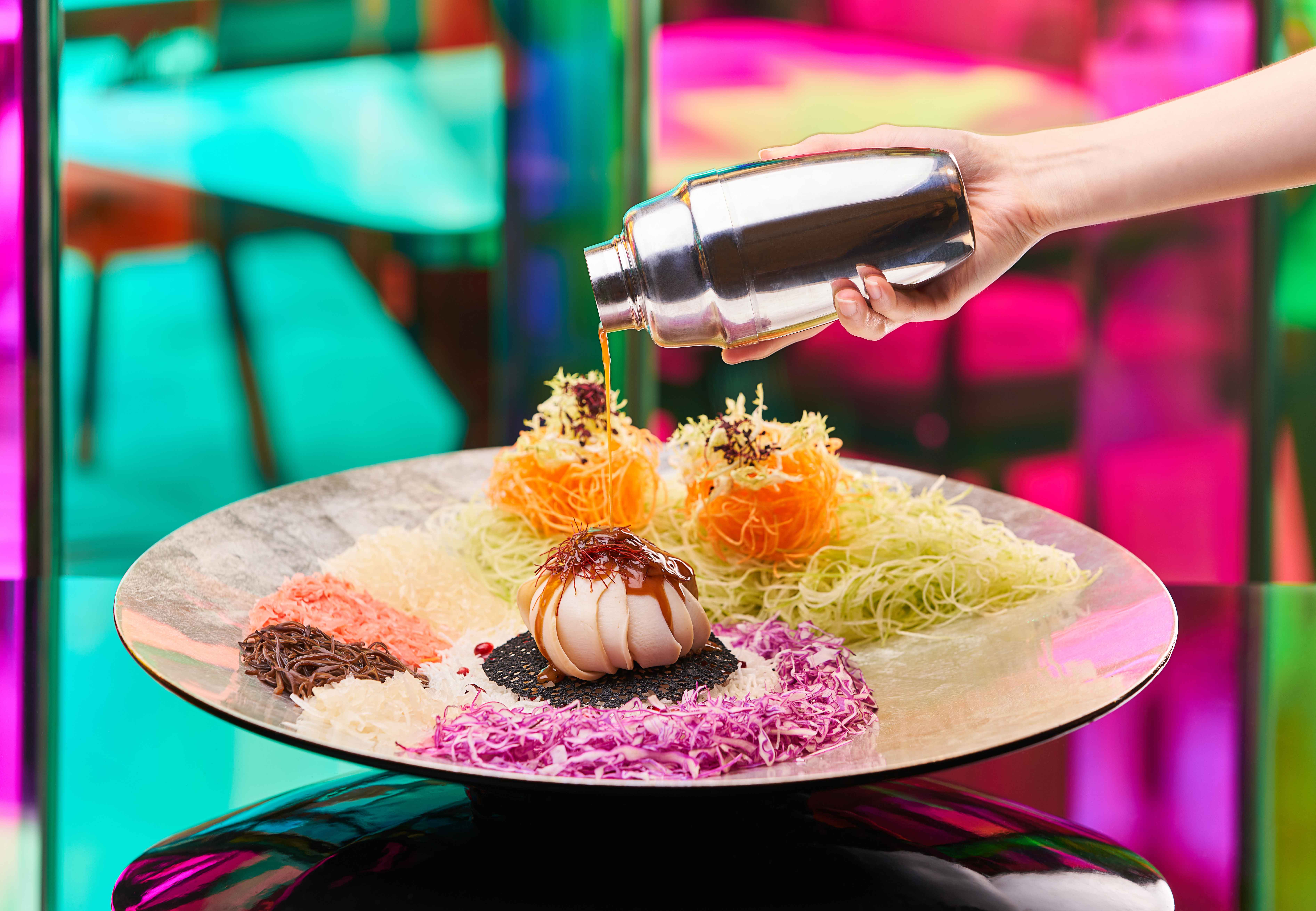 Mitzo's abalone yu sheng
Over at the bar, Head Bartender Azlam Kadir prepares a special cocktail reserved for the Lunar New Year season. The #888 ($18++) is a tangy tequila-based cocktail mixed with Campari, ginger beer, and sweet vermouth infused with longan and red dates, orange flower water, goji berry syrup and lemon juice.
Grand Park Orchard Hotel, 270 Orchard Road. mitzo.sg
MAN FU YUAN
JADE
MITZO RESTAURANT & BAR
MIN JIANG
YàN
Min Jiang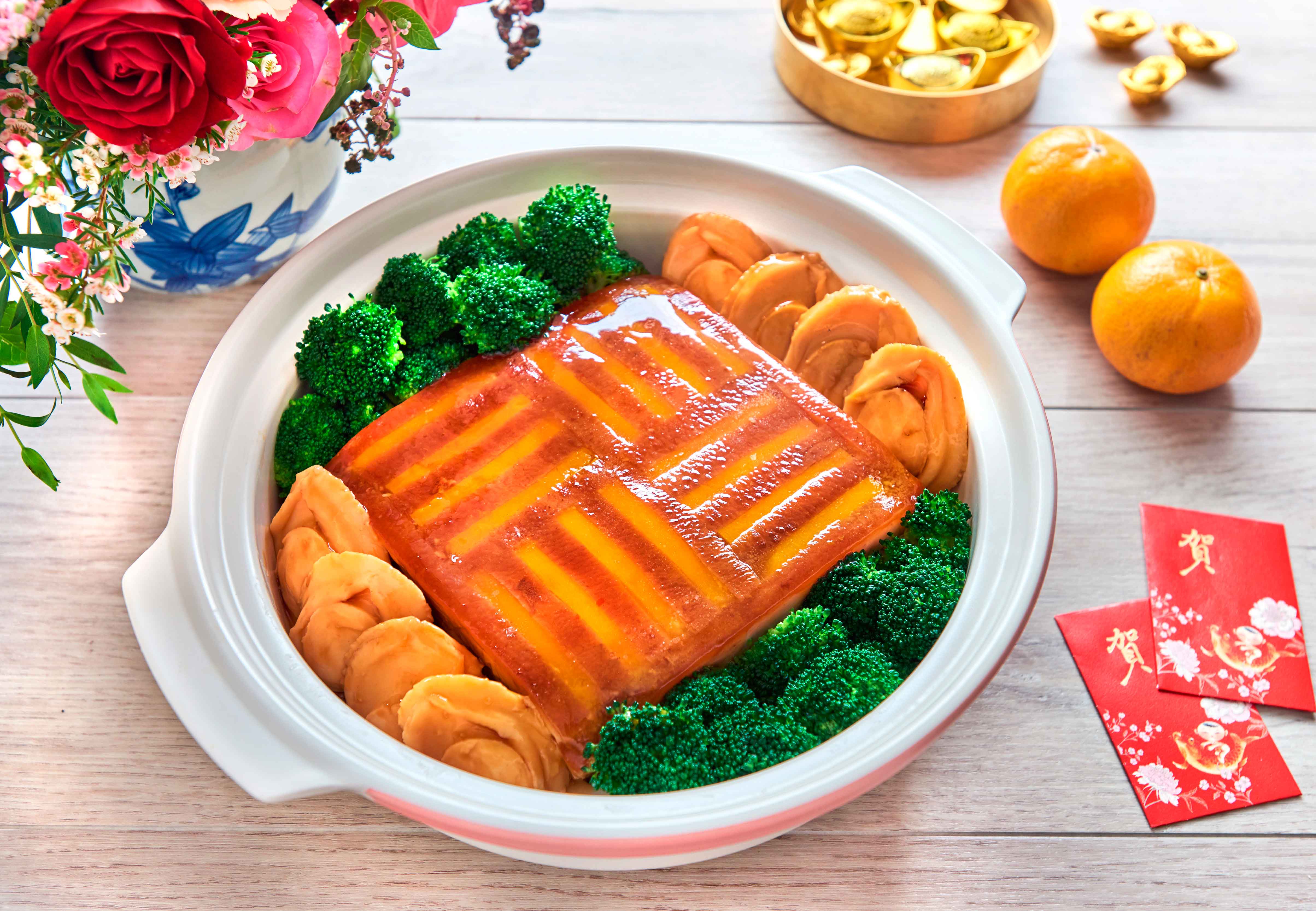 Min Jiang's Pot of Gold
Min Jiang at Goodwood Park Hotel takes the cake for presenting one of the neatest braised claypot dishes with their Pot of Gold ($243.95). Slices of pork belly are neatly sandwiched between chunks of stewed pumpkin, with 6-head abalone and broccoli in the mix.
Though the ingredients are few and simple, the pork-and-pumpkin combination deliver flavorful notes of garlic, chili, ginger and soy sauce, fresh from its two-hour slow cook braise. The claypot serves a party of eight, and is available for takeaway orders, which comes with the original clayware you get to keep.
In celebration of the zodiac calendar year of the rat, Master Chef Chan Hwan Kee reinterprets the yu sheng dish with interesting substitutions, such as using pieces of deep-fried chee cheong fan doused in cheese powder in lieu of the traditional golden crackers. The Joyful Abundance Yusheng ($168++) also includes an artful plating depicting a playful illustration of children to symbolize youth and happiness.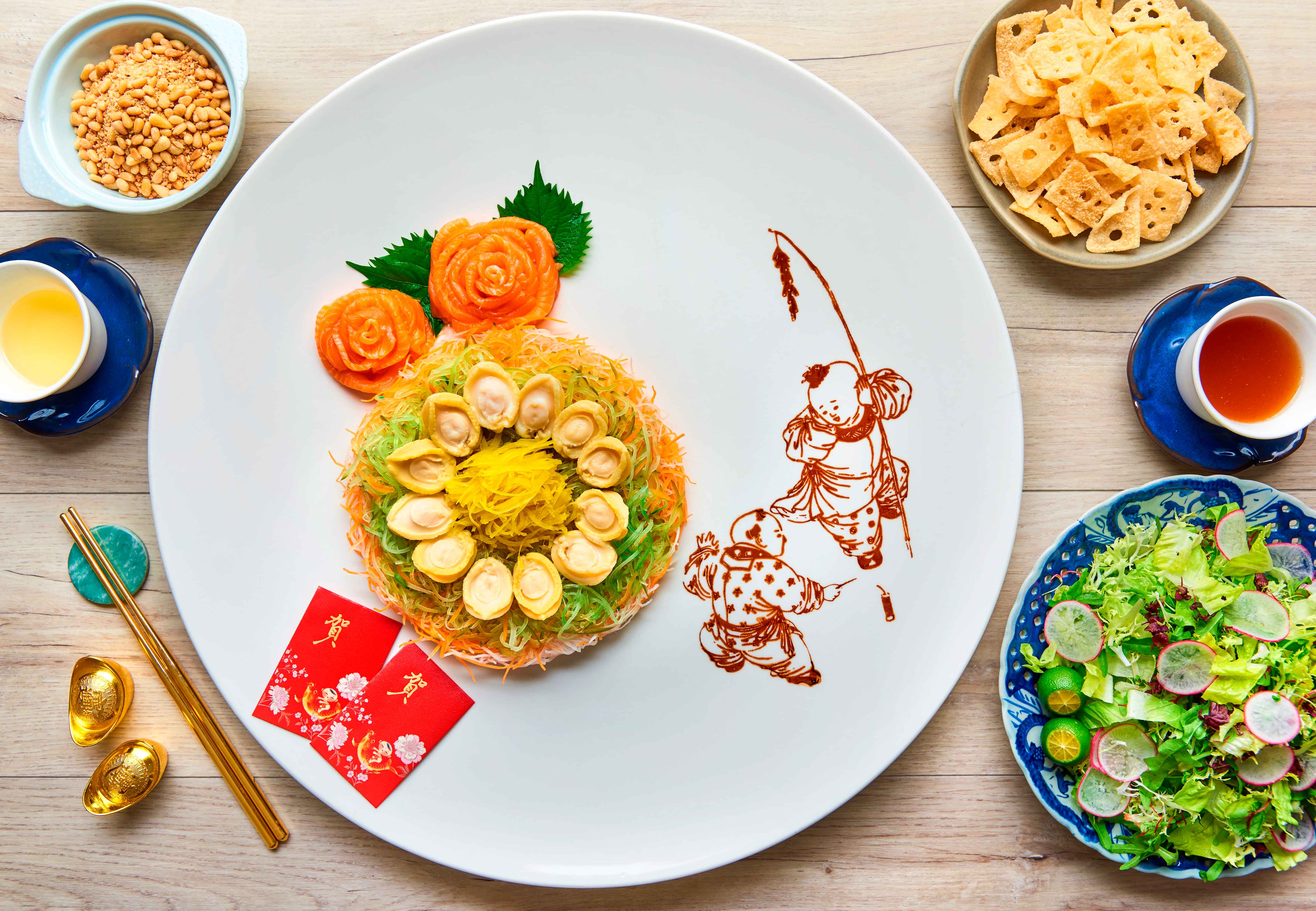 The Deli at Goodwood Park Hotel carries an array of Lunar New Year treats, most notably the debut of the addictive deep fried snack, Crispy Kangkong with Cheese and Sour Cream ($26.80).
Goodwood Park Hotel, 22 Scotts Road. goodwoodparkhotel.com
MAN FU YUAN
JADE
MITZO RESTAURANT & BAR
MIN JIANG
YàN
Yàn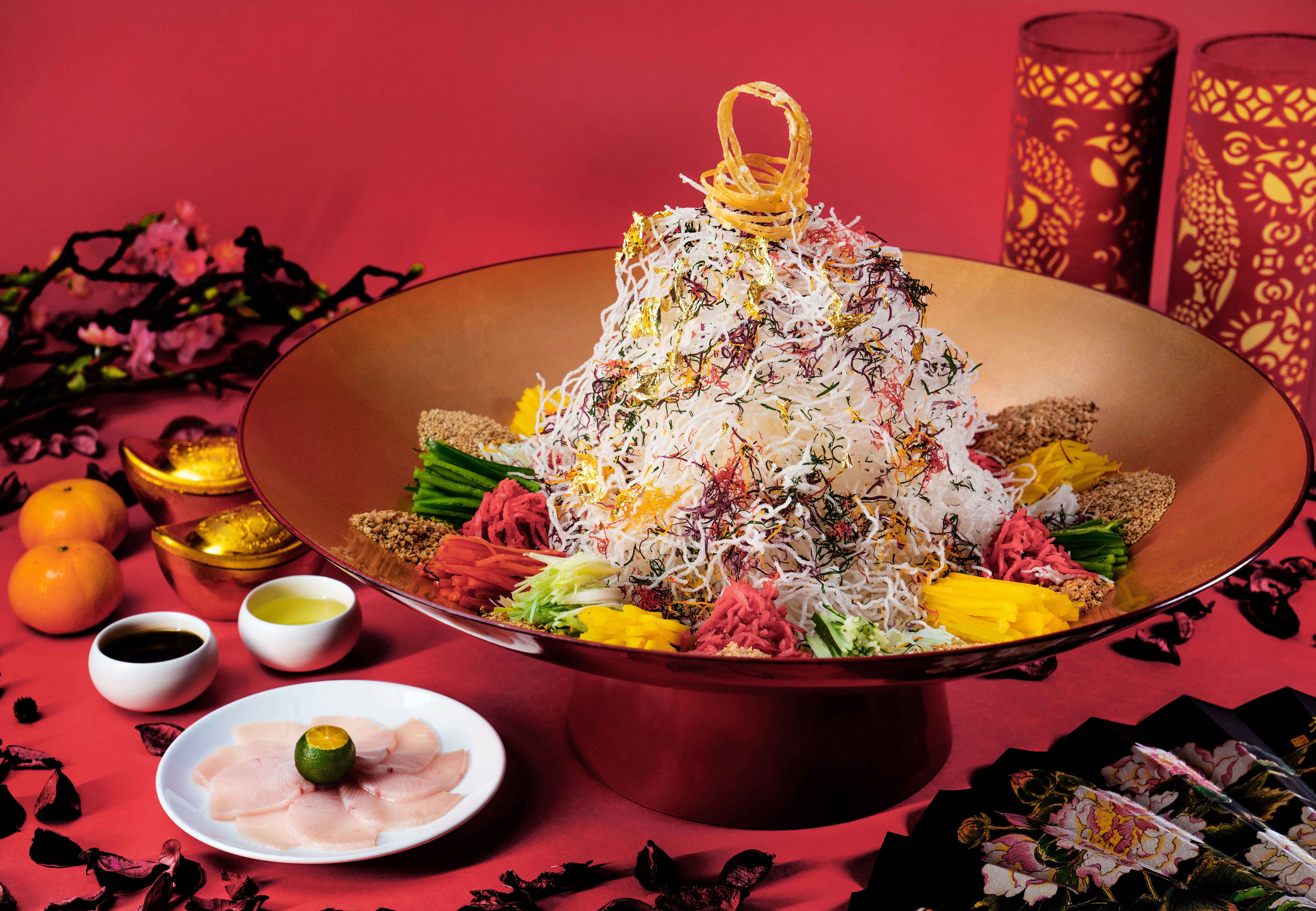 Yàn's rendition of the annual yu sheng steers away from the zodiac interpretations and instead executes its very own version. The usual long shreds of radish, carrots and cucumber are displaced with crispy colored vermicelli and short julienned vegetables, forming the Kaleidoscope of Prosperity ($138). Several strands of vermicelli are dyed using natural food coloring, and thereafter decorated with edible gold leaves as a "prosperous" addition.
With offerings of an ala carte menu and six variously curated set menus, notable dishes include Deep-fried Mango and Scallops Roll that's served alongside sautéed prawns and vegetables. The platter is decorated with a food sculpture depicting two birds to signify good luck. Carved from taro, the creation was executed by Head Chef Ng Sen Tio.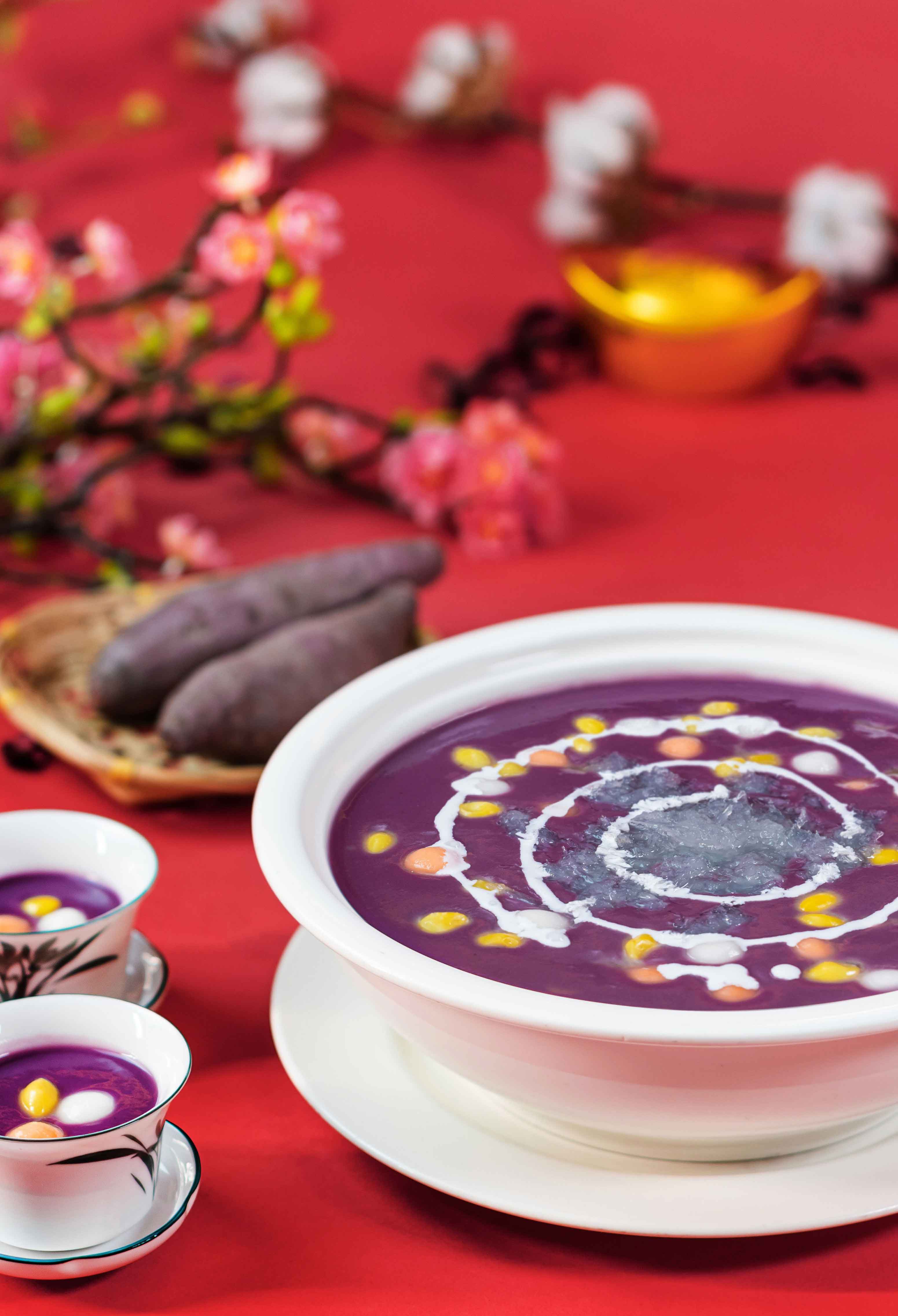 Yàn's hot purple sweet potato cream with bird's nest, gingko and mini glutinous rice balls
Sweet finishes include the humble Pan-fried Nian Gao ($6), where the slices of glutinous cake are lightly coated in dessicated coconut and sesame seeds.
National Gallery Singapore, 1 St. Andrew's Road. yan.com.sg