ARTICHOKE
CAFFE CICHETI
COMO CUISINE
FAT PRINCE
ZORBA THE GREEK TAVERNA
Artichoke
Hummus and Iraqi spiced mushrooms
Tucked away in a corner off the main road from colorful heritage buildings, Artichoke is an al fresco dream. Tropical overgrowth is sandwiched among picnic tables, while awnings of mismatched colors shade the wooden patio.
The restaurant's warm welcome is synonymous with Bjorn Shen, the owner and head chef who started Artichoke nine years ago, and his boisterous personality.
Artichoke serves Middle-Eastern inspired cuisine that's creatively reinvented by Bjorn's personal innovations. A set of new items are introduced in the menu, such as Artichoke's version of kushari. The traditional rice dish is usually prepared with legumes like chickpeas and lentils, but at Artichoke, the basmati rice bowl is tossed with rocket salad, mint, puffed corn and chunks of deep fried cauliflower.
Arguably the first restaurant of its kind to recognize one of Philippines' famous dishes, the adobo, Artichoke reinterprets the humble vinegar-and-soy marinated meat dish with a lamb version. The palatable dish is stacked with crispy shredded lamb shoulder and a well-cooked sunny side up. Hummus is thinned down to create a sauce that flavors the base of the dish, while a piece of toasted Turkish bread is perfect for mopping up the remnants when you're done.
161 Middle Road, Singapore 188978
ARTICHOKE
CAFFE CICHETI
COMO CUISINE
FAT PRINCE
ZORBA THE GREEK TAVERNA
Caffe Cicheti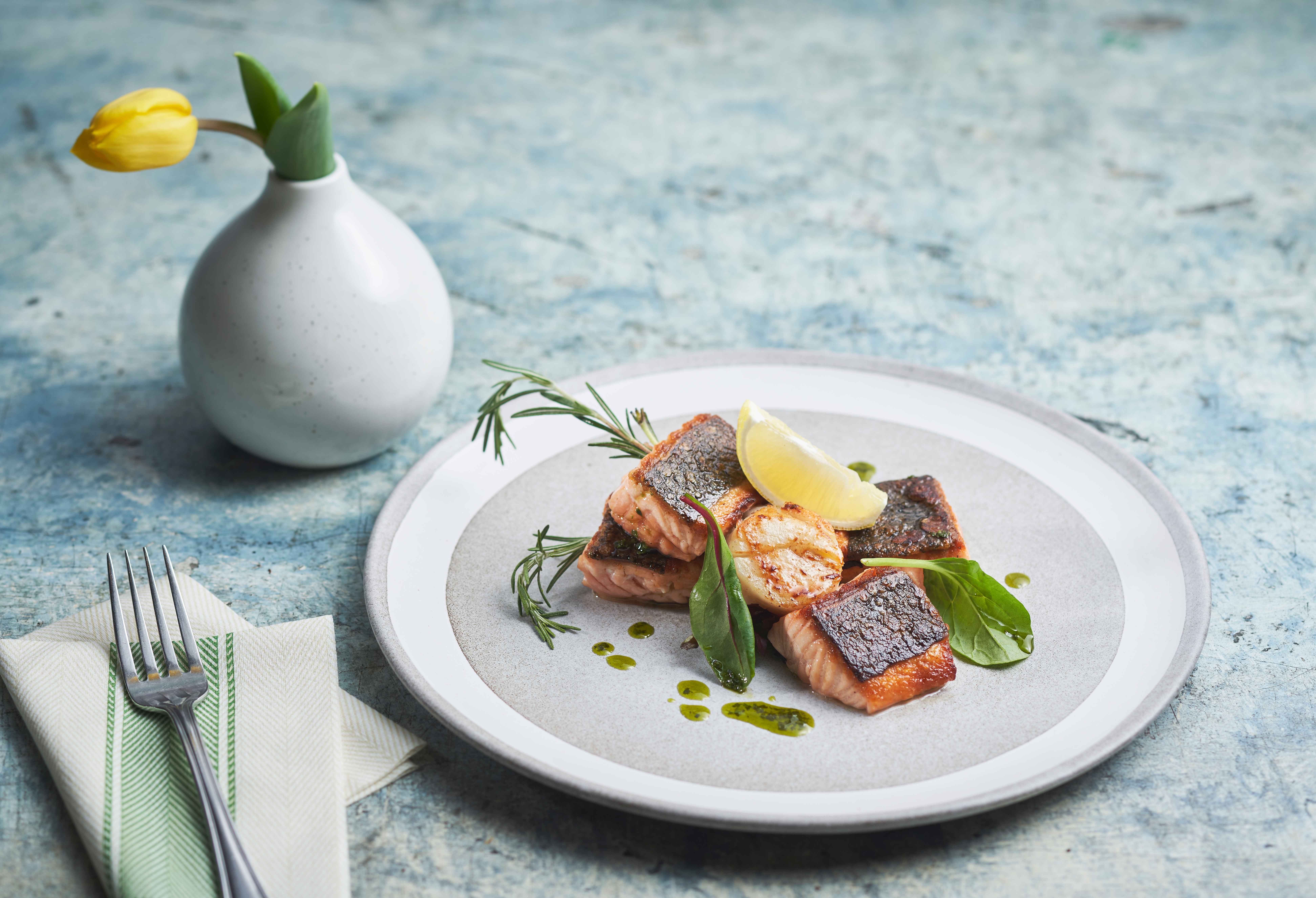 Hokkaido scallops and salmon in salsa verde
Pasta is Italy's sacred staple. From Tuscany to Sicily, Sardinia and Lombardy, the best style of pasta you'll ever find is one that's classically prepared — al dente, tossed in a little bit of olive oil and garnished with sprinklings of salt, basil and chili flakes. While our curious palates yearn for a variety of styles, there's a new Italian restaurant in town that brings Italy's coastal dishes to life without the need to be pretentious.
Caffe Cicheti is The Cicheti Group's latest addition to the portfolio (the other two being Cicheti and Bar Cicheti). Just walking towards its floor-to-ceiling windows gives a generous peek to the coastal-inspired interior — the palm-printed wallpaper blends in with complementary straw accents, where an open bar exhibits large chalkboard menus behind rows and bottles of spirits and wines.
It may be a long way from the Amalfi coast, but the colorful dishes from Caffe Cicheti's kitchen (led by chef co-owner Lim Yew Aun) sets the tone for a sun-filled summer. A round of antipasti includes a stack of Sardine Frittes whose crisp skin is lightly dusted with polenta and semolina flour, and is best dipped with a little bit of fine salt. The pasta dishes are introduced in various styles, from vongole to tortiglioni to pesto, the latter tossed in a homemade blend of basil, almond and pine nuts, and sprinkled with shaved parmigiana. The main courses speak of homey traditions, such as the Cioppino that's filled to the brim with gray prawns, flower clams, scallops and squid stewing in thick, flavorful tomato broth.
26 Beach Road South Beach Tower #B1-21, Singapore 189768
ARTICHOKE
CAFFE CICHETI
COMO CUISINE
FAT PRINCE
ZORBA THE GREEK TAVERNA
COMO Cuisine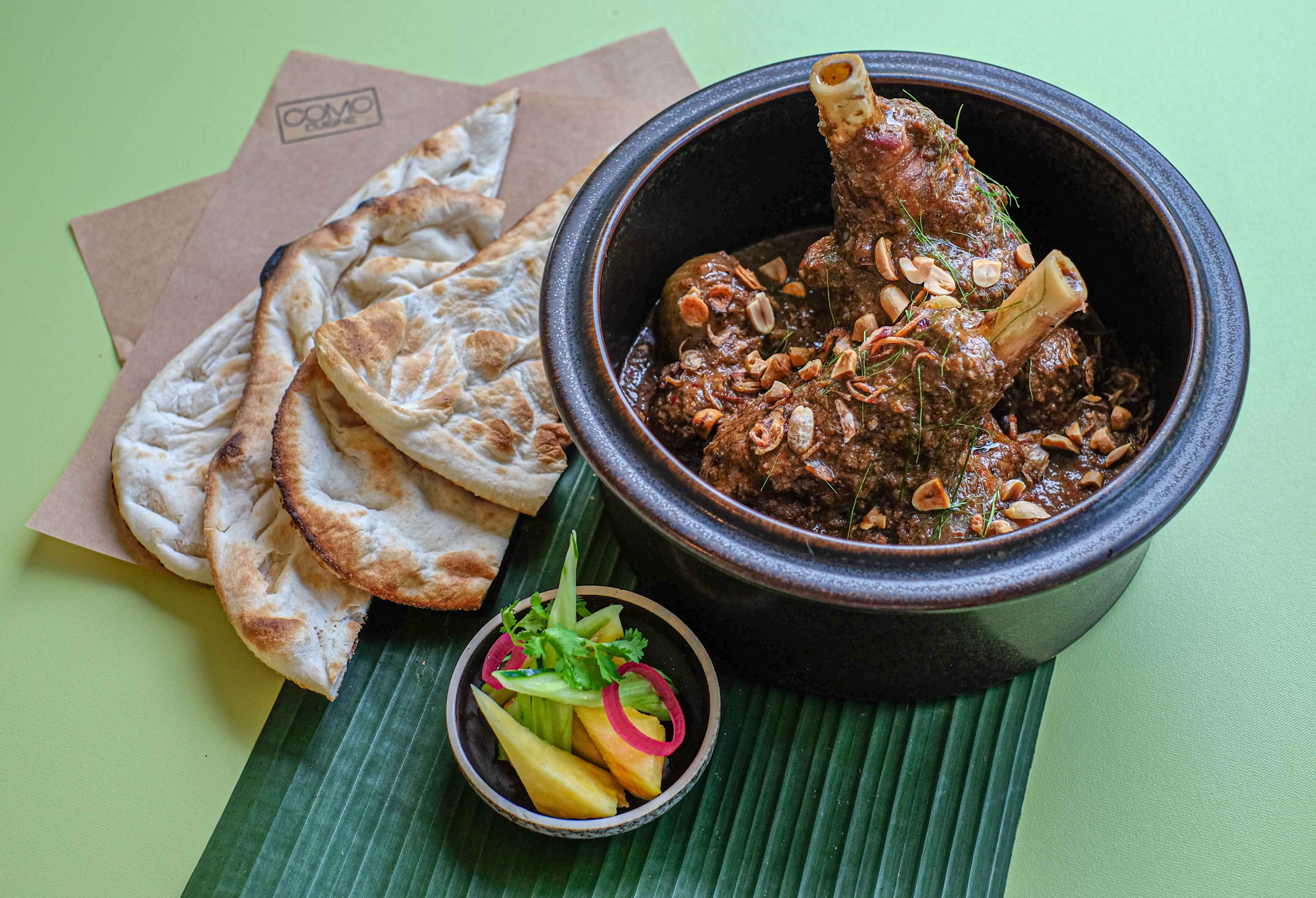 Lamb shank massaman
COMO Hotels and Resorts is reputed for its luxurious establishments all over the world. Its minimalistic designs are harmonious across the board, where it's seen in the cozy fortress of COMO Uma Paro in Bhutan and the spacious beachfront of COMO Parrot Cay in Turks and Caicos. In an effort to bridge the relationship between travel, experience and culture, COMO Cuisine strengthens the group's culinary arm.
The space is designed with similar contemporary aesthetics and offers COMO Cuisine's star dishes that best represent the group's luxurious hotels and resorts. In a single seating, one can expect a multitude of flavors from across the globe, such as toasty thick samosas filled with masala spiced lamb, handmade Bhutanese momos, duck pappardelle in homage to COMO Castello Del Nero, and a fluffy bowl of lobster biryani that plays on familiar local flavors. The large serving is ample enough for two (after going through a few starters) and the bowl is covered with a large naan that is meant to be torn into to reach the lobsters chunks underneath.
The multidisciplinary restaurant at Dempsey Hill is led by Head Chef Tshering Lhaden, whose culinary inspiration is largely influenced by her home country of Bhutan, and her travels including to the Maldives, the Carribean and Singapore.
Block 18A Dempsey Road, Singapore 249677
ARTICHOKE
CAFFE CICHETI
COMO CUISINE
FAT PRINCE
ZORBA THE GREEK TAVERNA
Fat Prince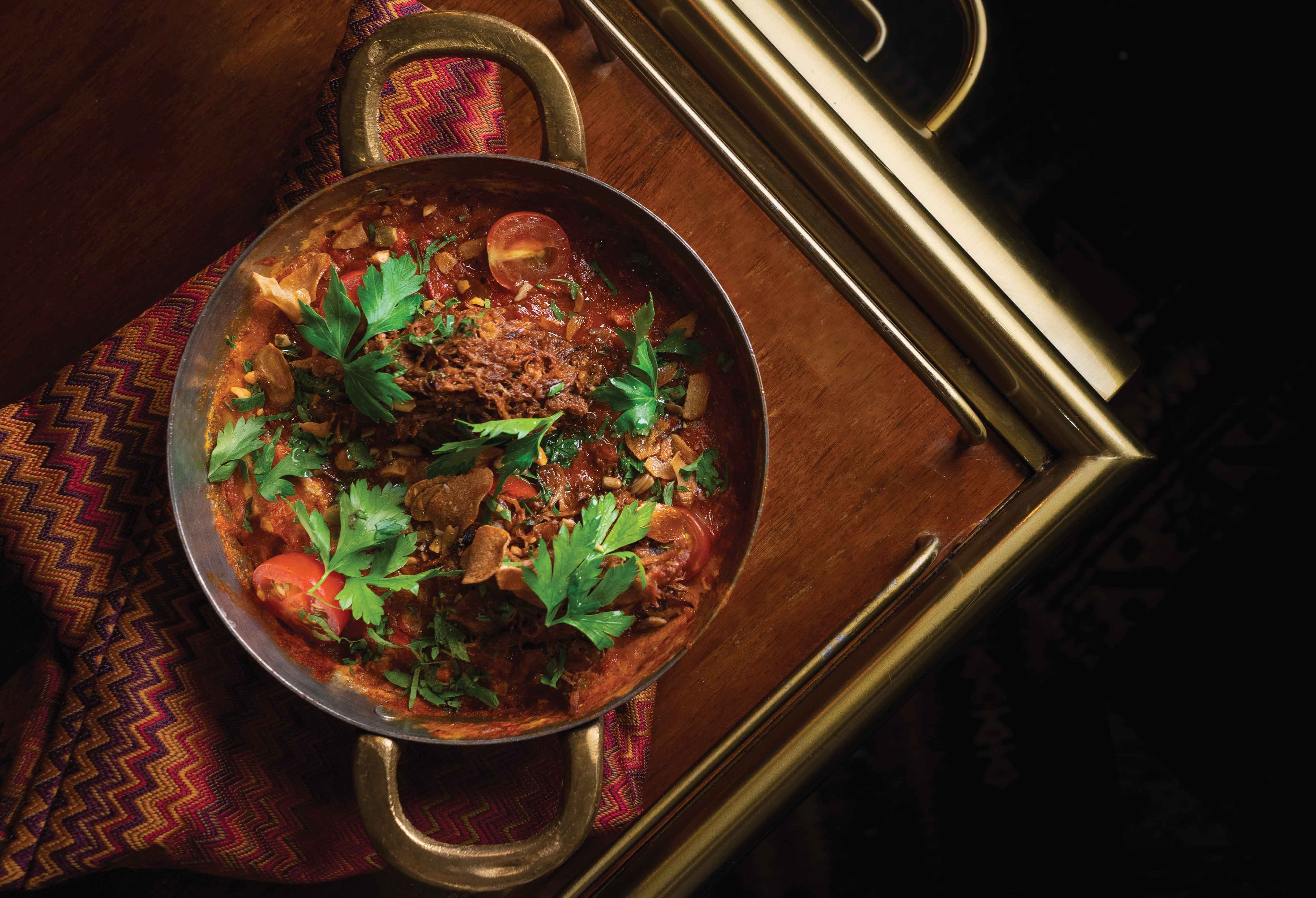 The menemen
Fat Prince recently revamped its dining space, having reopened its doors last August. Since then, the Middle-Eastern restaurant introduced new staples such as chicken shish kebab, and brought the return of its signature slow cook lamb shoulder that transforms into a tender chunk of meat from roasting over open fire in an earth oven.
Starting off the new year, the restaurant has devised a new brunch menu, which includes a mix of a la carte selections and a Royal Brunch set. Priced at $49, the Royal Brunch is a four-course spread with options ranging from dips to salads and mains. The homemade cashew hummus is a crowd favorite, though the eggplant and yoghurt dip is a wise choice if you're going for seconds.
With shakshuka as a personal favorite dish of choice, Fat Prince bakes the eggs in leek and kale ragout, and it is best eaten with toasted pita bread. One can also opt for the traditional Turkish menemen dish, where lamb can be switched out for grilled halloumi cheese that's stacked with spiced tomato and Greek yoghurt.
48 Peck Seah #01-01, Singapore 078317
ARTICHOKE
CAFFE CICHETI
COMO CUISINE
FAT PRINCE
ZORBA THE GREEK TAVERNA
Zorba The Greek Taverna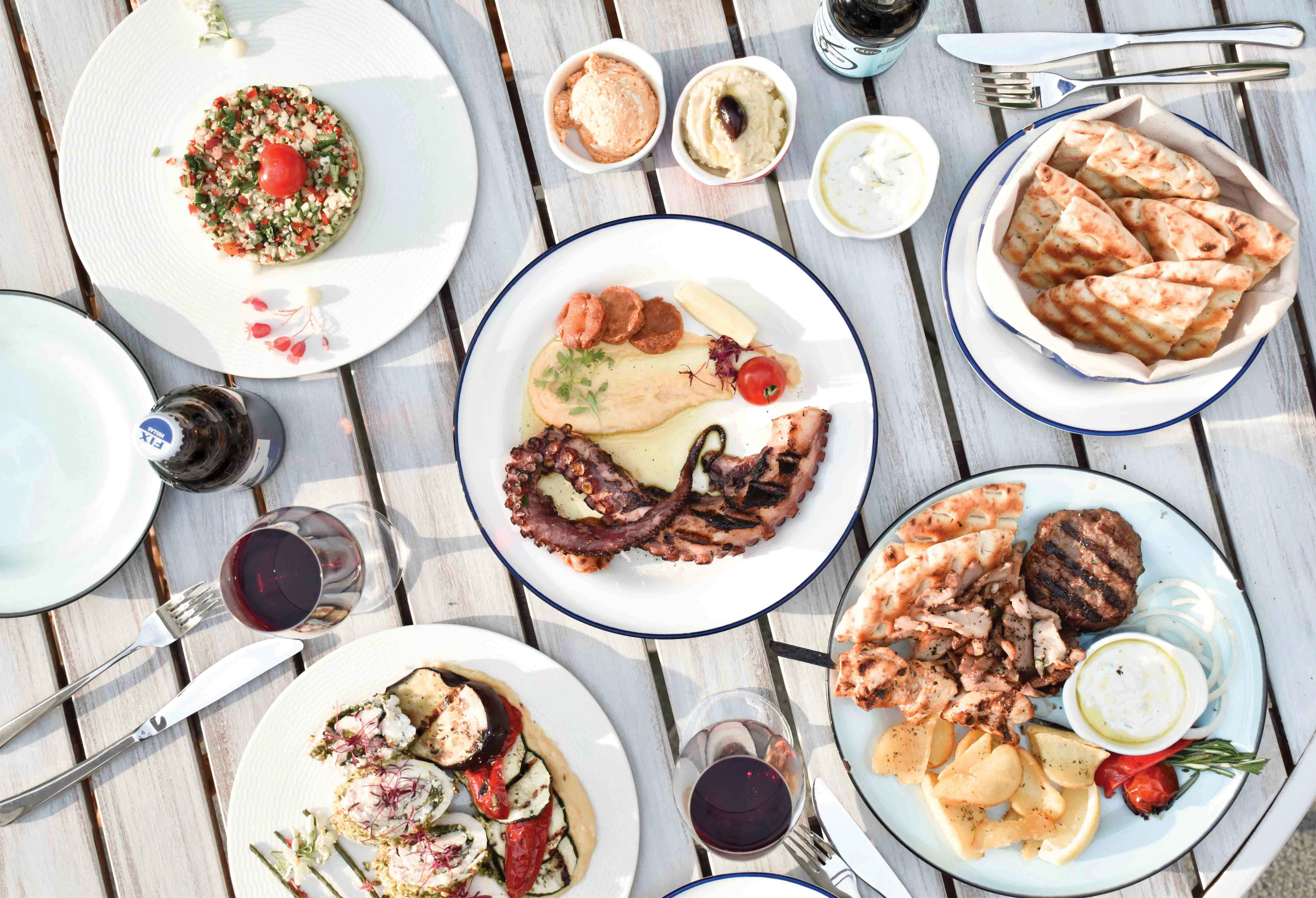 The new coastal restaurant along the Singapore River replicates a dining experience as one would have while facing the Mediterranean Sea in Greece. Zorba The Greek Taverna is decked out in signature Santorini colors, with blue-tinted wooden furnishings and stark white awnings.
The menu features recognizable Greek dishes such as moussaka and tsipoura, which is prepared using air-flown sea bream that's charred to a golden crisp on the grill and garnished with lemon slices. The dishes are made from ingredients that are mostly sourced from Greece, in order to create dishes that are authentically Greek. Zorba's eponymous in-house salad is neatly assembled with wine-marinated octopus and colorful vegetables, including cucumber, tomato, onions, capsicums and parsley that's laid on top of a fava bean spread. For dessert, indulge in the sweet flaky sheets of classic baklava, or try the yiaourti, a Greek-style yoghurt that is dressed in honey and walnuts.
3A River Valley Road #01-02, Singapore 179024