The crevasse narrowed down into bottomless darkness. With his harness dangling precariously off the strained rope, Mr. Dhiren Doshi saw he had plunged three meters from the precipice as the overhang collapsed during crevasse-crossing on the risky route between the first two camps on the snow-covered mountain of Manaslu, the sixth highest peak in the Himalayas. He felt a tug on his harness and immediately knew, from where he was dangling, that his chances of getting out of the spot was slim to none. And it had to be done in less than 5 minutes before the anchor points or his grip gave way. "In that moment, everything ebbed into slow motion," says Doshi. "My mind and senses went into hyper drive. Every sound, every tiny flake of snow, every heartbeat registered loudly as though counting the seconds I had. I thought of my loved ones and I knew I had a very small window to do whatever I could to try and get out of the spot." So he asked his Sherpa, who was standing on the edge in panic mode, to take a photo of him.
THE GREAT ESCAPE
THE 8000M CHALLENGE
The Great Escape
"It sounds like a bizarre thing to do but I didn't expect to make it out alive," he laughs. "And my first instinct was to let my family and loved ones have one final memento." Snapping right back into the task at hand, first up was lightening his load. Shifting to slide the backpack straps off each shoulder with ice axe in hand, snow and chunks of ice started littering down. There was no time to lose. Next up, reaching either side of the crevasse. Swinging whilst tugging the rope overhead for a greater pendulum effect, after a few harrowing oscillations, he managed to obtain a secure foothold with the crampons on his boots. "Once I got a three-point contact in, I knew I might actually survive," he recalls. Within seconds, he hauled himself up as the Sherpa reached out to pull him. "The moment I got back up safely, my first thought was, what can I do to make sure this situation never happens again."
While most people who had come so close to death might decide to just hang up their boots, Doshi chalked this incident in 2014 up to experience and an expensive lesson he learned. "For serious high-mountain expeditions, go only with recommended professional guides from reputable agencies based on trusted climbers' personal experiences. Do not tolerate any concessions on safety and logistics," he stresses vehemently. "My near-death incident on Manaslu should never have happened. Trusting a celebrity climber as a guide was my huge mistake – wrong timing, a dire lack of professionalism and accountability, poor logistics and an ill-advised climbing plan. Consider this – it was already post-season by the time we arrived at basecamp. Every other team had already gotten off the mountain, and yet our expedition was just starting up!"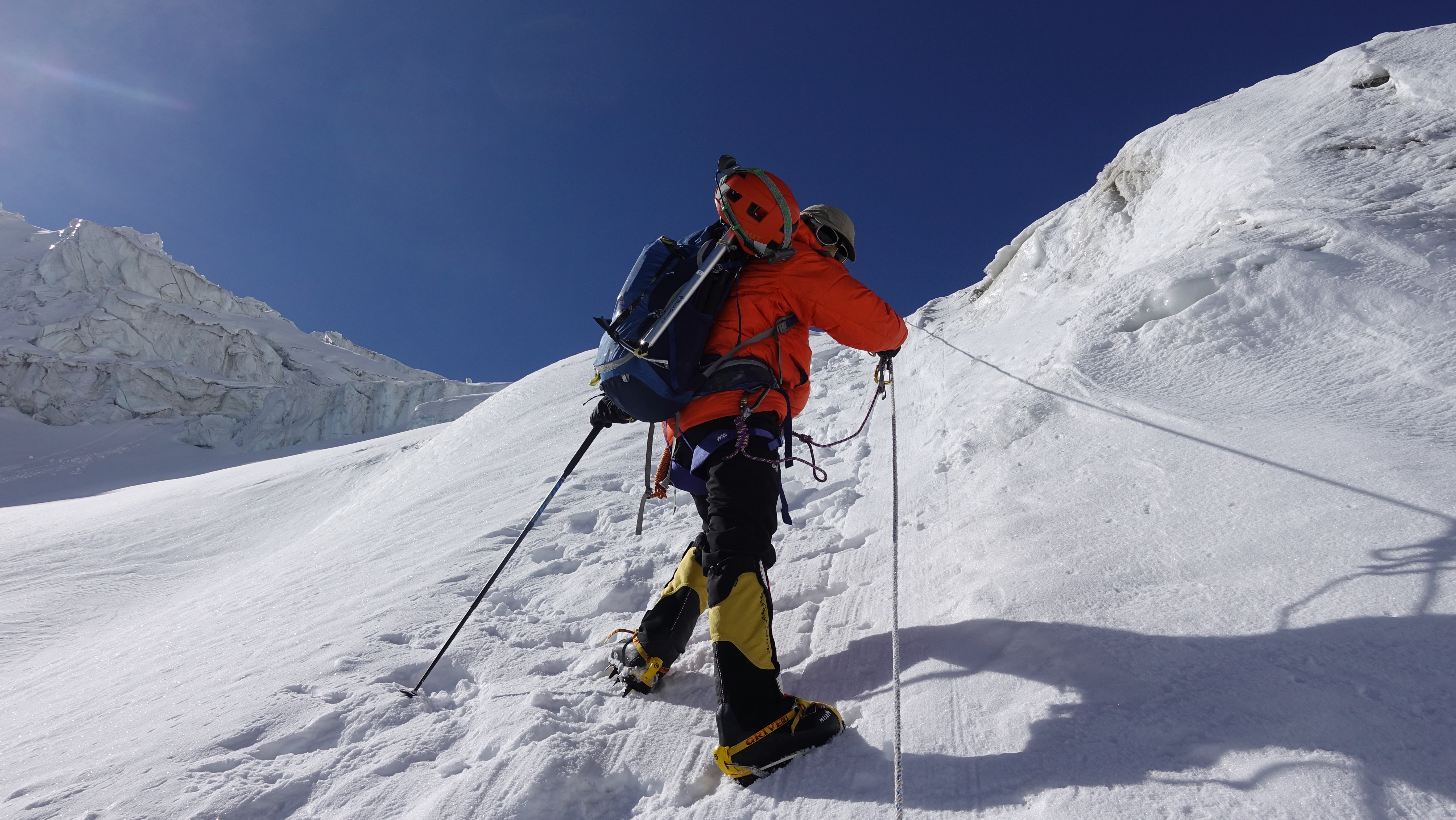 Doshi admits it was the first thing in his life he did not see through to completion. With dangerously low blood oxygen due to minimal time for acclimatization to the altitude and weakness from the fall, he had to turn back. It was the only smart thing to do. While he has a high tolerance for risk, he does not advocate risk-taking for the sake of one's ego. "It's never been about clocking all the eight-thousanders (there are 14 mountains in the world that are over 8000m above sea-level that adventurers and climbers tick off their list as accomplishments) or summiting the fastest and the most that drives me," Doshi explains. "I've always been drawn to nature. I need to deurbanize every now and then; get away from the routine and noise so I can be alone with my thoughts. My adventures on the mountain are always about personal growth."
A 44-year old VP with SAP, Doshi is an avid adventurer and backpacker at heart and has enjoyed hiking and trekking since school days. His first serious expedition was climbing Kilimanjaro in 2007, a trip that happened on a whim. He and a group of friends made it to the summit in basic beachwear. He's been hooked since. In 2010, he found an agency that was doing an expedition to Aconcagua, the highest mountain in South America. An unforeseen schedule constraint left insufficient time for proper physical training and equipment preparation, yet he persevered on the challenging self-carry expedition to emerge as one of only five from the 13-member team to successfully summit.
"Training and preparation for the more serious expeditions may take 6-12 months. But a lot of it requires mental and psychological prep. As the climb gets harder, it's very easy to just turn back and give up. On Aconcagua, we saw grave markers and helicopters evacuating injured climbers. Sometimes, you hear of accidents and fatalities before you even start your ascent. Staying level-headed, assessing the situation objectively, making your own decisions – the psychological setup is critical. That's why climbing for me is more about conquering myself rather than conquering the mountain."
THE GREAT ESCAPE
THE 8000M CHALLENGE
The 8000m Challenge
After Aconcagua, Doshi did Elbrus, the highest peak in Europe before his close shave on Manaslu. When Doshi decided to tackle Dhaulagiri in 2017, he signed up with Adventure Consultants, an agency based in Wanaka, New Zealand. For a climb as challenging and dangerous as Dhaulagiri, he wanted to go with the best. The expedition was led by the agency's renowned CEO and mountaineer, Guy Cotter. Because of its difficulty level and the fact that Doshi hadn't climbed any other eigh-thousanders before, he was asked to complete intensive alpine training in New Zealand prior to the expedition.
The team of 13 started their ascent end of April and 10 (including 4 guides and 6 non-professionals) of them summited on May 22. There was inclement weather, ropes were getting buried in snow and logistics got challenging. The perilous terrain and difficult conditions saw several helicopter evacuations, accidents and one fatality in another team. The night before their summit, Doshi's team was making their way in dim moonlight. At that altitude, in extreme cold and without any other visible life, climbers move at a glacial pace – every breath conscious, every step laboured. A steep 1km drop on parts of the traverse meant any loss of concentration or mis-step could result in death.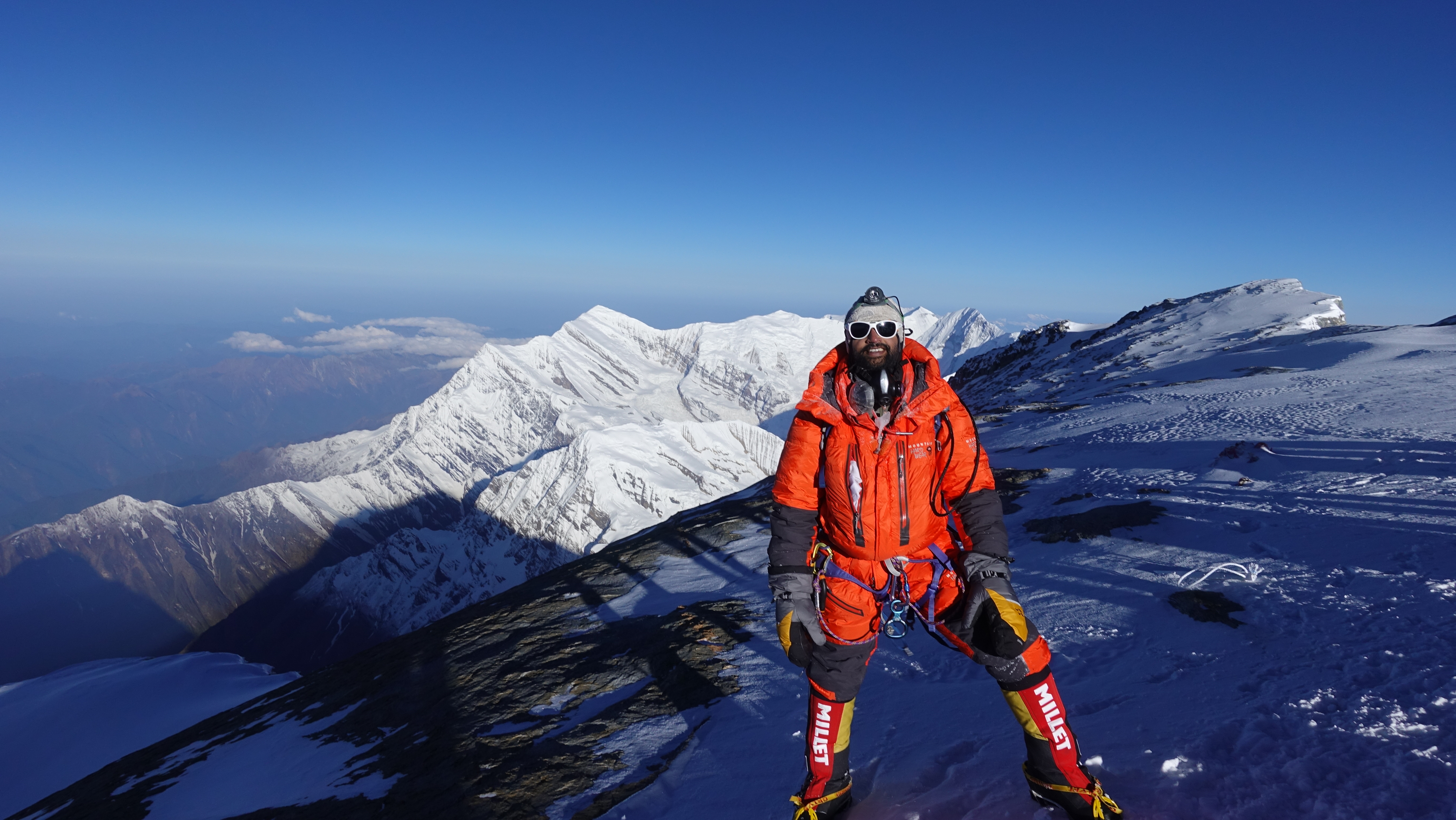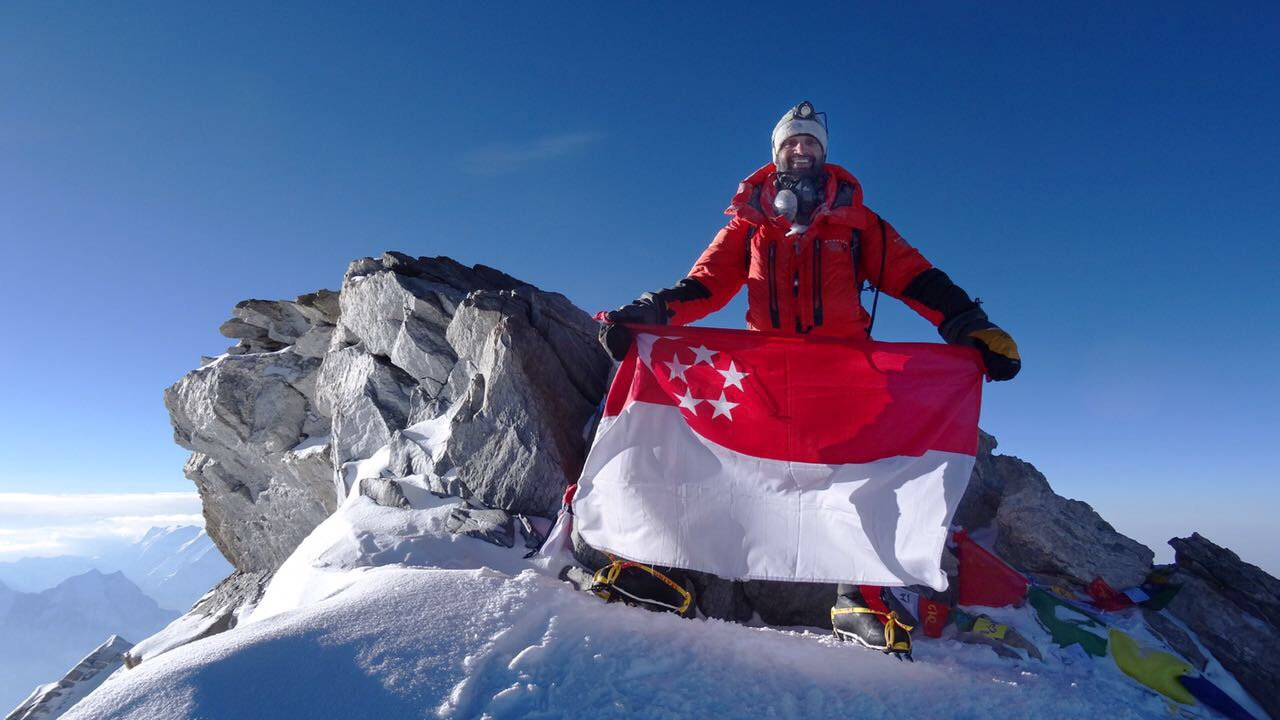 "In those moments, your entire universe is in your mask and all you see is a cone of light shining from your headlamp. As I turned a corner, I heard a sound," he explains. "When I looked back, a climber showed up in my light path, wedged between two huge boulders a few metres away."
His face was exposed, without an oxygen mask, his hands appeared frozen, bare without gloves. Doshi blinked, looked away and looked back twice. Hallucination is a common experience in high altitudes but he realised what he saw was real. He had to decide quickly what he could do. "Where is his team and support? Is rescue on the way? How long had he been exposed? How much longer would he survive? How do we help him? Why didn't our guides and sherpa stop to offer assistance? Was going on the right thing to do?" Doshi knew for a fact he wasn't skilled nor equipped to meaningfully help this distressed climber. He had to trust the experience and decisions of the experienced professionals. The rule on the mountain stands – don't risk additional lives to save somebody, else three might perish whilst trying to rescue one.
"Painful as it was to walk away from that, I had to move on and hope we would see him again on our way down and he'd still be alive. But for the next few hours, all I could see was his face and I imagined his loved ones and his hopes and dreams. It was one of the hardest decisions I had to make. The thing is, not many people talk about this side of mountain climbing. The tragedies you might witness and your inability to help or save people sometimes. It takes a lot of strength to overcome that and move forward." In fact, before each big expedition, participants are asked to sign forms confirming how they want their bodies handled should they not survive. There are three options: to be left on the mountain; to be brought down to base camp and buried there, or to be brought all the way home. Each option comes with escalating costs. It is a sobering thought for one to reflect on each time one embarks on such a journey.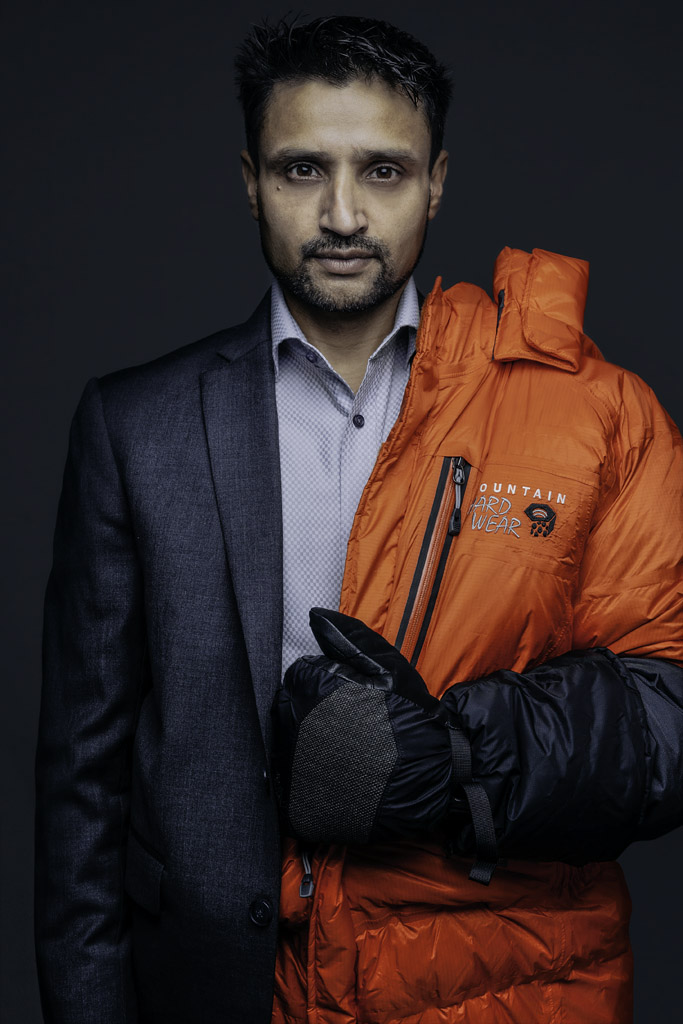 On the team's way down, they found the man, miraculously, still alive. The team leaders and sherpas managed to help him down to safety. They later learned that he had been stuck in that spot for a day after running into trouble. His Sherpa had gone to get help but rescue couldn't arrive in time. The rest of his team had to leave or they would have run out of oxygen. Doshi says it was heartening that the Adventure Consultants team managed to rescue the climber. "The human spirit triumphs!" he smiles.
Dhaulagiri was also a personal triumph for Doshi. In spite of the challenging circumstances, he prevailed and became the first Singaporean to make it to the summit on May 22, 2017. At the peak, he unfurled the Singapore flag and the SAP company flag. "It was a truly humbling feat. When you surrender to nature, you realise how little control you actually have in life and how insignificant you are in the bigger scheme of things. It really changes your perspective. I believe we should climb with a purpose. For me, it's about self-discovery and pushing my limits. Hopefully, I come back each time a better version of myself."