SPECIAL EDITION SWITZERLAND 2021
Call of the Alps
01 Feb 2021
A dreamy and picturesque Switzerland quietly awaits summer exploration. Adam H. Graham heads to the Top of Europe to explore his adopted homeland's epicentre of tourism and discovers the high altitude attractions of Interlaken, Grindelwald, and beyond

I thought it was a practice run. But suddenly my Nikes lift from the grass, and I'm in the sky, gliding in thermals of warm air and floating above the snaking crystal blue Aare River and the terra-cotta rooftops of Interlaken. To my right are Eiger, Mönch, and Jungfrau mountains, glistening like freshly-powdered bundt cakes. To my left is the cerulean blue Thunersee, arguably the most serene and surreal of Switzerland's 1,500 lakes. Supporting me from behind is Florian, a tall blonde Swiss tandem pilot from Skywings who's using a selfie stick to film the entire flight casually. 
Moments before liftoff, Florian and I were standing in a green meadow on Beatenberg, a 15-minute drive up the mountain from my Interlaken hotel. After exiting the Skywings van, I got butterflies in my stomach and started stalling. I explain to Florian, a seasoned paragliderand Base Jumper, about my recent knee injury and studying his blue eyes carefully for the slightest sign of hesitation.
While I'm excited to paraglide, I'm nervous and secretly wish Florian would say something overly cautious like, "It's too risky". But he'd heard all the excuses before. Chickening out at the last minute seemed like less and less of a possibility. The more I explain my gimp knee or call attention to a menacing-looking cloud or freak gust of wind; the quicker Florian unpacked the gear.
"Our weather window is closing," he says humorlessly. One minute, he was furiously buckling me into a series of flimsy nylon straps, and then next we are running down the hillside together in what I thought was a practice run. We take flight, my legs spinning in the air like a cartoon. It's a good thing considering the cliff edge we're running towards is a 1,500-metre-feet drop to the valley.
Interlaken, a two-hour train ride from Zurich, is a prime summer hub for mountain excursions. While I've prided myself on visiting all 26 cantons of Switzerland, including multiple visits to Canton Bern where Interlaken is located, I somehow escaped a more in-depth visit here. Over the last decade, the town of 5,000 developed a reputation for package tourism, especially popular with Asian tourists from Japan, Korea, India, Singapore, and China. Unlike other Swiss villages, its residents make up a real mix of nationalities including many foreign-born guides who fell in love with the picturesque town and permanently settled there. It has a vibrant selection of foreign restaurants, including a Korean BBQ joint, a dozen- plus Indian restaurants including a Biryani and Tandori, several Chinese and Thai spots, and of course the typical Swiss restaurants.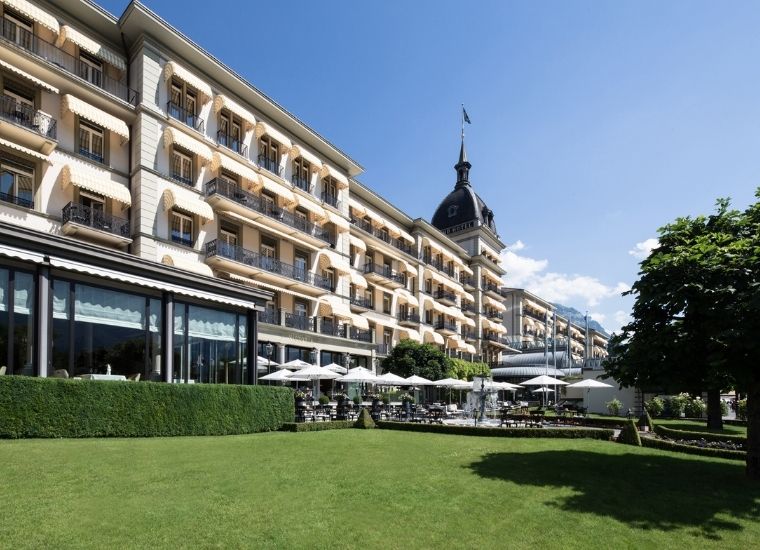 CHOCOLATE BREAK
ASCENTS AND DESCENTS
Chocolate Break
Interlaken's selection of independent schoggi (chocolate) shops are some of the best value in all of Switzerland and a far cry from the ubiquitous Duty-Free Lindt and Nestlé that you'll find everywhere. Grand Café Restaurant Schuh is famous for its patisserie, pralines, and seasonal chocolate figurines — squirrels, hedgehogs, and chestnuts graced the display windows during my early October visit.
Another is Confiserie Rieder, master bakers of pastry, berry tortes, quiches, and raspberry truffles. At Funky Chocolate Club, run by a husband-and- wife team from the Czech Republic and New Zealand, guests sign up for a 75-minute workshop to make their own chocolate bars. I spent a fun hour there donning a chef's toque and learning about the differences between ruby, caramelised white, grades of dark, and just plain old milk chocolate which was invented in Switzerland in 1875.
While there are numerous alpine hiking trails you can embark on from the town's centre, the town itself is also ideal for strolls. At its centre is a giant meadow called the Höhematte, the summer home to a local herd of Fleckvieh cows, whose silky ginger and milk coloured coats catch the glints of morning light as they graze on its grasses and wildflowers, typically from May to October. Surrounding it are numerous shops hawking elaborate Swiss army knives, antique pocket watches aside the latest Cartier and Hublot models, wooden toys, Swiss whisky, even embroidered lederhosen and cuckoo clocks which come from Germany's Bavaria and Black Forest respectively. Nevertheless, the town retains a magical, nostalgic alpine quaintness that you won't find in Geneva, Zurich, St Moritz, or Lucerne.
As if the scene wasn't bucolic enough, the impossibly blue Aare River, fed from the ancient Aare glaciers, also snakes through Interlaken. Like all Swiss rivers, the water is also for swimming. Dozens of badi (swimming lidos) line Aare's banks. If you're lucky, the water temperature reaches a comfortable 22 degrees by August.
While window-shopping in a light rain after dinner, I stroll past a boat launch and spy a local quietly taking a midnight swim. The general rule for swimming in Switzerland is that if there's a body of water, people will swim in it.
There's also seldom a shortage of spas and thermal waters. The next morning, I do just that at the Victoria Jungfrau Grand Hotel and Spa, which isn't kidding about the grand. Its century-old Art Nouveau stained glass, clubby billiard rooms, winter terraces and painted ballrooms recall the golden age of alpine exploration. But the property's 5,500 square-metre Spa Nescens is a modern warren of saunas, sultry steam rooms, thermal baths, sun decks and amassive fitness centre. Their anti-ageing treatments are results-orientated using stem cell ingredients, promoting tissue renewal, rejuvenating cellular structures, and strengthening the skin's natural defences. I sign up for a destressing one-hour massage, followed by an anti-ageing facial which had me glowing all weekend. Afterwards, I swanned to Spa Bistro in my robe for a salad and bowl of smoky baba ganoush.
CHOCOLATE BREAK
ASCENTS AND DESCENTS
Ascents And Descents
No trip to Interlaken is complete without a journey to Jungfraujoch via the Jungfrau Rail. It reaches an elevation of 3,454 metres and Europe's highest, hence its nickname, The Top of Europe.
I meet my guide Nik, a former pilot for Swiss International, on the Interlaken Bahnhof platform at 9 AM and we begin the 90-minute journey up to Jungfrau. As we ascended, reports of flooding across Switzerland alerted our phones and the Tschingel Brook running aside the train tracks was rollicking and rolling with whitewater that occasionally spilt over the embankment. While the alps are best experienced on a sunny day when the meadows are bursting with wildflowers, catching them in a storm is thrilling. It's a reminder of the mountains' ferocity and the hardscrabble life that many alpine settlers faced.
Nik and I both know that storms can turn from dramatic to dangerous in a split second. The higher we climbed, the more violent the water became, now tumbling down in waves that breached both banks. To get a closer look, I open the train window, and with a cold whoosh,the elements burst into our carriage. The sharp smell of antiseptic mountain air and the crashing sounds of brook shake me awake.
"Smells like snow," says Nik assuredly. Sure enough, as we climb higher, the rain softened to sleet, and by the time we changed at Kleine Scheidegg station, it was a full-on snow shower with the station attendants already shovelling a foot of the white powder off the platform.
For the final leg of our ascent, we continue through the snow, now thickening like a roux. Impressions of barns became fainter, and silhouettes of pine trees morphed into retreating ghosts. Passing the treeline, we enter a total whiteout. Fortunately, the Top of Europe is an indoor complex and prepared for such things, so there's plenty to do on snowy days like this. We spend the next hour touring Jungfrau's elaborate ice caves, a light show called Alpine Sensation, and a touching memorial to the Italian and Swiss workers. They died while building the railroad, a project which began in 1893 and lasted until 1912. In December 2020, the newly launched V-Cable Car Eiger Express was launched. The 26-seat tri-cable gondolas run from Grindelwald terminal to the Eiger Glacier station in just 15 minutes, shortening the journey by 47 minutes.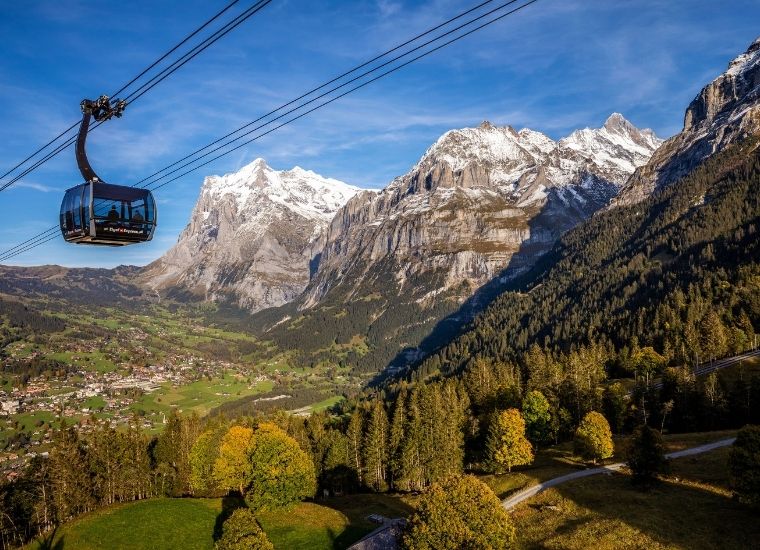 For lunch, we dine at Crystal whose famous floor to ceiling windows were smeared with wet snow, blocking the iconic view, a disappointment that was alleviated by my fragrant lobster and cognac soup and beef filet doused in Swiss whisky sauce. But as we linger over coffee and Eigerspitzli (miniature Eiger-shaped mountains of chocolate), the trickster sun starts to reappear. First slowly in patches of bluebird sky that magically absorbed the lingering swirls of white. And then quickly, in gigantic patches of the open sky. Another expression locals like to say here is, "If you don't like the weather, wait a minute," which certainly proved right today. Going back down was like watching a movie in rewind. All the colour that was swallowed by snow and clouds on the way up re-emerge brighter and more vivid during the descent. "The sky is always bright after a snowstorm," says Nik, as I roll down the window and begin snapping a zillion photos. Nik was right again. The freshly scrubbed blue sky contrasted sharply against the white carpet of snow and pockets of a green meadow. Descending further, we glide past maple and oak trees that are illuminated in perfectly painted yellow, orange, and red. As the train slithers deeper into the valley, I see farmer's gardens with Brussels sprout stalks and vine tomatoes sprinkled with snow dust and spied cat's perfectly stamped paw tracks zigzagging from field to barn. On a typical summer day, it would be tempting to jump off the train at any of the smaller whistlestop stations and hike the rest of the way down. But for once, I'm enjoying this sedentary sensation of descending back in time and space.
Back in Grindelwald, we took advantage of the sunny window and jumped back on a gondola to First, a mountain top on the opposite valley. While Jungfrau is more about indoors and snow, First is a hiking and adventure sports playground, including 40+ kilometres of walking trails, vertiginous mountain trails for go-kart trails and Trottibike scooters, high-speed ziplines, and a unique four-person zipline glider shaped like an eagle that soars an 800-metre route with speeds up to 83 km/h. All of it was closed due to the morning's weather.
Fortunately, the Tissot-sponsored Cliff Walk is open. The precipitous steel pedestrian bridge skirts a jagged cliff edge. From there, Nik and I watch clouds torque and spin over the surrounding 4,000-metre peaks and marvel at the orange-billed chough birds. After an hour, we head down when Nik, who turns out to be as much of an accurate weatherman as he was an accomplished guide, gave his final prediction: "Where there's sunshine and rain, there's always a rainbow." We had the ultimate vantage point from the gondola with a perfectly clear 360-degree panoramic view, but we couldn't find a rainbow anywhere.
"Two out of three ain't bad, Nik," I say while he continued scanning the horizon with the fixed gaze of a pilot.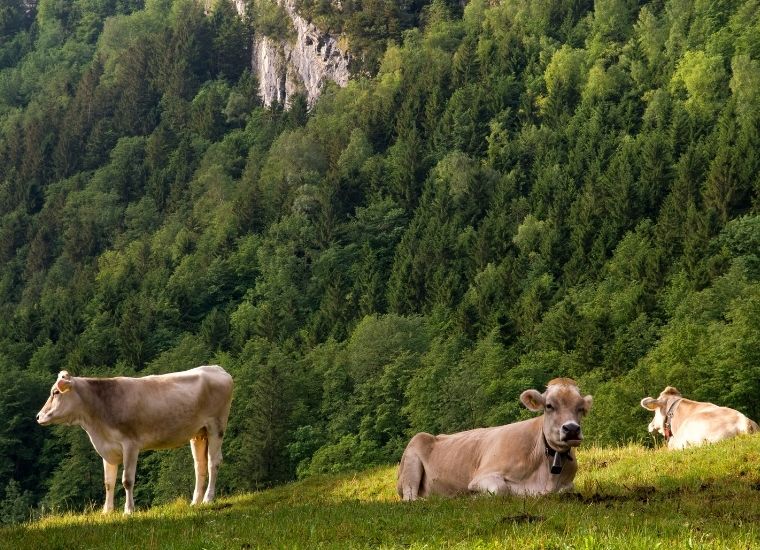 Coming down to the valley from the alps is a bit like surfacing after snorkelling. The colours, sounds, and movements below are duller and less vivid. Back in bustling Grindelwald, the sounds of the cars and people filled the air again. I bid Nik goodbye and headed to the Romantik Hotel Schweizerhof, a weathered wood chalet overflowing with geranium window boxes, and where I'll bunk for my final night.
The sky is divided now, with one-half inky and wet, and the other sunny and clear. During check-in, the receptionist brings me a glass of flinty Petite Arvine wine, another unique Swiss grape varietal. I settle into my room to catch up on my emails and decompress after all the altitude changes. Thinking my scenic views are done for the day, I fling open the balcony window and behold a gigantic double rainbow in front of my room. Like a postcard, it's arcing over a snow-capped massif where a sparkling waterfall gushes. Cowbells gently clang and the wooden chalets peppering the steep hillsides glowed with delicate golden hour light.
"The scenery is exhausting!" I think to myself while searching for my back-up camera battery.
While warming up over a bowl of creamy white wine soup at the hotel restaurant, I think about Switzerland, its 451 mountains, four languages, and kaleidoscopic skies and weather. I ponder how lucky I am to live here. Sure, there have been things over the ten years that I disliked. But if you don't like something here, wait a minute – it will probably change.