Past inspirations for Chanel's high jewelry masterpieces have included a vast range of symbols and objects of personal importance to the maison's eponymous founder: imperial Russia, its cultural motifs and icons, and Gabrielle Chanel's connection to prominent Russian émigrés who had made their way to the French capital after the 1917 revolution were commemorated in Le Paris Russe de Chanel collection; the camellia, a favored bloom and an emblem of the house, was recreated in the Chanel 1.5 Camelia collection; the lion, representing her horoscope, was honored in L'Esprit du Lion collection; comets, a sign of her enduring fascination with stars, appeared in the Comète collection; the antique lacquered Chinese screens that decorated her apartment at 31 Rue Cambon, her private suite at the Ritz Paris and her villa in Lausanne inspired the Coromandel collection; and her jaunts on the Riviera on board the Duke of Westminster's yacht formed the foundation of the Flying Cloud collection.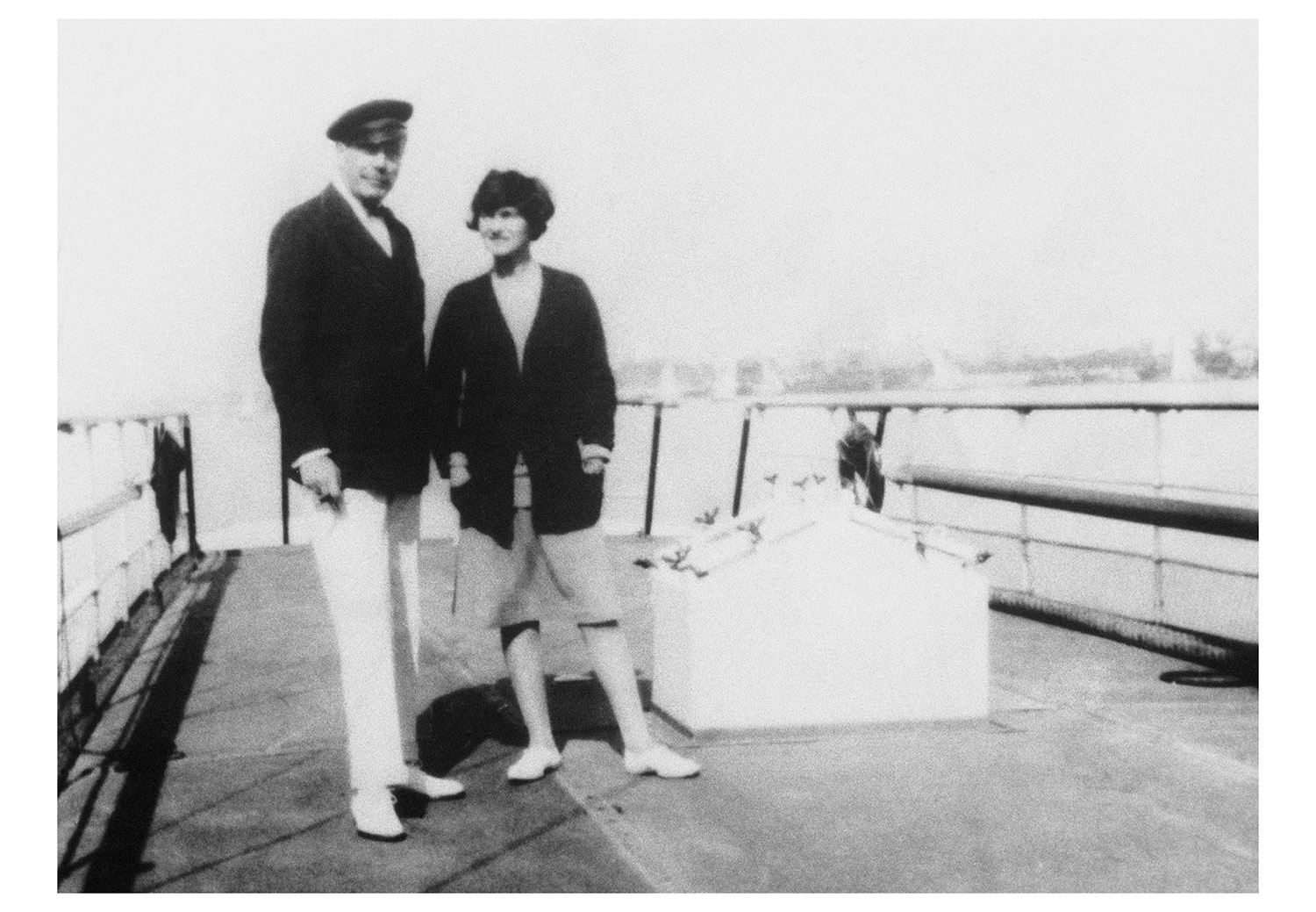 Gabrielle Chanel and the Duke of Westminster in 1928. (Image from Chanel)
Now, another icon of Chanel has been transformed into inspiration for its latest high jewelry collection: tweed.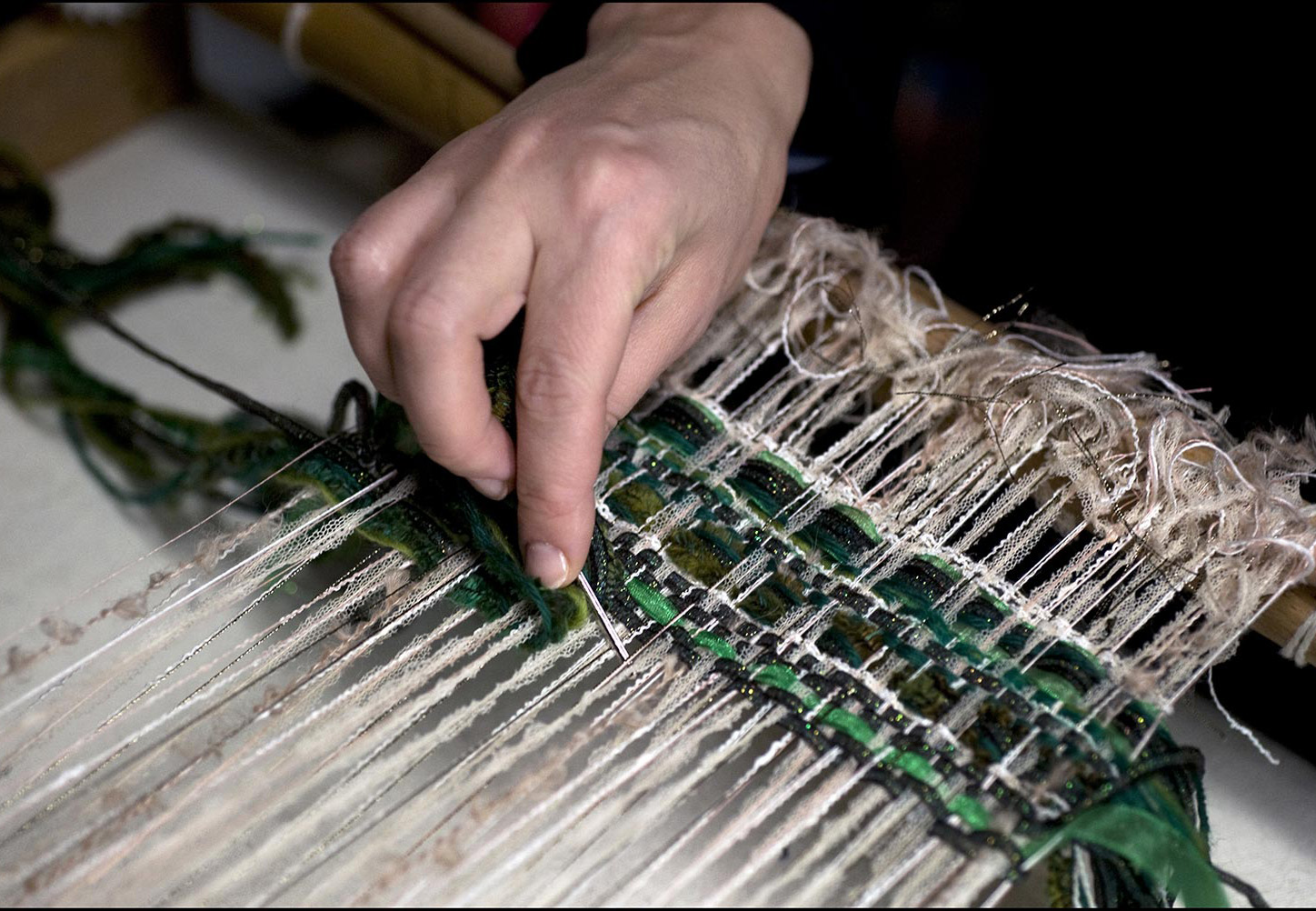 A signature of the brand's fashion collections and the backbone of some of its best-known jackets and two-piece suits, the fabric has become synonymous with the maison and appeared in the maison's haute couture creations, ready-to-wear pieces and accessories, and, for the first time, serves as the basis for an entire Chanel high jewelry collection.
Presented this January during Paris Haute Couture Week (during which Chanel artistic director, Virginie Viard, unveiled several looks based on tweed and wool as part of the maison's Spring/Summer 2020 haute couture collection), the Tweed de Chanel collection emulates the appearance of the hand-woven woollen fabric through precious metals and stones.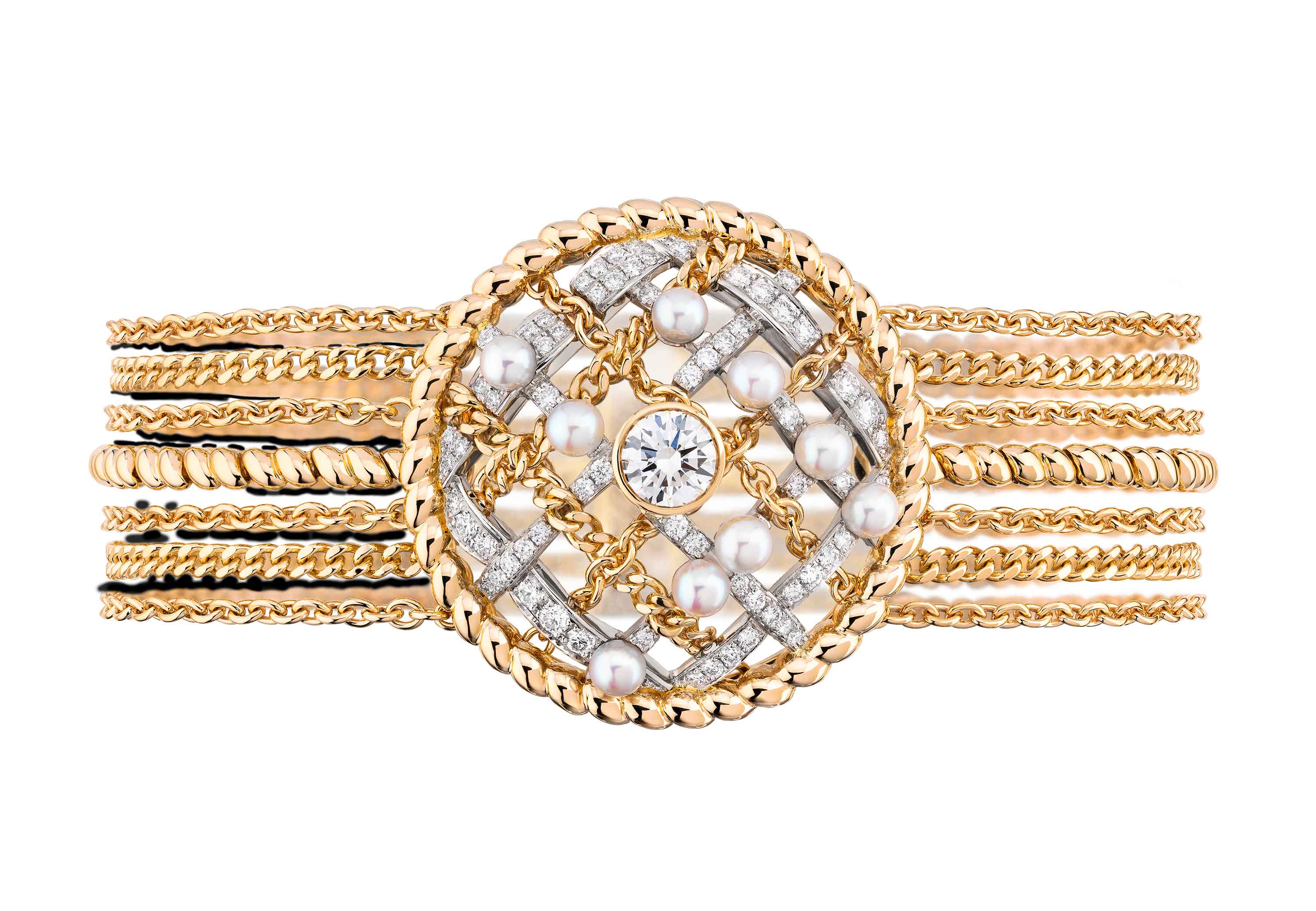 Chanel Tweed Cordage bracelet in yellow gold
Comprising necklaces, bracelets, earrings, rings, quartz-powered watches and a brooch — 45 pieces in total — the collection features numerous interpretations of the tactility, intricacy and beauty of tweed, with diamonds, pearls, sapphires and other gemstones worked and set to bring to life the textures and colors found the fabric, and a special articulation technique developed to imbue gold with movement, vitality and lightness.
The collection is divided into nine themes, each devoted to one characteristic or element — couture, gold, fringe, bold lines, contrast, summertime hues, metal chains, twisted ropes and cords, and embroidery.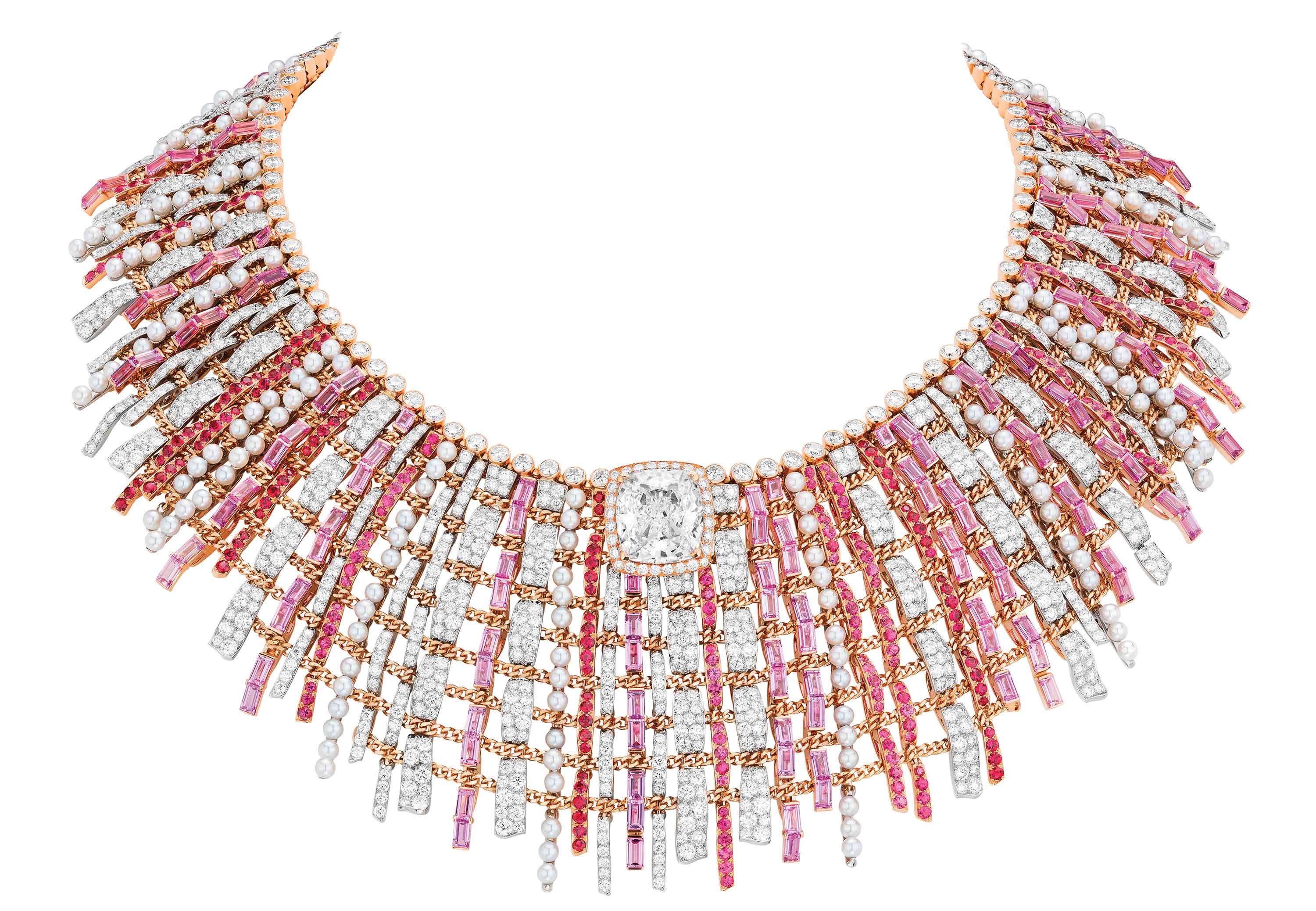 Chanel Tweed Couture necklace
A key piece of the collection, the Tweed Couture necklace is fashioned from pink gold and platinum and set with pink sapphires, pearls, spinels and diamonds radiating from a 10.2ct cushion-cut diamond at its center, with the piece resembling a swatch of pale pink tweed, while the gold links that crisscross horizontally ensure a graceful drape.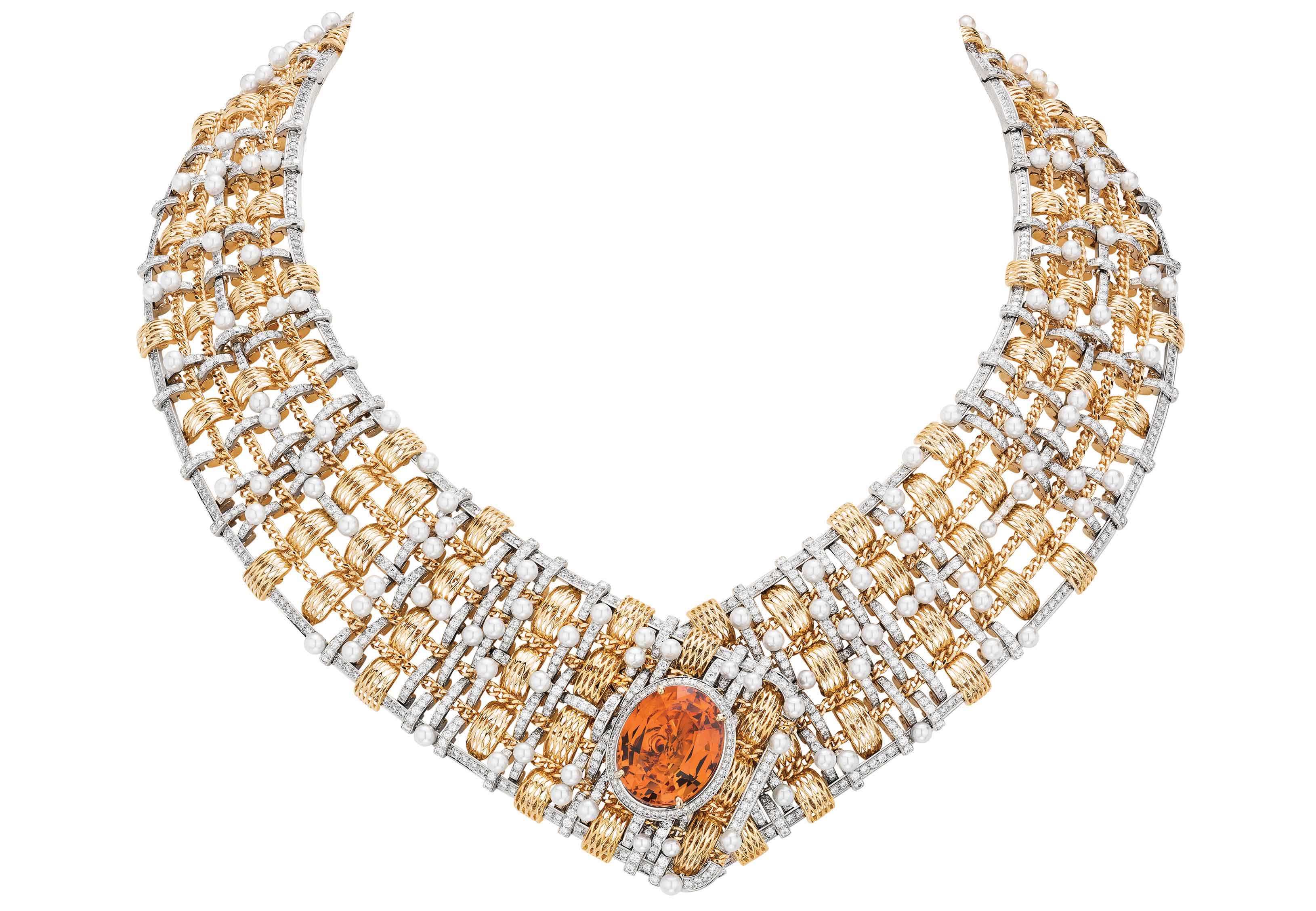 Chanel Tweed d'Or necklace
An equally magnificent item is the Tweed d'Or necklace, in yellow gold and platinum and set with cultured pearls, diamonds and topaz, with intricate gold elements interspersed with diamond bands, bringing to mind a strong collar of a tweed jacket fastened with an ornate button.
The lightness of metal comes to the fore in the Tweed Frangé bracelet, in white gold and diamonds, with a cascade of gemstones that implies movement and airiness, while the openwork on the Tweed Brodé watch, in white gold and diamonds, adds ethereality to the statement piece.
Other highlights include the Tweed Chaîne bracelet, in yellow gold and platinum, set with cultured pearls, tsavorites and diamonds, with multiple rows of fine strands of metal links that are reminiscent of the chains sewn along the hems of Chanel's tweed jackets, to weigh down the fabric and make sure it falls perfectly.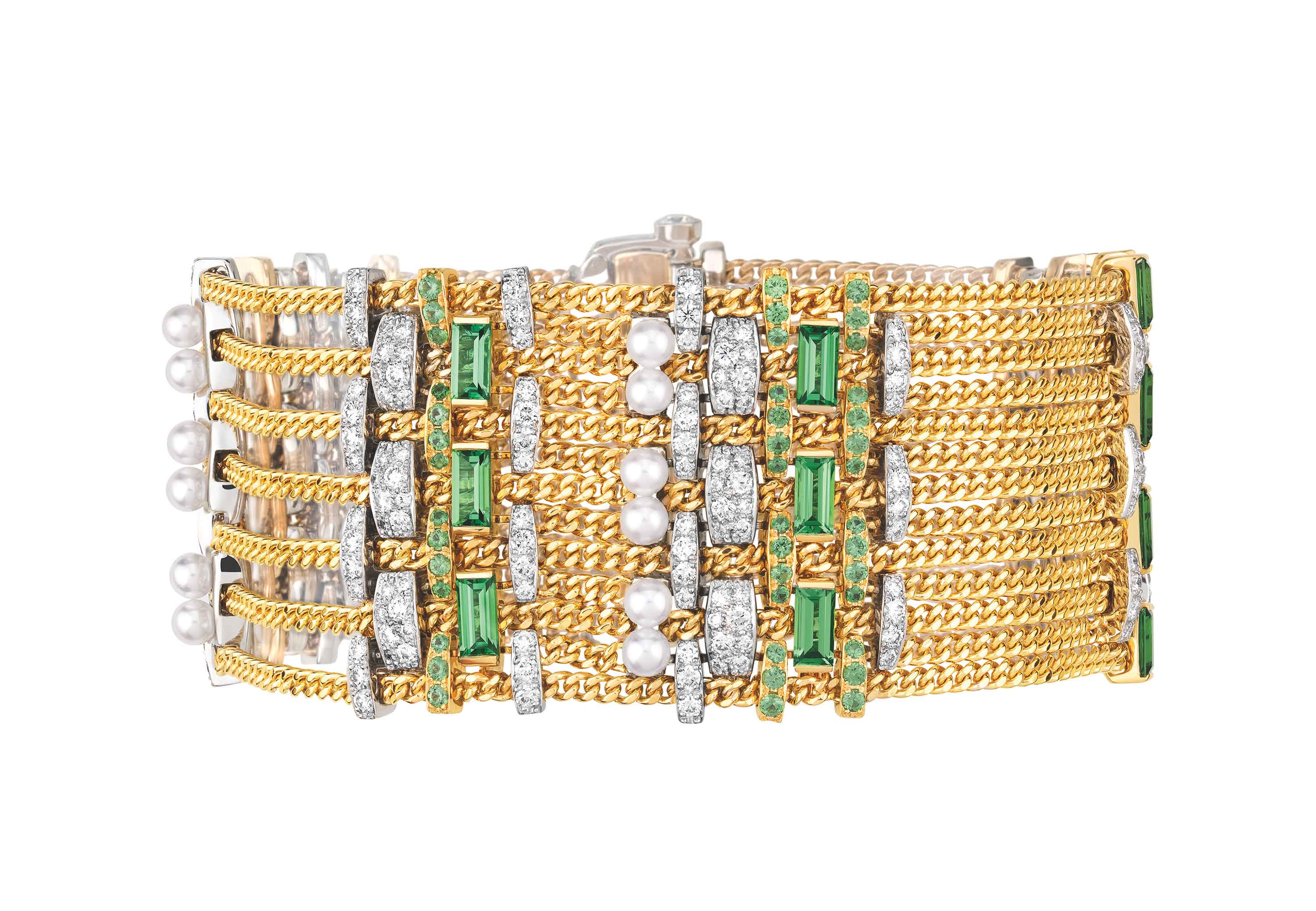 Chanel Tweed Chaîne bracelet
A piece of history
Derived from "tweel," the Scots word for "twill," tweed is a fabric made of dyed and spun wool, woven so that it has a rough surface of diagonal parallel ridges. (According to an apocryphal account, the fabric was mistaken, in the 1800s, to be named after the River Tweed in Scotland, and the moniker stuck.)
A fixture of attire in Scotland and Ireland, tweed was valued for its tough, moisture-resistant qualities and increasingly applied to outerwear during a time when outdoor pursuits such as hunting and riding were gaining popularity and — especially after Prince Albert purchased Balmoral Castle in 1848 and created the Balmoral tweed — associated with leisure and the upper class.
Gabrielle Chanel's affair with Hugh Grovsenor, the 2nd Duke of Westminster and a wealthy British landowner, brought her in contact with tweed. Already displaying a preference for the less restrictive fit of menswear, she came to admire the sturdiness, heft, comfort and sophistication of the fabric that formed the duke's fishing and hunting outerwear, and introduced tweed into womenswear.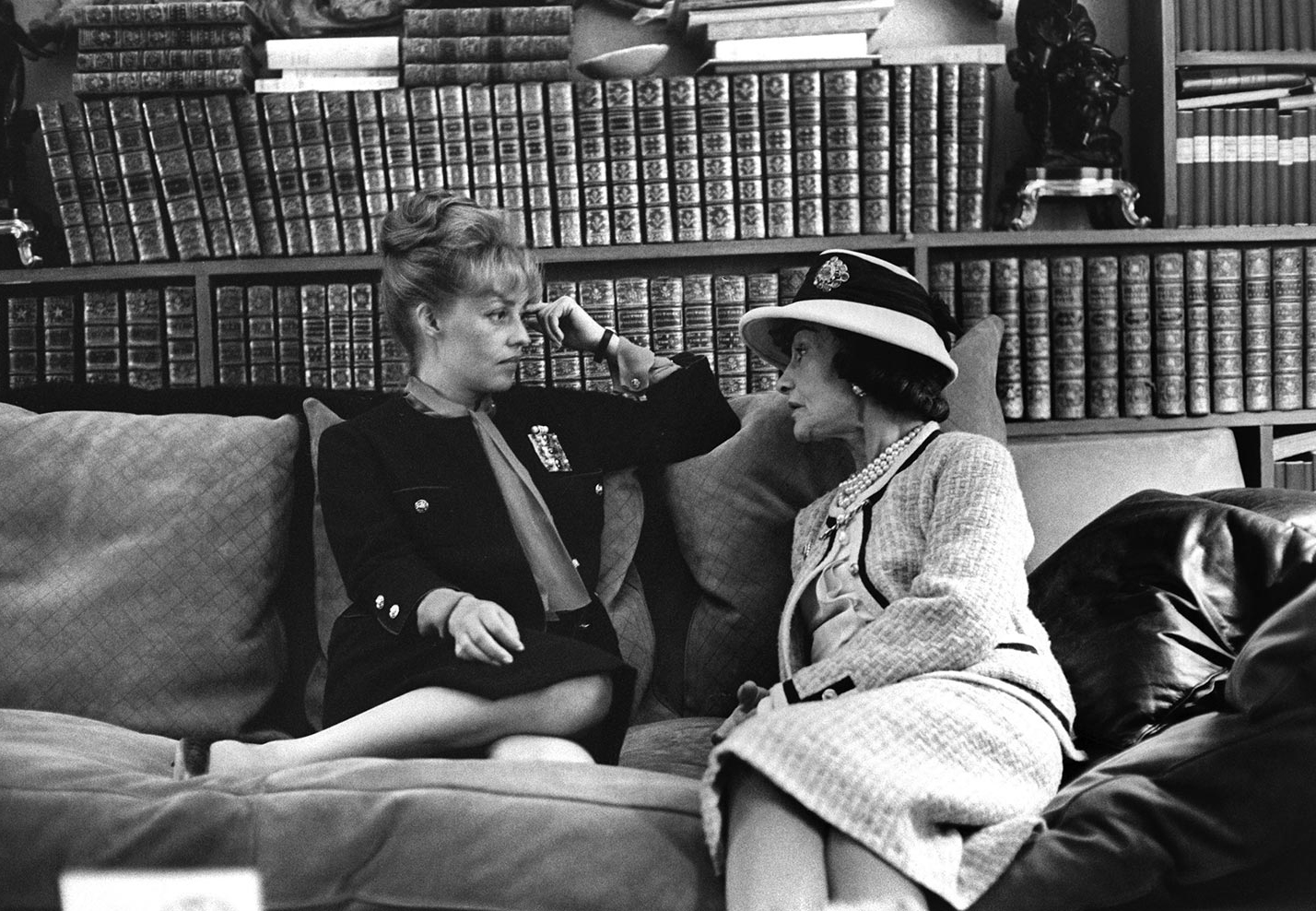 Gabrielle Chanel in her tweed suit, in a conversation with Jeanne Moreau in Melle's apartment 31 Rue Cambon. (Image by Photo: Giancarlo Botti, courtesy of Chanel)
In 1924, a Scottish factory started producing tweed for her to realize her designs, and when actress Ina Claire was photographed for American Vogue in a brown tweed dress made by Gabrielle, it was a spark that set off the trend for tweed. After Gabrielle reopened her atelier, in 1954, she designed the jacket that has remained a cornerstone of the maison to this day.
After Karl Lagerfeld was installed as Chanel's creative director in 1983, tweed experienced frequent reinterpretation through edgier permutations: introduced to eveningwear; reworked into wedding gowns, micro minidresses and cropped tops; and remixed in terms of colors, details, embellishments, styling and applications — even sneakers and baseball caps received the tweed treatment.
Chanel 2020 Spring/Summer Haute Couture Finale
And following Virginie Viard's presentation of her latest haute couture collection, the tradition of including tweed in every Chanel collection looks set to live on, solidifying the fabric's position in Chanel's vocabulary.