KIN
CICADA
MO BAR
SLING
MITZO
Kin
If you're familiar with the local food scene, there's a chance that Chef Damien D'Silva is a name you've heard of. The veteran chef has helmed posts at Soul Kitchen, Immigrants and Folklore, and was recently a judge on reality television cooking competition "MasterChef Singapore."
He is now the Executive Chef at Kin, a restaurant that specializes in local heritage cuisine. This comprises dishes that are a delicious merger of Eurasian, Chinese, Malay and Indian style cooking.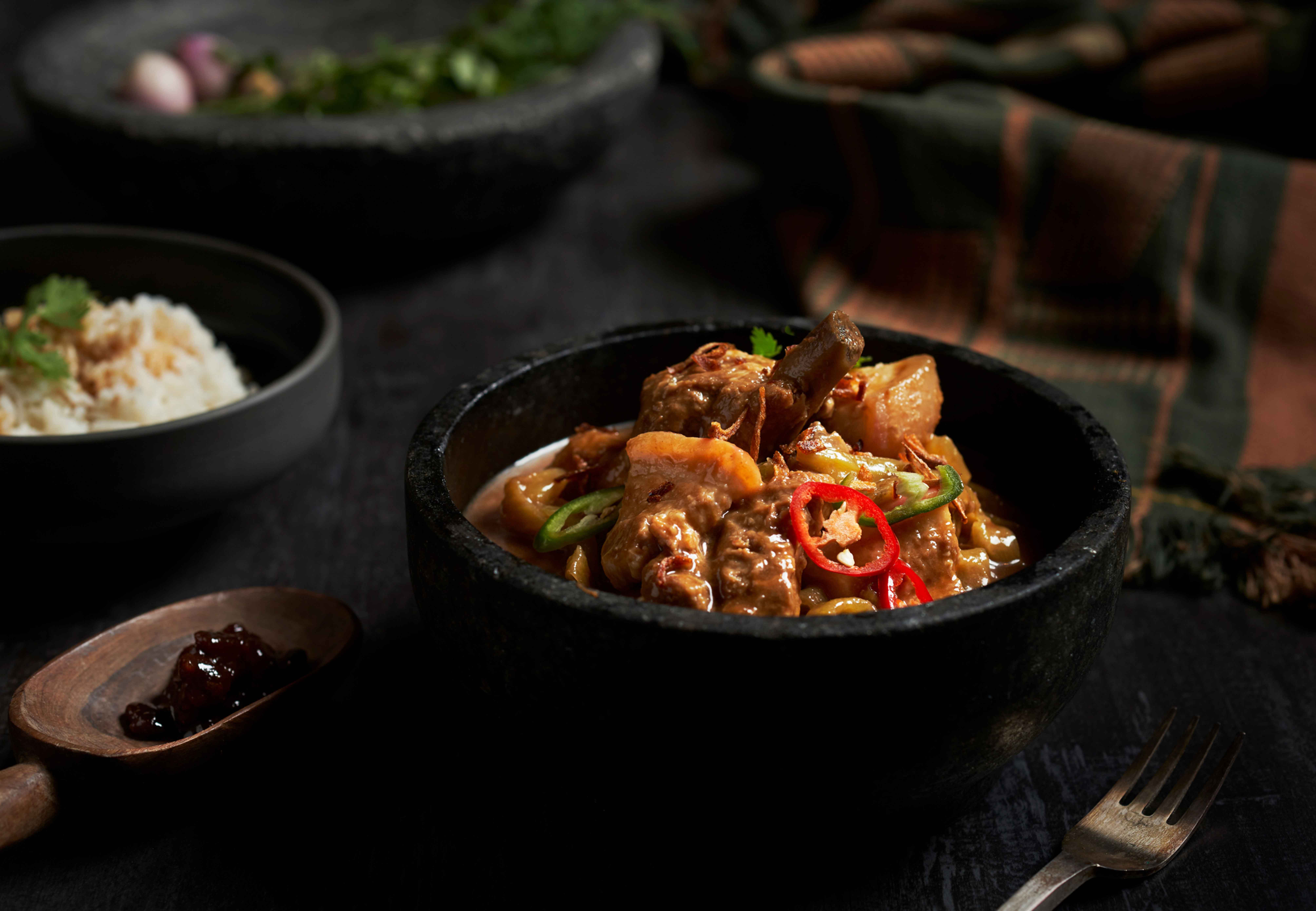 Babi Massak Assam, also known as pork in tamarind sauce.
Kin's dining style is largely communal, which emulates how most Singaporeans eat at home. With large platters of braised meats and fresh vegetables, one would be spoiled for choice.
Between à la carte selections and the chef's menu, the spreads include two types of braised kampong chicken, sweet and sour pork belly, and gulai, a beef cheek dish that's been stewed in spiced coconut gravy.
Chinese cooking is evident in the Chi Pow Kai, a bundle of chicken dumplings wrapped in parchment paper, which helps keep the meat moist by holding it in the steamed juices and secret marinade. A little heat is more than welcome with any dish, with ranges of homemade sambals made in various spice levels.
For dessert, sweet Chinese soups and Malay kuehs are hard to pass up, especially the glutinous Kueh Kosui that's a crowd favorite.
31 Bukit Pasoh Road, Singapore 089845
KIN
CICADA
MO BAR
SLING
MITZO
Cicada
Cicada is a new modern Asian restaurant in Clarke Quay that serves as a quiet respite from its nightlife-loving neighbors. Fronted by a glass façade, the two-story establishment is designed to replicate the forested outdoors, with indoor green walls and large palms that line the front doors for extra privacy.
The menu, designed by Director of Operations Chef Derek Ang, incorporates Western ingredients in Asian-style cooking. Tapas-style starters include five-spice marinated salmon dressed in soy sauce with a side of bok choy, and foie gras is presented as a dumpling, wrapped in crêpe skin.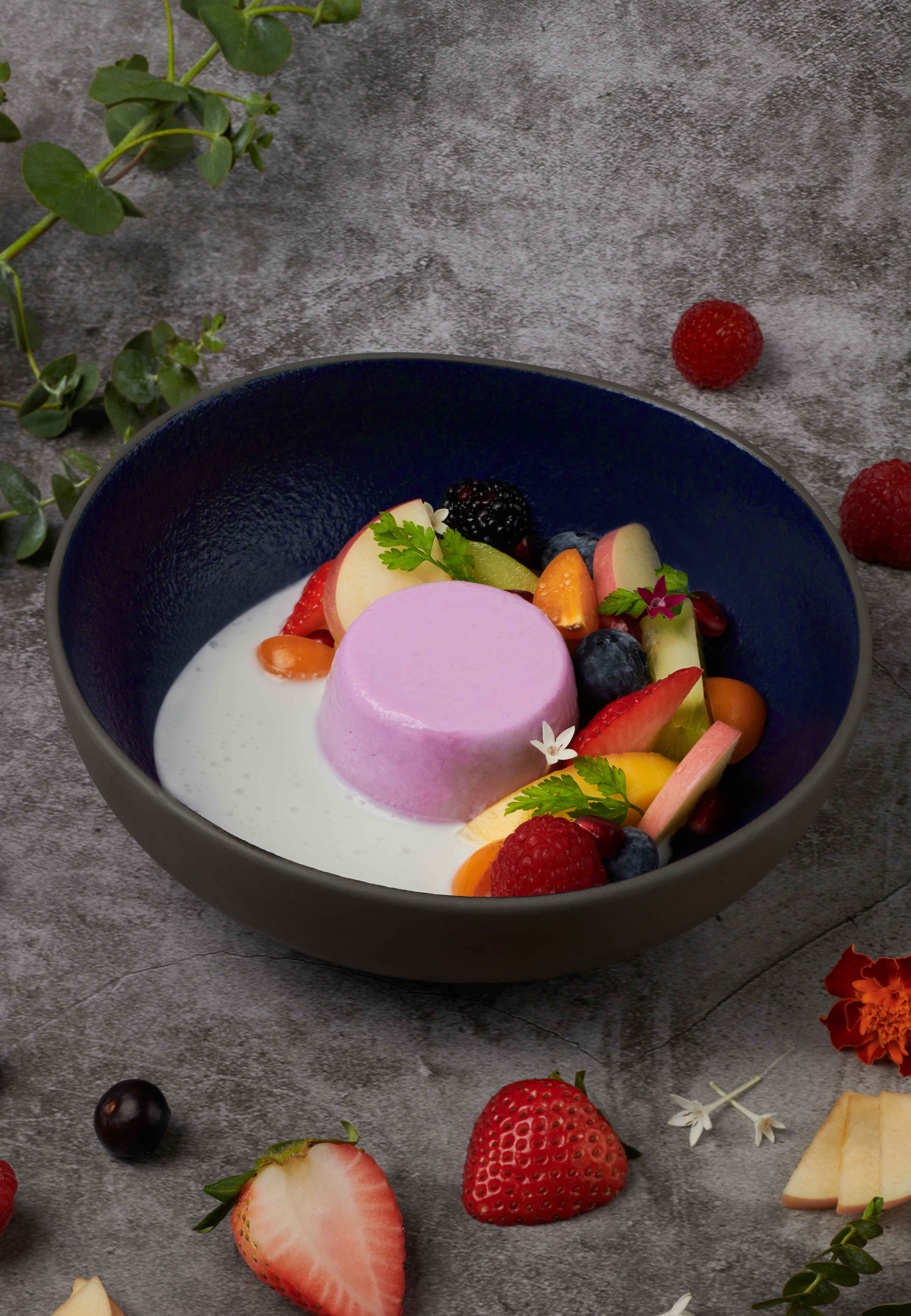 Purple sweet potato panna cotta.
The big plates showcase greater integration of Asian spices, especially in the poultry dishes, namely the oriental braised duck leg with crispy yam balls in five-spice duck jus, served in a cast iron skillet.
The dessert offerings are a little more ingenious, with a number taking inspiration from local desserts.
The purple sweet potato panna cotta is an elevated interpretation of the humble bubur cha cha, where the coconut milk broth is switched out as a sauce. The yam mille-feuille is a towering triple-stack of yam paste and crispy puff pastry, and served à la mode.
3 River Valley Road, Clarke Quay #01-10, Singapore 179022
KIN
CICADA
MO BAR
SLING
MITZO
MO Bar
It was perhaps more popular in the 80s or with the upper class to grab an aperitif at the bar before dinner. While there's an unwritten rule about not drinking on an empty stomach, it's said that having a tipple or two helps to stir up an appetite.
Mandarin Oriental's MO Bar has the perfect setting for pre-dinner drinks, and it's perhaps where you'll go back for a nightcap as well. The hotel bar recently introduced its latest bar menu, with new cocktail creations that are put together by expert tastemakers in the Asian region.
The collaboration resulted in 16 drinks, with each one containing details of the inspired concept and ingredients, and are categorized according to their alcoholic strengths.
Since we all love a good plate of chicken rice, how about it in a cocktail? Lantern is an interesting fusion of gin, cucumber and "chili chicken", where essentially crushed chili padi, gin and chicken stock are married together to create a familiar taste we all love.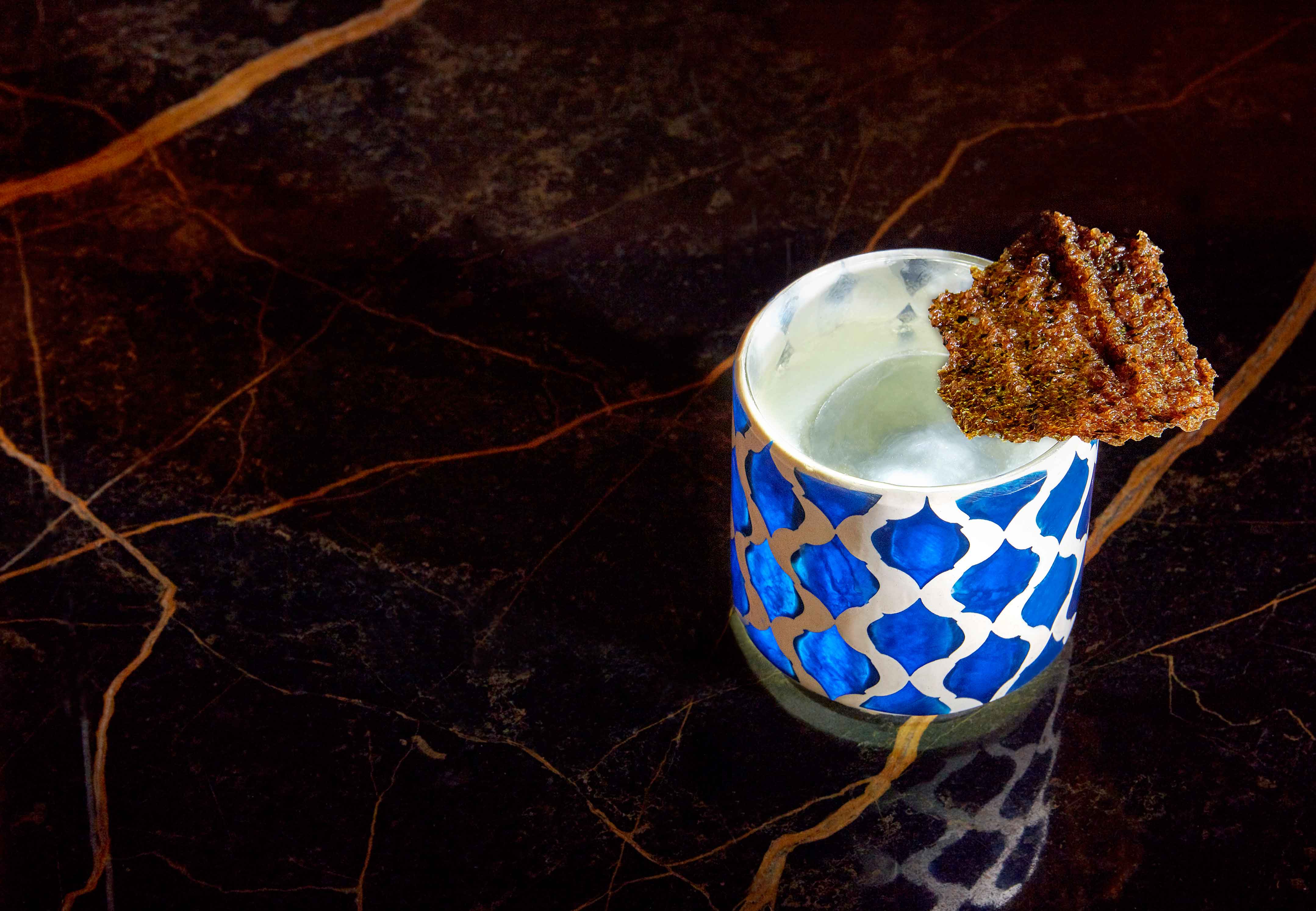 MO Bar's Lantern cocktail.
The glassware is definitely a thing to note, namely Expedition, a vermouth and green coffee cocktail, is served in a uniquely shaped pottery cup that was later revealed to be part of a collection that was handmade by members of the Mandarin Oriental hotel team.
The bar snacks follow a similar theme, comprising vegetarian samosas with refreshing mango chutney and fried tiger prawns that are generously coated in dollops of masala mayonnaise.
Mandarin Oriental, 5 Raffles Avenue, Singapore 039797
KIN
CICADA
MO BAR
SLING
MITZO
SLING
Maison Ikkoku rebrands itself with a new concept, shortly after the conclusion of its Japanese-fusion omakase menu. Sling celebrates the Singaporean palate with a new food and drinks menu.
Named after the popular national cocktail, the menu is designed around the Singapore Sling. It's helmed by Mr. Ethan Leslie Leong, who wanted to change the restaurant's direction towards a more local appeal. "Food is an integral part of the Singaporean identity, and we have refined local dishes to showcase our cocktail offerings."
SLING's Majulah Sling.
Sling offers five different interpretations of its signature cocktail. Each one starts out with a gin base before separating into different flavors, varying from bitter to tart.
The Coco Sling has additions of roasted coconut, while the 1819 Sling, with its spice notes, was made in homage to Sir Stamford Raffles and his involvement in establishing Singapore's spice trade.
On the food front, local diners would be familiar with many, if not all, of the main items, which include popiah, rendang, and Hey Mee, a dish of stir-fried Hokkien noodles served with baked lobster.
20 Kandahar Street, Singapore 198885
KIN
CICADA
MO BAR
SLING
MITZO
Mitzo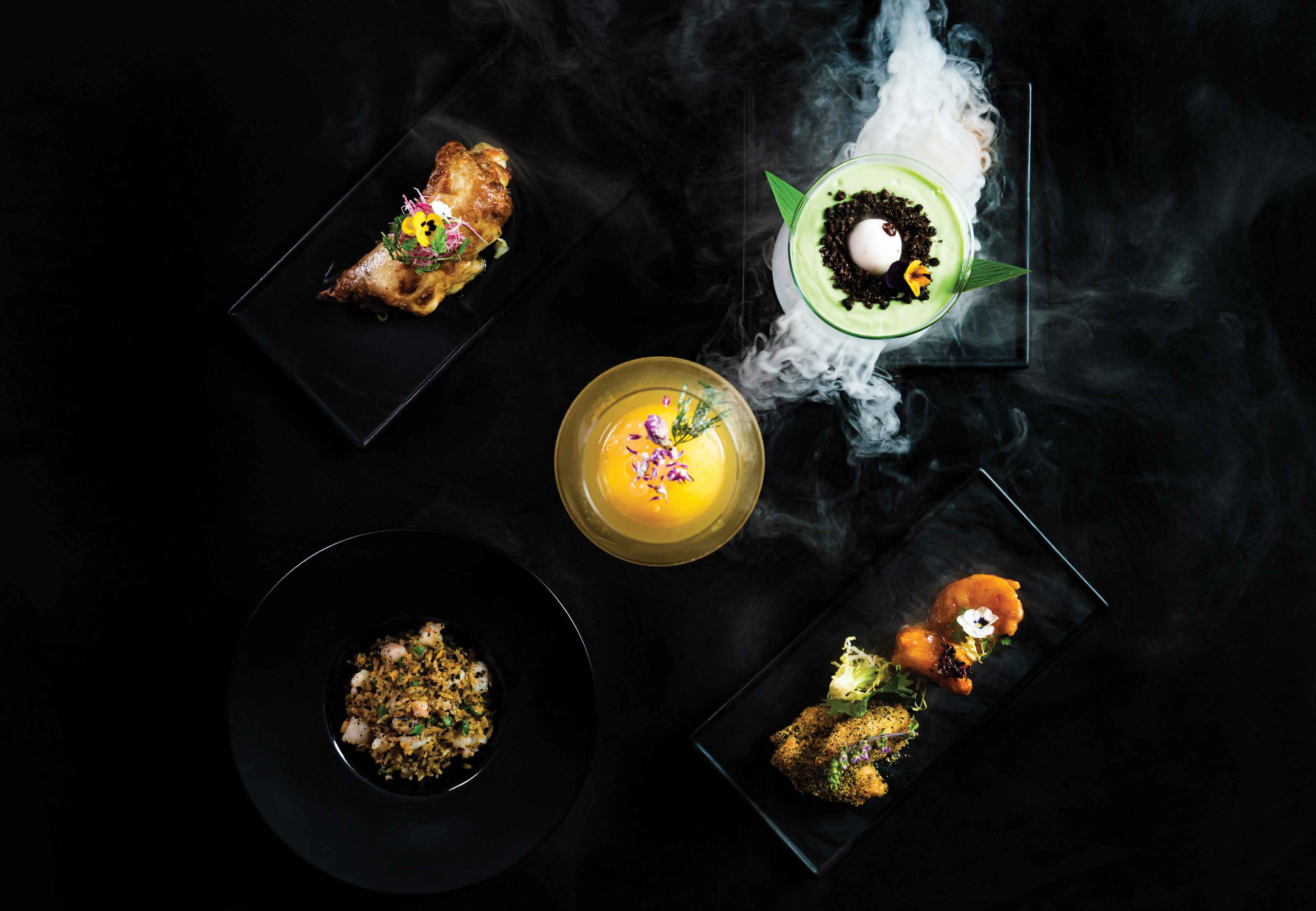 Mitzo anticipates Singapore Restaurant Week with two four-course menus designed by Executive Chef Nicky Ng. Exclusively available for two weeks, from 30 March to 19 April, the lunch and dinner menus celebrate Cantonese fare using familiar ingredients adapted for the local palate.
Lunch starts off with the option of flavorful soups, such as double-boiled seafood, tofu and corn soup or double-boiled fish maw soup. Meats include the intriguing option of truffle and cheese-baked pork rib, and wagyu beef cheek prepared with a sweet and sour sauce, Wuxi style.
Seaweed octopus, drunken chicken roll and steamed barramundi trump the dinner courses, among which includes salted egg lobster. Each menu also includes the option of a cocktail pairing, where Head Bartender Azlam Kadir will prepare Tito's Essence, a chrysanthemum-infused vodka cocktail mixed with lavender bitters, apricot brandy and lime juice.
Grand Park Orchard, 270 Orchard Road, Singapore 238857