Christmas cooking at my home is an Olympic event. Every member of the family is delegated with a few dishes to take care of, from starters to breads to salads, putting the more experienced homecooks on the main courses, and the pastry kings and queens on dessert.
Come Christmas Day, every inch of the table is covered with plates of food with no tablecloth in sight.
You must think I'm exaggerating, but anyone else who relates knows that what goes behind the scenes is built on backbreaking work – fighting for kitchen space, running out for a missing ingredients, and running against the clock to catch those Netflix Christmas specials.
So this year, leave the kitchen alone for once. We selected 12 items from various festive takeaway menus to create the annual Christmas feast everyone can enjoy – without losing a finger or two in the pasta machine.
HORS D'OUEVRES
BREAD
FISH
MEATS
DESSERT
Hors d'ouevres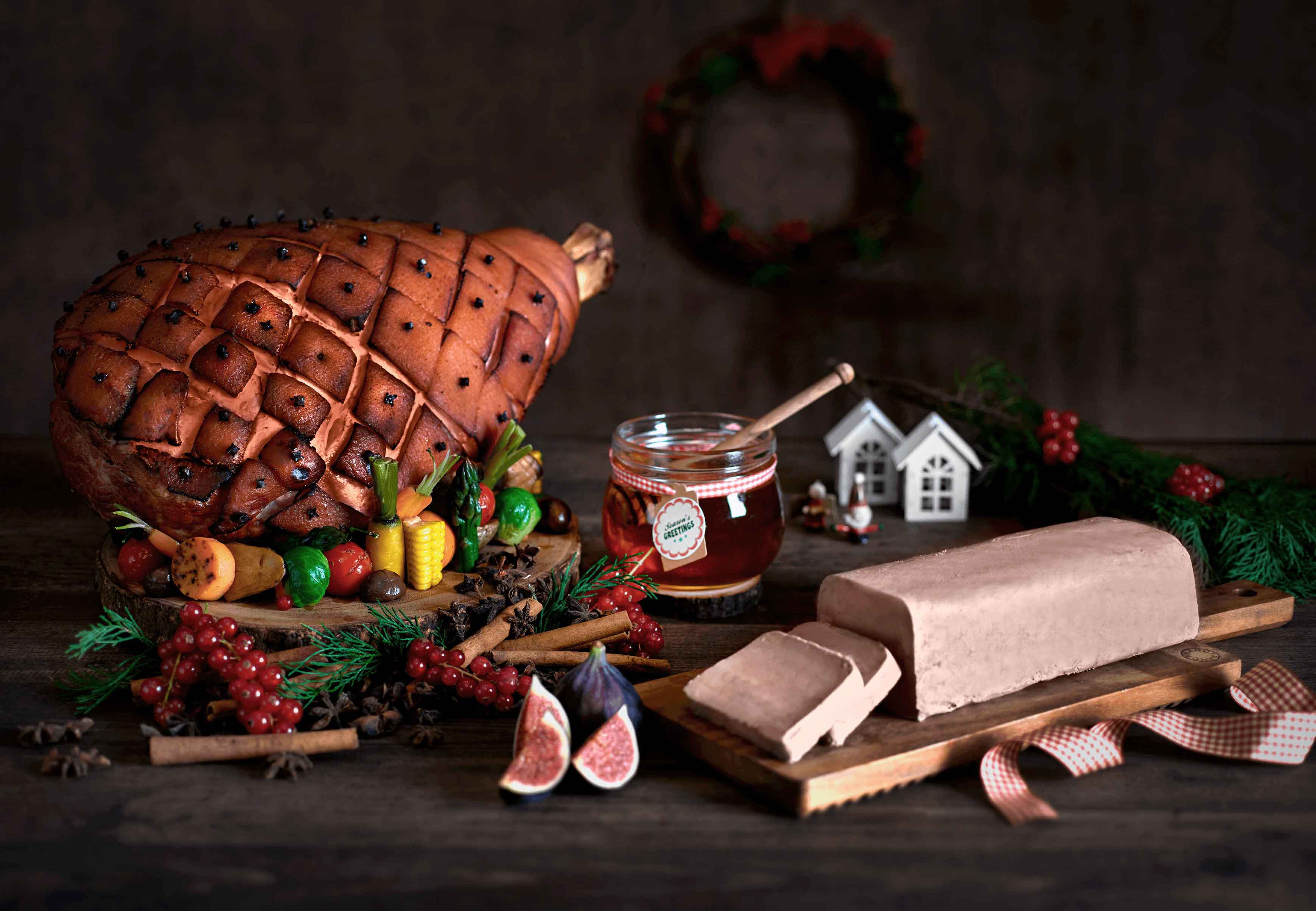 Homemade foie gras terrine from Brasserie Les Saveurs ($108+)
Foie gras is always a great starter, and more so in small bites. For this slab of terrine, be mindful not to stuff your guests from the get-go with a huge slice. Serve it in tiny portions where it contains the rich fatty taste in every bite, complete with a drizzle of fig compote on top of truffle brioche bread.
For enquiries and orders, call 65056860, email festive.sg@stregis.com or visit the website here.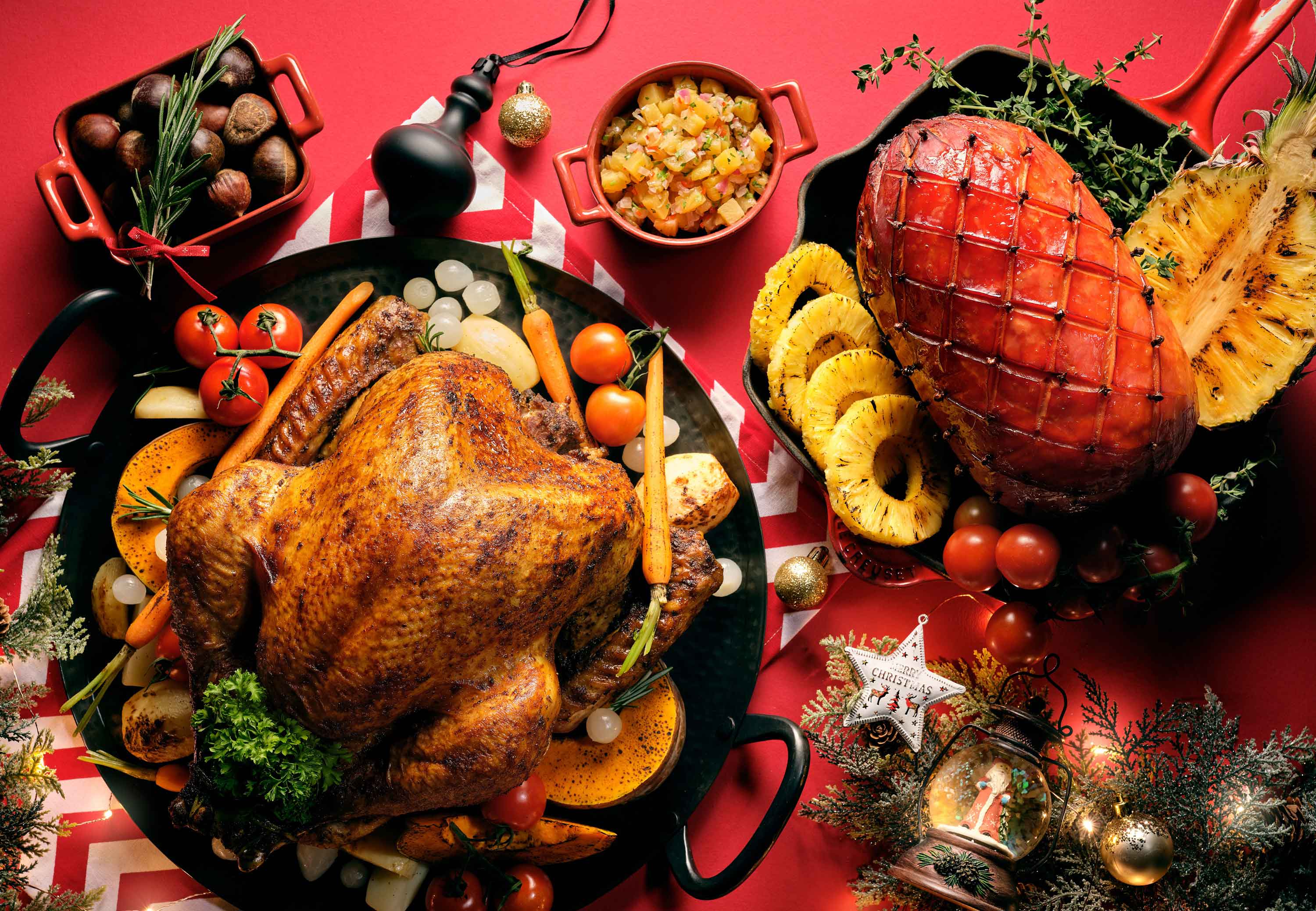 Manuka honey-glazed ham from Ginger ($68)
Your oven will thank you for not going into overdrive. This traditional Christmas ham gets the honey-glaze treatment with a side of salsa thrown in. Slice it into thin slices and gently collapse them on pineapple rings, topped off with ribbons of Swiss cheese – how effortless.
Orders can be made at dining.prsin@parkroyalhotels.com or call 65055710. Advance orders of 3 working days are required.
HORS D'OUEVRES
BREAD
FISH
MEATS
DESSERT
Bread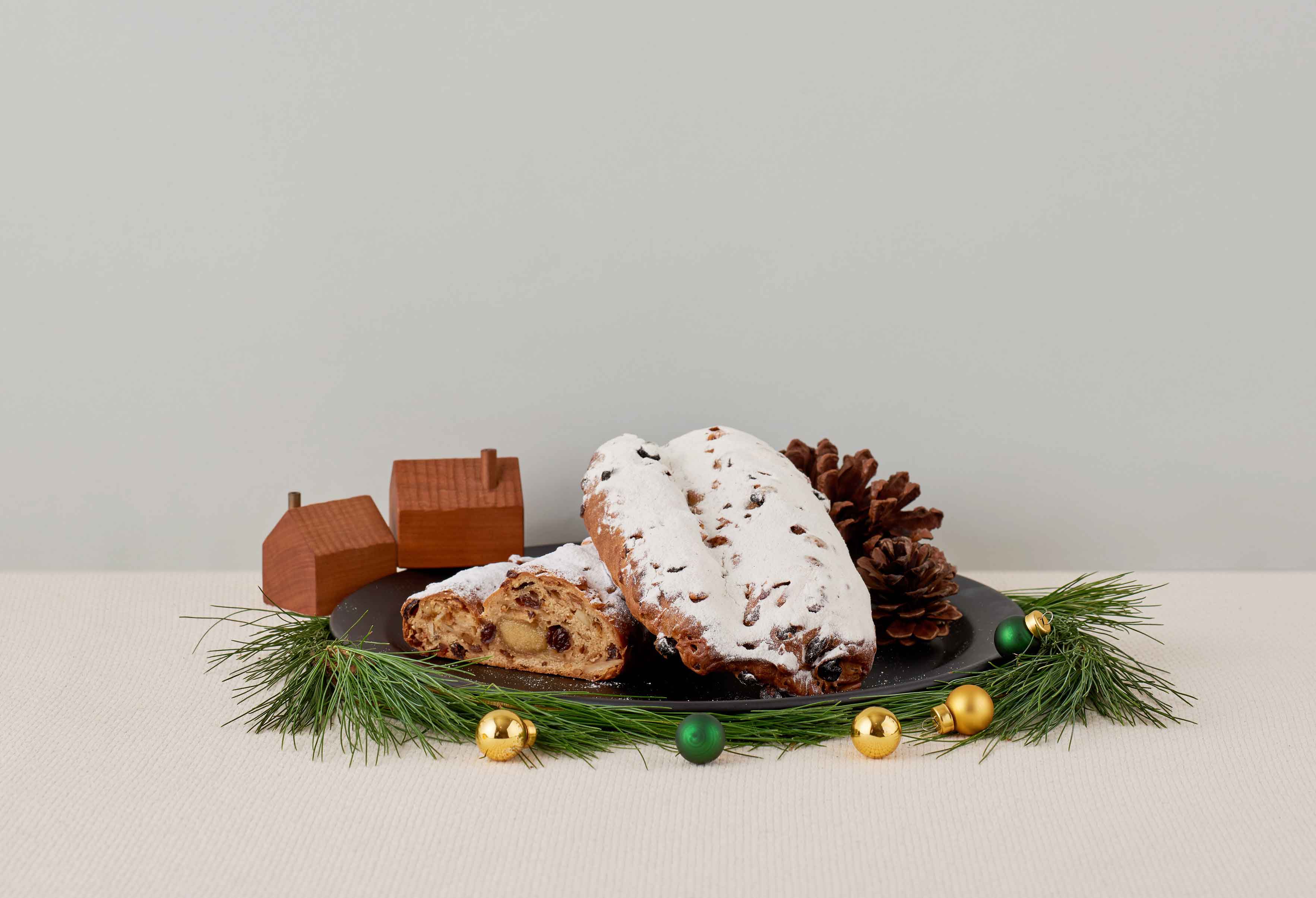 Authentic stollen bread from Dolcetto ($28)
Add a little European Christmas tradition with freshly made stollen bread. It is traditionally made with nuts, spices and dried or candied fruit, and dusted with icing sugar. They can be served warm, with a little spread of butter or jam.
Orders to be placed at least 72 hours in advance. Self-collection is available at Dolcetto by Basilico. Call 67253244, email dolcetto@regentsingapore.com.sg or visit the e-shop here.
HORS D'OUEVRES
BREAD
FISH
MEATS
DESSERT
Fish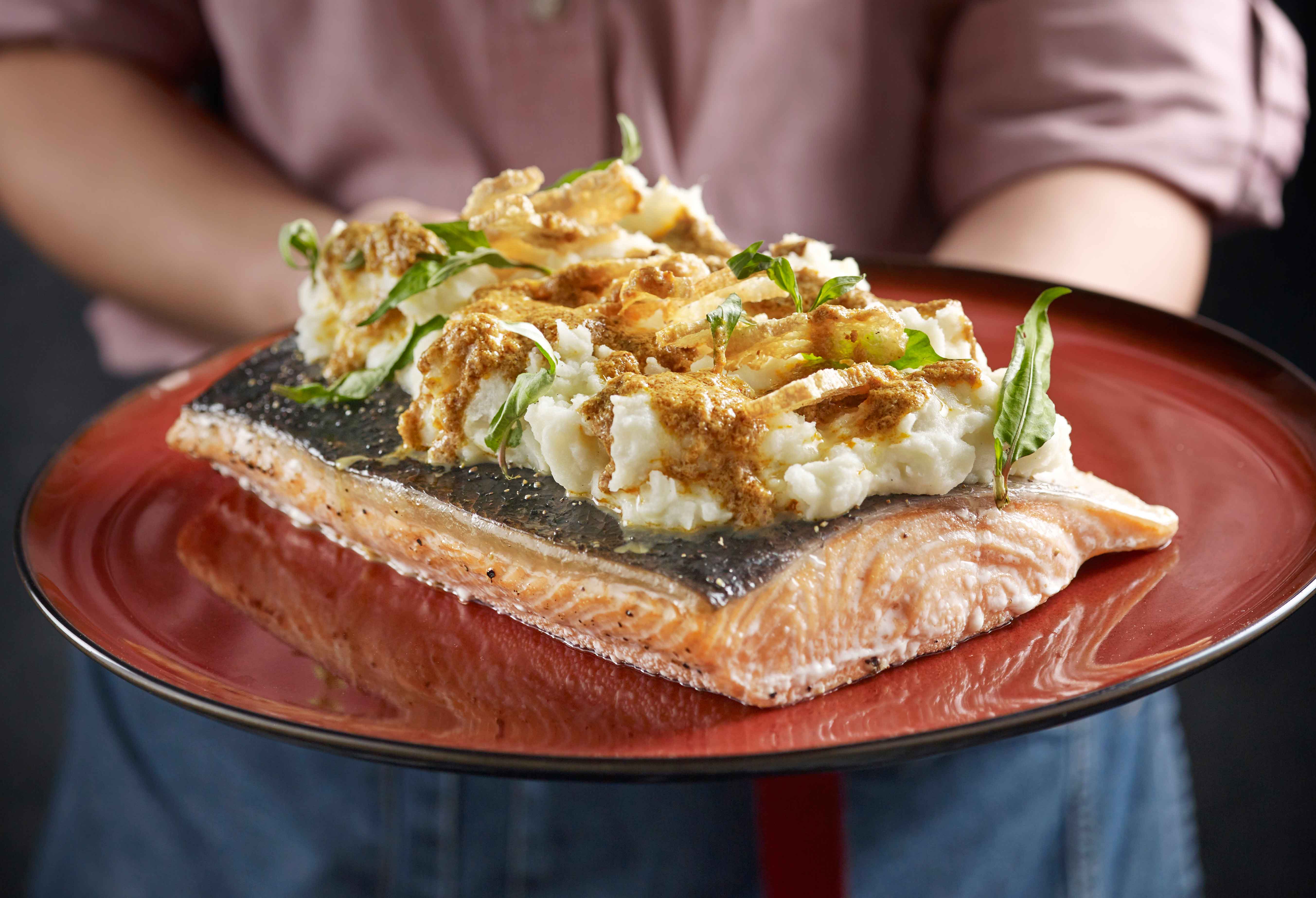 Salmon with laksa sauce from Baba Chews (800g, $83)
Baba Chews puts a mod-sin (modern Singaporean) spin on this salmon dish. The hunk of pink flaky meat is baked with the skin on, and topped with dollops of mashed potato. The real kick is the homemade laksa sauce that is poured on top, adding a little spice to the flavor palette we're familiar with.
Available for order now on their website. Orders can also be made personally at the restaurant. Collection can be arranged anytime from 1 to 25 Dec. An advance ordering of 3 working days ahead is required.
HORS D'OUEVRES
BREAD
FISH
MEATS
DESSERT
Meats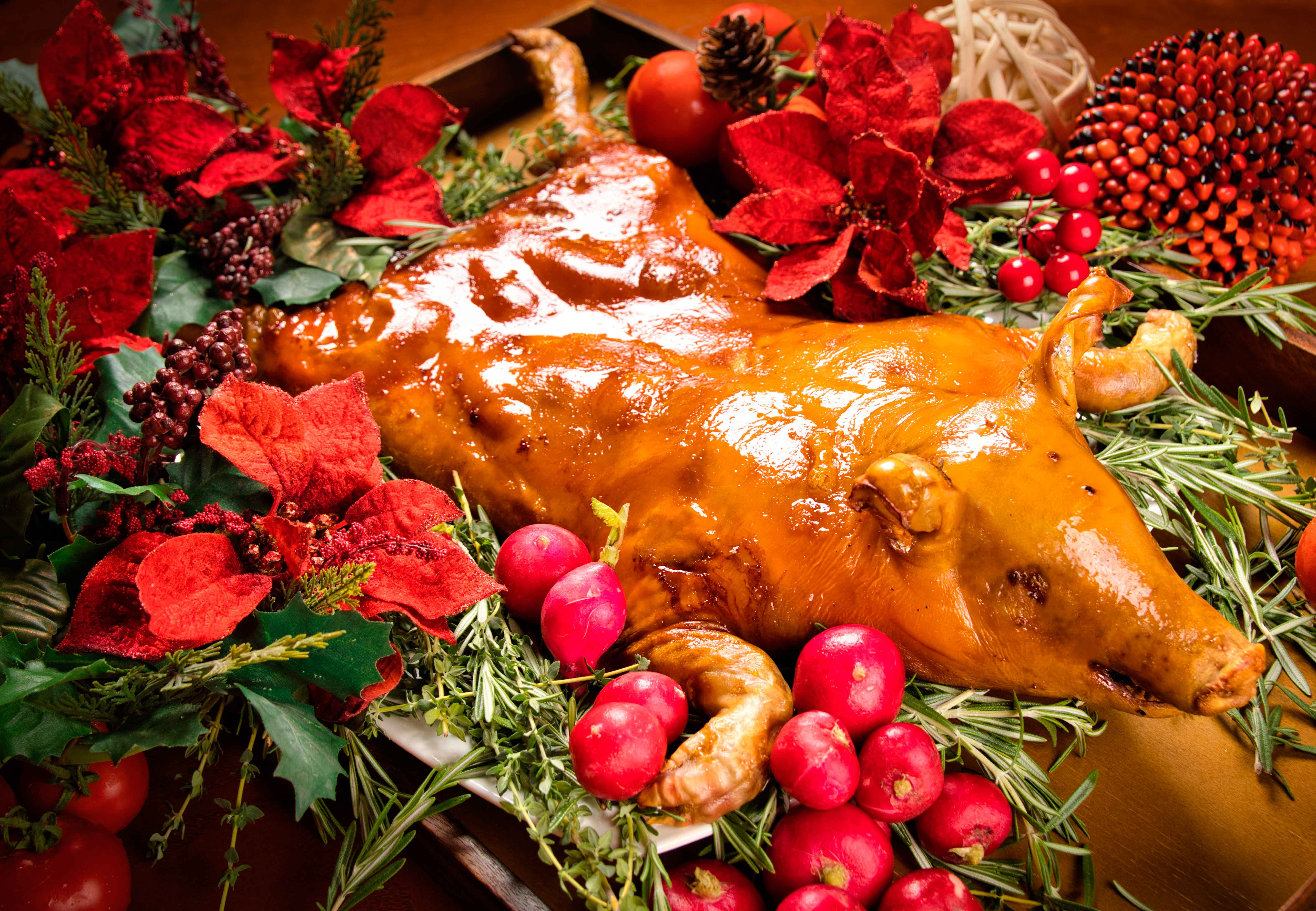 Spit-roasted whole suckling pig from OLA Cocina Del Mar ($288++)
An entire suckling pig should definitely impress and assure your guests that there's more than enough to go around. OLA Cocina Del Mar's pork roast comes with sweet and sour sauce and fresh seasonal greens, which is sure to feed a party of 10.
Orders must be placed 3 days in advance to ola@ola.kitchen or contact 66047050. Self-collection only.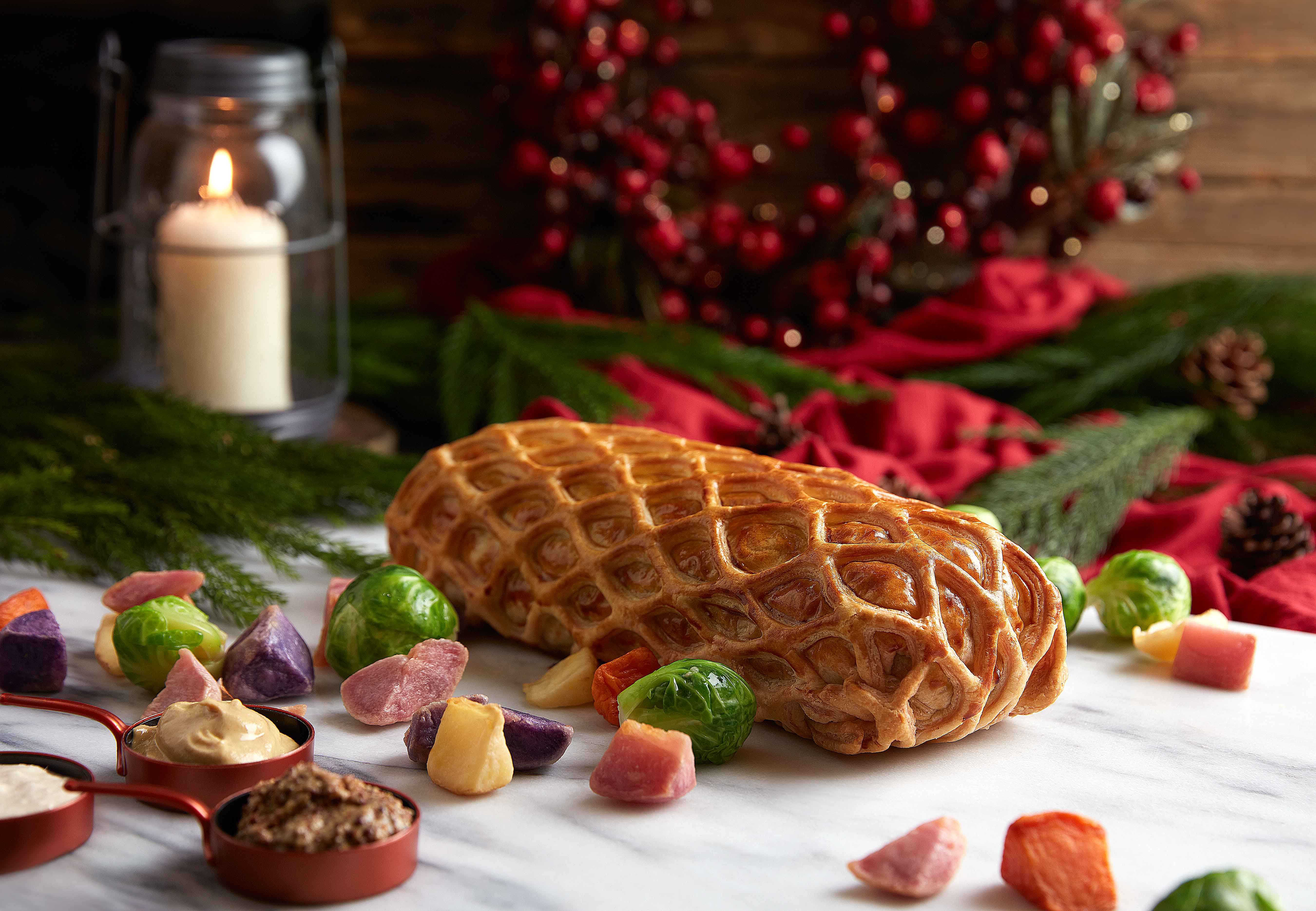 Impossible meat wellington from Fullerton Bay Hotel (1kg, $128)
With more vegetarian/vegan inclusivity that's been popping up throughout the year, the Christmas spread gets more diversified with meat alternatives like this "meat" wellington. Wrapped in a lattice pastry puff, the wellington is served with a mushroom cream sauce along with a colorful selection of potatoes, brussel sprouts and mustard sauces.
Available for purchase from 1 Nov to 31 Dec via shop.fullertonhotels.com. For enquiries on festive goodies and takeaways, call 68778943 or email fullertonshop@fullertonhotels.com.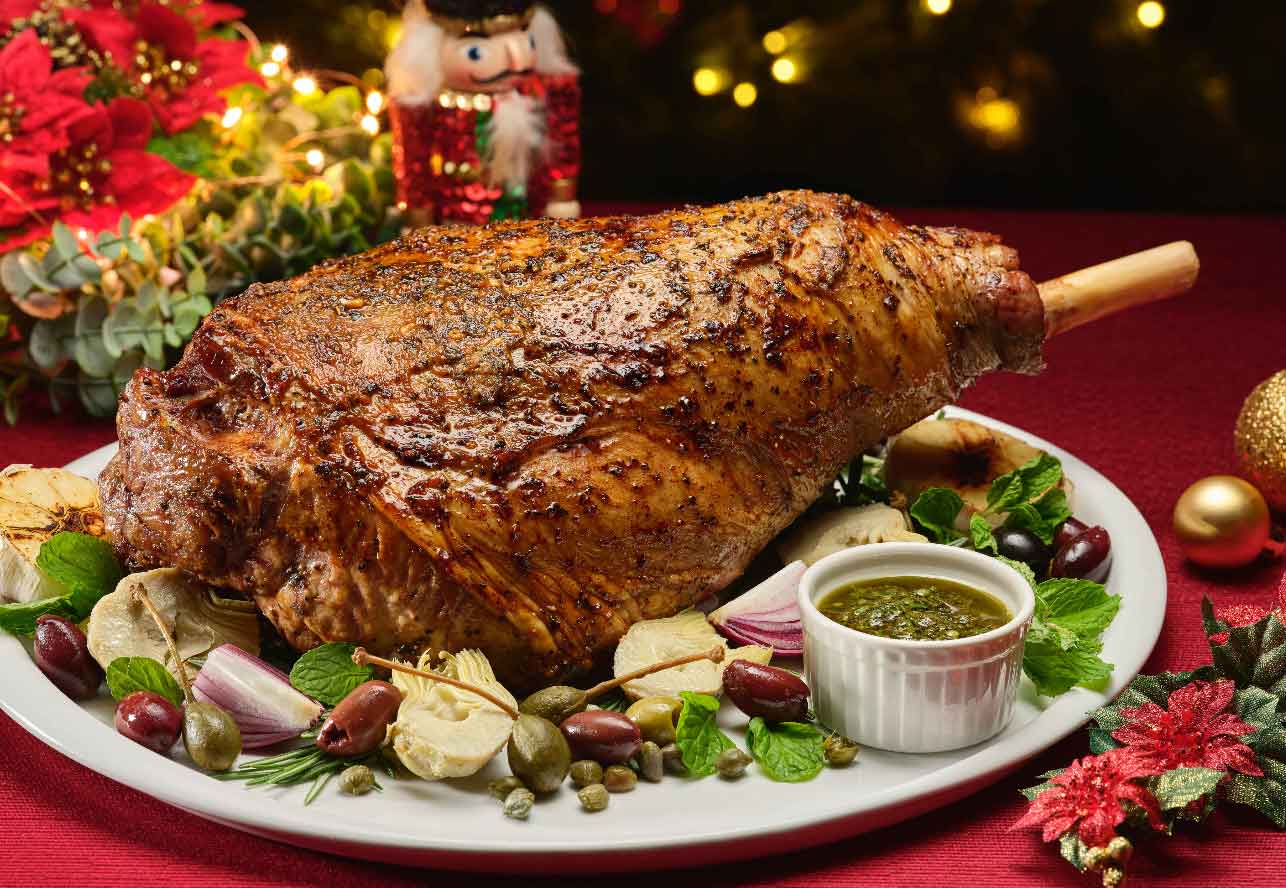 Rosemary & garlic roast lamb leg (bone-in) from Marriott Tang Plaza Hotel (2.5-3kg, $188)
No one can resist a good ol' roast lamb, especially when it's rubbed in with rosemary and garlic. This hefty serving from Marriott Tang Plaza Hotel is served alongside artichokes, capers, and chimichurri sauce.
Pre-orders are to be made at least 3 working days in advance. Call 68314708 or email singaporemarriott.festive@marriotthotels.com.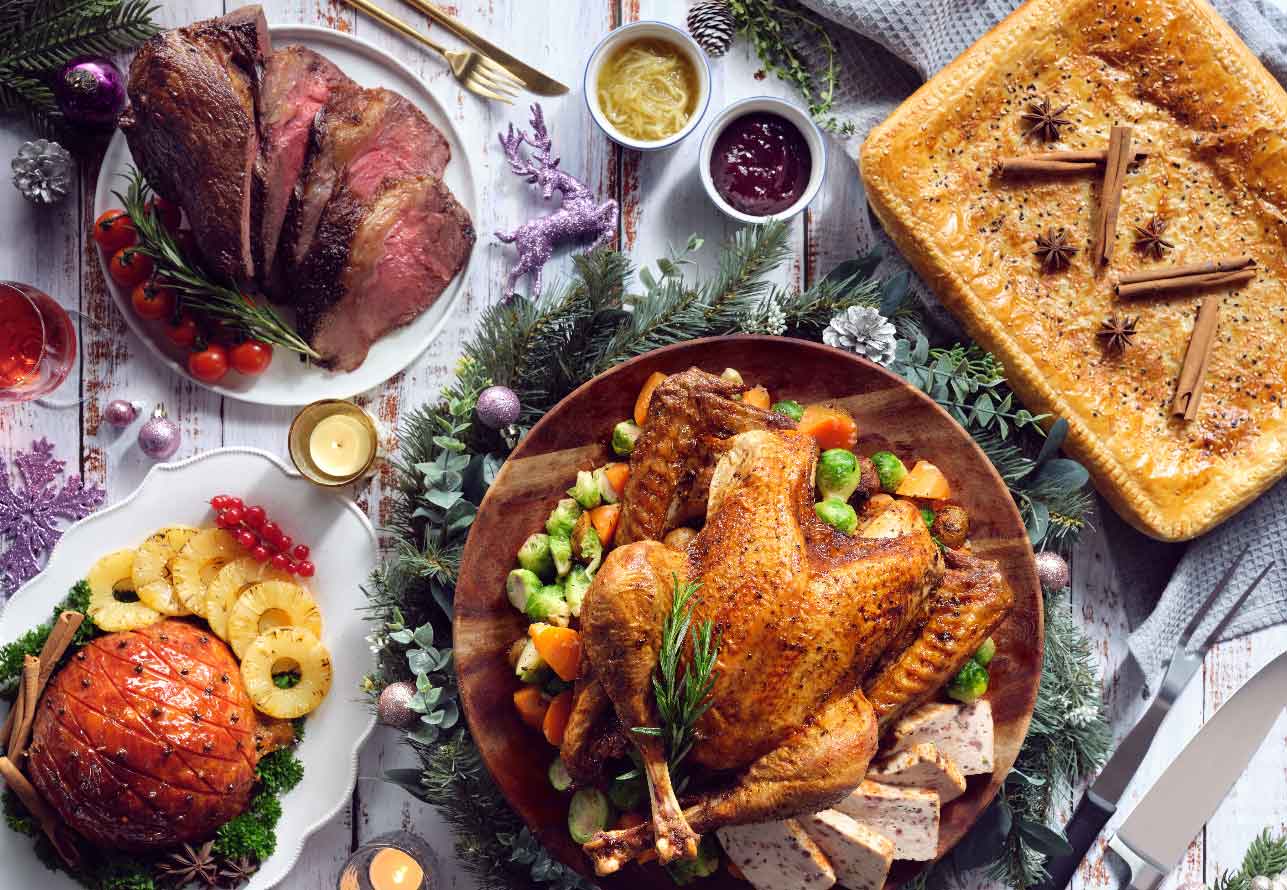 Baked creamy turkey pie from Carlton City Hotel (1.5kg, $35)
If a heavyweight fowl in its full glory isn't gonna nest well on your bountiful dining table, shred it down and get it in a pie. This ensemble from Carlton City Hotel is a new dish, where its entirety is encased in flaky pastry and judging by the magnitude of the casserole it comes in, it definitely has the whole bird in it.
The Christmas Shoppe (lobby level) is open from 2 Dec. Orders must be made 5 days prior to collection date. Last day for orders is on 20 Dec.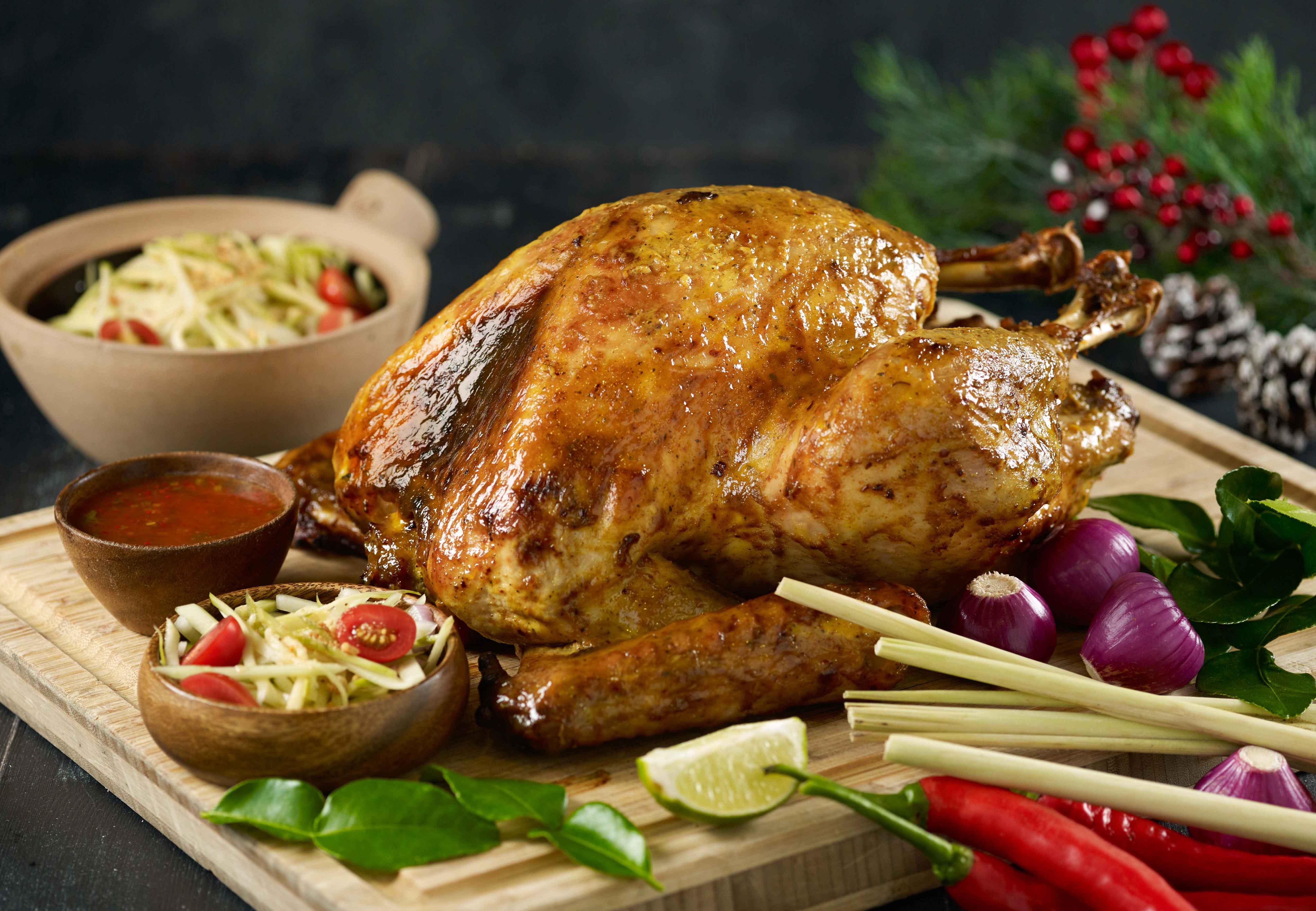 Tom Yum Turkey from Crowne Plaza Changi Airport (6kg, $168+)
It's definitely unheard of, but don't knock it until you try it. Crowne Plaza Changi Airport hotel is debuting an Asian take on the traditional turkey with a tom yum marinate. The golden roast is served with green papaya salad with a homemade tamarind dip, and a serving of tom yum sauce to kick your tastebuds up a notch.
To place your order, call lobby lounge at 68236367, email lobbylounge.cpca@ihg.com, or shop online here.
HORS D'OUEVRES
BREAD
FISH
MEATS
DESSERT
Dessert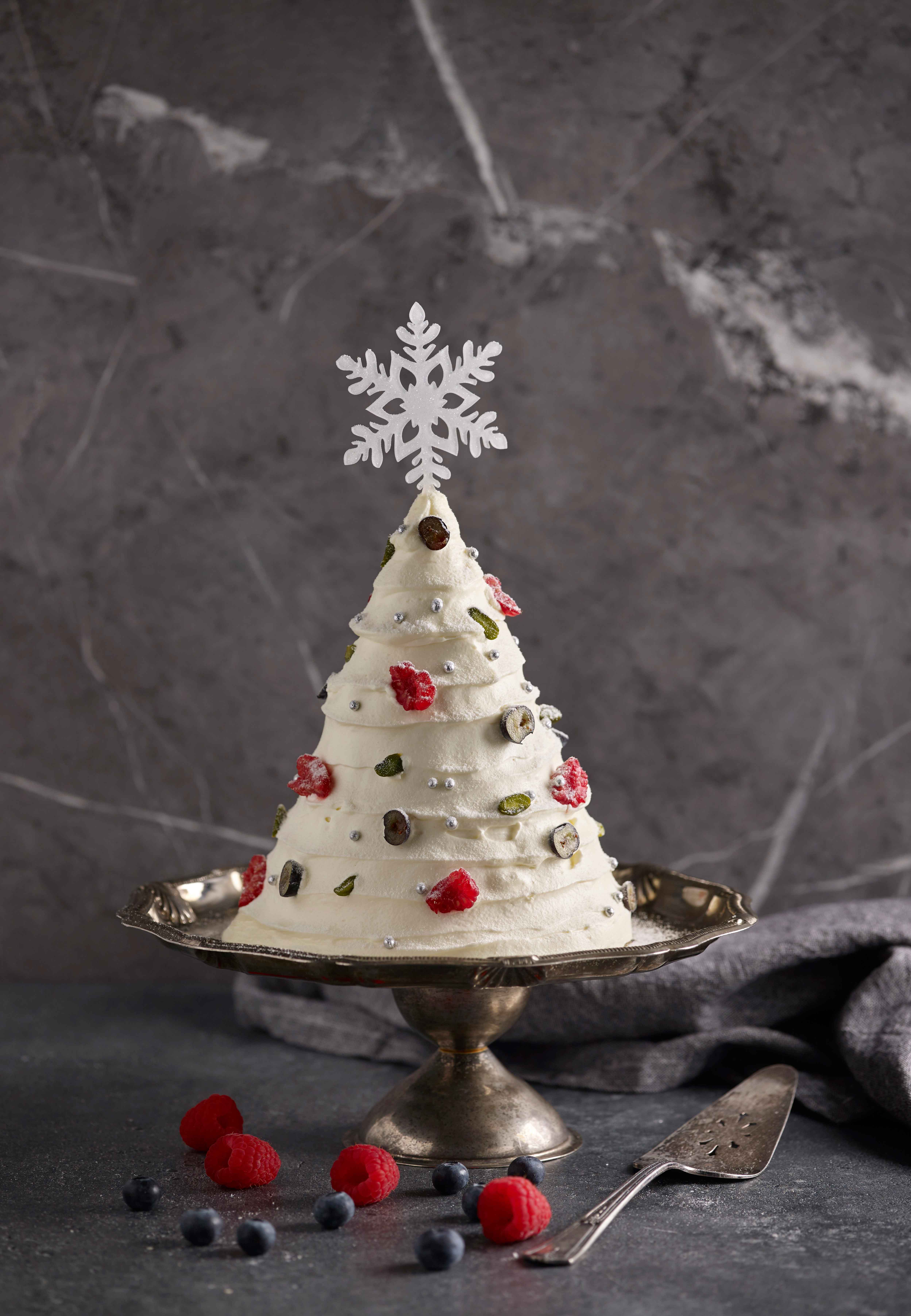 White Christmas cake from Antoinette ($90)
With undulated layers of white chocolate ganache sparingly decorated with berries, pistachios and silver dragées, Antoinette's unique Christmas tree cake doubles up as a table centrepiece. The conical sponge cake is layered with white chocolate vanilla mousse and filled with white peach coulis, and a crémeux flavored with mango and passionfruit.
Available for purchase at all outlets. For enquiries, email events@sugardaddy.com.sg.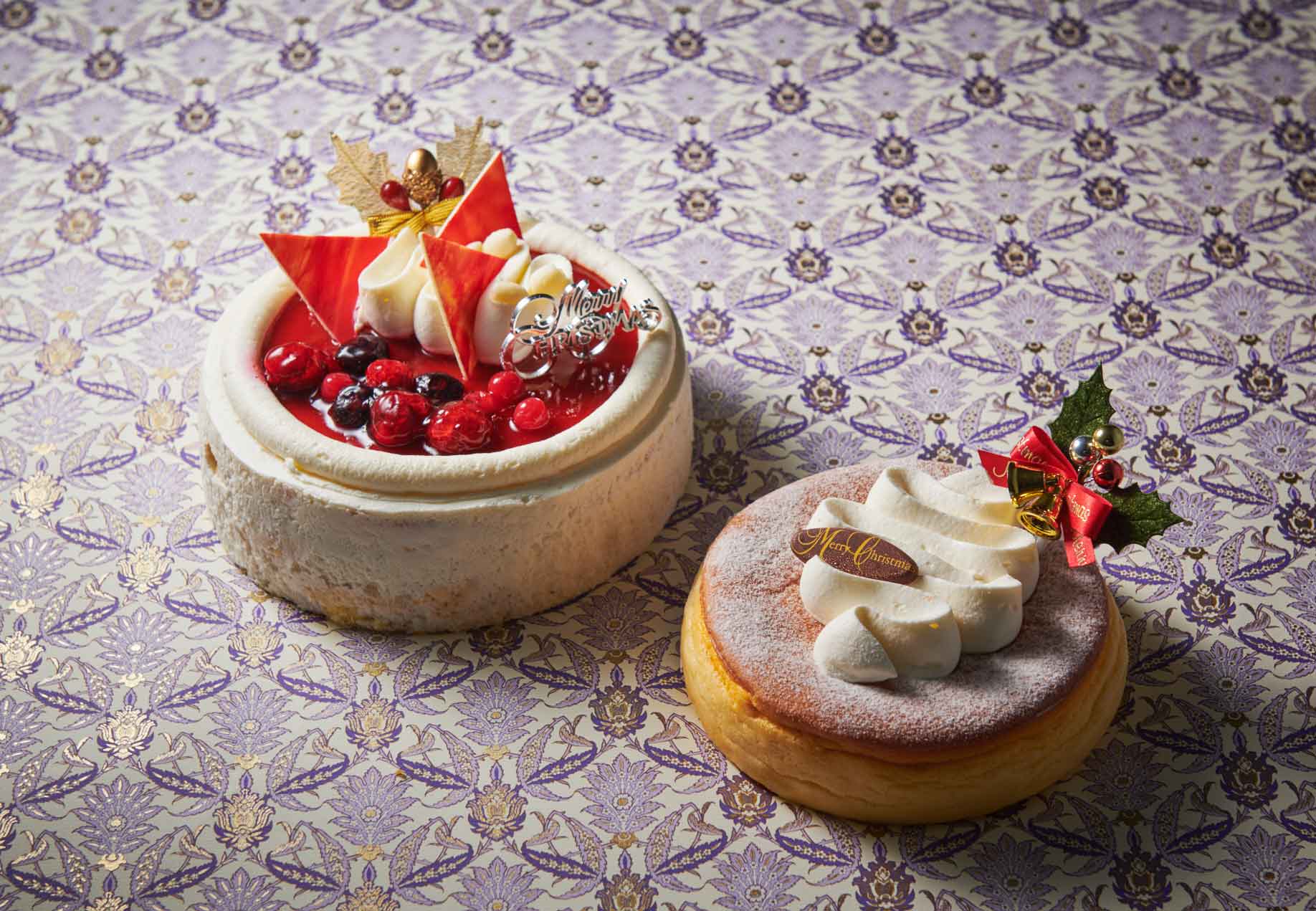 Xmas berryberry soufflé cheesecake from Châteraisé ($48)
After bulldozing through a few rounds of meaty dishes, a light cheesecake will do your jaws well to finish off with a dish as gentle as soufflé. The airy cheesecake is slathered with a French cream cheese frosting and topped with strawberry sauce with a handful of mixed berries.
Cakes are now available for reservation with collections made until 25 Dec. Cakes will also be available for sale at all outlets from 1 Dec.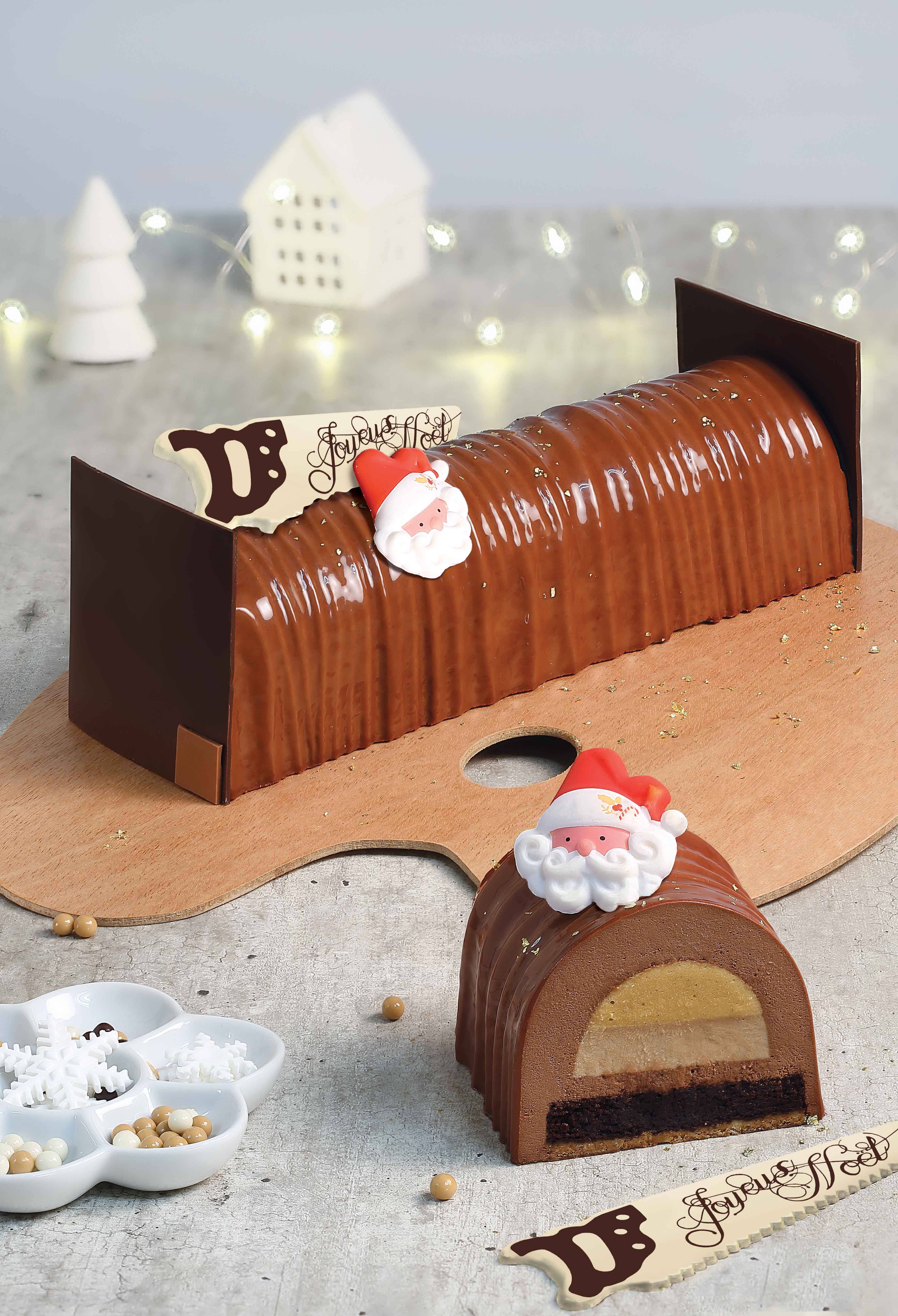 Guanaja caramel yule log from Hotel Fort Canning ($68+)
The theatrical log cake has been toned down in Hotel Fort Canning's version, revealing a minimalistic rotund log cake decked in chocolate. The sponge layer is filled with soft caramel and coconut praline crémeux on a crunchy hazelnut base, and coated in a thin layer of guanaja anglaise mousse.
Available for order from 1 Nov to 25 Dec. Collection starts from 15 Nov. For orders and enquiries, call 67998809/66596796 or email thesalon@hfcsingapore.com.