A JALAN BESAR RENAISSANCE
ADVENTURES AT ORIGIN
REVISITING THE SUMMERHOUSE
A Jalan Besar Renaissance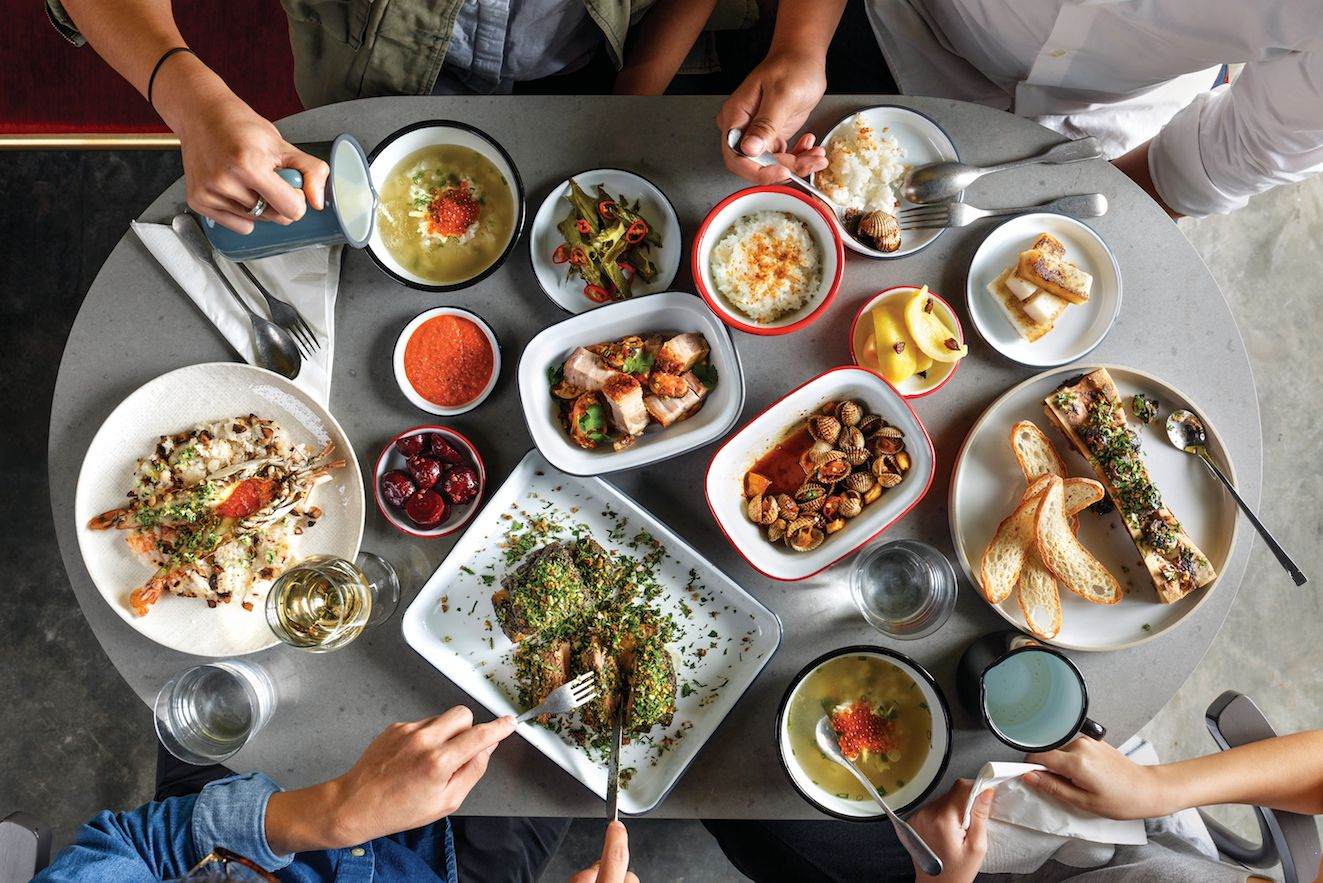 Jalan Besar was once a café hunter's usual haunt, with a dizzying number of coffee joints and casual eateries opening up en masse. Today, the area has quieted down, with people coming down from their caffeine high, perhaps a little jaded from dining concepts that were becoming a little predictable. But with Alittle Tashi's quiet descent upon the neighborhood, a renaissance is sure to follow.
What is great about Alittle Tashi is its unpretentious approach to modern dining, where rules on how to enjoy the food are nonexistent. What matters here is genuine enjoyment over delicious, familiar flavors. There is a beautiful blend of international ingredients and techniques here, all anchored by strong Asian roots. The dishes, which range from small bites to hearty mains, don't seek to impress – they just want to satisfy. Such is the case with the addictive char and bitterness of the deep-fried, miso-slathered Brussels Sprouts and the tart Bean Salad that features a jumble of wing and long beans, shallots, mint, Thai basil, and tangy shrimp paste dressing. Meanwhile, mains like the chargrilled Lamb Ribs with preserved lemon sauce and Lion's Head (giant Shanghai-style braised pork meatballs) perfectly pair with an assortment of sides and brilliant sauces like rice cakes, garlic rice, an umami-rich miso cream, and the mind-blowing Skhug, a spicy Middle Eastern hot sauce.
A JALAN BESAR RENAISSANCE
ADVENTURES AT ORIGIN
REVISITING THE SUMMERHOUSE
Adventures at Origin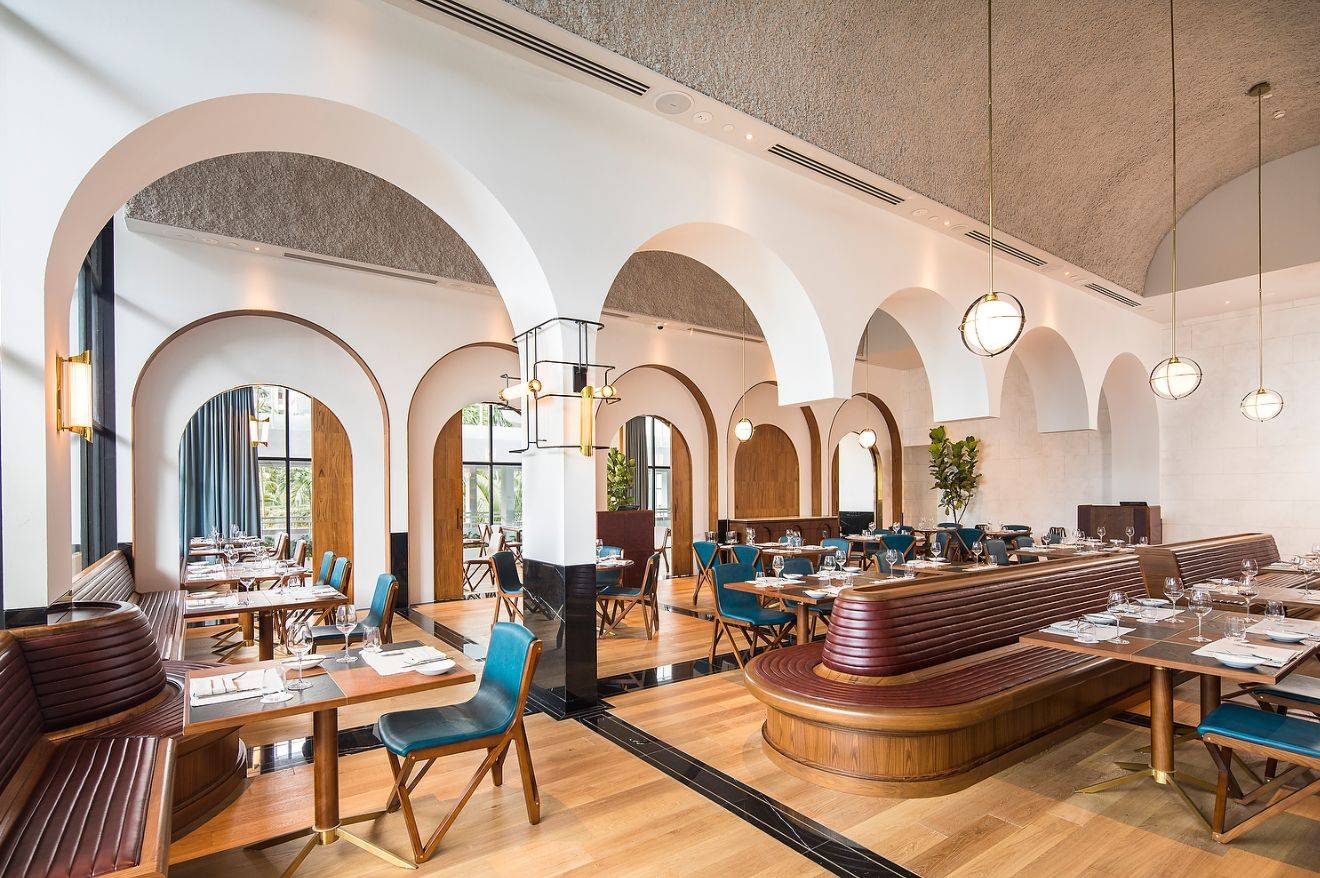 Origin Grill & Bar, located at the Shangri-La Hotel's recently refurbished Tower Wing, is more than just a hotel restaurant. It's a dining destination that paints a beautiful picture of a food and flavor-driven adventure, thanks to the beautiful setting, as well as produce and ingredients that are carefully sourced from around the region.
Before settling down for a meal, guests are encouraged to enjoy a pre-dinner cocktail at Origin Bar, a sexy watering hole within the restaurant that's decorated with plush seating options (including coveted booths), mood lighting and mechanical objet d'art. Try the Origin, the establishment's namesake cocktail, which is Southeast Asia in a glass – a spicy gin-based cocktail with sugar cane honey, nutmeg, pepper, charred pineapple, and lime husk wine. As for the food, the 300-day grain-fed Rangers Valley Black Market Angus is something to behold, as well as the Snow-Aged Full-Blood Wagyu Beef A4 from Niigata, Japan. If seafood is more to your liking, you won't go wrong with the classic Jumbo Butterflied Prawns that's finished with a yuzu lemon and herb whipped butter. It's a simple dish, no doubt, but executed beautifully, highlighting the natural sweetness of the prawns and the smoky char of the grill.
Visit Origin Grill & Bar at Shangri-La Hotel, Orange Grove Road, Tel: 6737 3644
A JALAN BESAR RENAISSANCE
ADVENTURES AT ORIGIN
REVISITING THE SUMMERHOUSE
Revisiting The Summerhouse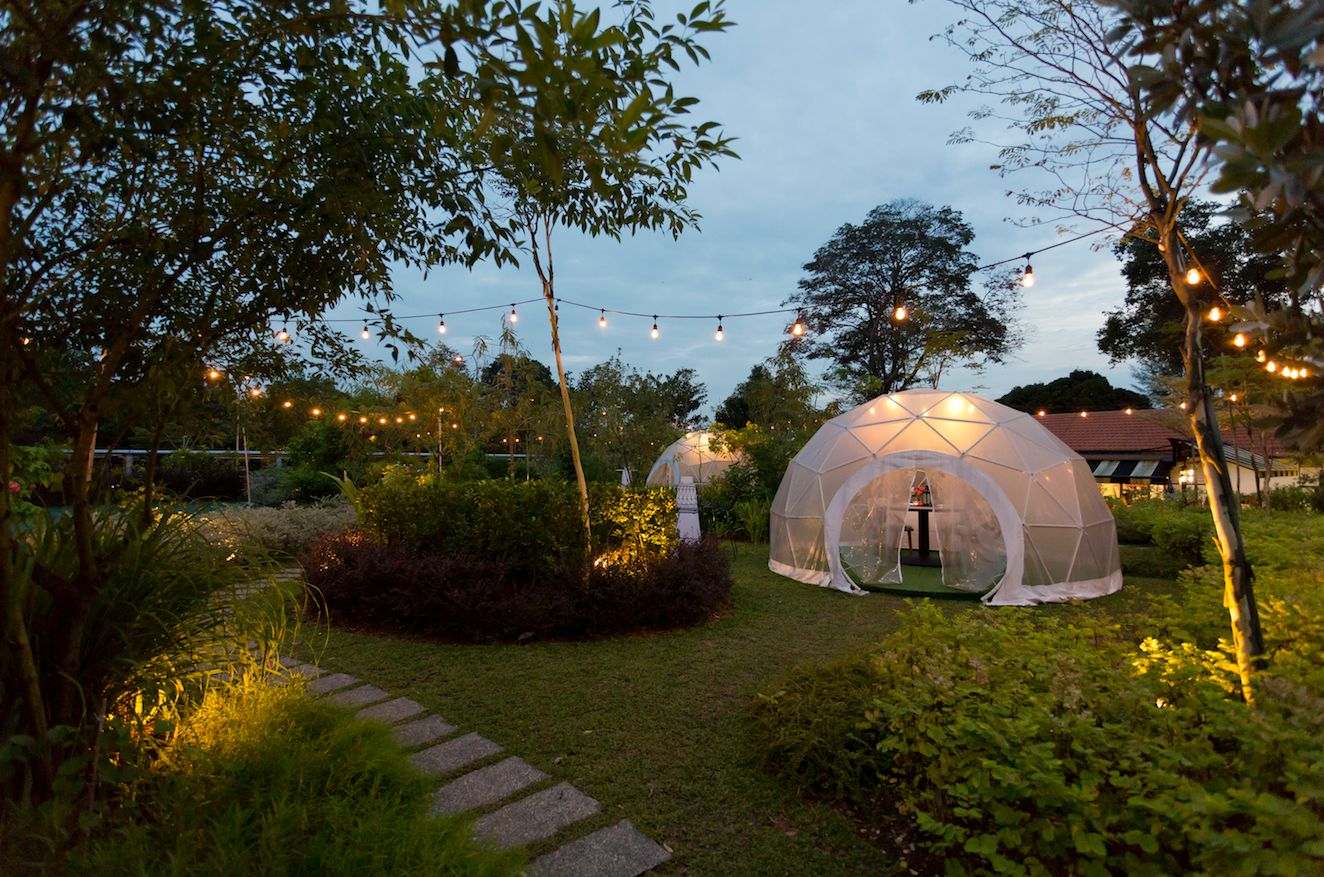 It has been a little over a year since The Summerhouse opened at Seletar, slowly evolving into a fully realized multi-concept venue that has something for everyone looking for an out of town experience. The venue's edible garden has grown full and lush, its menu has been tweaked and tightened, and novel climate-controlled domes have been added to the garden, making it one of Singapore's most unique dining destinations.
The Summerhouse's main dining room previously served fancier fare, perfect for special occasions. But as the restaurant's role within the neighborhood changed over time, the menu is now a lot more casual, perfect for impromptu gatherings with friends. Perfect for sharing, new additions to the revamped menu include Grilled Prawns wrapped in Lardo, Smoked Butter Poached Red Snapper Fillet, Paper Bag-Baked Seabass, and Charcoal-Grilled Slipper Lobster. Complementing the food is an extensive selection of wines from a dedicated space called Cellar Door, where diners can purchase wines for takeaway or to enjoy on the premises. Meanwhile, those who are looking for an even more laid back experience will enjoy Wildseed Café and Wildseed Garden Bar on the ground floor, which serves lights bites, brunch items, coffee, and an assortment of signature and classic cocktails.