15 STAMFORD BY ALVIN LEUNG
BAKER & COOK
ASH & ELM
ANTOINETTE
15 Stamford by Alvin Leung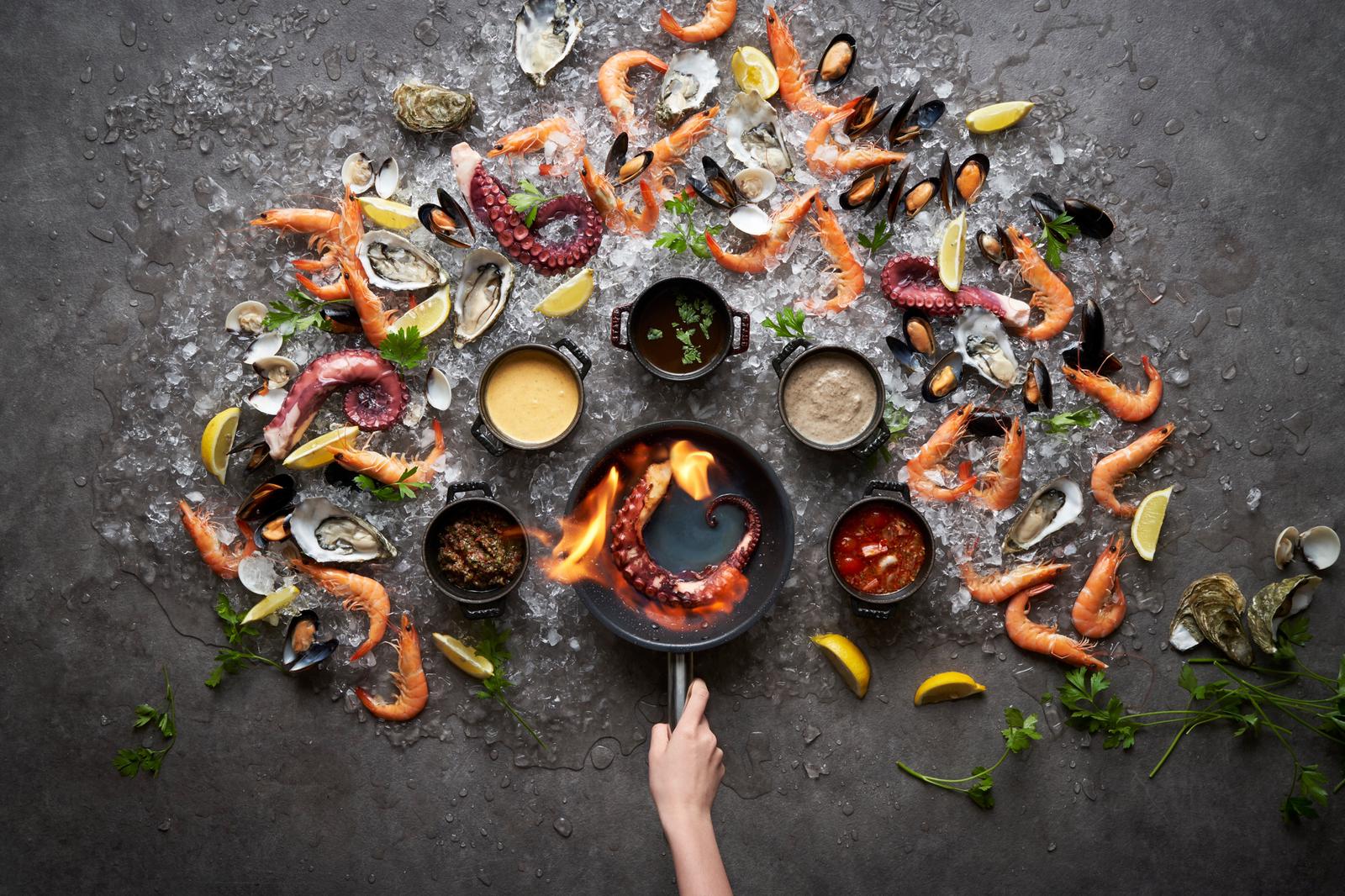 Housed in the luxurious boutique hotel of the Capitol Kempinski is 15 Stamford by Alvin Leung, helmed by the reputable London-born chef who also owns the three-Michelin-starred restaurant Bo Innovation in Hong Kong. Now open for Sunday brunch, 15 Stamford by Alvin Leung is serving an extensive buffet that's worth waking up for.
Start off with cold dishes at the seafood station, which offers fresh cuts of various sashimi and a unique spread of cured fish dishes served canapé-style. Offerings include gravlax, a simple Swedish dish of raw salmon cured in sugar, salt and dill, which is additionally dressed with fried capers and an apple mustard dressing.
For something more filling, there are Désirée potatoes from Holland tossed in cream sauce at the salad station, or get in line at the live foie gras station, where every serving is cooked upon request. Each piece is lightly grilled in fat, resulting in a slight char on the outside, yet on the inside it remains creamy and soft.
Just beyond the serving counters, the large kitchen starts to heat up with servings of grilled meats being ushered off the fire and straight onto the carving boards. Fjord trout, lamb leg, suckling pig and spring chicken are slow cooked on the rotisserie spit, while the grill takes care of fine wagyu beef cuts such as striploin and hanger steak.
Desserts are hosted in a separate room, where a large spread of cakes, sweets, puddings and bowls of homemade flavored marshmallows are stacked up on different tiers. Fresh crêpes are made on request at the live station, with finishing options of banana rum raisin or peanut butter ice cream.
15 Stamford Road, The Capitol Kempinski Hotel, Singapore 178906
15 STAMFORD BY ALVIN LEUNG
BAKER & COOK
ASH & ELM
ANTOINETTE
Baker & Cook
Baker & Cook opens its tenth outlet in a lush corner of Loewen Road, alongside its specialized sourdough pizza joint, Plank. The greenhouse-styled café is a light-filled sanctuary in the day, furnished with wood-accented furnishings and a central deli counter.
The Loewen branch features outlet-exclusive menu items such as the pleated croissant sandwich. Called the "crowich," the pastry is baker–chef owner Dean Brettschneider's interpretation of pairing the pastry dough with savory fillings such as Parma ham, feta cheese, pickled onions, and homemade onion chutney.
The menu is a global curation of dishes such as Turkish eggs in a bed of whipped yogurt and chili oil, and a series of smørrebrøds, which are Danish-style open-faced sandwiches using a Danish rye bread as the base. The array of colorful toppings make for a visual feast, with the addition of a vegetarian option comprising mozzarella and a selection of cherry tomatoes.
We're intrigued by the Dutch oven–baked pancake, an irregular flat cake with shallow edges and decorated with a colorful fruit garden comprising blackberries, raspberries, poached pear and edible flowers. The blackened corn barley risotto is vegetarian-friendly, with a healthy blend of grains, baby corn and ricotta.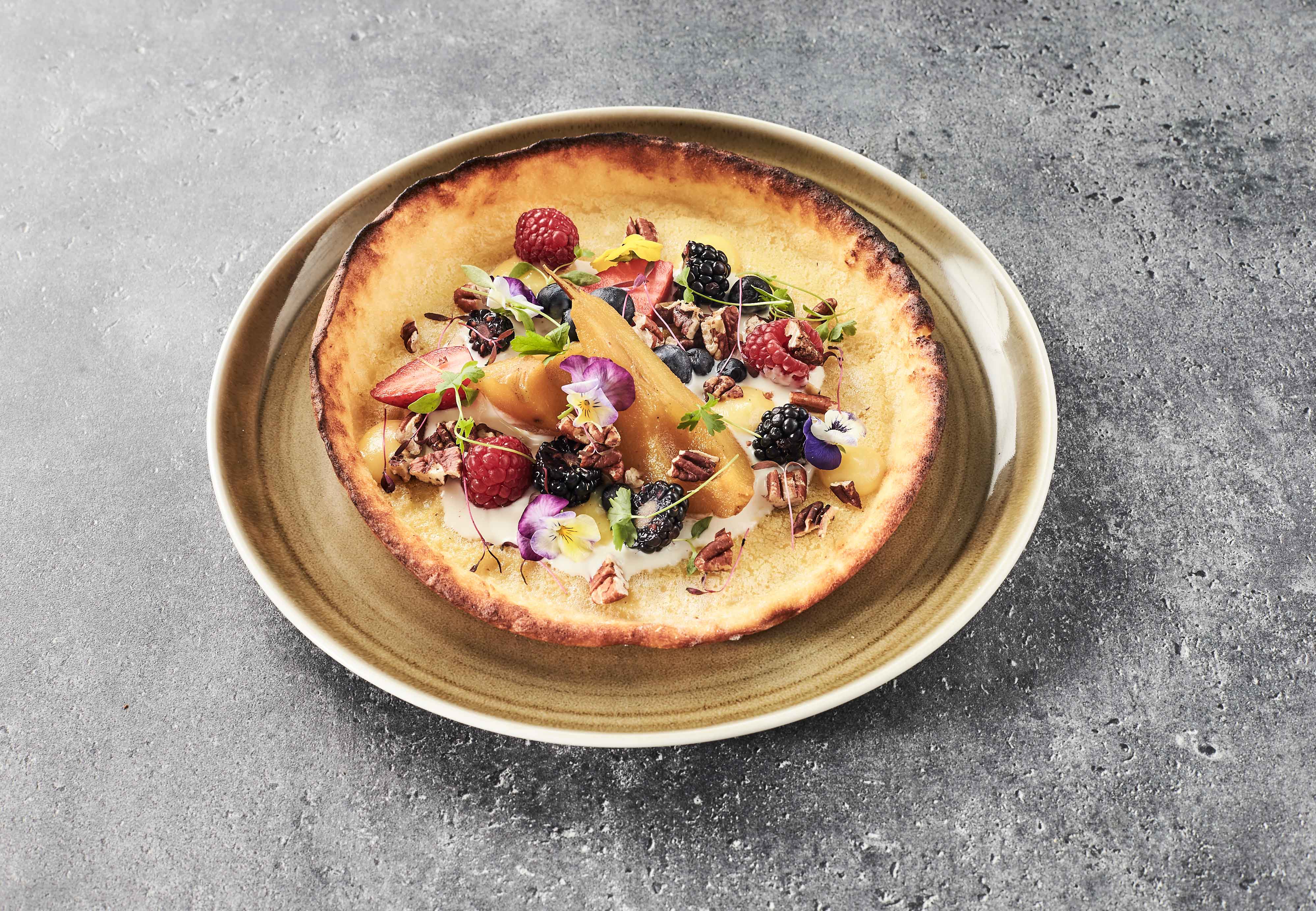 Adopting a more rustic dining style next door is Brettschneider's fifth Plank Sourdough Pizza outlet, with nine styles of pizza in two sizes, either a round 12-inch or a foot-long, with the latter offered only at the Loewen Road branch. Classic favorites such as Parma ham, rocket salad and mozzarella cheese are baked on a sourdough base, with other flavors featuring lamb and fennel meatballs, and pineapple and pepperoni is an interesting combination worth a try.
We do recommend finishing your brunch with something sweet, such as the Cheese Plank Pizza — a melange of blue cheese, fig jam, caramelized garlic and walnuts. The savory elements are married with balsamic glaze and maple syrup, and lifted up with the citrusy tang of lemon zest.
30C Loewen Road, Singapore 248839
15 STAMFORD BY ALVIN LEUNG
BAKER & COOK
ASH & ELM
ANTOINETTE
Ash & Elm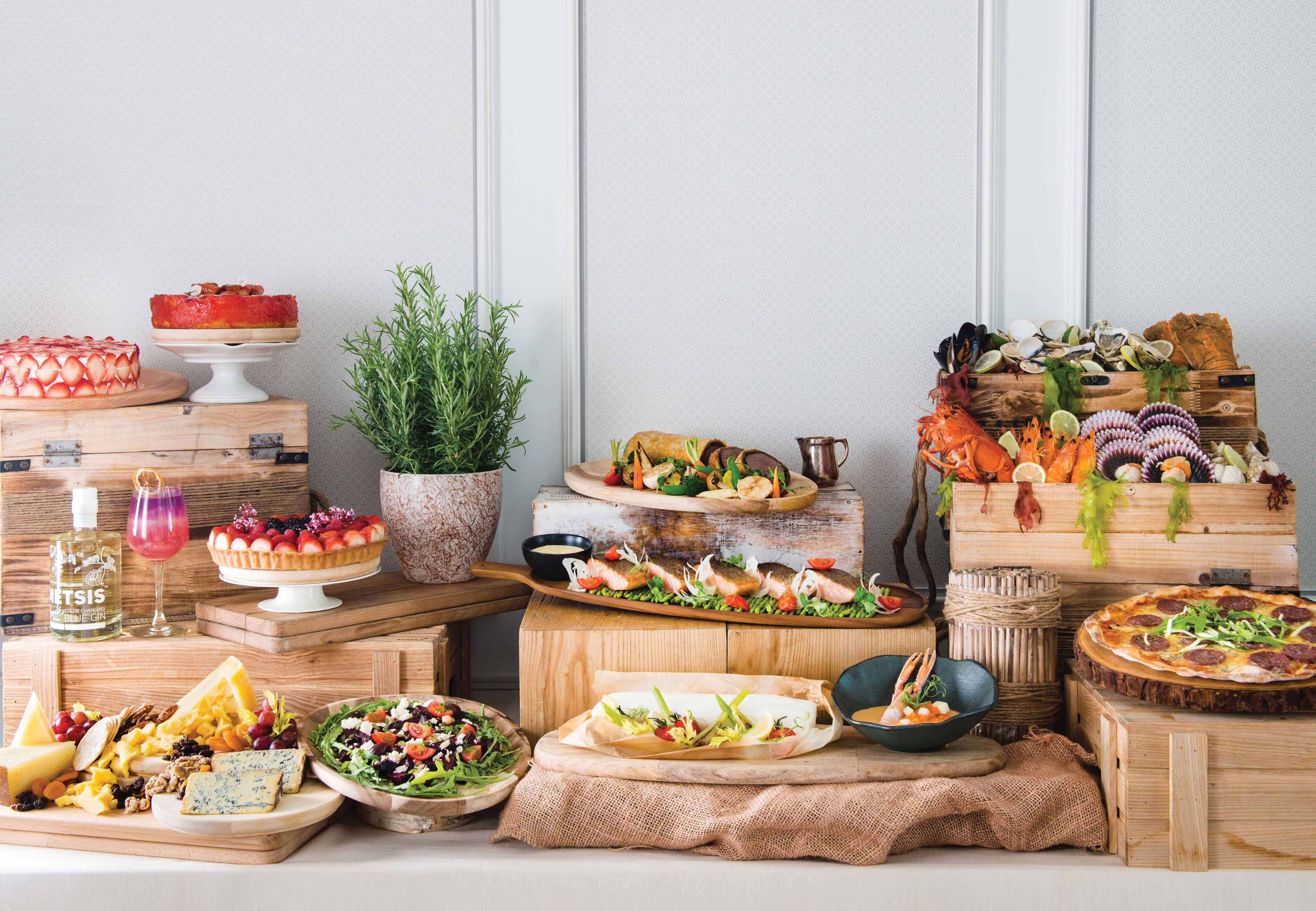 Ash & Elm introduces a new champagne brunch spread with a special focus on Nordic cuisine. The menu was conceptualized and curated by Executive Chef Eric Neo, Singapore's first Nordic-Asia Culinary Ambassador.
"Nordic cuisine is still relatively unknown in Singapore. I believe more can be done to bring awareness to this exquisite cuisine and enhance food diversity in Singapore at the same time," he says.
A majority of the Nordic countries are surrounded by water, hence it is common practice for local seafood to be harvested fresh. Ash & Elm demonstrates this through rich offerings of seafood selections including tiger prawns, black mussels, Finnish crayfish, and oysters from Sweden.
A luxurious caviar and roe display is lined with Kaluga Queen caviar from China and several Japanese varieties. The cheeseboard selection has been carefully curated to feature Nordic exclusives, such as Aito Cheddar, a soft and creamy variety from Finland that is best paired with sweet counterparts like pear or guava fruit pastes.
S$148 per person, which includes free-flow champagne and house wines
InterContinental Singapore, 80 Middle Road, Singapore 188966
15 STAMFORD BY ALVIN LEUNG
BAKER & COOK
ASH & ELM
ANTOINETTE
Antoinette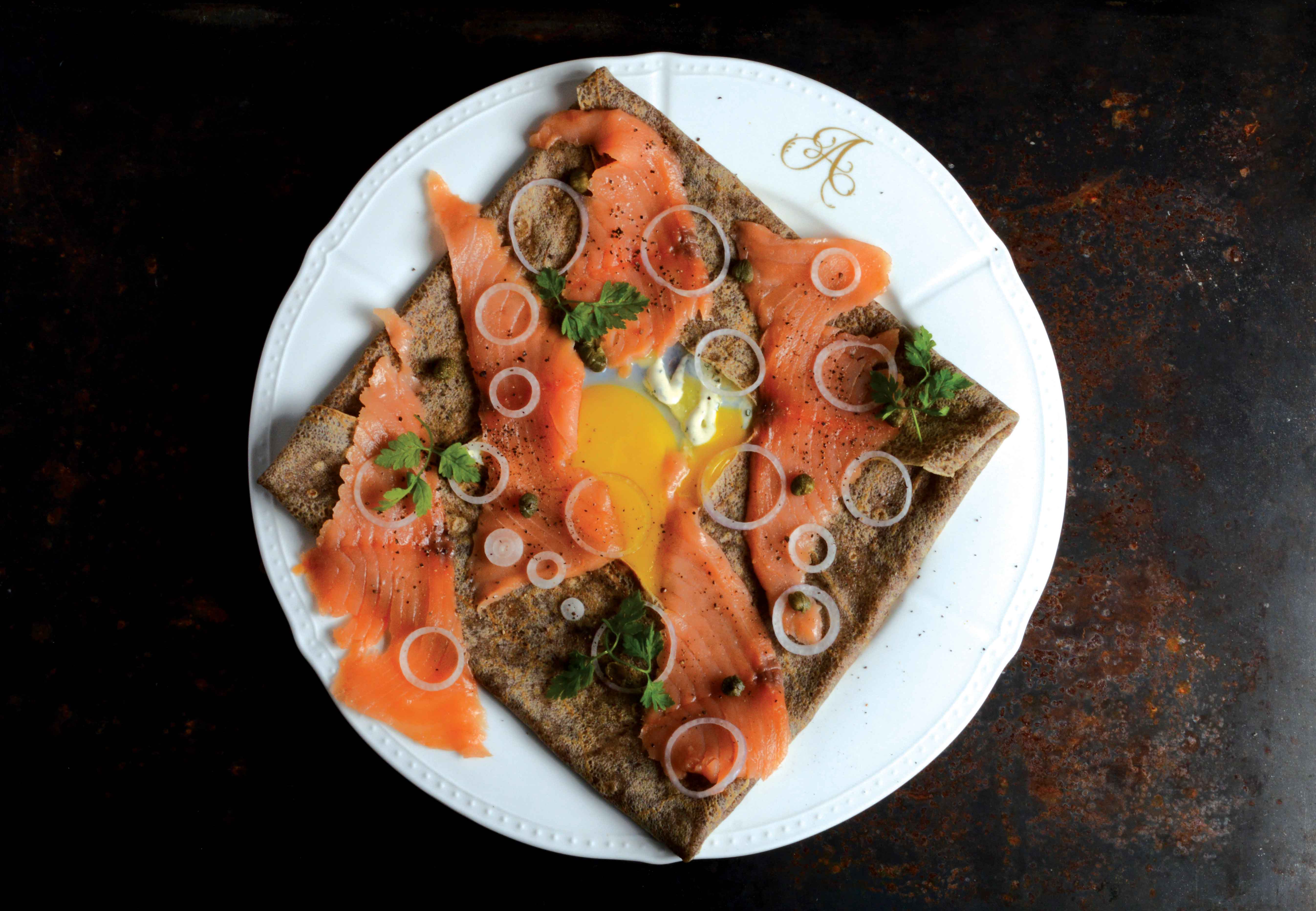 French bistro Antoinette opens a new brunch spot at Millenia Walk, this time with more than just traditional French fare. Exclusively available at the new branch, crêpes make their way onto the menu in five different styles.
If a smoked salmon and cream cheese combination is your bagel staple, that is replicated in the Nordic, a Norweigian-style crêpe with a fresh mix of smoked salmon, capers, red onions and dill cream cheese. We were partial to the Sierra, a cheese and egg combination with a generous shower of Parma ham.
For those who are venturing to challenge the palate, the Tokyo crêpe is a flavorful Japanese spin on the French pancake. It takes a while to wrap one's head around the umami combination of bonito flakes, sesame seeds and seaweed in breakfast food, but those familiar with okonomiyaki would enjoy the familiar tastes.
The dainty café corner is extended with a mock al fresco dining space within the mall's atrium area, with natural daylight pouring in from the glass ceiling above. Perfect for a quick breakfast pick-me-up, or if you simply want to sit in to watch the crowd, Antoinette's new offerings range from simple Parisian croissants to wholesome sandwiches.
We're big fans of natural, homemade baked goods, and Antoinette doesn't disappoint, with a variety of different breads all baked on-site. A crusty ciabatta is stuffed with a creamy filling of cheesy scrambled eggs, while the dense, aromatic focaccia is stacked with chicken, cheese, and homemade pesto butter.
A good old serving of coffee and toast is elevated with a localized interpretation, resulting in an ondeh-ondeh kaya toast. Served on toasted pieces of ciabatta, generous servings of pandan kaya spread are topped with thick slabs of butter, and drizzled with gula melaka and dessicated coconut.
Sweet breakfast options include fluffy soufflé pancakes with flavors such as Earl Grey bubble tea, topped with chewy tapioca pearls.
9 Raffles Boulevard #01-28 Millenia Walk, Singapore 039596