BES OF BRITISH AT ASH & ELM
AN OMAKASE EXPERIENCE AT IL CIELO
RESTAURANT IBID LAUNCHES LUNCH MENU
Bes of British at Ash & Elm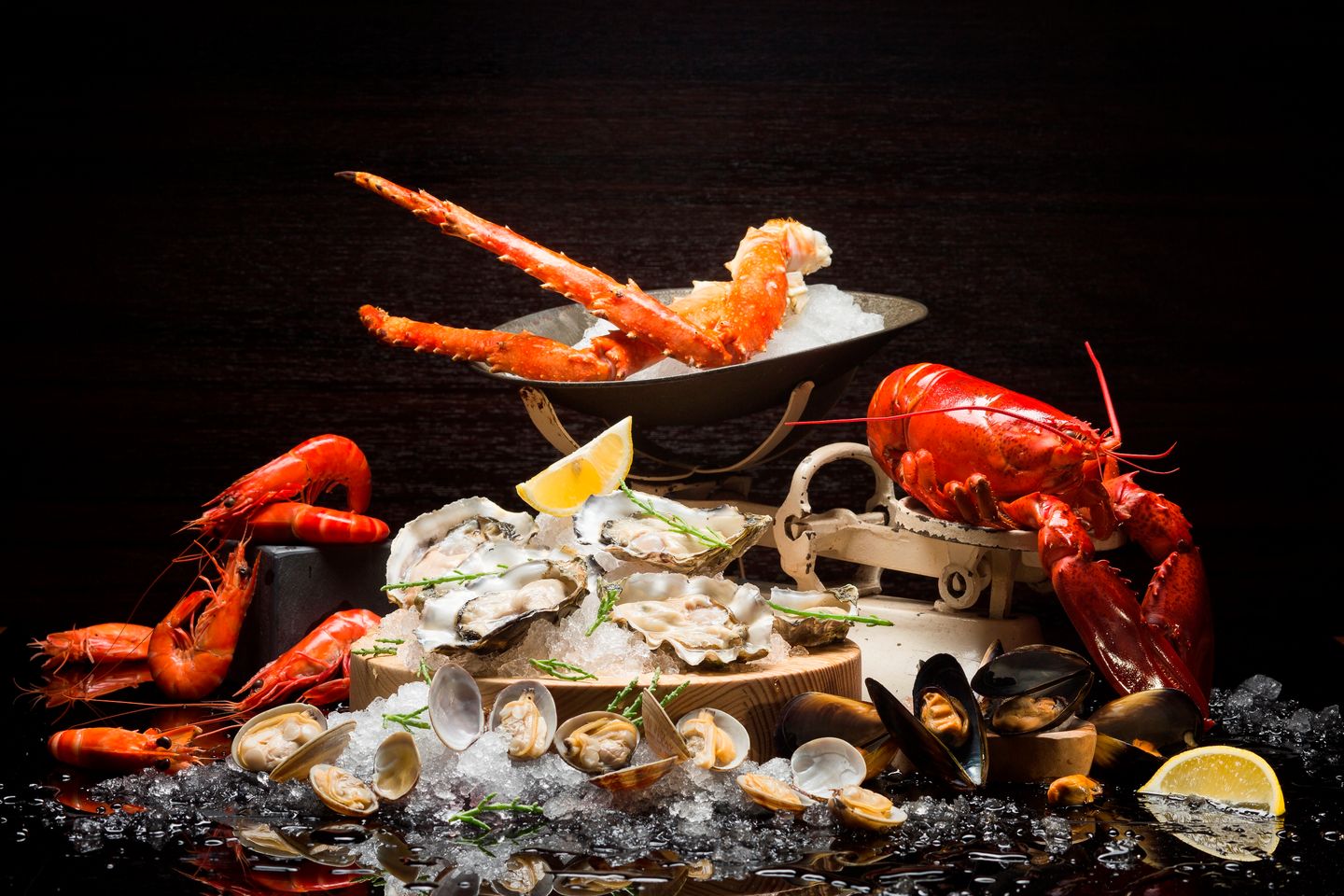 The United Kingdom had quite a number of milestones this year, with notable events such as making the top four at the FIFA World Cup, a highly-anticipated royal wedding, as well as the arrival of a new royal baby. With such newsworthy events, Ash & Elm at the InterContinental Singapore decided to celebrate in the best possible way – with a British-themed Sunday Champagne Brunch.
While Ash & Elm's famous seafood station (chockfull of fresh oysters, prawns, lobsters, and crabs) and caviar corner remain, new additions to existing stations are worth your precious stomach space. There is a wide selection of British cheeses to explore, as well as an assortment of savory pies, and artfully crafted desserts. Sip on unlimited servings of the classic British cocktail Pimm's Cup, in between other tipples like house wines and Taittinger Brut Champagne.
The highlights at this brunch, however, come in the form of tasting platters comprised of nine à la minute petit plates. Take a trip around the British isles, from London to Lancashire, with favorites like Fish & Chips and Bangers & Mash, alongside grilled lamb chops with green peas and mint jelly sauce, pork and cider casserole, pan-seared scallops with savoy cabbage, cauliflower cheddar gratin, and an earthy mushroom-chestnut wellington.
Visit Ash & Elm at Level 1, InterContinental Singapore, Tel: 6825 1061. For more information on the British Sunday Champagne Brunch, visit www.ashandelm.sg
BES OF BRITISH AT ASH & ELM
AN OMAKASE EXPERIENCE AT IL CIELO
RESTAURANT IBID LAUNCHES LUNCH MENU
An Omakase Experience at il Cielo
Some say that the best Italian food outside Italy can be found in Japan, and based on personal experience, there is truth to this. So it comes as no surprise that il Cielo Rooftop Italian Dining's Chef de Cuisine, Yohhei Sasaki, is well-versed in both cuisines and techniques.
In order to highlight Chef Sasaki's culinary expertise, il Cielo at the Hilton Hotel launched an interactive Omakase Dining experience, allowing diners to converse with the chef and familiarize themselves with fresh, seasonal ingredients used in their meal. Once reservations are confirmed, guests are invited to collaborate with Chef Sasaki by suggesting an ingredient, drink, or even a memory that the menu can revolve around.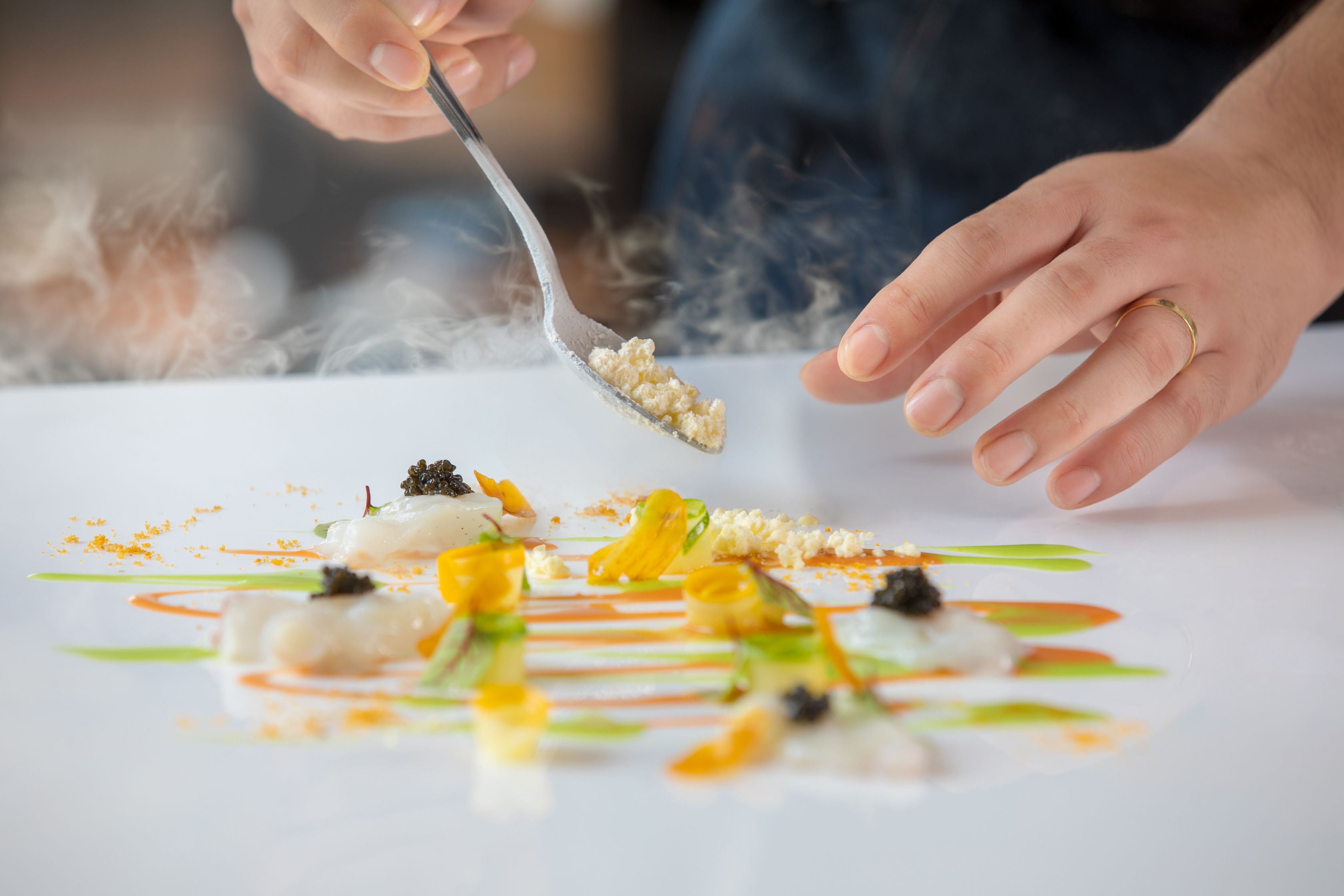 On our visit, Chef Sasaki told us he planned a seafood omakase menu, where executions would sometimes lean towards a more Italian or more Japanese approach, and at times, at an intersection. We started with a tender Octopus Carpaccio with bright, zesty flavors from the accompanying three-tomato gazpacho sauce and flecks of bottarga. Meanwhile, "Welcome to the Sea" was comfort in a bowl, comprised of dashi broth, sweet Hokkaido sea urchin, Sakura ebi, asari clam, and seaweed.
And as an Italian litmus test of sorts, Chef Sasaki sends out the Homemade Chittara all Napoletano – a hearty tomato-based pasta dish with succulent scampi, zucchini, and zucchini flower. It passes with flying colors, what with its perfectly al dente noodles, flavorful sauce, and simple yet delicious ingredients. Even an Italian grandmother would give it a nod of approval.
Visit il Cielo at Level 24, Hilton Singapore, 581 Orchard Road, Tel: 6730 3395. For reservations for the Omakase Dining experience, e-mail ilCielo@hilton.com
BES OF BRITISH AT ASH & ELM
AN OMAKASE EXPERIENCE AT IL CIELO
RESTAURANT IBID LAUNCHES LUNCH MENU
Restaurant Ibid Launches Lunch Menu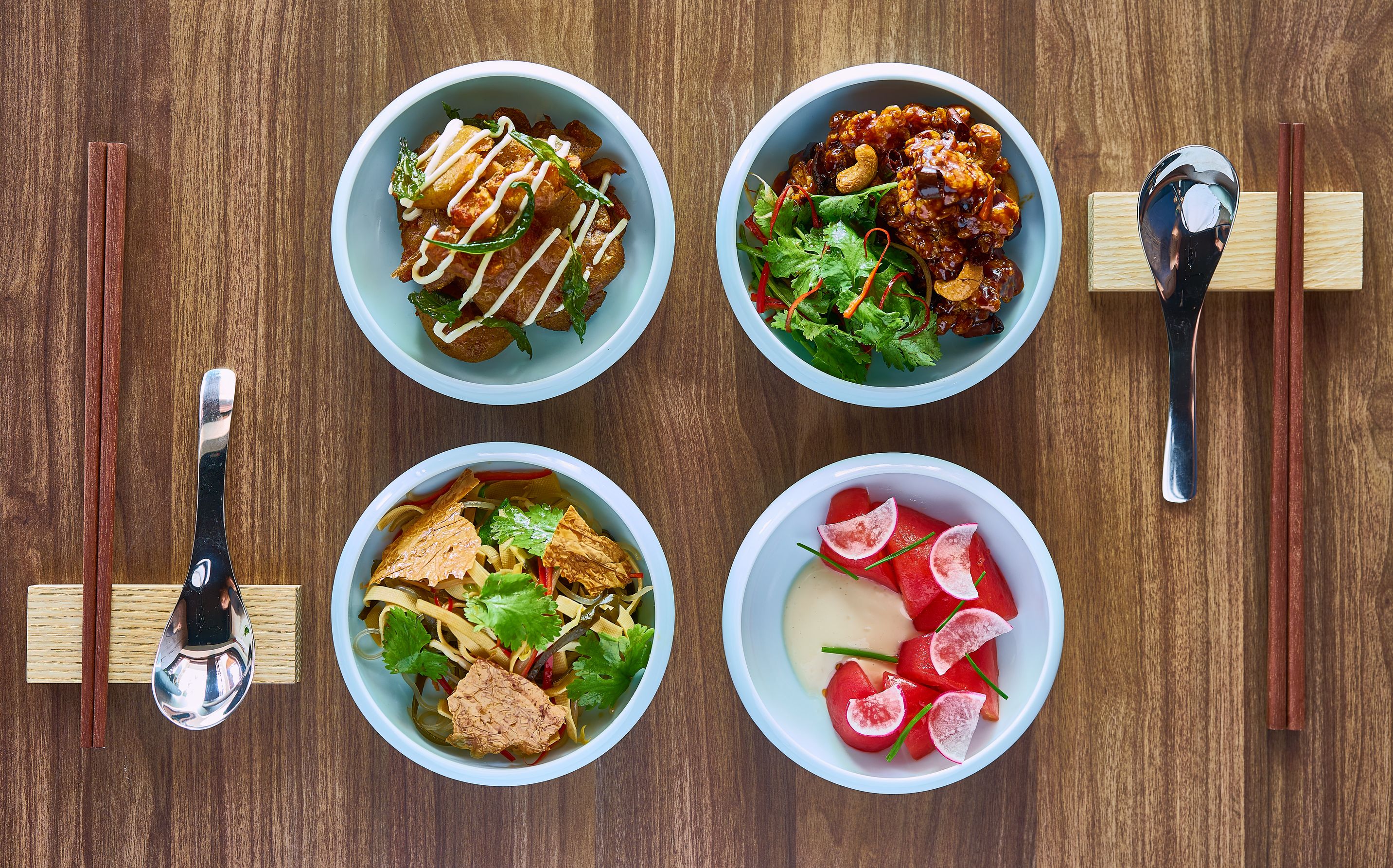 After introducing his Nanyang-style, contemporary Chinese dishes to much fanfare, Chef Woo Wai Leong finally launches a lunch menu at Restaurant Ibid that's as inventive, bold, and flavorful as his dinner tasting menu.
While the lunch menu's dishes are approached with the same level of finesse expected from a culinary visionary like Chef Woo, you could say that the offerings are more casual and playful, encouraging the diner to let loose, get a little messy, and most importantly, enjoy. Small plate starters like the Marinated Tomatoes, Cumin-Spiced Fried Potatoes, and General Soh's Chicken (with a refreshing coriander side salad) pack a flavorful punch that's sure to get your appetite going.
We encourage you to get your hands dirty with the Shao Bing Burger, which repurposes the Shao Bing starter from the dinner menu as a burger bun. The texture-rich bun perfectly holds together a succulent beef patty that's smothered in a piquant – and potent – pickled green chili mayonnaise, and mozzarella cheese. Meanwhile, Ibid's approach to the Thunder Tea Rice Porridge is almost risotto-like, consisting of Japanese brown rice that's cooked with kombu dashi and topped with a green tea, basil, mint, and coriander paste, and a fleshy chunk of pan-fried black grouper.
End your meal with 'coffee and tea', but in a way you've never had it. The Yuan Yang Pudding features milk tea that's set with eggs, decorated with a generous serving of local kopi-soaked pearls, and topped with vanilla ice cream. It's a cool, bittersweet finish to what is perhaps the most memorable CBD lunch you'll ever have.
Visit Restaurant Ibid at 18 North Canal Road, Tel: 9151 8698. The lunch menu is available from Wednesdays to Fridays, 12-2PM