WAN HAO CHINESE RESTAURANT
CASSIA
MITZO RESTAURANT & BAR
Wan Hao Chinese Restaurant
Roast Honey Black Char Siew, Deep-Fried Suckling Pig stuffed with Shrimp Paste, Caviar Black Garlic Irish Roast Duck

Braised Beef Short Ribs with Sha-Cha Sauce and Braised Premium African Abalone with Kombu Sauce

Double-Boiled Fish Maw with Boletus Mushroom in Almond Superior Soup And Assorted Mushroom Dumpling
Click to next slide
Across 52 destinations, Wan Hao Chinese Restaurant at Marriott Singapore Tang Plaza Hotel is among this year's Top 52 Restaurants & Bars, a list curated by Marriott Bonvoy showcasing the best dining and mixology experiences in the Asia Pacific region. The annual list is an assessment of the gastronomic establishments within the Marriott International hotel collective where the awarded spots will host a special menu exclusively for a week. Led by Executive Chinese Chef Brian Wong, Wan Hao's celebratory menu highlights the restaurant's expertise in Cantonese cuisine.
The five-course menu starts off with a trio of meat-heavy appetizers, followed by a double-boiled soup staple that introduced the savory usage of almond. The combination of fish maw, boletus mushroom and almond is a worthy dish to note, that's made with the intention to create a wholesome dish that is packed with collagen from the selected ingredients. Down to the mains, a clever presentation with a mini pumpkin is stuffed with fragrant fried rice and supplemented with crab meat, before being rounded off with flower tea jelly with rosella sorbet and a bird nest custard puff for dessert.
Available until October 6 at $108++.
Level3, 320 Orchard Road. Tel: 68314605. www.singaporemarriott.com
WAN HAO CHINESE RESTAURANT
CASSIA
MITZO RESTAURANT & BAR
Cassia
Braised Fresh Fish Maw with Whole Japanese Flower Mushroom and Abalone Sauce

Oriental Dim Sum Afternoon Tea

Baked Cod Fish with Bonito Sauce and Seasonal Greens
Click to next slide
Cassia at Capella welcomes the new season with a newly designed winter menu by Executive Chef Lee Hiu Ngai. Chef Lee adopts a poetic approach, creating dishes that symbolize the Chinese character '鲜' (xiān) which means 'fresh'.
In this deconstruction, he focuses on seafood and lamb as the main ingredients, the latter which is foreign to Cantonese cuisine. Chef Lee conjures a surprising twist with a spiced lamb chop that is stuffed with fish paste, and then deep fried to coat the meat in a crunchy golden exterior.
It is finished with a homemade spice blend of barbecue sauce that pairs well with the lamb meat and fish paste. The fish dishes come in two ways. First, a baked cod fish is dressed with sweet bonito sauce, followed by a braised fish maw with flower mushroom, broccoli and wolfberries. Locally farmed barramundi is used for the dish, a sustainable practice supported by the Capella group.
The menu runs until 29 February 2020 and is available for both lunch and dinner sessions at $99+ each. Other menu offerings include a dim sum afternoon tea ($45++) that comprises of reinterpreted local dishes and homemade dim sum favourites.
1 The Knolls, Sentosa Island. Tel: 65915045. www.capellahotels.com
WAN HAO CHINESE RESTAURANT
CASSIA
MITZO RESTAURANT & BAR
Mitzo Restaurant & Bar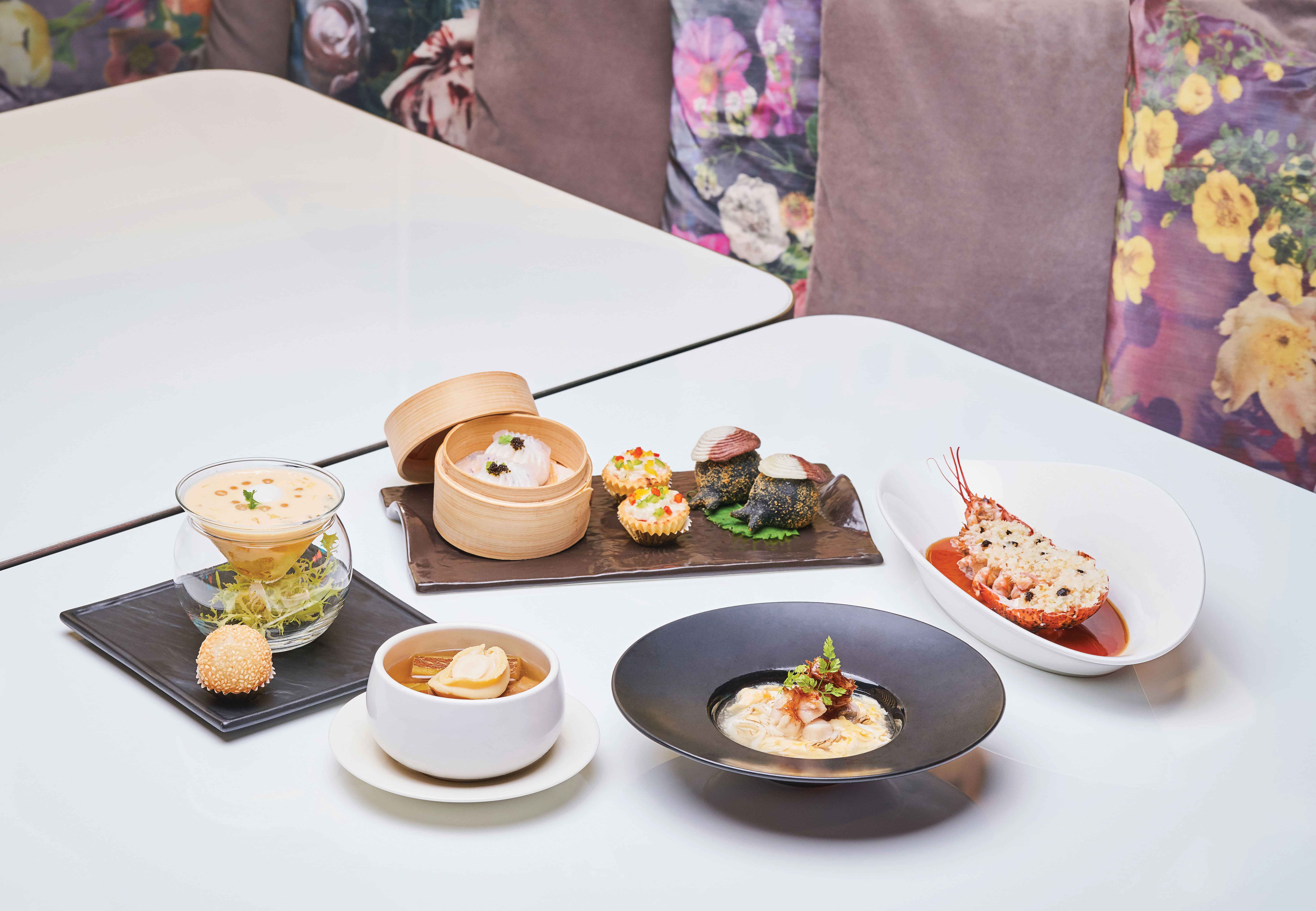 One has to see it to believe at Mitzo, an eclectic dining space in the Grand Park Orchard Hotel. Fluorescent lighting bounces off reflective panels and silvered accents, illuminating the space in a neon myriad of colors à la a scene off Blade Runner 2049.
The ambience is dressed to match Mitzo's personality, which serves contemporary Cantonese. Executive Chef Nicky Ng has designed a new five-course executive lunch set with traditional elements in modern interpretation.
A small dim sum selection makes up the appetizer, with a range of choices including royal shrimp dumpling with caviar, or escargot cheese puff. The mains include lobster prepared two ways, either baked in a rich combination of cheese and seaweed, or steamed with fermented garlic flavors. For dessert comes a more miniature arrangement with the pairing of petit fours and a dessert of the day.
Level 4, Grand Park Orchard. Tel: 66038855; Email: rsvn@mitzo.sg. mitzo.sg