Seated in the half-moon-shaped Mezzaluna restaurant with an open kitchen, perched sky high on the top floor of the 65-story Lebua Hotel — the world's first vertical luxury epicurean destination masterminded by its CEO Deepak Ohri — with dominating views of the expansive Bangkok skyline, chef Ryuki Kawasaki is the picture of calm and poise.
He might display typical Japanese reserve and modesty, but the soft-spoken chef's contemporary French food is far from ordinary. Rooted in his Japanese origins, his cuisine is all about high precision, creativity and simplicity, allowing the natural taste of ingredients to shine through and giving diners an experience that they can only have at Mezzaluna.
EAST MEETS WEST
A CHILDHOOD PASSION
WHEN IN FRANCE
MEZZALUNA
East meets West
Choosing to make a name for himself outside of Japan, he upends stereotypes in Asia that Japanese chefs only cook Japanese food. Crafting a truly genre-blurring cuisine that harnesses the best of the cultures of the East and West, he mixes seasonal Japanese ingredients — some little known outside of Japan — and balanced, sophisticated flavors with French cooking techniques to present his interpretation of what European cuisine can be.
Take for example the rectangle of sake-steamed amadai tilefish on a bed of Jerusalem artichoke, geoduck and celery; the ise-ebi spiny lobster cooked a la plancha that sits atop shungiku greens dotted with morsels of Morteau sausage in a green lentil bisque; or a slice of difficult-to-source Niigata Murakami Wagyu A5 beef grilled over bincho charcoal accompanied by the mibuna leafy vegetable, celeriac, cured egg yolk and sweet garlic, all topped with truffles.
"Now I focus less on fancy decorations, but more on umami flavor and the eating experience, especially since Japanese products are already good, so I don't want to play with them too much and kill the flavor," Mr. Kawasaki notes. "For European chefs, some Japanese fish is very tricky for them to understand and cook, but this is the kind of fish I want to focus on, the one that other people don't know how to use, such as shirako (cod milt)."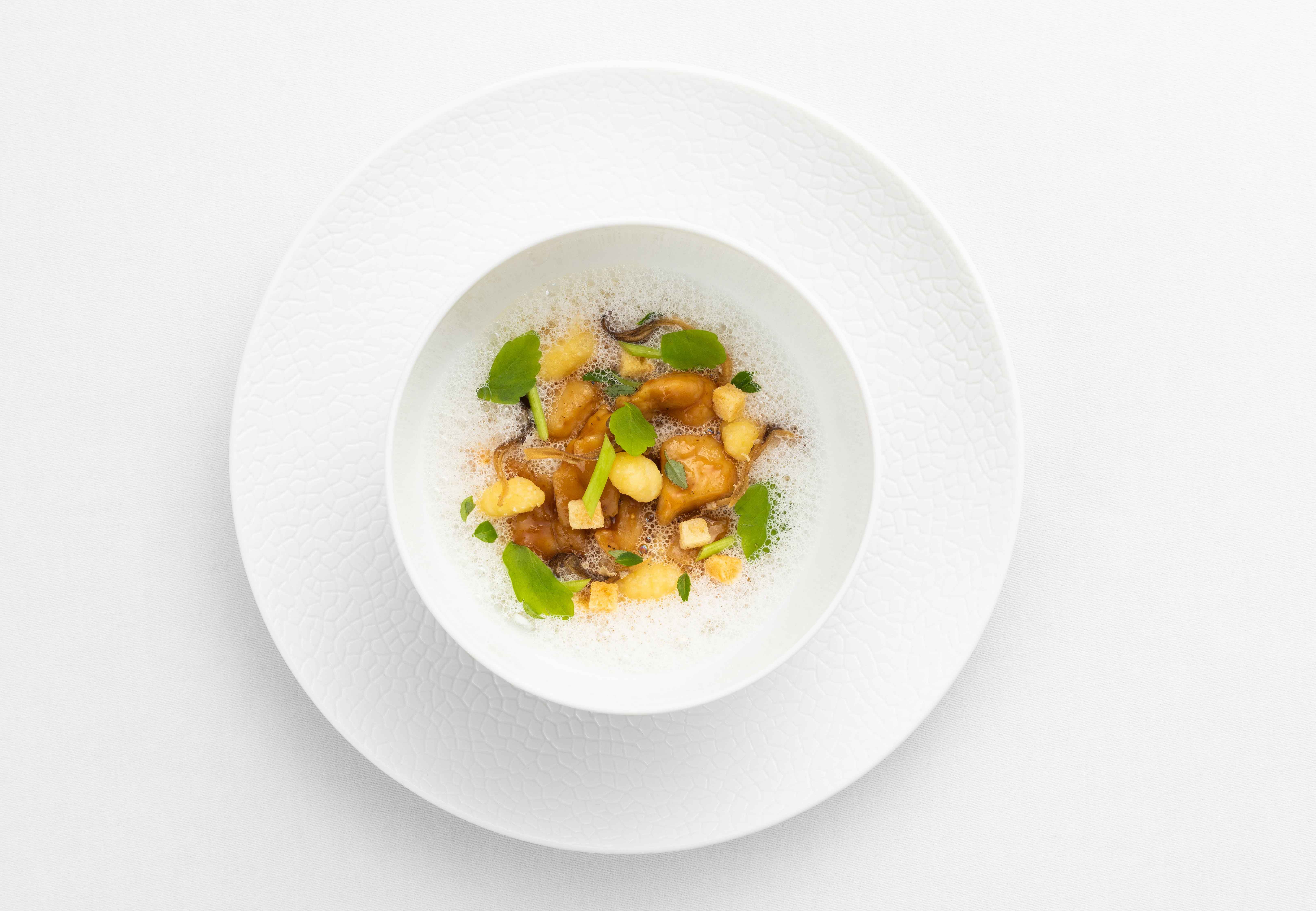 Veal sweetbread fricassee
EAST MEETS WEST
A CHILDHOOD PASSION
WHEN IN FRANCE
MEZZALUNA
A childhood passion
Born in 1976 in Niigata, a port city in central Japan, Mr. Kawasaki recalls his childhood: "I grew up by the sea, swimming, bicycling, fishing and eating mainly seafood every day. My mother liked to go to the mountain to pick up vegetables.
"I never thought about becoming a chef until I was 18 years old, when I graduated from high school and needed to decide on my next step. I wanted to do something I liked, which was cooking, and at the same time, I liked watching the TV show 'Iron Chef.'"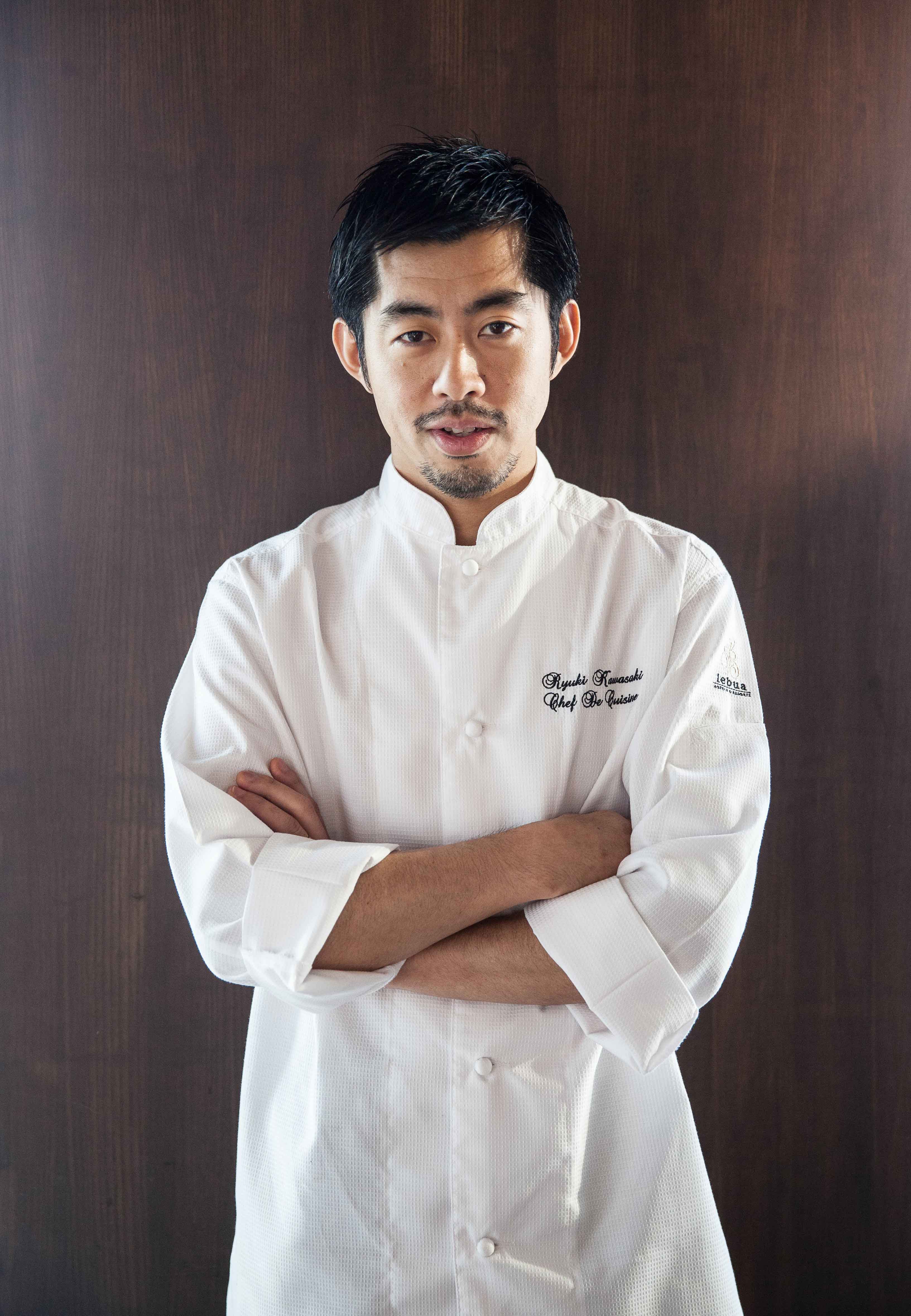 Chef Ryuki Kawasaki
In fact, his passion for cooking first started at home as a child, at the age of six or seven, learning Japanese and Chinese cuisine, with the first dish he ever made being fried rice. "All Japanese women have a passion for cooking, and I spent a lot of time in the kitchen with my grandmother, where I learnt how to prepare traditional Japanese cuisine," he reminisces.
"My mother liked to cook too and had many cookbooks at home, which I used to read and try to make the recipes. She also loved to eat, so she went to many different restaurants.
"When she liked something, she tried to cook it, whether it was Japanese, Chinese, Italian or French. What I learnt from my mother and grandmother was the pleasure of cooking: going to the market to choose products, coming home and cooking for your family to enjoy."
Niigata Murakmi wagyu beef A5 grilled over binchō-tan charcoal
EAST MEETS WEST
A CHILDHOOD PASSION
WHEN IN FRANCE
MEZZALUNA
When in France
Mr. Kawasaki's decision to focus on French cuisine came after realizing he didn't even know how to make mayonnaise, a curiosity to learn about things with which he was unfamiliar and the desire to live in France. Subsequent to attending Tsuji Culinary Institute in Tokyo, specializing in French and European cuisine, he trained at the school's satellite campus in France, where he won the "Best Chef of the Year" award, which allowed him the chance to apprentice under Paul Bocuse at his famed restaurant in Lyon.
Then came 20 years of experience in top French kitchens around the globe, immersing himself in different countries' culinary traditions, starting with Le Château Taillevent-Robuchon in Tokyo, stints at Nirvana and O Rebelle restaurants in Paris, Pierre Gagnaire's then one-Michelin-star Sketch in London as sous-chef and Twist in Las Vegas (another Gagnaire outpost) as head chef, before finally moving to Mezzaluna in Bangkok in 2015, after Ohri approached him to take the helm.
"Bocuse was very classic, and I learnt about French culture," he states. "Robuchon was army style, traditional, but I learnt the best technique.
"Gagnaire's style was the opposite with lots of freedom. His ideas were crazy but unique. I liked working with him because of his passion and emotion."
He also credits chef Pascal Sanchez (a Gagnaire disciple) for having discovered his talent and offered him many opportunities, helping him to become the chef he is today.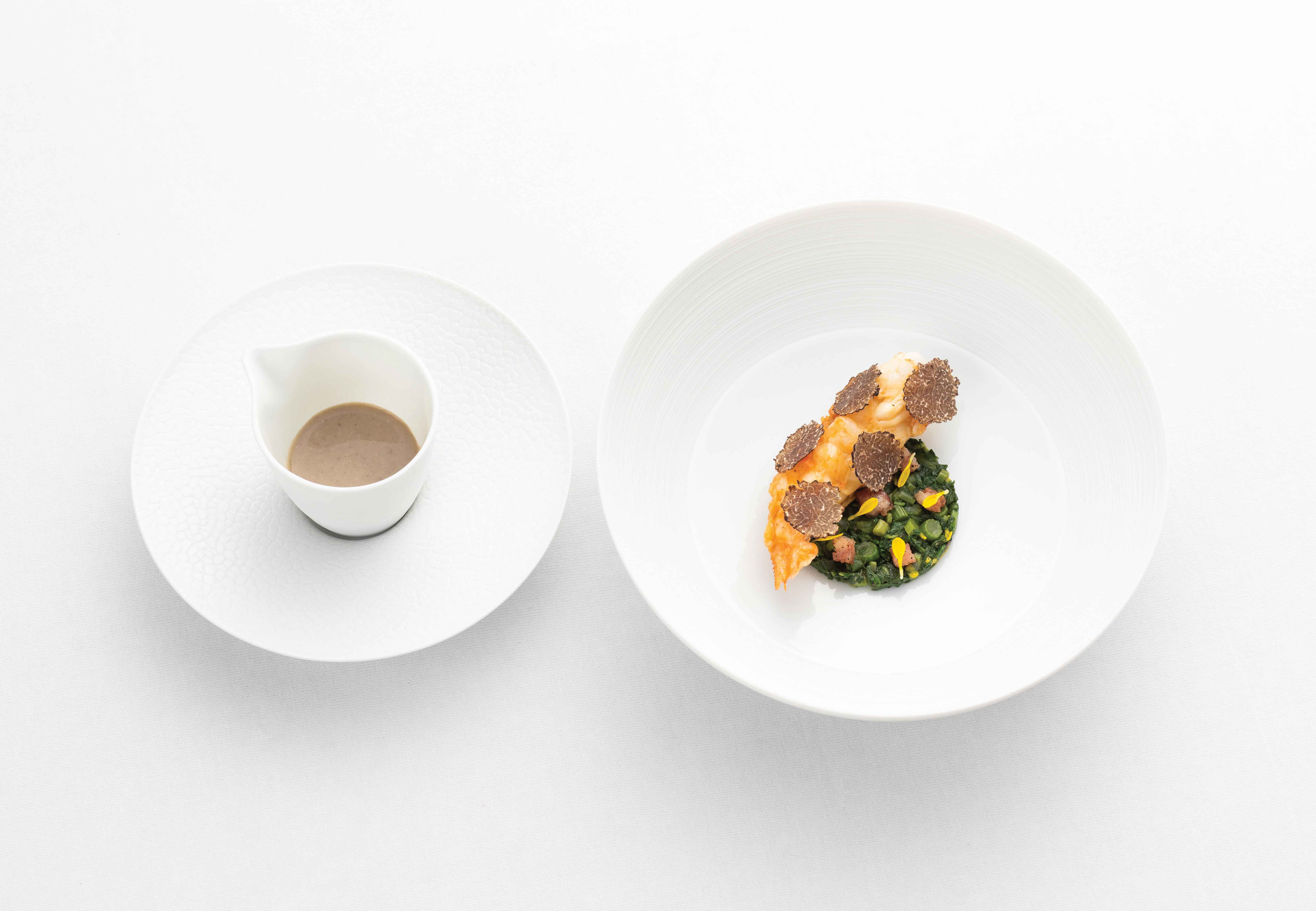 Ise-ebi a la plancha
EAST MEETS WEST
A CHILDHOOD PASSION
WHEN IN FRANCE
MEZZALUNA
Mezzaluna
Replacing German chef twins Thomas and Mathias Sühring, Mr. Kawasaki had never previously envisioned living in Bangkok, but the offer was simply too good to resist: a large kitchen brigade, limited number of tables and the opportunity to finally express himself freely for the very first time, with all dishes entirely conceived by him, given carte blanche by Ohri.
"I wanted to do fine dining," he explains. "I felt that I could do much better food as compared to Las Vegas, where I wasn't passionate about what I was doing and was just working for the money.
"At Mezzaluna, Deepak asked me what I wanted to do, but I didn't know, so he suggested to me that since I'm Japanese, why don't I use Japanese products?" Therefore, Mr. Kawasaki spent the first year researching Japanese ingredients, gradually gaining confidence.
"My background was in classic French cuisine," he says. "But at Mezzaluna I was given complete creative freedom.
"I wanted to use it to offer guests a completely new gourmet dining experience. Some of the highest quality produce in the world comes from Japan. So I began forming an innovative and original menu that fuses the richness, flavors and incredible textures of French cuisine with the simplicity, exquisite presentation and subtle but unique nuances of Japan."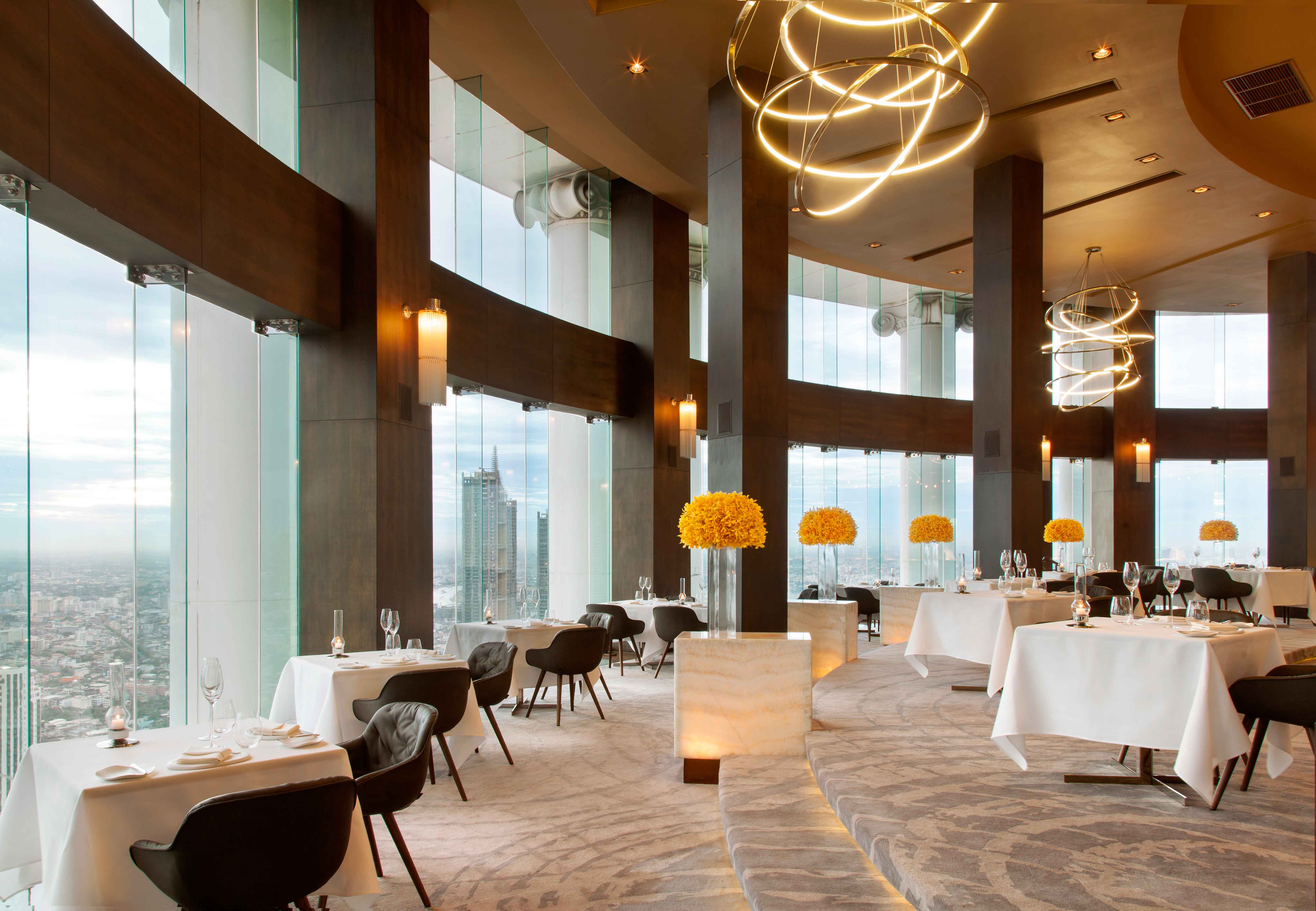 In just two years as chef de cuisine at Mezzaluna, Mr. Kawasaki had elevated it to the rank of two Michelin stars in the inaugural edition of the red guidebook in Thailand announced in 2017, an achievement that it holds to this day, three years later.
Today, nothing is left to chance, from a profound understanding of Japanese ingredients to flawless execution and impeccable plating, with constant questioning and experimentation along the way.
"Deepak let me do what I wanted, with lots of support, so I know how lucky I am," Mr. Kawasaki discloses. "I don't feel pressure, but of course I do my best, and I try to always keep on doing better every day. I'm very proud of my team and what we're doing."
Not one to agonize over maintaining his Michelin stars, he has now set his sights on becoming the first Bangkok restaurant to earn three Michelin stars in 2020, continuing to keep his head down and to do what he does best.