Almost three years have passed since Mr. Guy Bedarida acquired the jewelry company Marina B, and today, the designer-turned-businessman claims it has been "a whirlwind, an eye-opening experience".
Mr. Bedarida is well regarded in the jewelry industry, particularly in design, where his name is associated with landmark collections he has created for top- tier labels. Things have changed evidently since. "In the past, I was always the designer. Now I've also taken on the role of entrepreneur, which makes for many new challenges, and, of course, rewards."
But who is leading this waltz between a designer with a very strong vision and a brand with a very distinct identity? From the starting gate, Mr. Bedarida has sought to pay tribute to Marina B's heritage, and to design beautiful, exceptionally crafted fine jewelry.
"That remains true; however, I continue to evolve the concept with each new discovery from the archives, as our business grows, and through the extensive time I spent with clients who provide crucial feedback." So far, the brand is doing very well, he says holding up a report card, "and we are expanding around the world, which is very encouraging and exciting".
PEOPLE YOU MEET
THOSE MARINA MOMENTS
TRUST IN THE FUTURE
PRETERNATURALLY CHIC
People you meet
I went to see Mr. Bedarida one afternoon at his hotel suite where he was receiving VIP clients to view the latest Marina B collection. As we went about examining one exquisite piece after another, he regaled me with stories about the people he met on his ascent.
Fresh from design school, Mr. Bedarida joined Boucheron in Paris, where for over three years he was assigned to design exclusively for an important royal, creating jewelry sets, objet d'arts and State gifts.
"I never met this customer, but every single month, based on the drawings sent to him in his country, we were receiving orders," he told me sotto voce as if the walls might be listening in. "And the more my designs were special and different the more the customer wanted them. Everything ended up being made and delivered," he exclaimed.
For one of the grandchildren's birthdays, Mr. Bedarida designed a jump rope with handles that were encrusted with diamonds and emeralds, and the rope braided in green silk with a very thin gold chain, and diamonds inside so that it sparkled when used. There were also drawings of precious gold and gemstone-set yo-yos for the other children.
"In the 1990s, I was the head designer of Van Cleef & Arpels in New York. One morning, a sales associate requested sketches of earrings for a customer. I presented three options with butterflies in white and yellow diamonds and pearls."
Four months later, when the selected designs were completed, Van Cleef & Arpels' U.S. CEO called him to say that the customer wanted to know who created those earrings. This customer was in Los Angeles.
"I had no idea it was Elizabeth Taylor," Mr. Bedarida says in mock disbelief. Eventually, he went to deliver the jewels to her, and they ended up spending the entire day together because Ms. Taylor was very pleased with the design and wanted Mr. Bedarida to show her the entire collection of jewelry.
"It was one of the most rewarding and exciting days of my life," he recalls. "She was exquisite. And her eyes were indeed the most incredible shade of purple."
PEOPLE YOU MEET
THOSE MARINA MOMENTS
TRUST IN THE FUTURE
PRETERNATURALLY CHIC
Those Marina moments
Sometime in the 1980s, at a famous charity event in Venice, Mr. Bedarida saw Mrs. Marella Agnelli wearing a stunning Marina B necklace. Mrs. Agnelli was then the paragon of Italian beauty and grace, and Marina B was one of the most successful and desirable brands around. But it was a memorable happenstance.
Fast forward to 2019, and Mr. Bedarida was on his way to the Hôtel Hermitage in Monte Carlo to meet Mrs. Marina Bulgari and offer to buy her company. "As you can imagine, I was thrilled," he enthuses. "Marina B, the brand, and its founder, Mrs. Bulgari, are legendary. I was so honored to have the chance to meet such an icon and to discuss her brand's future."
On the way to the meeting, he realized that he had a very rare opportunity to acquire a brand with such a great heritage and unique history. "The large luxury groups have acquired most of these kinds of brands, and I felt this might be one of the last opportunities available to me."
Although he purses his lips when I brazenly ask about the value of the transaction, he nevertheless tells me that "it represented the total of savings from over 25 years, plus the sale of my last company, which equaled a large sum! I had to also buy part of the old vintage, which I view as a separate but equally exciting opportunity".
Mr. Bedarida has since visited Mrs. Bulgari several times. "She's now in her 90s. At our initial meeting, she was wearing sneakers and a down jacket, and she said, 'You know, Guy, I want to be comfortable now. I don't want to wear high heels.' Marina is a modern woman who understands the new lifestyle, which I want to reflect in Marina B's jewelry. It needs to be comfortable and wearable for every day," he says.
Although Mr. Bedarida is now the owner of the brand, two others had acquired Marina B before — Sheik Ahmed Fitaihi in 1999 and, later on, Mr. Paul Lubetsky in 2010. Certainly, these two previous owners had their inputs in the brand. Mr. Bedarida decided to start fresh and with an eye on the spirit of the founder while introducing creative ideas appropriate for today.
"I like to think that I had a fresh start when taking over Marina B, and my connection with Marina herself has helped me seamlessly transition into the role of Creative Director. I see so much opportunity with the brand — the incredible quality of the product, bringing new innovations into the designs and connecting with a whole new generation of Marina B clientele — and I am wholeheartedly dedicated to bringing Marina B back to its glory days."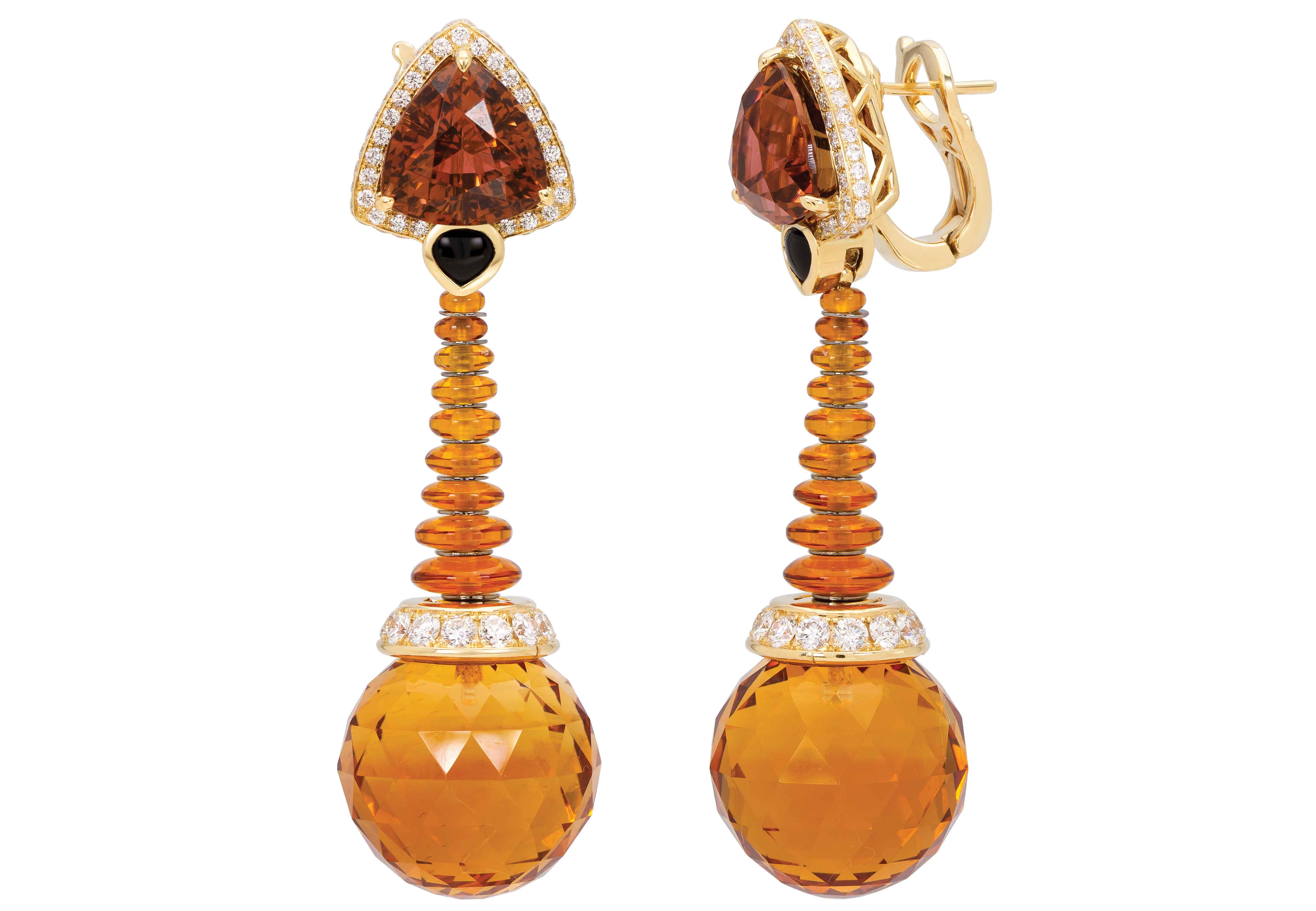 Ilaria earrings
PEOPLE YOU MEET
THOSE MARINA MOMENTS
TRUST IN THE FUTURE
PRETERNATURALLY CHIC
Trust in the future
When he was at Van Cleef & Arpels in early 1999, Mr. Bedarida received a call from a headhunter looking for a designer on behalf of a jewelry company in Bali. He declined the offer because he loved what he was doing at VCA and being in the U.S. The next day, however, a call from the owner of the said company himself, Mr. John Hardy, came through.
"He told me he respected my decision but invited me to visit Bali. Never having been to Bali before, and having heard such wonderful things about it, I decided to go.
"It was on that trip that I discovered the immense talent of the Balinese artisans. I was also incredibly impressed by the fact that everything was made by hand. Plus, the paradise-like island and climate were beautiful. While touring the John Hardy compound, I realized that I could really do something with this brand, especially with the talented Balinese artisans as my colleagues." Later that week, he returned to New York, resigned, and moved to Bali. "And it did not disappoint! My time with John Hardy in Bali was incredible, and I would not trade it for the world."
Mr. John Hardy eventually sold the company to Mr. Bedarida and partners; eventually, he also sold his shares.
"I was ready to make my return to fine jewelry with something fresh and exciting," he says by way of explaining his decision. "There could not have been a better option than Marina B. At John Hardy I had two business partners and they wanted to sell the company, which became so large at that time that I couldn't acquire their shares. I had no choice despite my extreme love of the brand and company. In fact, I had no idea what was going to happen. Which really tells you, always trust in the future, and something even more exciting appeared: Marina B."
PEOPLE YOU MEET
THOSE MARINA MOMENTS
TRUST IN THE FUTURE
PRETERNATURALLY CHIC
Preternaturally chic
I'm not alone in the view that Mr. Bedarida could have started his own eponymous brand. He is, after all, a well-established figure when he left John Hardy.
"I did consider it; however, two things led me to my [eventual] decision. Firstly, to create a new brand takes a minimum of 20 to 30 years, and I did not want to take the time. Secondly, when the Marina B opportunity came to me, I couldn't pass it up. Marina B is iconic and carries such a strong heritage. I felt that there was so much that could be done with a brand like this one, and my imagination ran wild with the possibilities."
Mrs. Bulgari's spirit remains throughout the DNA of this brand, Mr. Bedarida admits proudly. "I get endless inspiration from her designs and innovation. Her drawings are mind-blowing. Marina B is also emblematic of the iconic 80s style, which I personally love. I try to keep that essence throughout the collections."
The style and the way jewelry is worn have evolved from when Mrs. Bulgari was designing, he says. Needless to say, Marina B is attuned to the ways of chic women today.
"A woman would wear jewelry, and her daughter would want to wear what her mother was wearing. Now, a mother looks to what her young daughter is wearing and is drawn to what's fresh and cool. Our clients want something you can wear all the time, without catching the attention of everyone. With our more accessible core collections, we are appealing to a wider and younger market."
Unless they travel to New York, women who must have pieces from the latest Marina B collections have to wait for an invitation to the very exclusive shopping events masterminded by private luxury shopping organizer Privato.
Fortunately, Mr. Bedarida often travels to Southeast Asia — to find design inspiration and to source stones. He takes time from these trips to work with Privato and show his collections to clients. The wait, at least for those on the list, is never too long.