Think New South Wales and most people would zoom into the grandeur of the state capital, Sydney. The iconic structures such as the Sydney Opera House and Harbour Bridge have put the port city on the world map, not discounting the diverse food, arts and entertainment scene.
So if one tires of the cityscape, how about an escape to the coast? With Sydney as your starting point, take a drive out to the best seaside destinations, where you can continue to eat, drink, and be merry while immersed in the outback of the southeastern state.
GREATER BLUE MOUNTAINS AREA
HUNTER VALLEY
PORT STEPHENS
GRAND PACIFIC DRIVE
Greater Blue Mountains Area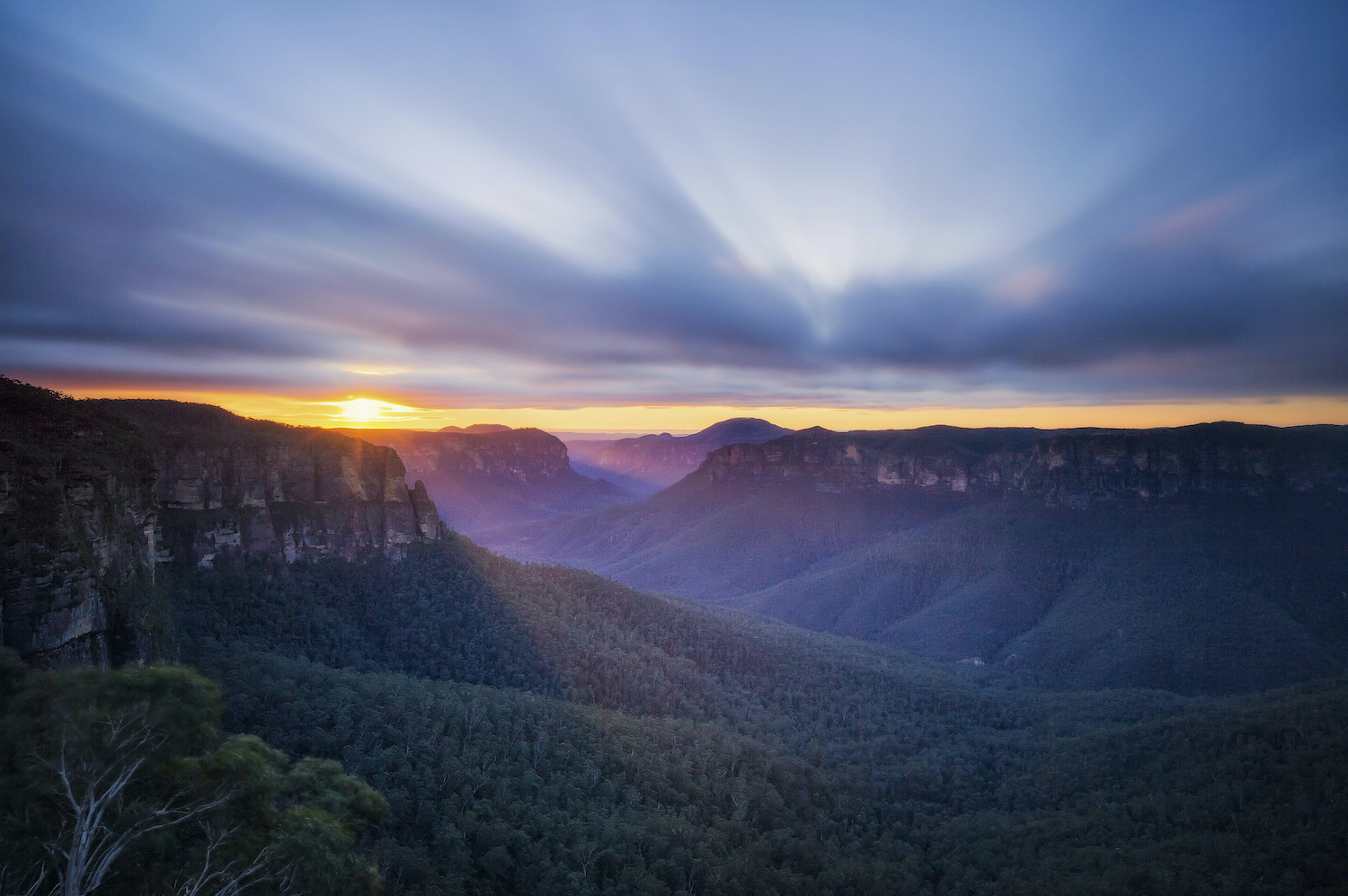 Sun setting over the Grose Valley in the Blue Mountains National Park. Image by Destination NSW
In spite of being a green mountainous region, the Blue Mountains gets its name from a natural occurrence in the lush eucalyptus forest. When the sun is particularly hot, the temperature results in the oil to be released from the leaves in a hazy oil mist.
Although up close, this haze is unseen, from a further distance, the light reflecting on the mist mimics the sky, causing the entire Blue Mountains region to be covered in a blue haze, looking as if the mountains are blue themselves.
Travel time from Sydney: 1.5-hour drive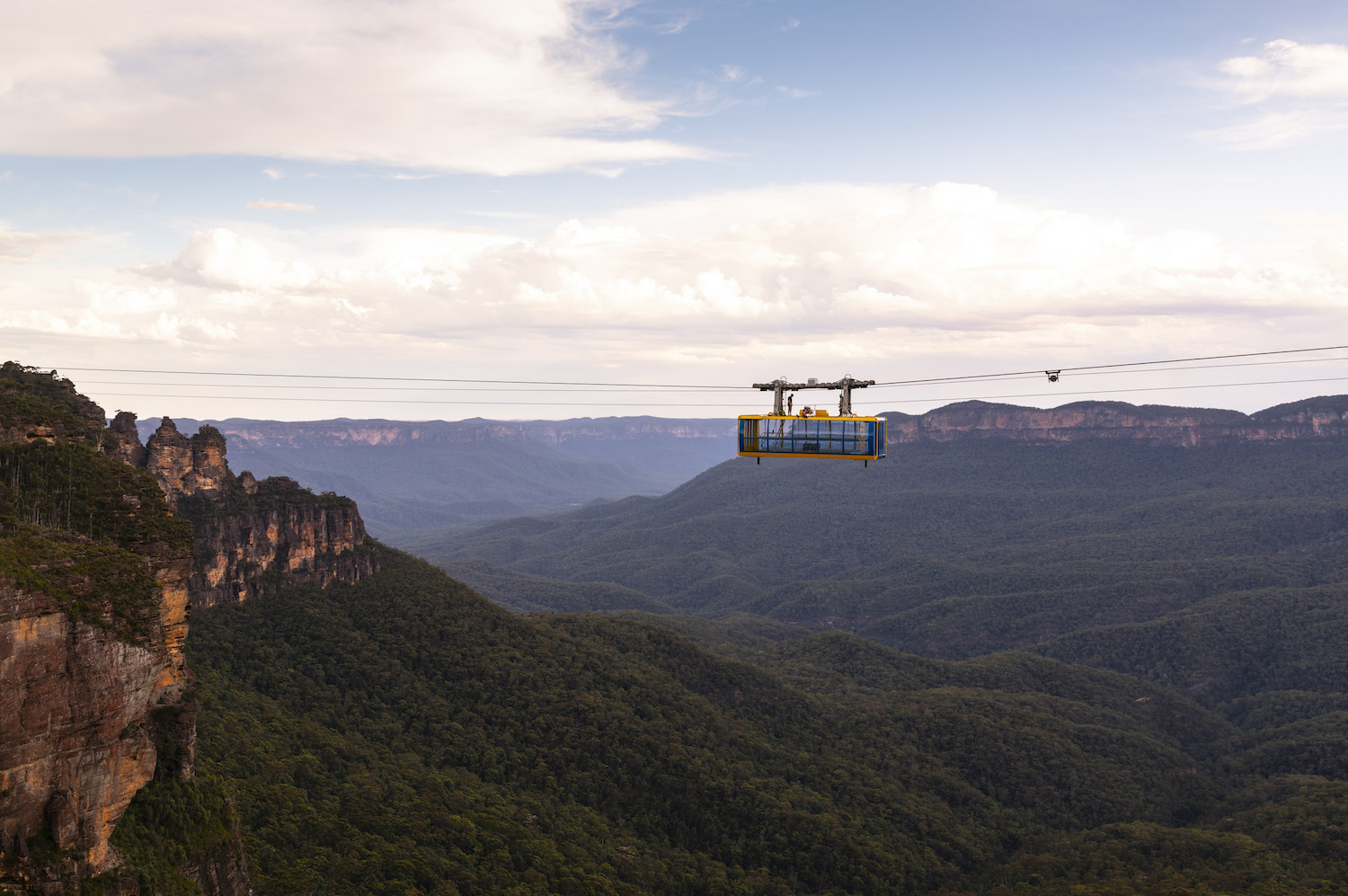 Beyond Skyway cable car experience at Scenic World, Katoomba. Image by Destination NSW
Why You Should Visit: Just a 90-minute drive from Sydney, the Blue Mountains is an Australian highlight, a vast region stretching out 11,400 km of mountain tops, sandstone cliffs, and forest-filled valleys.
Witness stunning sights such as the natural rock formations of the The Three Sisters and uninterrupted vistas of the Jamison Valley, while on a tree-top walk, on the mountainside, while trekking, or riding the steepest railway in the world while you're seated on a thrilling 52° incline — all modes of possible access set up by Scenic World.
At nightfall, take a scenic trek to Katoomba Falls where one can experience a unique, night-lit walk as you spot natural features such as Orphan Rock, Witches Leap, Katoomba Cascades, and the quaint Katoomba waterfall.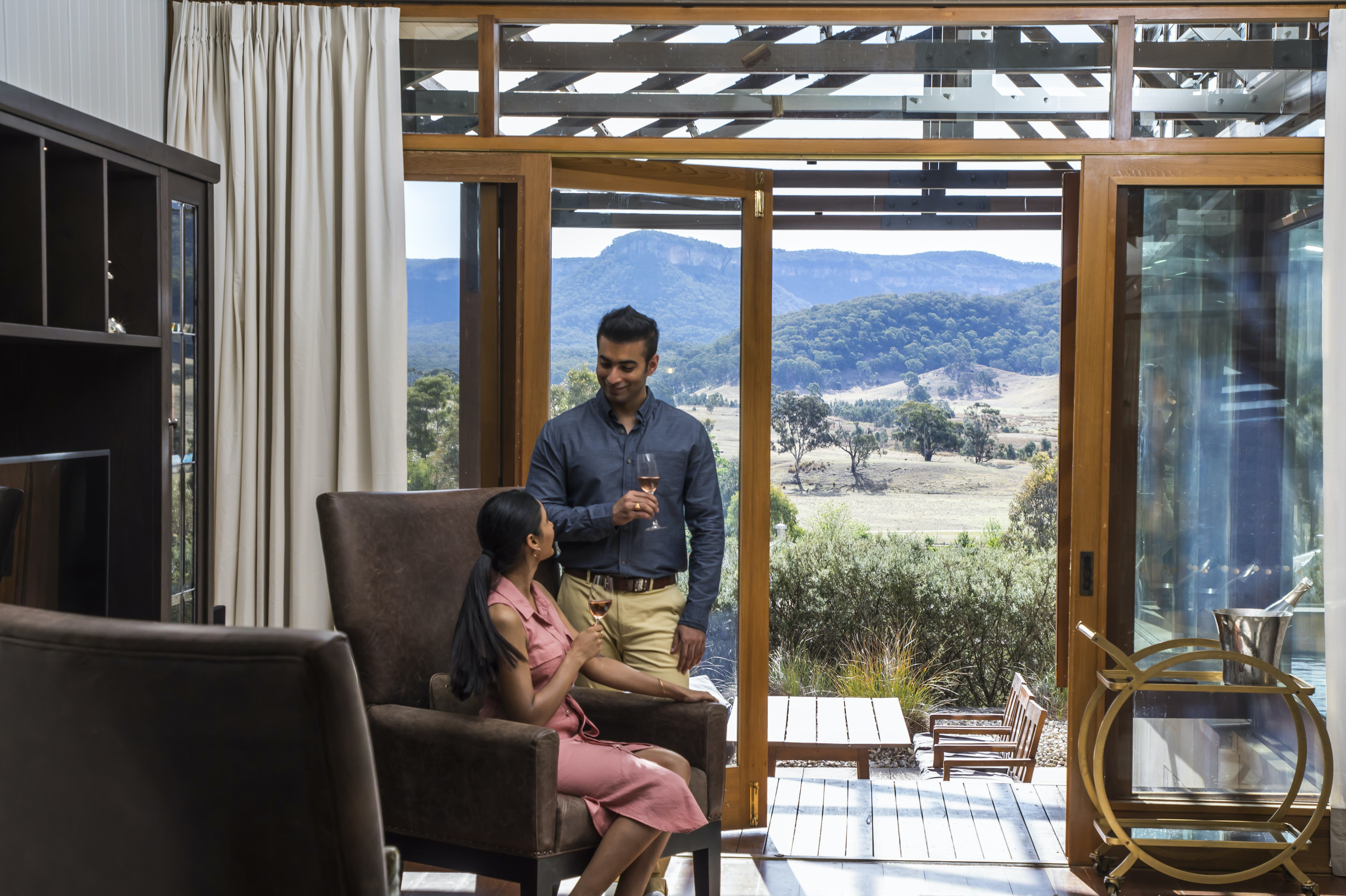 Couple relaxing in their villa with views overlooking the Wollemi National Park at Emirates One&Only Wolgan Valley. Image by Destination NSW
Stay: Emirates One&Only Wolgan Valley
Emirates One&Only Wolgan Valley is an ultra-luxury conservation-based resort three hours away from Sydney. It is located within the World Heritage-listed Greater Blue Mountains. While this list details the greatest drives out of Sydney, alternatively, you can leave the road for a few and hop on a helicopter transfer while you enjoy the aerial views en route.
The resort occupies just one percent of its own 2,800-hectare conservancy. The accommodations are one-, two-, and three-bedroom villas, the latter making up a 410 square-metre lodge that's capable of hosting up to seven guests.
The valley is home to all sorts of Australian wildlife. Embark on a safari adventure by day, and at night, join a nocturnal wildlife-spotting expeditions. The expansive reserve is also open to exploration by 4WD or take to the valleys on horseback.
GREATER BLUE MOUNTAINS AREA
HUNTER VALLEY
PORT STEPHENS
GRAND PACIFIC DRIVE
Hunter Valley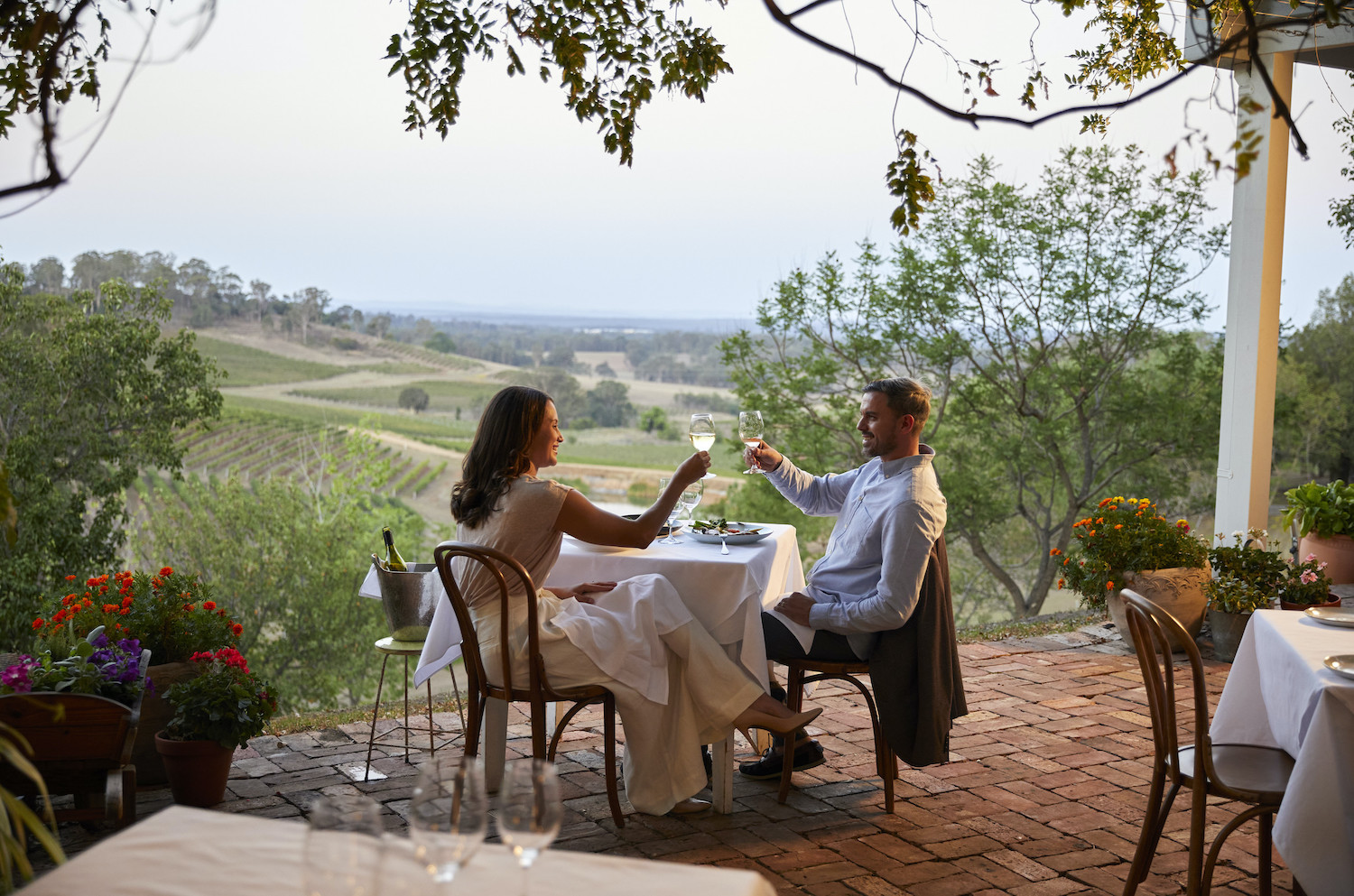 Couple enjoying food and drink at Bistro Molines, Mount View. Image by Destination NSW
This is Australia's oldest wine-producing region, and is also home to the finer way of living. Think gourmet restaurants, cheese and chocolate tasting, hot air balloon rides, and the best luxury accommodations.
Travel time from Sydney: 2-hour drive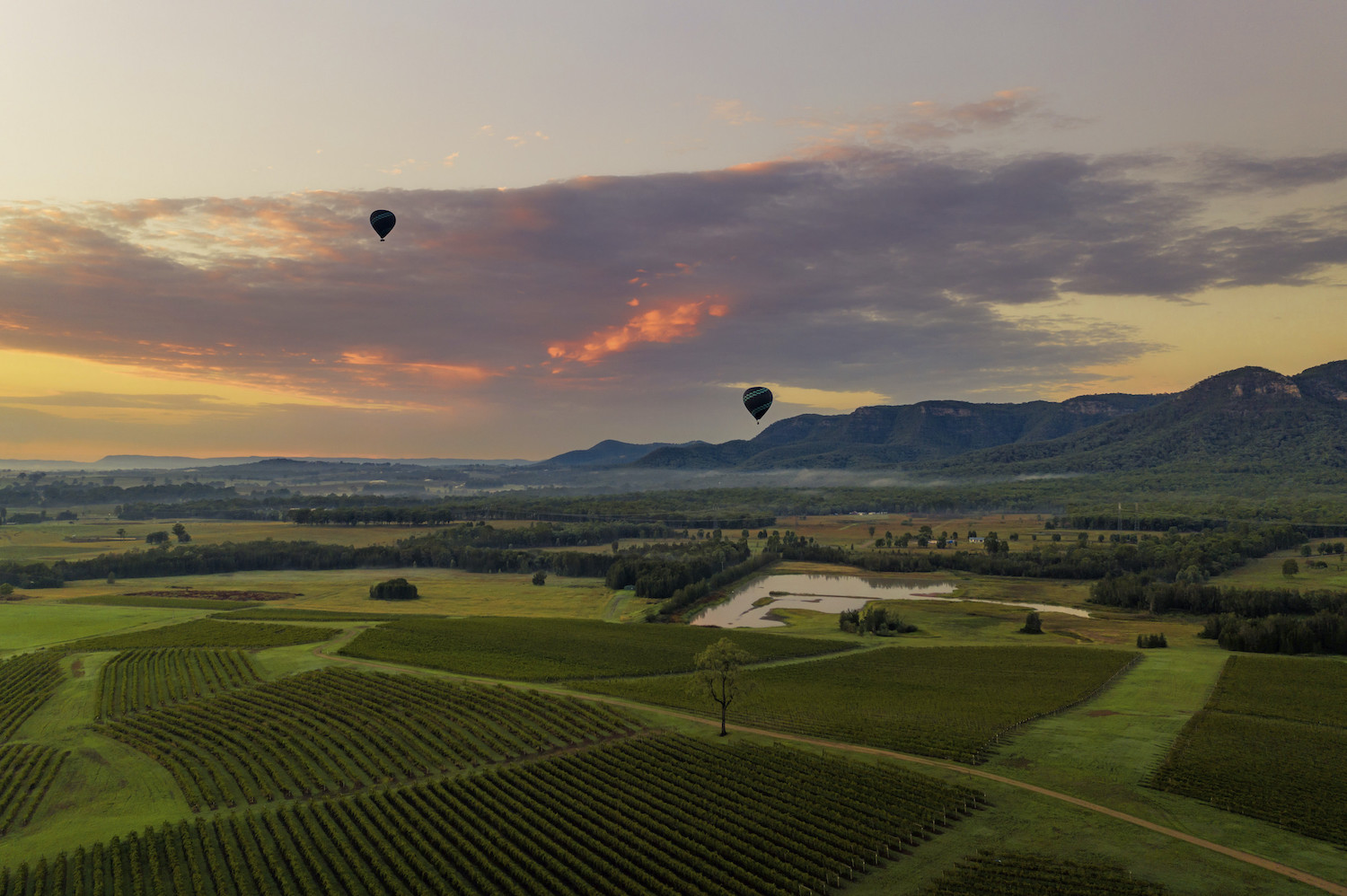 Hot air balloons flying over vineyards in Pokolbin in the Hunter Valley region. Image by Destination NSW
Why You Should Visit: There's just no denying the gourmet food scene out here. From cheeses to chutneys, chocolates, olive oils, and honey, these delicacies are produced in this fertile valley, and the region is home to highly acclaimed restaurants.
The best way to experience it all is participating in curated tasting menus. Enjoy French cuisine at Bistro Molines or discover contemporary Australian dishes at Muse Restaurant, both of which champion local and high quality produce in their seasonal menus.
Did we mention hot air balloons? With Balloon Aloft, sail over the picturesque wine regions of Pokolbin, Lovedale, Rothbury or Broke at daybreak, after which you'll enjoy a gourmet breakfast and champagne on the deck of Restaurant Cuvee.
On the ground, enjoy a guided walk through the vineyards at Ben Ean with a friendly llama. Take a peek into the farm life as you browse local produce such as cheese and chocolates.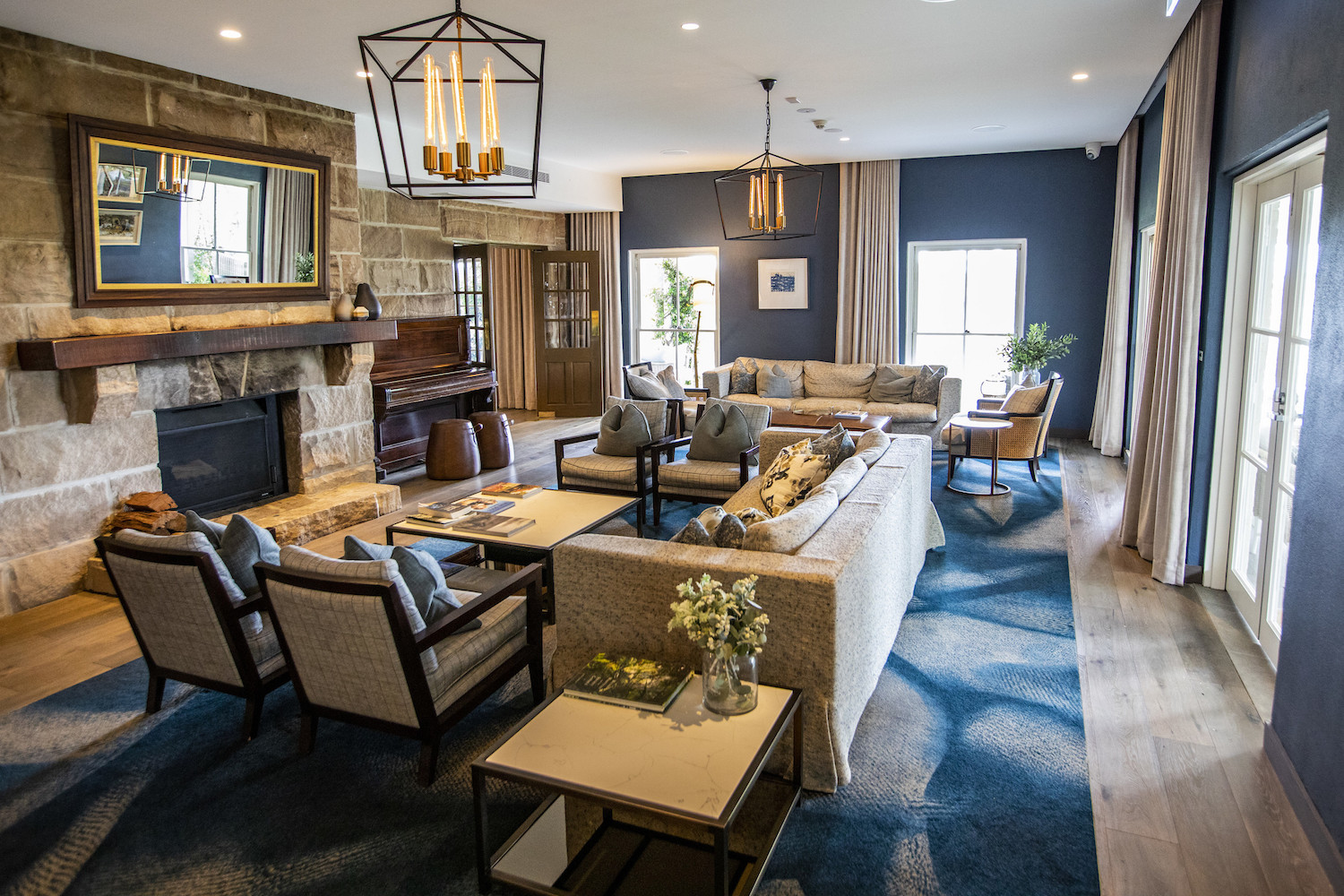 Guesthouse available bookings at the Spicers Vineyards Estate, Pokolbin. Image by Destination NSW
Stay: Spicers Vineyards Estate
Spicers Retreats is a selection of curated resorts across the country. Each retreat seeks to encapsulate the natural beauty of their wonderful locations, with the primary intent "of being renewed and reinvigorated by the environment itself."
In the Hunter Valley, Spicers Vineyards is a collection of 12 luxurious guest rooms and the Vineyards House, all of which sits in its own eight-acre vineyard of Chardonnay, Cabernet Sauvignon and Merlot grapes. Fit with four bedrooms, a full kitchen, and two lounge spaces, the House boasts a spacious outdoors, with a wrap-around verandah, a pool, and a barbeque area complete with a fire pit.
GREATER BLUE MOUNTAINS AREA
HUNTER VALLEY
PORT STEPHENS
GRAND PACIFIC DRIVE
Port Stephens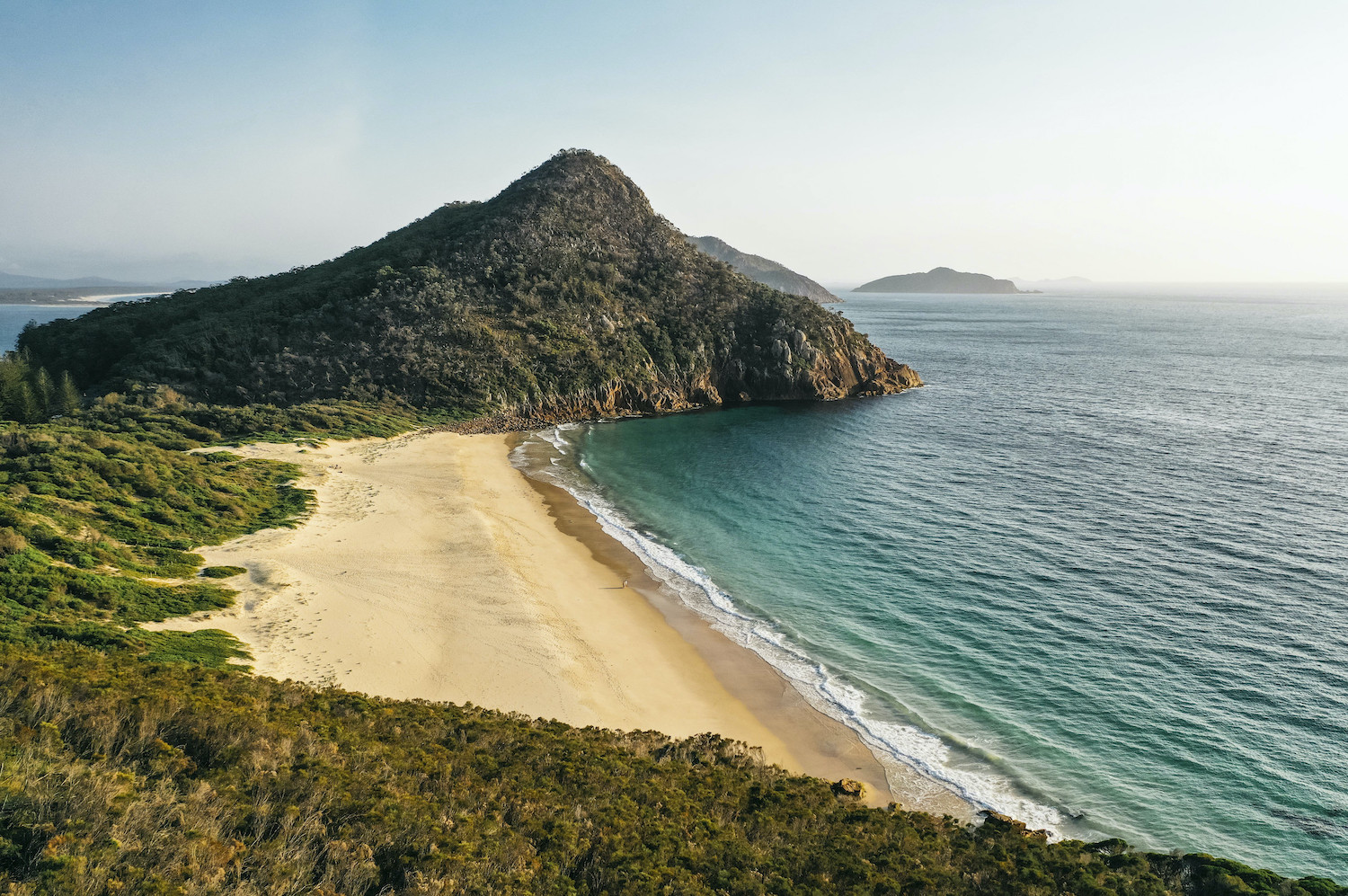 Zenith Beach, Port Stephens. Image by Destination NSW
Home to idyllic beach getaways made up of golden beaches and a vast sparkling blue bay, Port Stephens has it covered whether you're looking to ride the waves on the sands, or just lie on them and bask in the sun.
Travel time from Sydney: 2.5-hour drive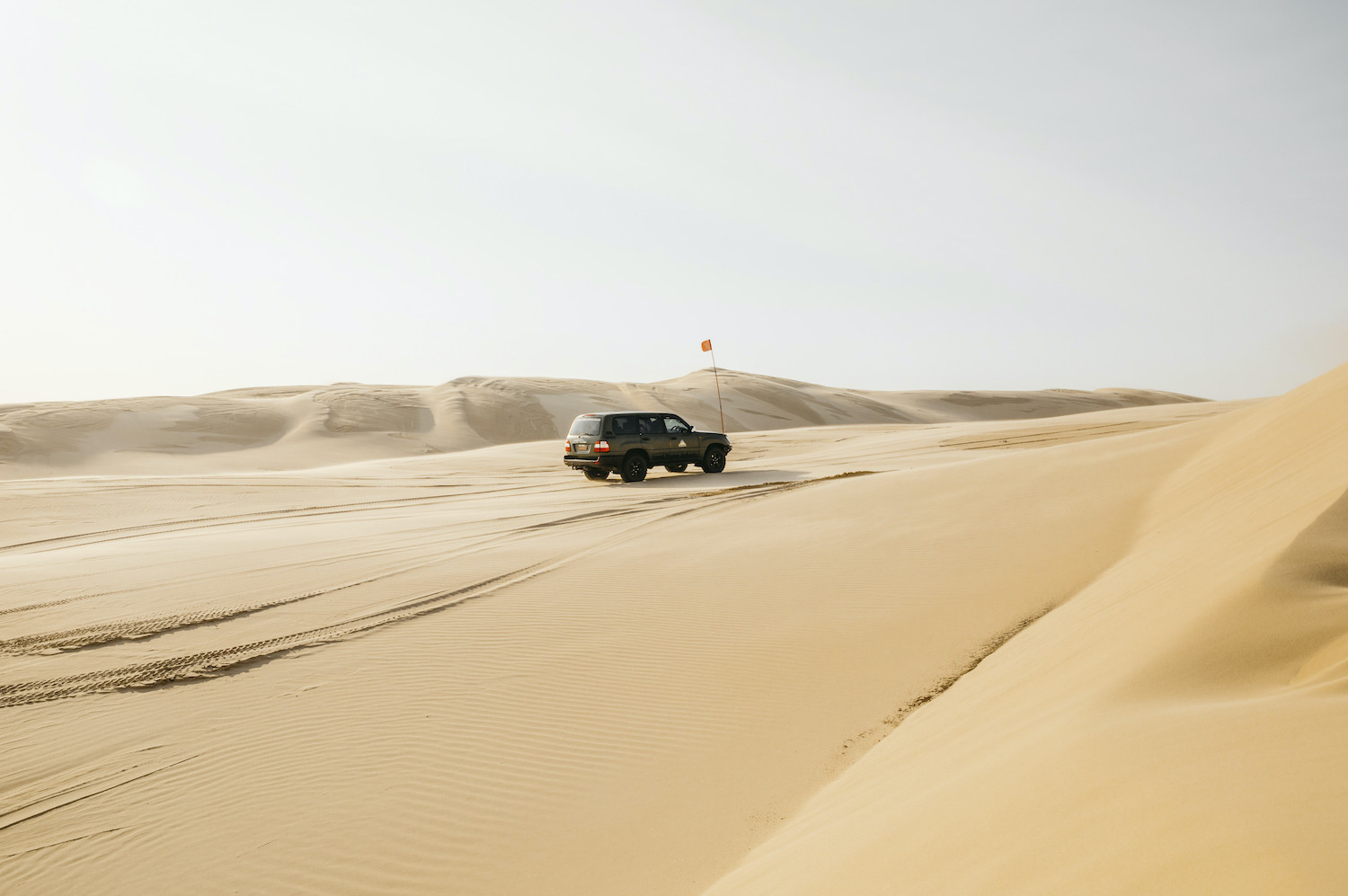 4WD tour across Stockton Sand Dunes with Sand Dune Safaris in Port Stephens. Image by Destination NSW
Why You Should Visit: The coastal stretch provides access to the best beaches, such as Zenith Beach that's right next to Mount Tomaree (with has a lookout to an amazing vista). There are a total of 26 beaches in the area, including One Mile Beach and Kingsley Beach, the latter being a bit more off the beaten path for a little more privacy.
Located a little more inland, the sand dunes are the largest out here in the Southern Hemisphere. The Stockton Bight Sand Dunes in Worimi Conservation Lands Port Stephens stretches from Anna Bay, nearly all the way back to Newcastle. Hop on a 4-wheeler or a quad bike and tour the dusty terrain, with some expeditions providing insights to the Arboriginal culture.
Exterior view of the luxurious Bannisters Hotel in Port Stephens. Image by Destination NSW
Stay: Bannisters Port Stephens
Soak up the view from your room when you stay at Bannisters in Port Stephens. With the vista of Salamander Bay at your feet, Bannisters has 12 room types that provide treetop or ocean views for a secluded getaway.
The Deck room accommodates up to eight guests with the provision of three Ocean Deck Upper rooms and the Penthouse, which are all connected via a large outdoor shared balcony. On site, retreat for a session at the Day Spa or grab a drink at Cheeky Dog, and for dining options, indulge in fresh seafood fare or enjoy some modern Mexican cuisine.
GREATER BLUE MOUNTAINS AREA
HUNTER VALLEY
PORT STEPHENS
GRAND PACIFIC DRIVE
Grand Pacific Drive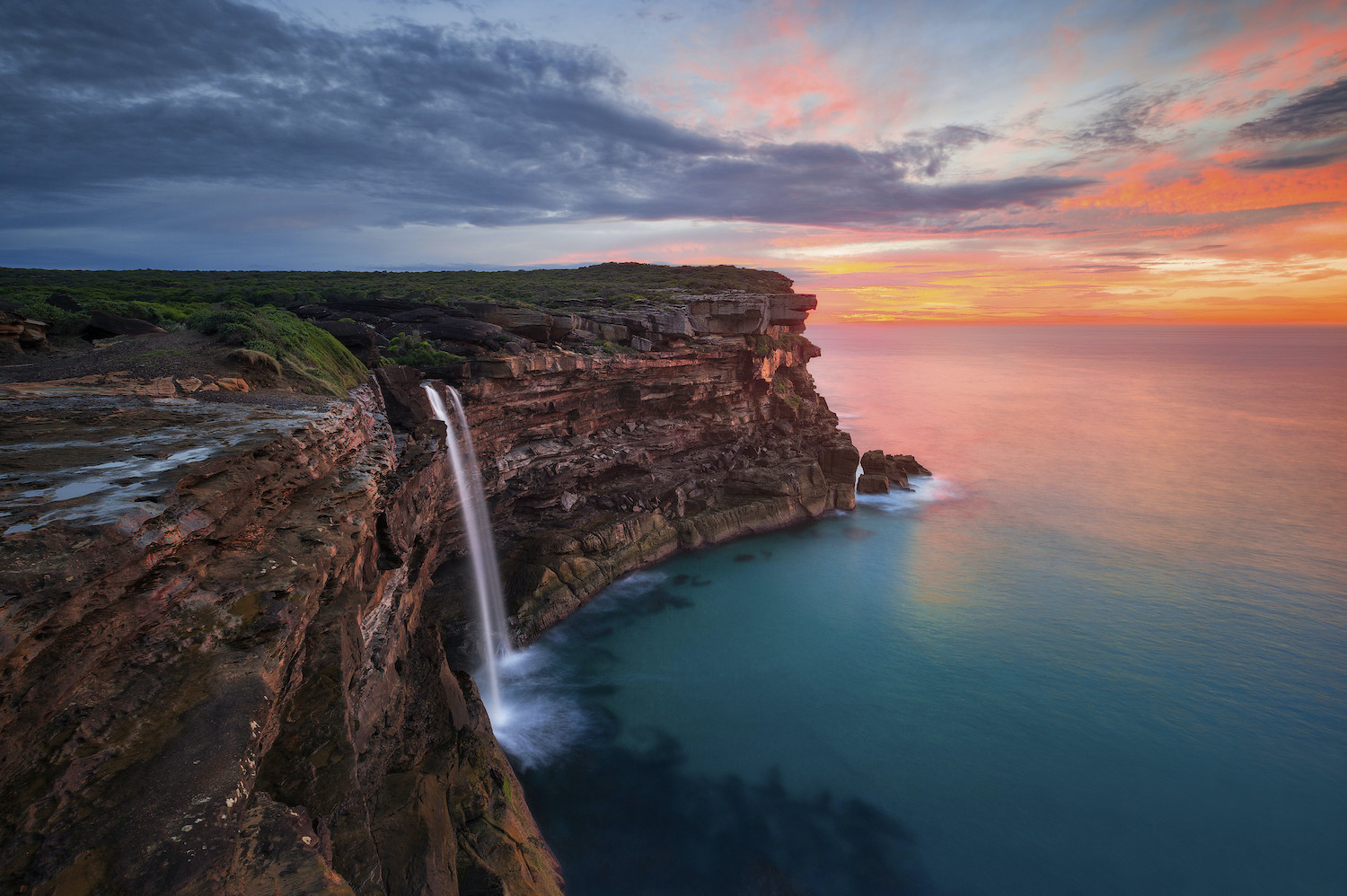 Sunrise at Curracurrong Falls and Eagle Rock in the Royal National Park, Sydney. Image by Destination NSW
Call it a road trip must-do. Spanning 140 km of scenic coastal views, the Grand Pacific Drive is a mix of adventure-led activities, natural wonders and coastal towns.
Travel time from Sydney: Approximately 50 minutes to Royal National Park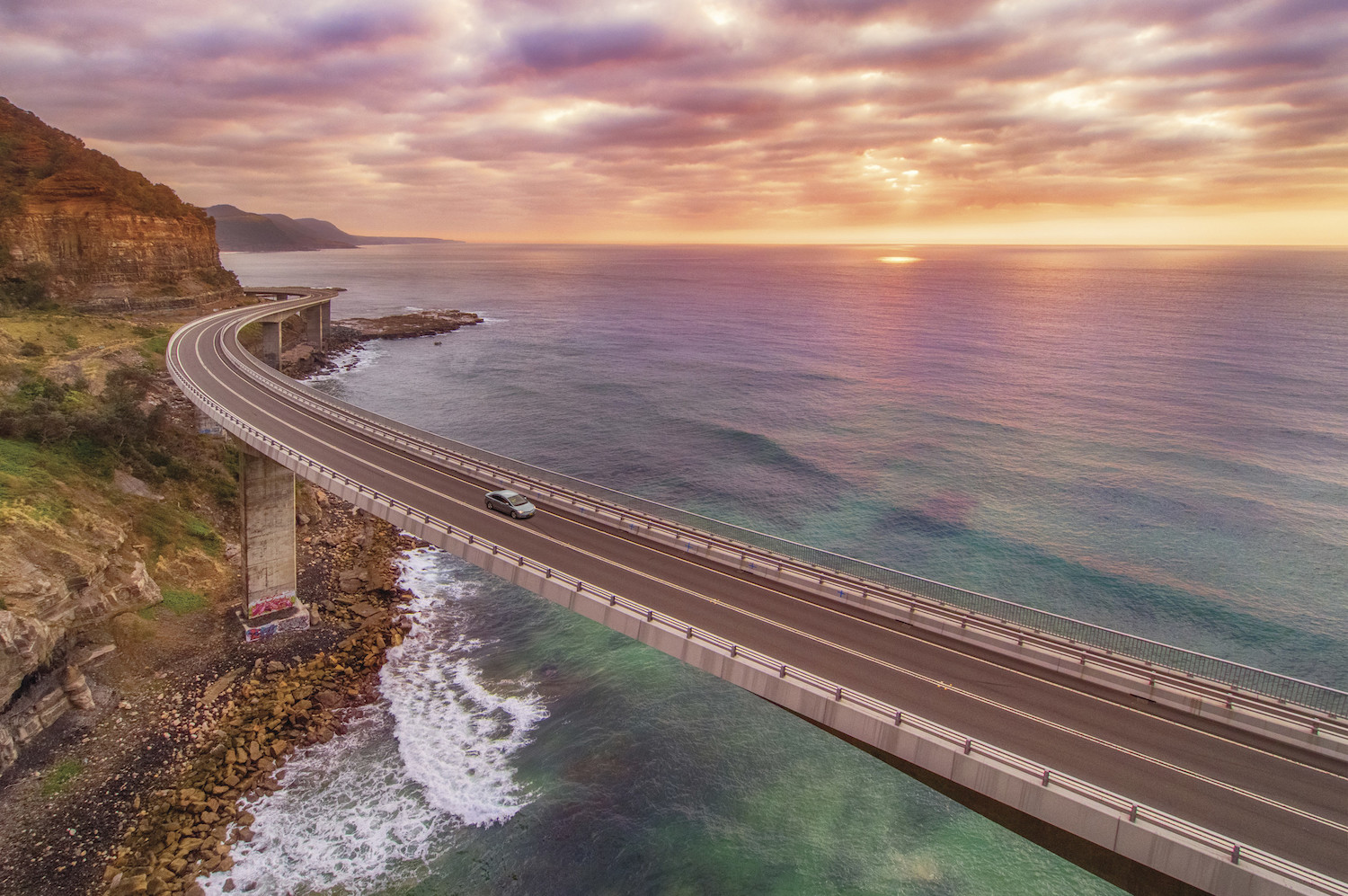 The scenic coastal drive along Sea Cliff Bridge, Clifton. Image by Destination NSW
Why You Should Visit: This is a little itinerary that covers you from city to coast. We start off from the Royal National Park, located just outside the main city area. It's the second oldest national park in the world, hence the scenic lookout points and pretty waterfalls explain it all.
You'll be passing through a number of coastal towns, the first being Wollongong, a bustling city centre with vibrant dining and entertainment zones. Popular with skydivers, surfers, and hang gliders, the beaches are vast with activity. You'll then reach Kiama about halfway through, where the famous blowhole — the largest in the world — is a natural attraction that can spray sea water up to 25 metres high.
You'll then end up at Jervis Bay where you can head out to sea and settle in to watch dolphins and whales (May to November). Dinner at the Gunyah Hotel comes with an unobstructed view of Belmont Bay. As you watch the romantic orange sunset and the slow crashing waves, the scene does seem a little dramatic, but it's one you'd quietly enjoy, no less.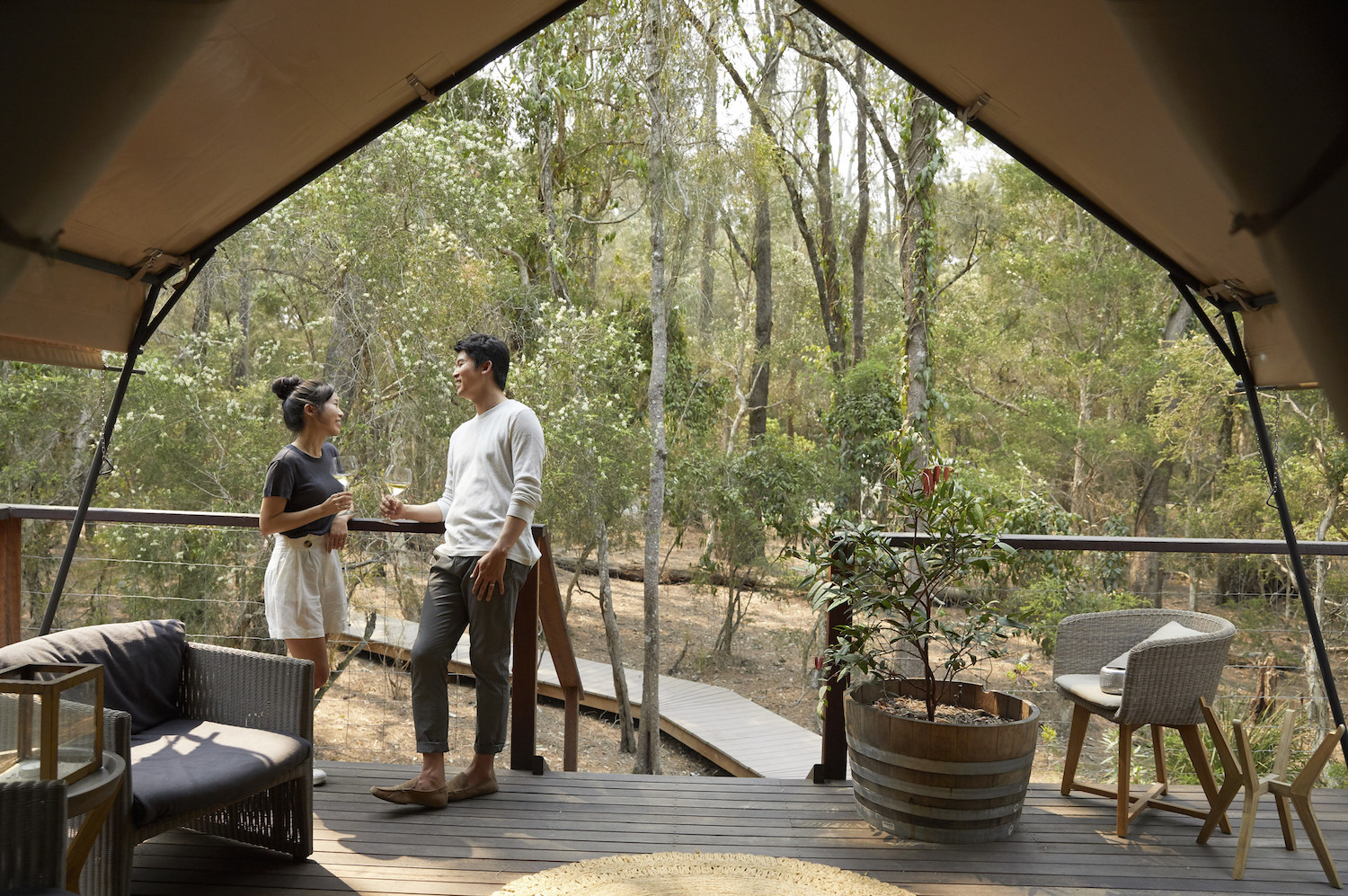 Couple enjoying a romantic glamping getaway at Paperbark Camp, Woollamia. Image by Destination NSW
Stay: Paperbark Camp
After spending the day zipping along the coast, immerse yourself in nature by setting up camp in the Australian bush — but all ready for you, of course. At Paperbark Camp, the safari-style luxury tents are built above ground complete with a fully furnished private deck where you can lounge under the stars while enjoying the privacy from the surrounding eucalyptus and paperbark forest.
With the option of three types — Deluxe, Deluxe Plus, and King Deluxe — each tent includes an open-air private ensuite that provides an unobstructed view of the bush wildlife, including kangaroo spotting.
Note: This accommodation is off-the-grid — perfect for those looking for a digital detox and rediscovering our natural spaces. Paperbark Camp follows a sustainable philosophy and has Advanced Eco Accreditation. As such, you will not find air-conditioning or heating, TV, bar fridge or power points for your technology (though power and wifi can be accessed in the Gunyah, a reception and communal lounge space).