SAINT PIERRE
BUONA TERRA
REBEL REBEL
Saint Pierre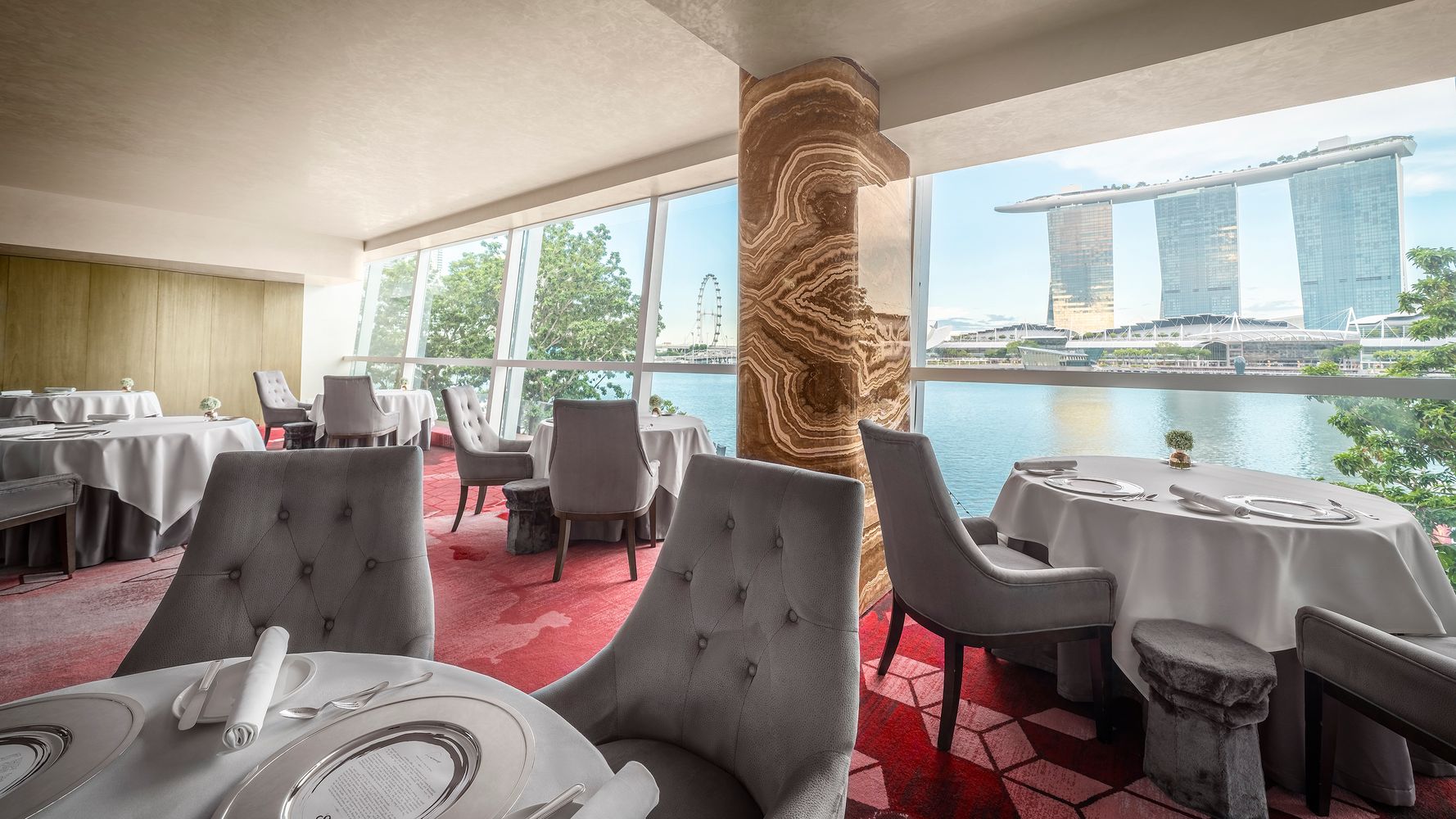 Not even a pandemic or the months-long circuit breaker could dampen the spirit of two Michelin-star restaurant Saint Pierre and its culinary mastermind, Chef Emmanuel Stroobant. Once dining restrictions were lifted, the restaurant welcomed guest back with a refreshed look and renewed vigor. After admiring Saint Pierre's enviable view of Marina Bay, take a moment to look around and notice the changes: From the pale stucco walls and sleek timber cabinetry to the bold yet elegant red and purple carpet.
It's only fitting that the restaurant's new look is complemented by a new summer menu, with exclusively-sourced ingredients, as well as a culinary philosophy influenced by the Zen Circle – representing enlightenment and the freeing of the mind to create unreservedly.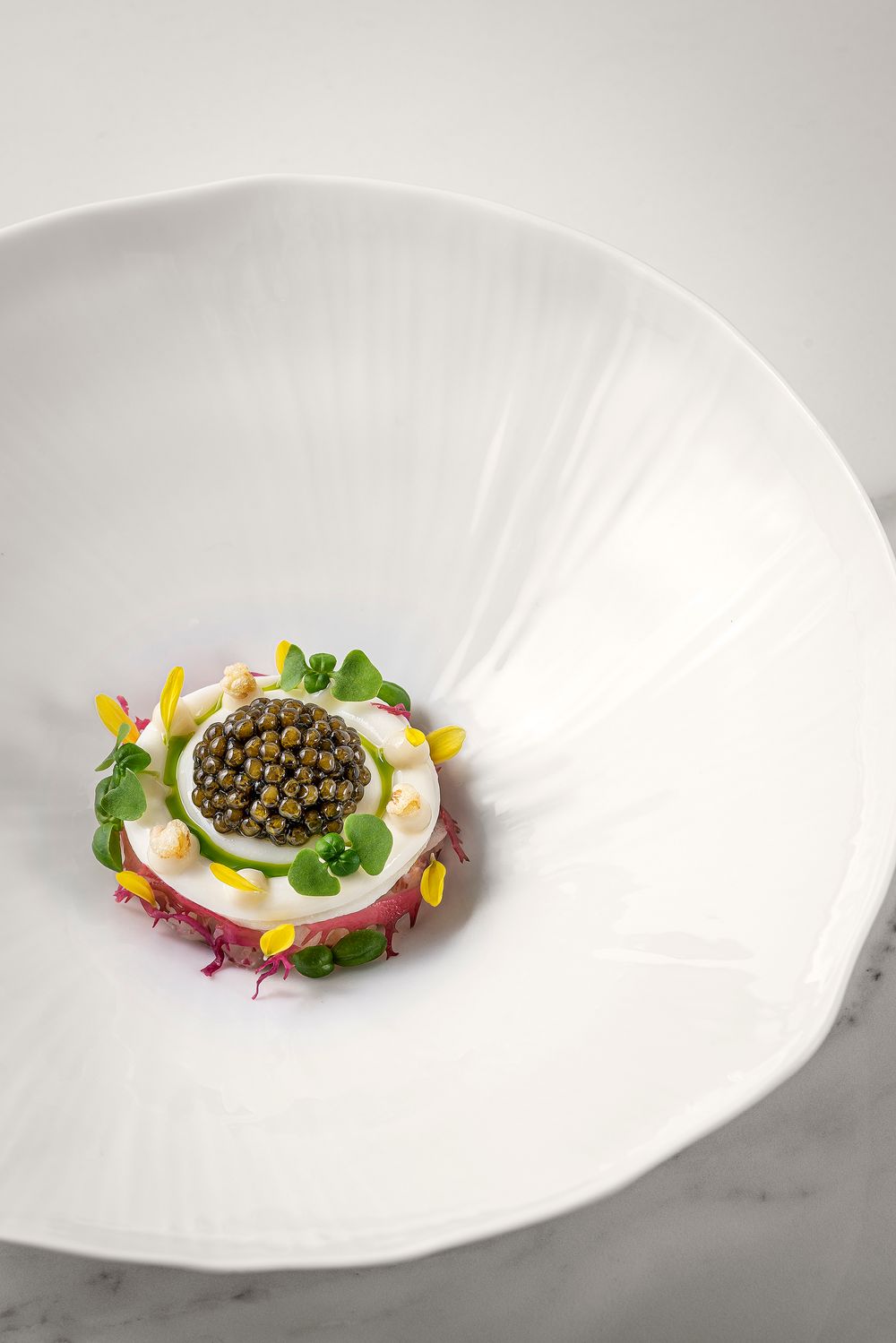 Hokkaido scallop topped with Royal Belgian Osietra caviar
What results is a selection of dishes straddling modern French and Japanese. This is immediately apparent in the first course of raw Hokkaido scallop, buttermilk parfait, puffed Japanese buckwheat, and Royal Belgian Osietra caviar. The barbecued Western Australian Marron served after is quite unforgettable, where the succulence of lobster and prawn intersect, complemented by finger lime, turnip tea, and kohlrabi. Finally, the meal comes full circle with a picture-perfect strawberry dessert, which features Tochigi strawberry, Valrhona yuzu chocolate, strawberry compote, raspberry vinegar, lemon sponge, and fuillette.
Whether you're going for a quick three-course lunch or taking a deep dive into the eight-course Adventure dinner menu, expect nothing less than effortless elegance, technical precision, and above all, quality ingredients.
Visit Saint Pierre at 1 Fullerton Road, #02-02B, One Fullerton, Tel: 6438 0887

(Related read: The Joy of Dining)
SAINT PIERRE
BUONA TERRA
REBEL REBEL
Buona Terra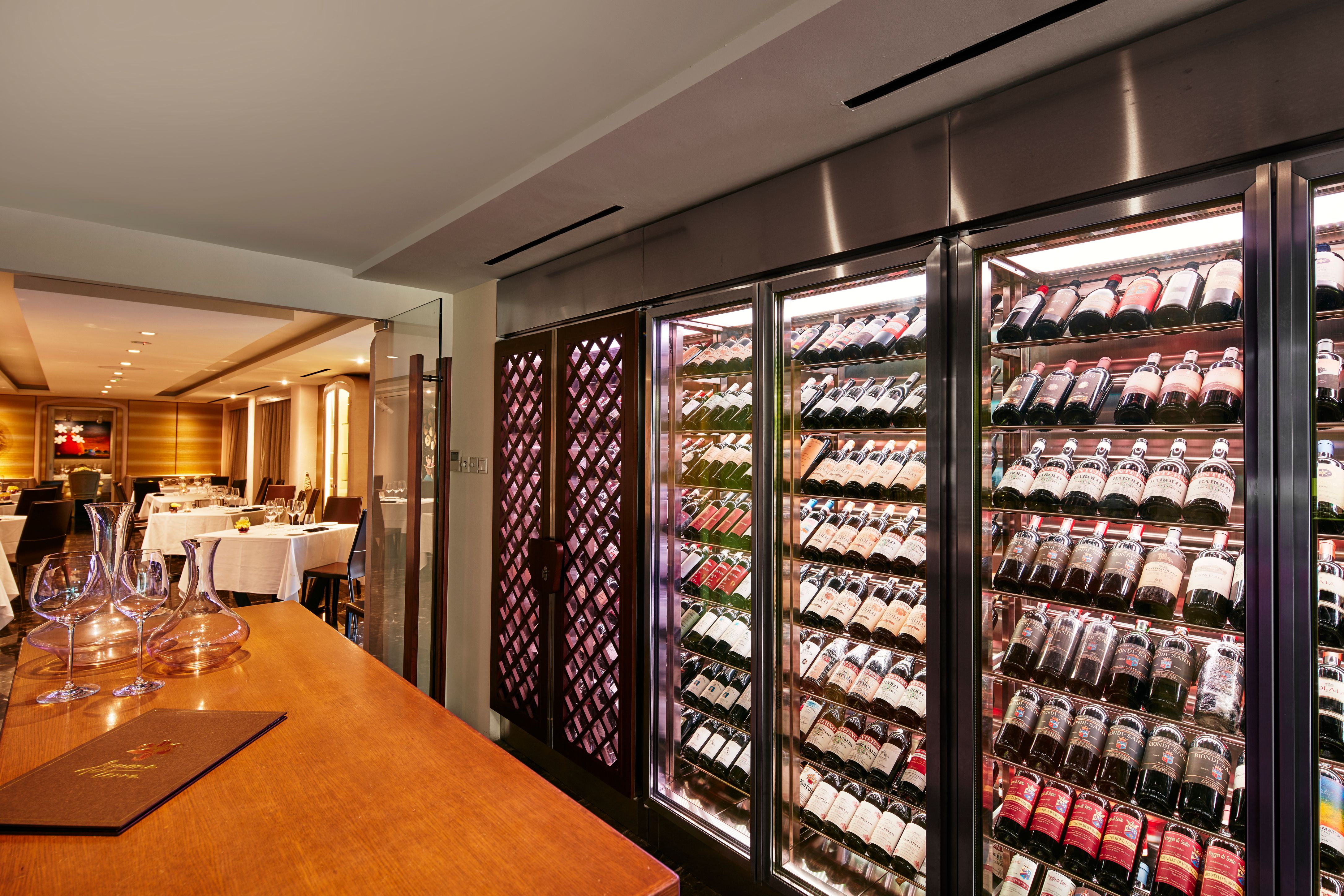 While it was my first time dining at Buona Terra, the one Michelin-star Italian restaurant housed in a black and white bungalow along Scotts Road, a familiarity struck me almost instantly as I eased myself in for lunch. Perhaps it was the classic décor – a little worn, but everything in its right place serving a purpose; the friendly yet unobtrusive service; or a combination of both, which, more often than not, are quite characteristic of fine Italian restaurants.
Today, Buona Terra welcomes guests back with that warm familiarity, as well as a seasonal summer menu comprised of the finest ingredients that's transformed into contemporary Italian indulgences. There is an abundance of Earthly treasures, such as mushrooms, truffles, vegetables, and stone fruits, alongside fresh seafood, fine wine, and prized whiskies.
Aged Wagyu 'carpaccio' with Porcini, Ovuli mushrooms, and truffle

Pear and ricotta cheesecake
Click to next slide
The restaurant's homemade selection of bread with Italian butter, as well as small bites to whet the appetite are great introductions to Chef Denis Lucchi's culinary talent, but it is his Aged Wagyu with Fresh Porcini and Italian Ovuli Mushroom that showcases his expertise. The aged Wagyu 'carpaccio' is seared and smoked, accompanied by chargrilled slices of fresh porcini and Ovuli mushrooms, which amps up the rich meatiness. Rounding out the flavours are baby lettuce, herb sabayon, and shavings of parmesan cheese and Manjimup truffle. The Rustichella D'Abruzzo linguini is another favourite, where savory squid ink swirls, sweet seafood, and a tangy tomato sauce come together for a satisfying pasta dish.
To end, Chef Lucchi presents an artistically plated Pear and Ricotta Cheesecake – an ode to a classic cake typically enjoyed in the South of Italy. Italian ricotta from Puglia is transformed into a luscious mousse, studded with Comice pears, and then sandwiched in between a hazelnut sponge cake that's soaked with pear-infused syrup.
Visit Buona Terra at 29 Scotts Road, Tel: 6733 0209
SAINT PIERRE
BUONA TERRA
REBEL REBEL
Rebel Rebel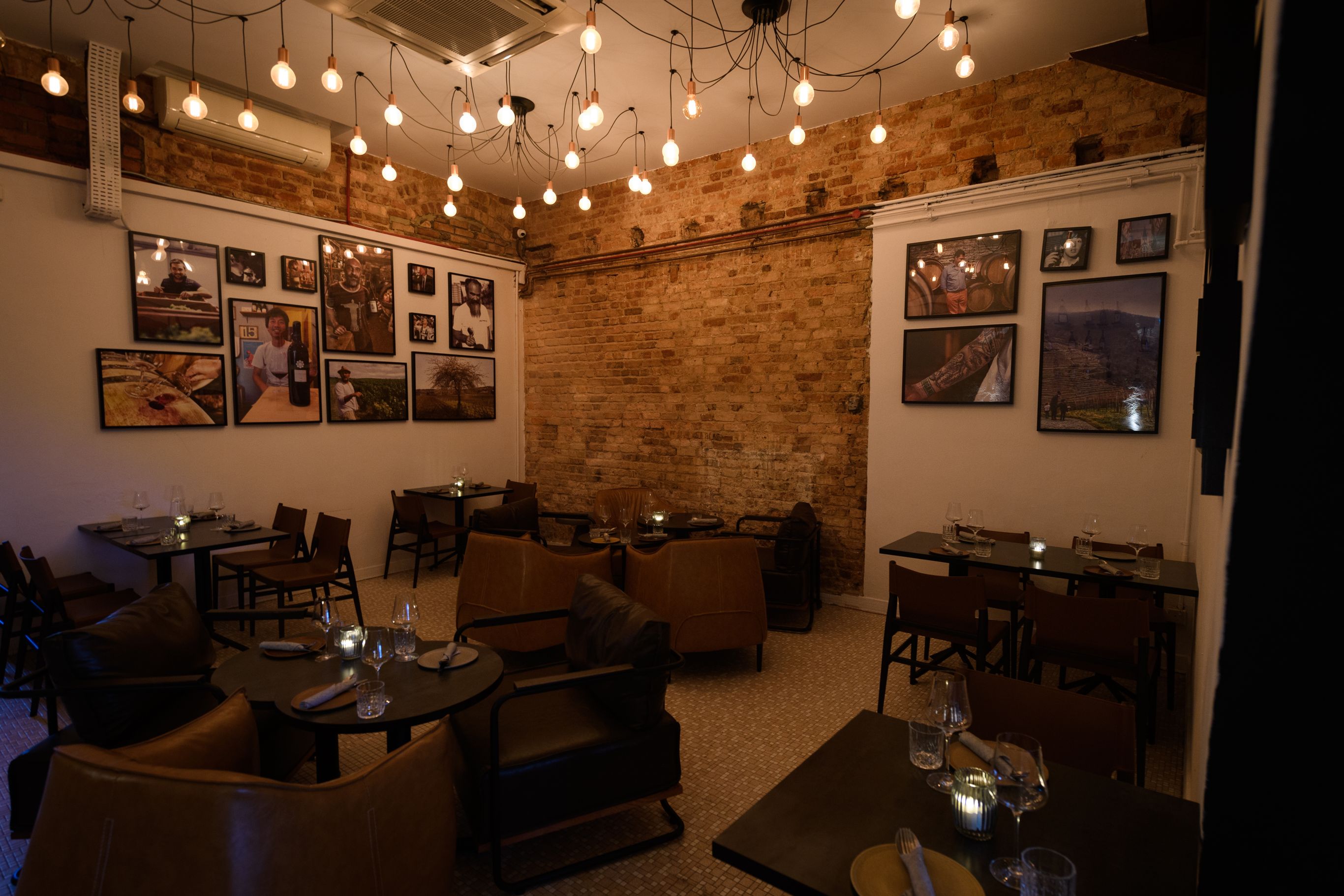 The exciting stretch of Bukit Pasoh welcomes Rebel Rebel, a cool and cozy wine bar with a rebellious streak. The watering hole champions terroir-driven wines that are produced in small quantities, as well as the makers behind them. From bottles to wines by the glass, Rebel Rebel promises to open your eyes and taste buds to a whole new world of wines.
Rebel Rebel stocks over 200 different bottles that span burgundies, champagnes, rosé wines, skin contacts, whites, reds, and rare old vintages of both Old and New Worlds. Be surprised by fruity Japanese varieties or indulge in more accessible and familiar wines like Chapuis Freres' Grenat and Coteaux Bourguignons lines.

(Related read: Meet master of wine, Jeannie Cho Lee)
L to R: Prawn and Uni Paste brown butter toast, Pig's head Tagliatelle, Sourdough and Whipped Pork Fat with farro and barley

A sampling of the wine selection at Rebel Rebel
Click to next slide
Where food is concerned, Rebel Rebel's kitchen is helmed by Chef Deborah Yeo, who cut her teeth at Burnt Ends, followed by a stint as head chef of The Ledge at The Waldorf Astoria Maldives Ithaafushi. She brings with her a passion for high-quality, natural produce, which allows her to send out dishes that are brimming with unexpected yet flavorful combinations, punctuated with a regional influence.
Must-try dishes include the Sourdough bread, which is the perfect canvas for the Whipped Pork Fat with Farro and Barley. The Pig's Head Tagliatelle calls to mind the Filipino delicacy sisig, where finely chopped pigs face and crispy ears are served with lime and chili, resulting in a zingy and textural pasta unlike any other. For a sweet finish, opt for the Churros, with its enjoyable crunch and the sweet and savory miso-chocolate dip.
Visit Rebel Rebel at 14 Bukit Pasoh Road, Tel: 9431 7040