ZÉN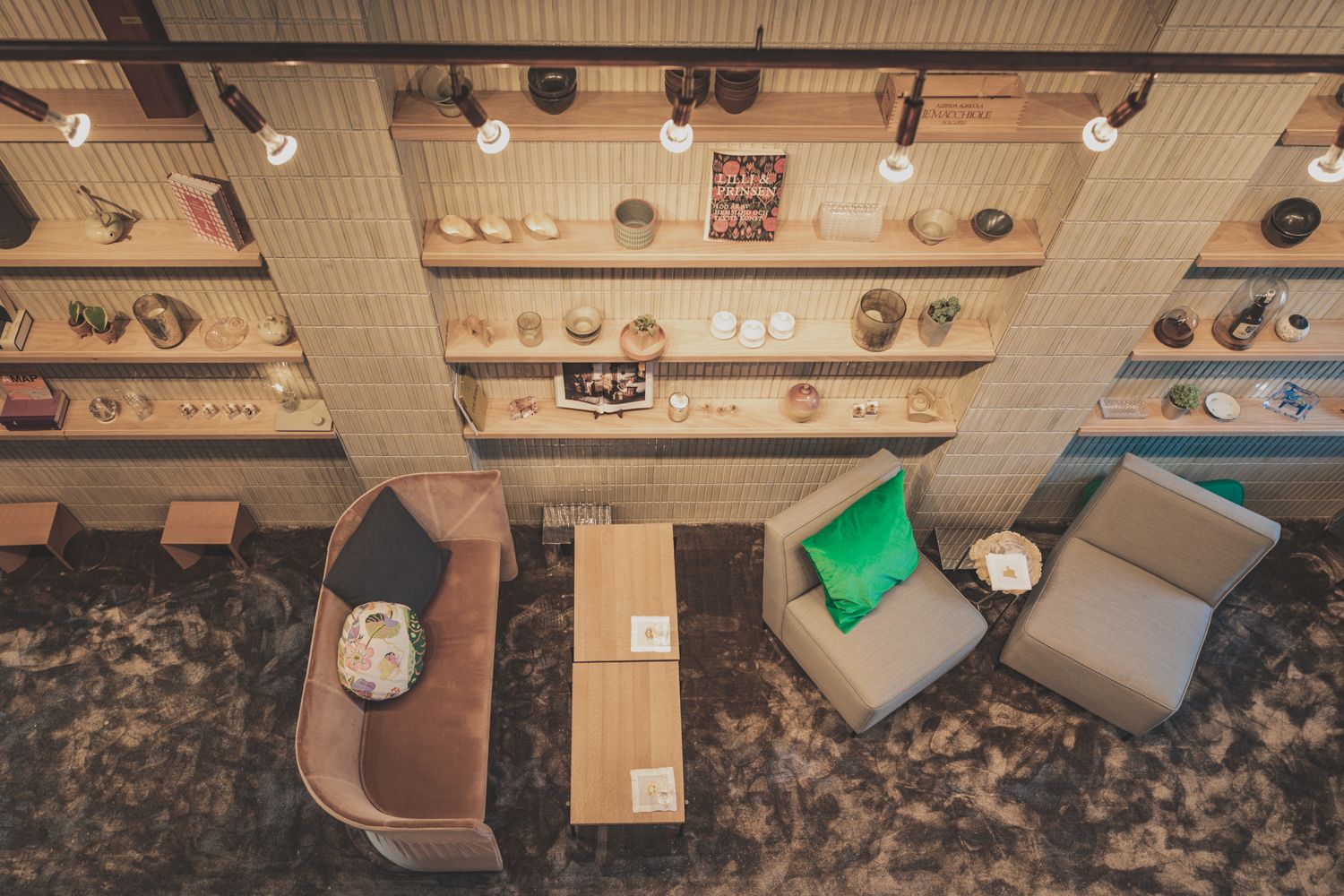 Zén has enjoyed the distinction of being one of Singapore's best restaurants, with two Michelin stars and a current ranking of 23 in the Asia's 50 Best Restaurants list under its belt. Since launching in 2019, it has made headlines for its stellar offerings and impeccable service, as well as the $450 price tag attached to the dinner service.
Beet with Arctic raspberry, black currant jam, black currant leaf oil, oolong tea and crystallized violet mousse
Click to next slide
Recently, the restaurant finally introduced a much-awaited Friday lunch service alongside its anticipated Spring menu. Those who prefer leisurely lunches can now look forward to Zén's Japanese-inspired and modern French-Nordic cuisine, with a touch of local flair thrown into the mix in the form of the new Mango 'Mala' Tartelette. This introductory bite, which sets the tone for a fabulous meal ahead, is a tribute to Singapore where sweet, diced mango is mixed with creamy stracciatella, sea buckthorn kosho, arima sansho, and Gochugaru chili oil.
Another notable dish from the Spring menu is the aged buri (yellowtail) topped with a mini mountain of Zén prestige caviar dotted with delicate shiso flowers, and a pool of warm, fermented apricot vinaigrette. The delightfully fatty fish is aged for five days, lending it a luxurious texture and deep, rich flavour. Accompanying Zén's famous sweet treats, such as the homemade waffles and selection of Japanese fruits, is a reimagined classic from sister restaurant, Frantzén. The confection is made with chewy beet with tart Arctic raspberry, black currant jam, black currant leaf oil, oolong tea and crystallized violet mousse, and finished with a drizzle of 100-year-old balsamic vinegar, lending the picturesque dessert with an intense yet enjoyable tart-sweet flavor.
Visit Zén at 41 Bukit Pasoh Road, Tel: 6534 8880
SHINSORA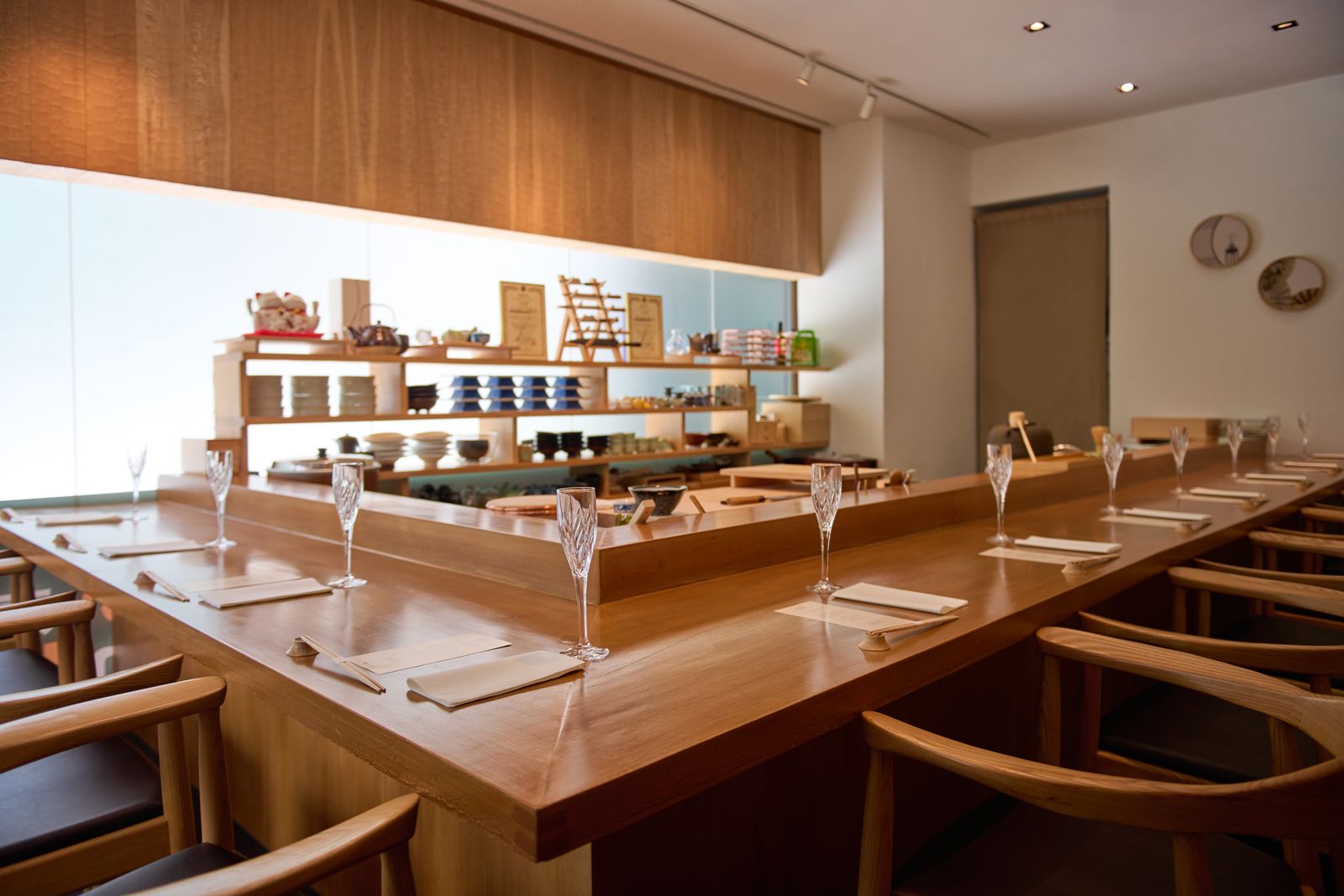 Shinsora, a contemporary Japanese omakase sushi concept, is proof of the universal appeal of sushi. Behind the 10-seater sushi counter are award-winning Malaysian sushi chefs, Sky Tai Koon Siang and Leon Yap, who, like their Japanese counterparts, handle a selection of sublime ingredients with skill and respect. Without even uttering a word, the two chefs move around each other with purpose, handing diners beautifully crafted morsels of the season's freshest bounty.
Chef Leon's award-winning sushi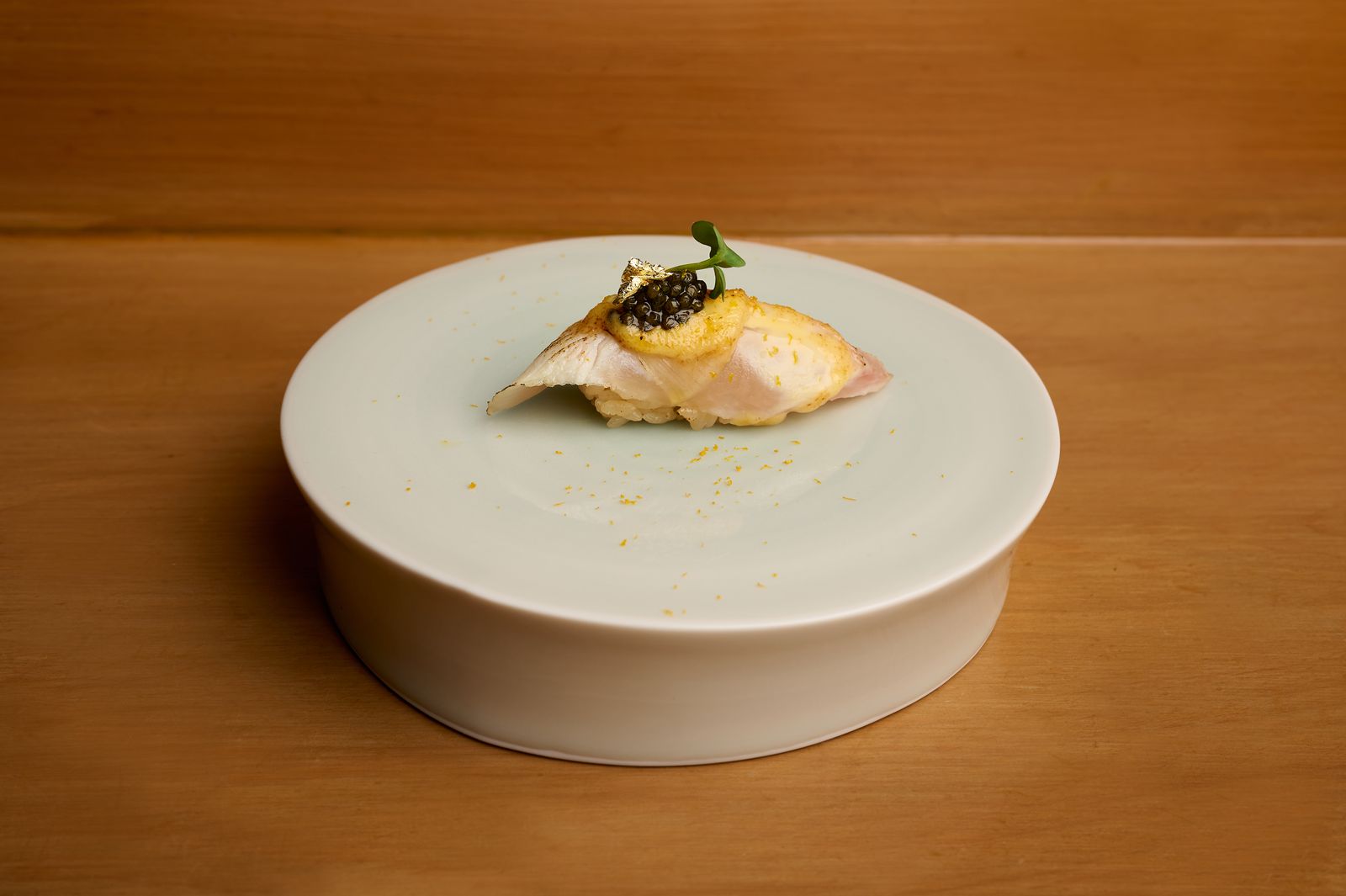 Chef Sky's award-winning sushi
While Shinsora's menu changes on a daily basis (dependent on the season and ingredient availability), diners can look forward to enjoying a selection of Edomae-style sushi, which features fish that has been cured or cooked in salt, vinegar, or soy sauce, which, as a result, draws out hidden flavors and textures. The meal is served in three chapters, beginning with a seasonal appetizer box, followed by traditional sushi, and ending with a picturesque dessert platter.
Also worth noting is that Chef Tai and Chef Yap are both winners of the World Sushi Cup Champion title (2018 and 2019 respectively). The competition, which is open to sushi chefs from all over the world, is held in Tokyo and recognizes talent when it comes to approaching the iconic Japanese dish. At Shinsora, prepare to experience the award-winning creations, such as Chef Tai's shima-aji (striped jack) fish and house-cured daikon topped with yuzu miso, Kaluga Hybrid caviar, and gold leaf. Meanwhile, Chef Yap's creation comes in the form of a hand roll with minced Nagasaki tuna belly and pickled radish, shaved maguro bushi, Kaluga Hybrid caviar, and uni.

Visit Shinsora at 331 North Bridge Road, #01-04, Odeon Towers, Tel: 8737 4366
FAT PRINCE
No one does modern Middle Eastern quite like Fat Prince. If their refreshed dinner menu is anything to go by, which is comprised of new mezze offerings, bountiful 'Build It' platters, returning favorites, and eclectic cocktails, then a meal here is bound to be an unforgettable one.

Click to next slide
The feast at Fat Prince starts with a delightful selection of mezzes that are more than just starters — they're small plates bursting with big ideas, where smart ingredient pairings mean sexy flavors and enjoyable textures. To start off, opt for the Kingfish Crudo, where kingfish fillets are brined and cold smoked, and then layered with burnt orange gelee, pickled shallots, sweet poached radish, and a striking emerald green watercress puree for a pleasantly earthy finish. Meanwhile, the Roasted Bone Marrow is a buttery treat topped with walnut crumble and sun-dried tomato. Pile all of these atop a crisp lavosh cracker for a satisfying bite. For something more classic, fan favorites like the Artichoke & Herb Hummus and Fried Cauliflower have been added back to the menu.
Moving on to the mains, expect an interactive element of playfulness with the new 'Build It' experience. Choose between the Wagyu Beef Cheek, Fried Turbot, and Celeriac Shawarma, which are all accompanied by hot pitas and flavorful toppings like za'atar yogurt, an assortment of pickles, harissa sauce, and more. This method of presenting mains is something you'll definitely enjoy, where a multitude of flavor combinations are waiting to be discovered.

Visit Fat Prince at 48 Peck Seah Street, Tel: 6221 7794