FOOD & WINE
This expert perfumer is telling you to pair whiskey with perfume
by Mei Anne Foo
17 Mar 2020
Barnabé Fillion proves that he's more than just a pretty-faced perfumer — he's now an imaginative storyteller who wishes to stimulate all the senses through photography, whiskies, the arts and, finally, his own brand.

Mr. Barnabé Fillion may be a world renowned "nose" (that is industry-speak for a perfumer) today, but back then he utilized his entire body — his eyes, especially — to fully capture delicate concepts for his captive audience. The former fashion model doubled up as a photographer when he was only a teenager, feeling just as comfortable in front of the camera as he did behind it.
Though, as far as his memory could take him, the 39-year-old Frenchman had wanted to be on the set of a kitchen more than anything else, weaving together new flavors and cooking up smells that would make a person salivate.
"The first memory I had of saying 'I want to do that' was to be a chef," he reveals. "I was always going to do something involving creativity, something to do with blending and mixing, but I never thought I would actually be blending fragrances."
Mr. Fillion first delved into the world of scent by chance, and quite late into the olfactory game too. "About 12 years ago, I collaborated with a photographer who was exploring other mediums. He worked with an architect, a poet and a perfumer.
"Of course I fell deeply in love with the language of the last. It was not about the smells at first. Yes, I was fascinated by what I could nose, but for me I was not trained in olfactory, so it was rather far-out. But the language of perfumery spoke volumes." 
His love for the flowery industry soon translated into an apprenticeship under a master perfumer, Hermès' very own in-house nose, Christine Nagel, plus, years in the lab, where he picked up the scientific aspects of how to engineer aromas.
Today, Mr. Fillion is a fragrance connoisseur, having injected his expertise into the practice and becoming the father to a variety of sensual scents, including Aesop's Marrakech, Le Labo's Geranium 30, and Paul Smith's Portrait for Men and Portrait for Women.
He also works for private customers, developing personalized perfumes. And now he is in the midst of a personal hustle, finally having a go at releasing his own brand. Called Arpa, it will not only offer perfumes but present a strong connection to other senses, particularly music and the arts.
A MODERN PERFUMER
PERFUME MEETS WHISKEY
A modern perfumer
Just as he was not content with sticking to purely being camera-ready in his younger days, the striking bloke, with long, wavy locks and a thick beard, has incessantly brought his aromatic practice up a notch.
He continually breaks the mold of what a traditional perfumer does, and most recently he lent his fine fragrance skills to the artworld, developing a "perfumes as artworks"–type series with conceptual artist Anicka Yi. Titled "Biography," the series consists of three limited-edition storied scents that were available at Dover Street Market New York and Los Angeles in editions of 1,000 for only a week last November.
Each perfume has a list of extraordinary ingredients that draw on its muse's background. A scent called Beyond Skin has the most enigmatic and elastic persona: It imagines an artificial intelligence that holds the individual and collective history of every woman.
To capture this, Mr. Fillion mixed hints of suede and myrrh but also endows plant and animal elements — specifically, top notes of red seaweed and the secretion of a civet, a cat-like creature native to Indonesia. The sniff, like old, unused soap, is strangely alluring. It is an aroma that is fitting for the ineffable.
"I want to capture the mood of a startup that goes bankrupt," Yi apparently told Mr. Fillion. "It is an empty office floor, and there is the smell of fried and frazzled electronics and cables, and an emptiness and desolation."
This is not even close to the most far-fetched or most unusual project for Mr. Fillion.
A MODERN PERFUMER
PERFUME MEETS WHISKEY
Perfume meets whiskey
For years, he has partnered with Royal Salute whisky as its creative advisor. To the untrained nose, it may seem like an unlikely pairing, but Mr. Fillion insists there are plenty of similarities between making perfumes and making whiskies — the blended ones, at least.
"Blending whisky is an art form. And Royal Salute believes it is important to stimulate the conversation on creation as you would do in art," says Mr. Fillion. "That is why we came up with the olfactory studio experience years ago, paired with all the 21-year-old single malts that make up a popular Royal Salute blend."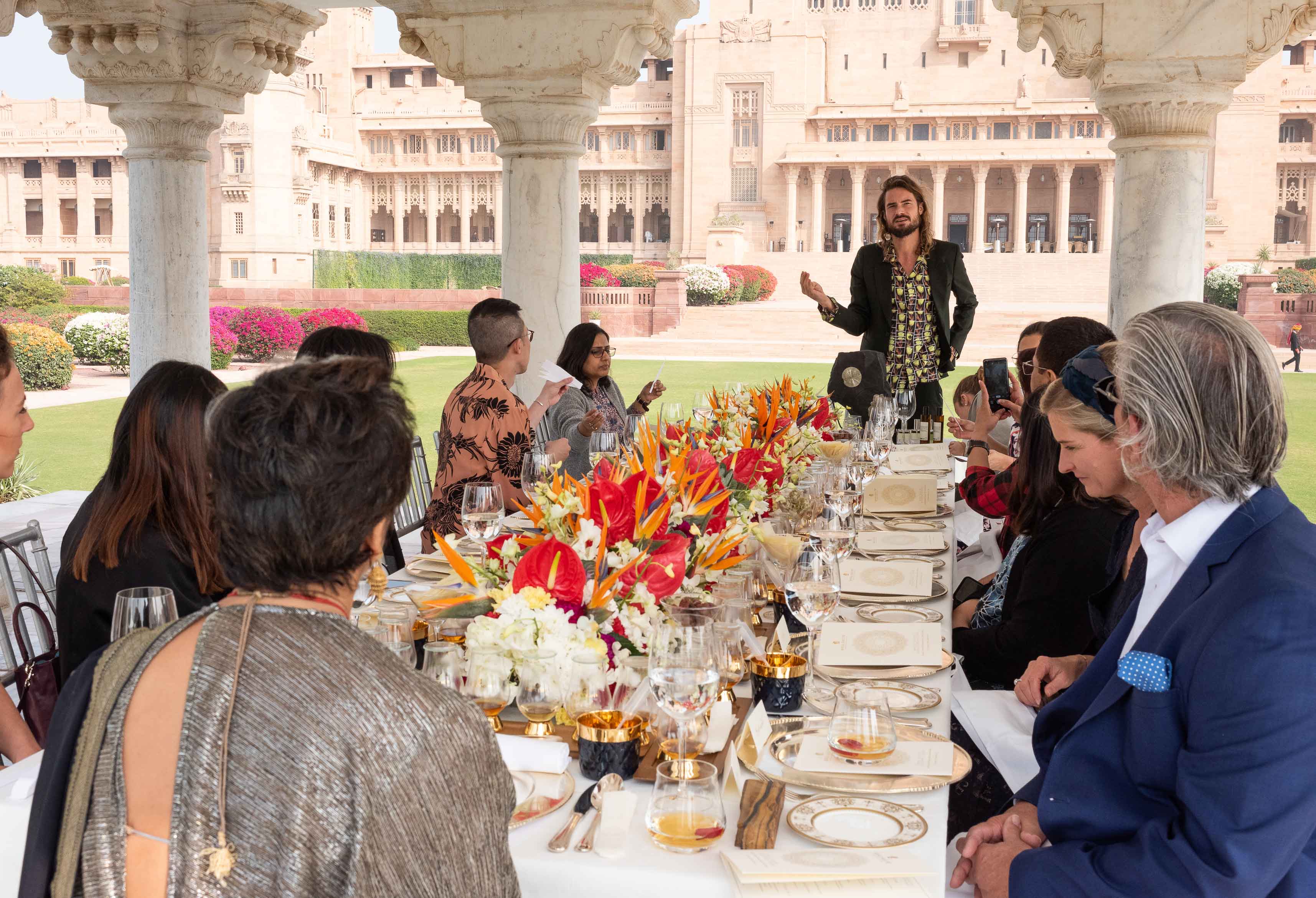 Already executed around the world more than a handful of times, the studio experience sees Mr. Fillion helping imbibers understand and appreciate the age-statement drams, by way of stimulating all the senses.
During the olfactory studio experience with Royal Salute, there is the sense of touch in the statement objects he brings to the table: A 20 million-year-old fossil is just one curio Mr. Fillion carries without fail across continents during his travels. There's also taste, in the food, tea and whiskies one would consume; sight, in the often-breathtaking settings he chooses to host guests at; hearing, in the poems and haikus he shares; and smell, in — of course — the scents he concocts to pair with every single thing presented at the olfactory studio.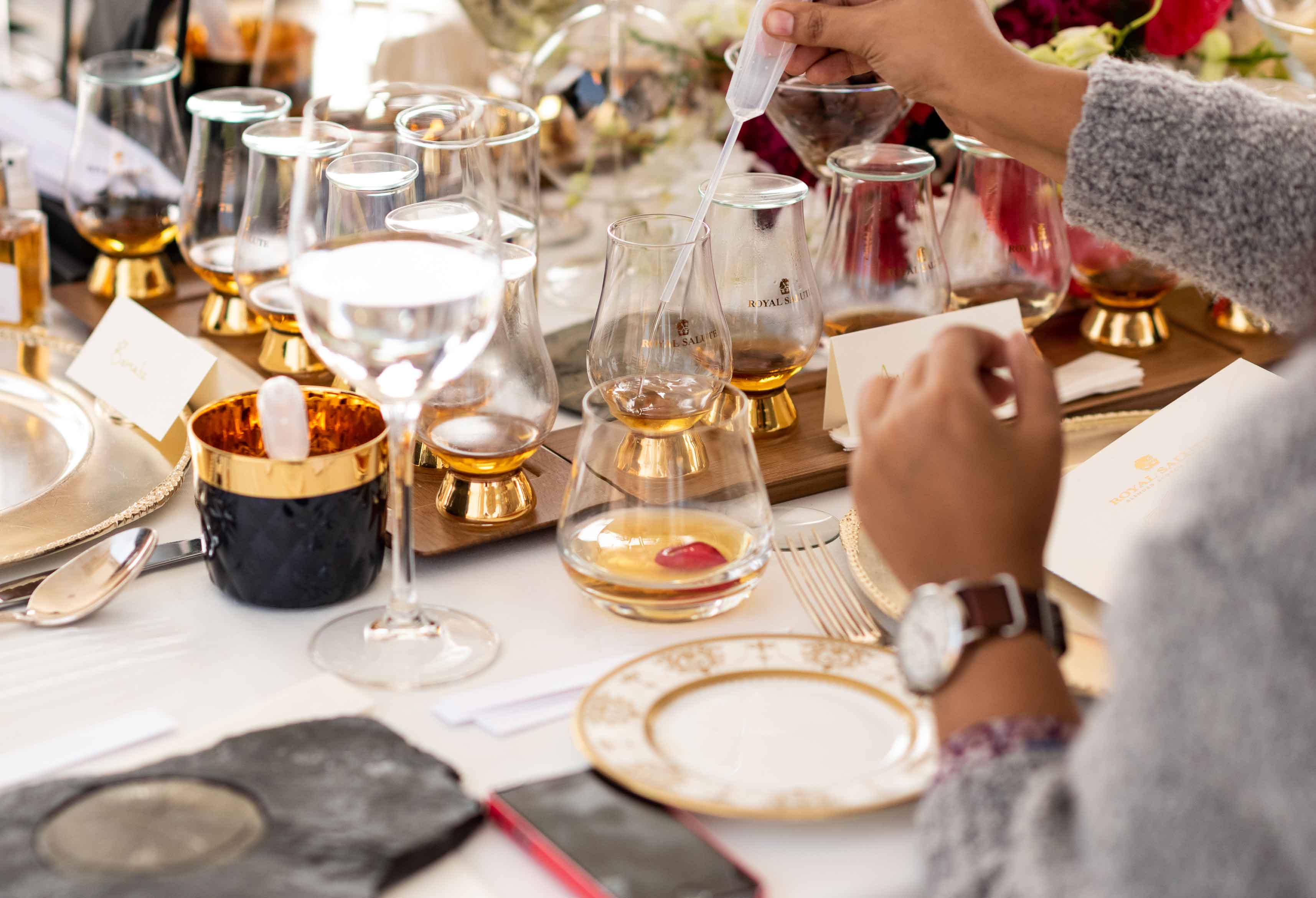 Asked why sticking to just one medium of expression is not enough for him, Mr. Fillion answers: "For me, the original spirit and how it is created is very important.
"For example, nomadic tribes suddenly became sedentary and had to create a sort of belief for the transition of their relation with nature. That is how dancing came to be, which celebrates pagan rites that ask for rain.
"Apart from my own creativity, I always think of the beauty of that first dance. It is not to get drunk or wasted, but it is to celebrate all of nature.
"Likewise, when I am hosting an olfactory session, it is to open people up to the representation of all nature, and that can only be met with the stimulation of all the senses, like a sort of choreographed dance."
And if history repeats itself, this will not be Mr. Fillion's final act. Ironically, he is still a nomad who dances to his own tune, but it would seem he is coming full circle: The journey is taking him, not quite to the kitchen, but to the bar instead.
One of the creative maestro's most successful creations has to be a perfumed cocktail called the Royal Salute Royal Rose, first stirred together in honor of Queen Elizabeth II's 90th birthday. In it is the Royal Salute 21 Year Old and rare Centifolia rose essence, which is reputedly more expensive than gold, along with other elements inspired by the Queen, such as various teas. And there is no doubt that Mr. Fillion's creative juices will just keep on flowing.