SPRING SENSATIONS AT BAR CICHETI
AROUND THE WORLD WITH PORTA
FUN YET REFINED AT V DINING
Spring Sensations at Bar Cicheti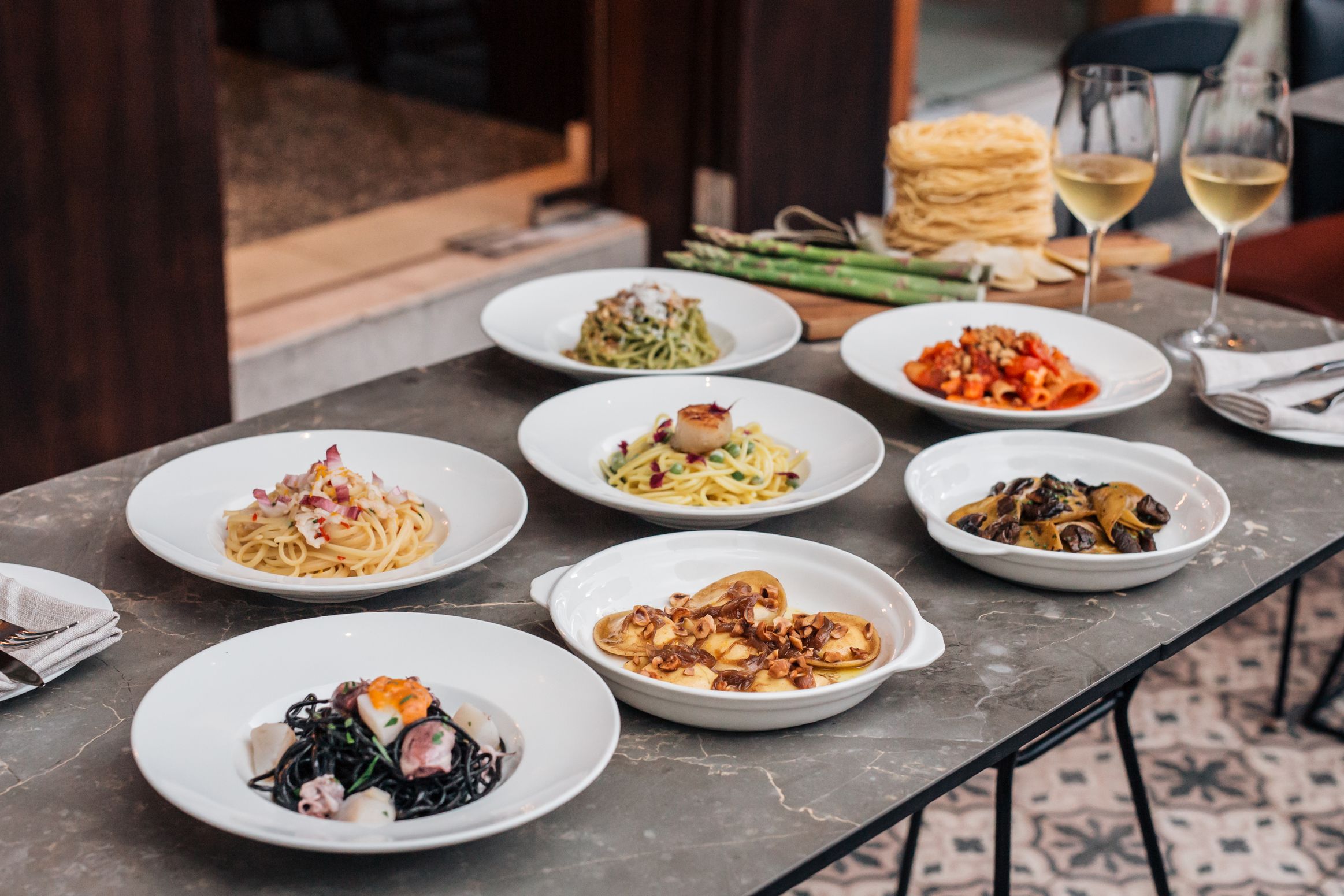 New pasta dishes at Bar Cicheti
Bar Cicheti has been relatively quiet since it opened last year, but with competition gearing up right around the corner (it is literally a few steps away from KēSa House, which boasts two hotspots – Pasta Bar and Olivia), it's finally making its presence felt. And what better way to do this than by introducing an exciting menu influenced by seasonal Italian produce, accompanied by a unique wine list that feature bottles from off-the-beaten-path regions, as well as unknown varietals.
Spaghetti with jalapeño pesto

Polpette di manzo (brisket meatballs with tomato paprika sauce)

Salvia fritta (fried sage leaves with maldon salt)

Pici cacio e pepe (cheese and pepper)

Bar Cicheti offers pasta in two sizes

Bucatini (hokkaido scallops, saffron, spring peas, citron zest)
Click to next slide
Handmade pastas are the main stars here, but trust us when we say that there is room for Bar Cicheti's selection of antipasti. The Fried Sage Leaves and Fried Artichoke are good jumping off points, offering the right amount of flavor and texture to whet the appetite. For something more robust, the Polpette Di Manzo is a clear winner – tender beef brisket meatballs are mixed with milk-soaked bread, accompanied by a piquant tomato-paprika sauce.
As for the restaurant's pasta selections, we enjoyed the Spaghetti tossed in a smoky jalapeno pesto, which lends a hint of heat to the otherwise traditional trinity of flavors from pine nuts, ricotta, and basil. Meanwhile, spring is expertly translated on a plate with the Bucatini, Hokkaido scallops, spring peas and saffron, finished off with a dusting of citron zest. And if there is space for more glorious carbs, save it for the Pici Cacio E Pepe, which is Chef Lim Yew Aun's interpretation of the Roman favorite. Sarawak black pepper is used in this dish, lending a fiercer heat that perfectly contrasts with Parmesan cheese.
While none of the pasta dishes can be categorized as authentically Italian, we appreciate the respect the team at Bar Cicheti has for technique and ingredients – reason enough to pay a visit soon, and perhaps, book a reservation for the next.
SPRING SENSATIONS AT BAR CICHETI
AROUND THE WORLD WITH PORTA
FUN YET REFINED AT V DINING
Around the World With Porta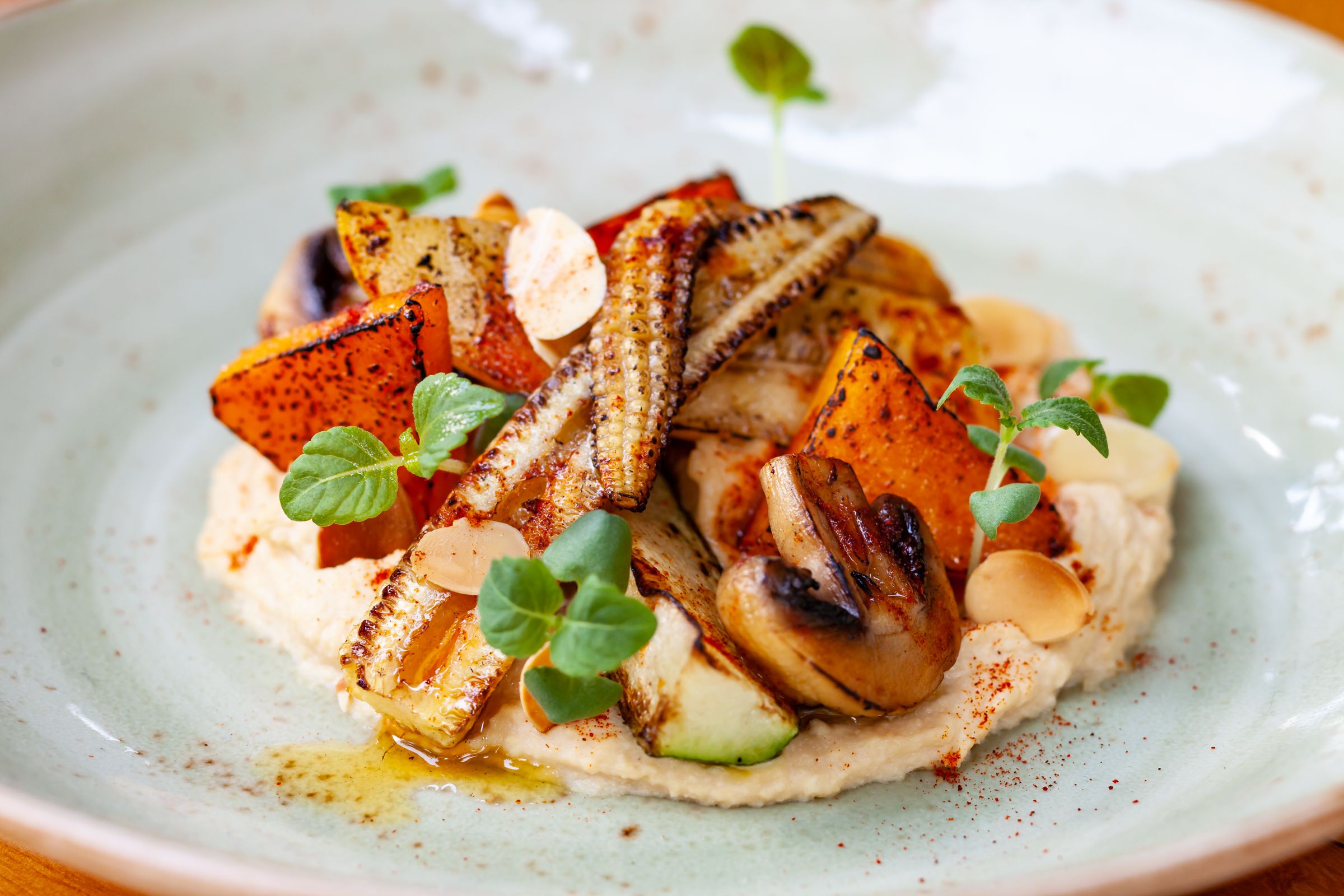 Grilled summer vegetables with hummus
The opportunity to travel is always exciting – to leave our comfort zone and meet people, learn about cultures, and of course, discover a world of flavors. But while hopping on a plane whenever we want is not always a possibility, Porta at Park Hotel Clarke Quay allows for quick, delicious escapes, especially now that it has a new look and menu that's influenced by voyages near and far.
While Porta's new menu, curated by Executive Chef Alex Phan, is based on classic European and Mediterranean favorites, he brings an international spin to it by using an assortment of culinary techniques on produce sourced globally and locally.
Wild mushroom orecchiette
Click to next slide
This approach is apparent in starters like the Grilled Summer Vegetables with Hummus: Locally-sourced zucchinis, corn, button mushrooms, and pumpkin are simply grilled and salted and served on top of spiced hummus. Meanwhile, the Confit Lamb Pastilla is a modern riff on a traditional Moroccan dish, comprised of shredded Australian lamb shank wrapped in a crispy, flaky pastry. It cleverly combines sweet and savory flavors, pairing well with the accompanying tart yoghurt dip.
While the mains at Porta boast an assortment of seafood and red meat, it was the poultry dishes that stood out. The simplicity of the Roast Chicken Leg is testament to Chef Phan's know-how, boasting perfectly crisp skin and tender meat, which is the result of being brined for six hours and then sous vide for another 12. For something more filling, the Duck Ragout is a great choice, where shredded sous vide duck meat is mixed together with a rich and herby parmesan sauce, and finally tossed with al dente ribbons of pappardelle.
Visit Porta at Park Hotel Clarke Quay, 1 Unity Street, Level 1, Tel: 6593 8855
SPRING SENSATIONS AT BAR CICHETI
AROUND THE WORLD WITH PORTA
FUN YET REFINED AT V DINING
Fun yet Refined at V Dining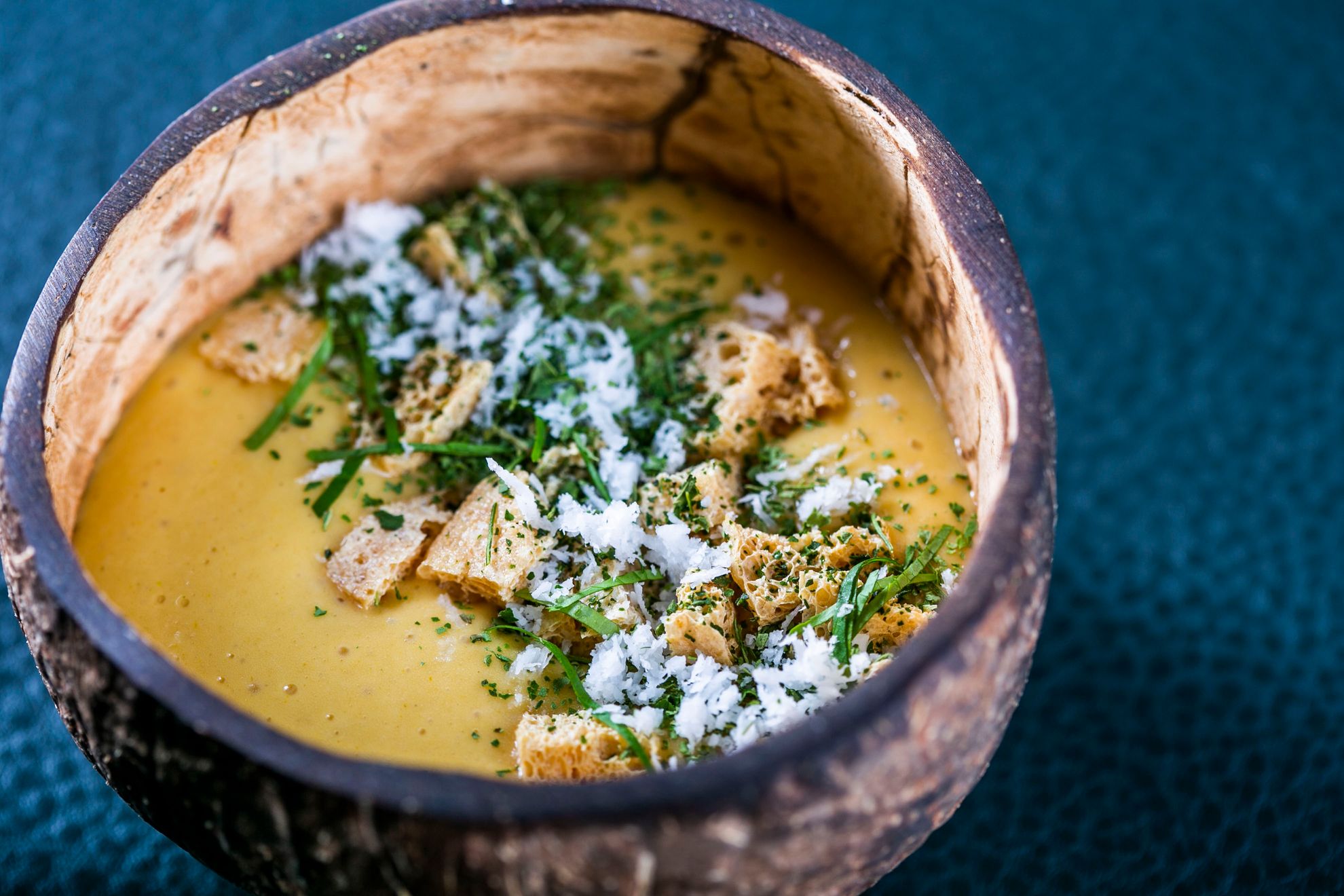 "Laksa" with crispy tau pok
V-ZUG's claim to fame includes its beautifully designed high-end kitchen appliances. While there's no doubt that the luxury fittings do wonders for home cooking, how does it fare in a proper restaurant setting? V Dining – which is the Swiss brand's first fine dining restaurant – proves that it has what it takes, with a little help from V-ZUG Global Ambassador Chef Ryan Clift and Head Chef Lee Jing Peng.
Tucked in a corner on the third level of Scotts Square, V Dining is one part fine dining restaurant and one part showroom, where V-ZUG's top-of-the-line gadgetry are all proudly displayed in the open kitchen. What comes out from the kitchen are delicious works of art that are heavily influenced by Japanese flavors and techniques, save for an assortment of pre-meal snacks that include a sweet and spicy "Laksa" dotted with crispy tau pok and the puffed Air Baguette with Manchego cheese mousse.

Click to next slide
Once the main courses are served, the Japanese influence starts to become more apparent. There is the shio kombu-cured Kingfish served with refreshing pickles and wasabi puree, as well as the Tonkotsu, with chewy scallop noodles, an intense pork broth, with contrasting textures coming from nouri paper, black fungus and bamboo shoots. The Charred Cod topped with miso paste is clearly a favorite for its deep, natural sweetness, punctuated by charred bak choy, wakame seaweed, and an umami-rich kombu and shiitake mushroom dashi broth.
Ending the meal are two very different desserts – one focuses on Hojicha, which is infused in foams, custards, and sponges, while the other is a citrus-centric dessert with an assortment of cherry, mango, and passion fruit textures.
Visit V Dining at Scotts Square, 6 Scotts Road, #03-13, Tel: 6950 4868