It's no coincidence that the Valais - Matterhorn Region in southern Switzerland has, over the years, become one of the world's most beloved alpine destinations. While the pyramidal mountain itself has long since enjoyed an iconic status, with its striking quasi-symmetrical configuration looming over the Pennine Alps it has been an emblem of the range since climbers first started tackling its 4,478-metre summit. It also spawned tourism in the nearby car-free town of Zermatt, Europe's highest ski resort and a focal point for visitors to the region. Matterhorn, which forms part of the border between Switzerland and Italy, has passed into popular folklore since the first ascent in 1865 ultimately ended in tragedy when four of the seven climbers perished on the descent.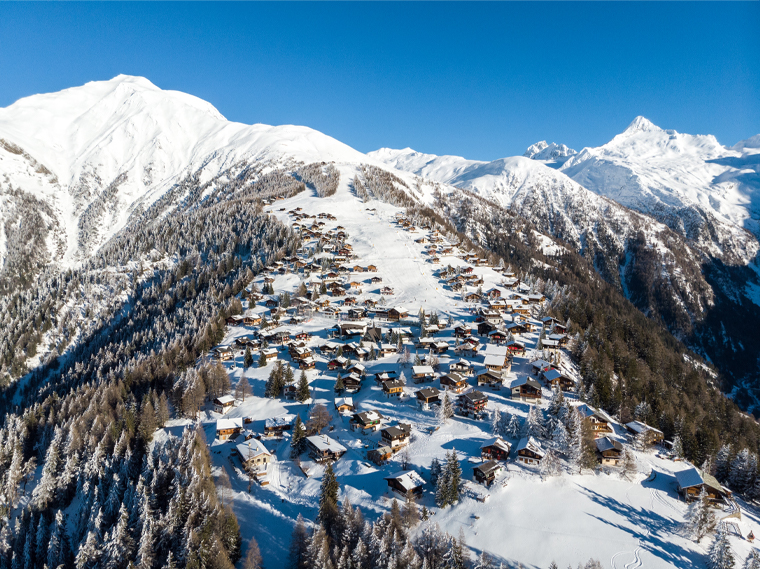 DIZZY HEIGHTS
BATHING IN BEAUTY
BREAKING THE ICE
Dizzy Heights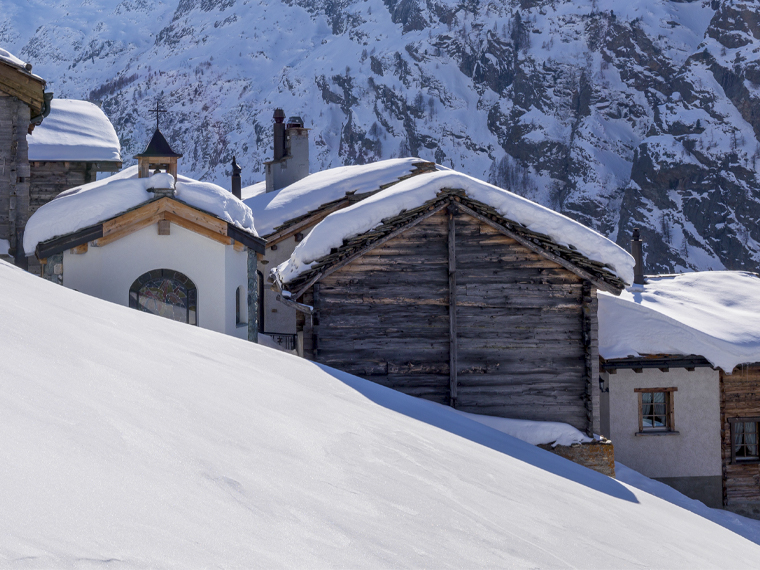 The touristic area covers a broad section of the country's south-west, roughly equivalent to the Valais canton, and offers visitors multiple areas for exploring, each with its own particular identity. There might be no better place to start than Brig, whose historic old quarter is highlighted by the 17th-century Stockalper Palace, the largest private building in Switzerland, nestling at the foot of the Simplon Pass. The residents of Brig are rightly proud of this centrepiece of their local heritage, but the tourist industry also benefits greatly from this area's strategic location. For starters, the Pass is a gateway to Italy, lying just an hour from the city of Domodossola; it's also a perfect starting point for excursions, situated close to hiking and skiing areas, as well as sporting its own thermal baths (Brigerbad). The city of Milan and its airport are also 1.5 to 2 hours from Brig. More conveniently, a direct train is available from Milano Centrale to Brig, with a journey time of 1 hour and 45 minutes The pick of Brig's hotels is the four-star Hotel Stockalperhof, whose interior design is modelled on the eponymous palace.
A short distance south from Brig, Saas-Fee is another diverse area with much to offer the visitor. Primarily known for its skiing and glacier trekking, which here reaches its highest point in the Matterhorn region, it also has the world's largest ice pavillion and highest revolving restaurant, Allalin, which spins around 360 degrees at an elevation of 3,500 metres above sea level to showcase dazzling panoramas of the Alps. The area is famed for nocturnal fun as much as diurnal experiences, with night sledging and torchlight walks in the village or forest – complete with tastings of the local molten-cheese speciality, raclette. Directly accessible by a private shuttle bus or taxi to Zermatt village, Saas-Fee is one of the most convenient locations in the region where you can also book a first-time ski experience. Two pre-eminent hotels here are the five-star Walliserhof Grand Hotel & Spa and the chalet-like The Capra, both guaranteeing a supremely comfortable stay.
DIZZY HEIGHTS
BATHING IN BEAUTY
BREAKING THE ICE
Bathing In Beauty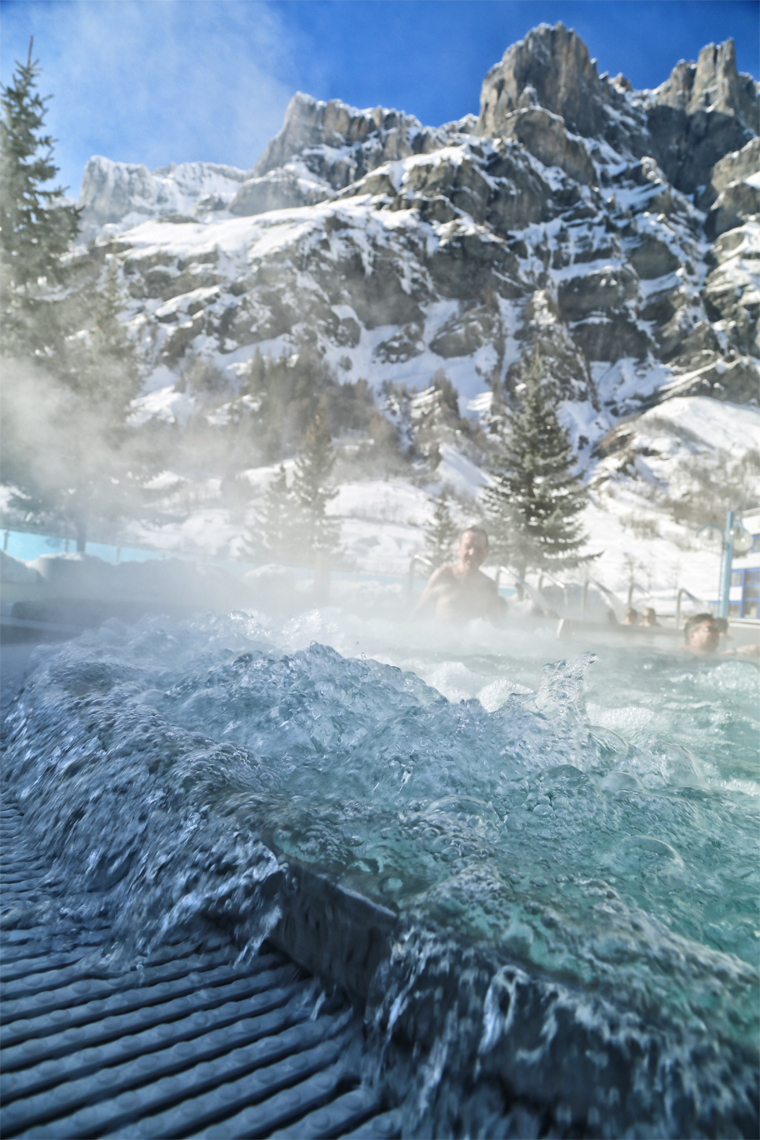 Further inland, Leukerbad, the largest thermal spa resort in the Alps – whose baths' healing properties were first recognised by the ancient Romans – is a popular destination in Switzerland for wellness as well as sports enthusiasts. Walliser Alpentherme & Spa is a sprawling sauna complex, while Leukerbad Therme's mineral-rich waters are popular among all age groups. The Torrent area makes an equally appealing destination in summer or winter, as it combines ski slopes with snowshoe and hiking trails; in warmer weather the picturesque region attracts bikers and ramblers. The Gemmi Cableways glide over an historic trade route and form the starting point for Switzerland's longest via ferrata, offering magnificent views year-round to diners feasting on the fried-potato speciality Rösti in the Gemmi panorama restaurant. The five-star Les Sources des Alpes is a preferred hotel, widely appreciated for its own thermal spring in an open-air setting and its gourmet restaurant, La Malvoisie.
The twin resorts of Nendaz and Veysonnaz offer visitors a prime location at the heart of Les 4 Vallées, the largest ski area in Switzerland with over 400 kilometres of slopes – lying halfway between the skiers' meccas of Chamonix (in France) and Zermatt. Aside from winter sports options, Nendaz has interesting sideshows on offer: it's the regional capital of the Alphorn, and a nature lovers' paradise with its bisses (traditional irrigation canals) providing ideal grounds for walkers, mountain bikers and cross-country skiers. It also has more than 30 restaurants and bars to satiate the appetite after a long day's outward-bound pursuits.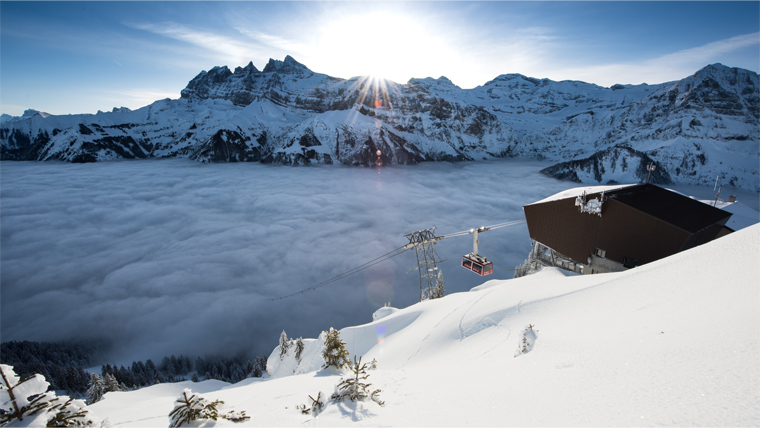 Veysonnaz' traditional chalets and friendly inhabitants help visitors immerse in a sleepier village atmosphere, where they can bathe in 300 days-a-year sunshine and admire rapturous vistas over the Rhône valley. Its mechanical snow-making system ensures an even spread of snow in wintertime, and Veysonnaz has hosted over 30 World Cup competitions as well as the vertiginous Piste de l'Ours (Path of the Bear) which runs through the forest. The two resorts combine to make one of Switzerland's most spectacular alpine areas, with the Mont-Fort providing the optimum viewpoint over Matterhorn and the tallest mountain in Europe, Mont Blanc. The four-star Hôtel Nendaz 4 Vallées & Spa is a premium sanctuary in the region, while gourmets should head to the rustic Le Mont-Rouge restaurant, where fine Valaisian wines complement the French dining experience.
The Région Dents du Midi also provides easy access to top-level sporting and gustatory pleasures, but the area is equally renowned for its figureskating school (run by 2005 and 2006 world champion Stéphane Lambiel) and venue for international events, all set under the roof of Champéry Sports Centre ("Le Palladium"). Most recently, the curling event took place here in January 2020 during the Lausanne Youth Olympics. The resorts of the region – Champéry, Les Crosets, Morgins and Champoussin – form an integral part of Europe's largest ski area, Portes du Soleil, snow-sports region which encompasses France and Switzerland, and are best enjoyed by skiers of all abilities and ages between mid-December and April.
This is a premium destination for gourmets, as producers in the region enjoy a reputation for their eco-friendly preparation of high-quality, authentic cheese and beer. Many such goods are displayed in the local-produce store La Cavagne, which for over a decade has held a prestigious pedigree for its produce earning a "Saveurs Dents du Midi" (saveur meaning marked by good taste) certification; La Pâle, a type of cheese used in raclette, earned a rare 20/20 evaluation in 2019. A vast maturing cellar is able to store more than 12,000 wheels of cheese in optimum condition; while beer drinkers will appreciate a range of brews produced locally, such as 7 Peaks which takes its name from the mountainous environment. Two hotels of particular note in the area are the four-star Hôtel Le White and Hôtel National Resort in Champéry – the former taking its name from its pristine façade and predominantly white interior; the latter a softly hued, inviting spa hotel featuring the HormeSpa, which takes full advantage of the natural elements and sublime alpine location.
DIZZY HEIGHTS
BATHING IN BEAUTY
BREAKING THE ICE
Breaking The Ice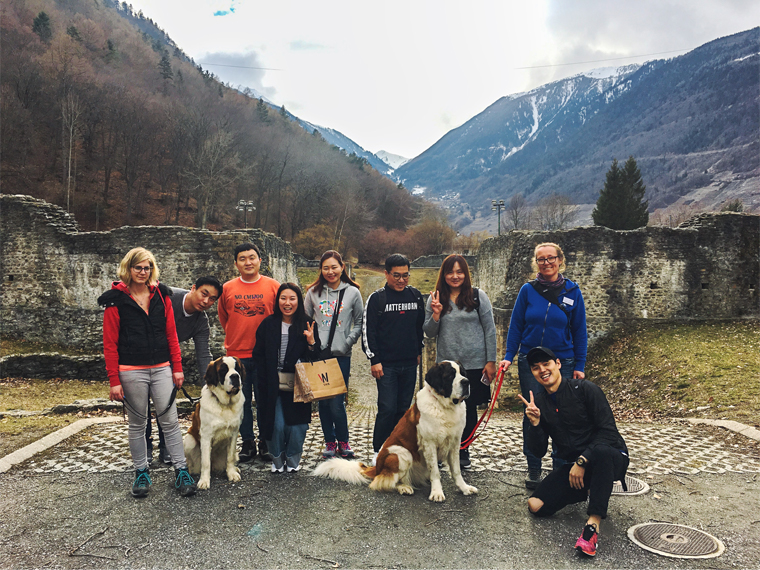 The Aletsch area has drawn skiing beginners, family ski groups, and winter hikers, but it's justifiably most famous for its vast glacier – the longest in the Alps – which is a site of such natural beauty and geological significance that it earned a place on the UNESCO World Heritage list (as Jungfrau–Aletsch) in 2001. Covering a total area of 82,400 hectares, and traversing a distance of 23 kilometres from Jungfrau to the Massa Gorge, the glacier – best viewed from the Moosfluh, Bettmerhorn and Eggishorn viewpoints – features a wide diversity of ecosystems. It also contains a wealth of scientific information relating to the formation of mountains and glaciers, ecological and biological processes, and ongoing climate change. Its landscape, which can be fully appreciated on guided walks, has also played an important role in European art and literature.
Hikers in the "Aletsch Arena" enjoy a particularly serene alpine walk in this winter wonderland, with 72 kilometres of trails to discover, the best of which leads from Moosfluh to Riederfurka and back to Riederalp. Given its natural attributes, Aletsch is also, not surprisingly, a sought-after location for both wedding ceremonies and pre-wedding photoshoots. The area's pre eminent places to stay include Hôtel Waldhaus Bettmeralp, with its oak-dominated design and sublime montane views, and the Chalet-Hôtel Bettmerhof, which provides wellness and culinary facilities as well as offering warm wooden interiors.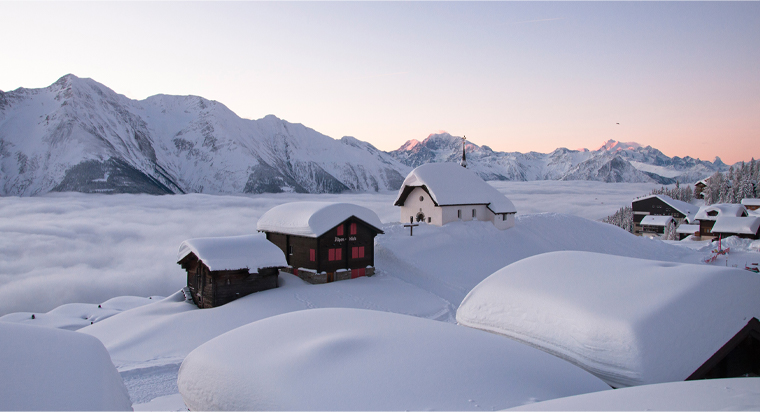 Finally, for a light-hearted day out, head to Barryland, a quirky Matterhorn destination in the town of Martigny, where you can spend time getting acquainted with the St Bernard dogs that are intimately associated with this region. This museum features a history of the breed, and hourly opportunities to meet and walk the iconic Swiss dogs; there's also a private walk arranged for groups of 10 or more, and a VIP package that includes a museum visit, a walk with the dogs and a three-course lunch.
Aside from the major skiing resorts and cultural centres, visitors to the Matterhorn region can enjoy a range of other activities at disparate locations. For example, rail enthusiasts can ride the "slowest express train in the world," Glacier Express, which connects Zermatt to the luxury resort town of St Moritz; and Gornergrat Bahn, Europe's highest open-air cog railway, which affords mesmerising mountain views, as well as the best Matterhorn view from the top called Gornergrat. Based in the capital of the Valais in Sion, oenophiles should also make a beeline for Les Celliers de Sion, which is a paradise for wine lovers complete with open-air and indoor trails that recount the drink's history.